Nicholas Lea's Height
6ft ½ in (184.2 cm)
Canadian Actor, best known for playing Krycek on The X Files and Agent Gardner on Continuum. In film he can be seen in Vertical Limit, Chaos and Shattered. He has this to say,
"I'm 6 foot 1, and my eyes are green. Except when oozing motor oil"
. On his resume he also had himself listed
"Height: 6'1", Weight: 175 lbs"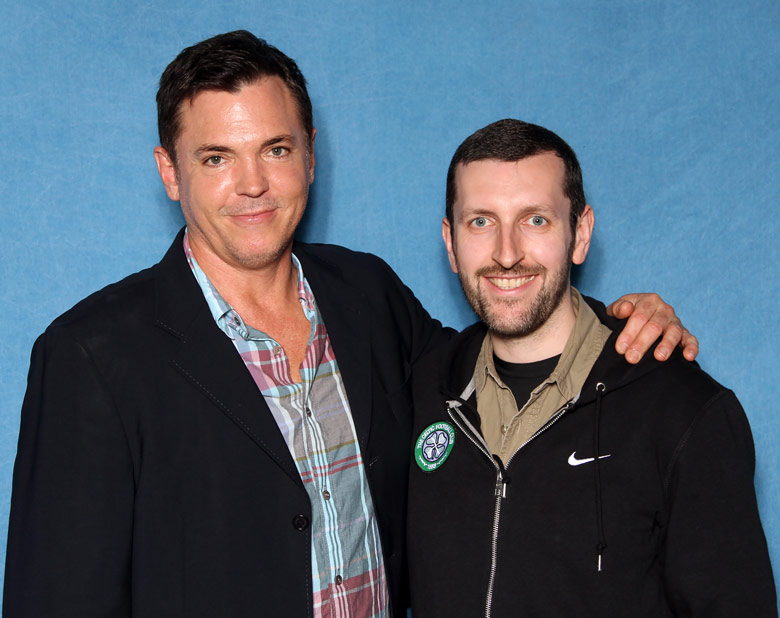 5ft 8 Rob and Nicholas @ LFCC (7 Jul 2012)
You May Be Interested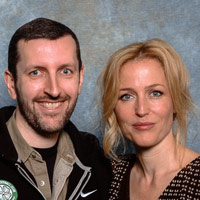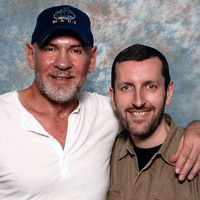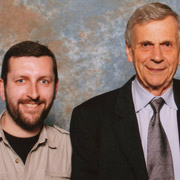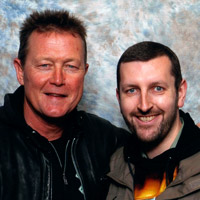 Add a Comment
54 comments
Average Guess (29 Votes)
6ft 0.28in (183.6cm)
Miss Sandy Cowell
said on 26/Aug/21
I recognized Nicholas's picture purely from seeing him in the 'X' Files, so I thought I should go along to his page to see if I've seen anything else he has starred in. The answer is NO!
6ft0.5. 👽👾
Elene
said on 8/Aug/21
6'1
Miss Sandy Cowell
said on 19/Nov/20
Nicholas has perfected the ideal 'evil stare' for his part as Krycek, his 'X' Files role, but he looks as becoming as ever in the above photograph.
6ft and half-an-inch. 😀👌
Rory
said on 11/Nov/20
Definitely shorter than Amell on Arrow so I think 6ft0.25.
Jani
said on 28/May/20
I just don't see him even as 183cm. Always looked a bit shorter than Duchovny. Always looked around 181-182cm range guy in X-files with Pileggi and Duchovny.
Josh Jeffords
said on 21/Apr/20
Yeah he was 6 1 in footwear no doubt maybe 6ft .5 in xfiles he is looking old..
Personally by xfiles i have him edging mitch easily taller than davey and well under an old cancer man.
I have to rewatch he may have worn boots being the tactical type so could get nice boost without a cheat.
Very underrated actor played some interesting roles and well.
Nik
said on 5/Feb/20
The average guess (6'0.25") could be spots!
Jesse Dumont
said on 24/Jul/19
Definitely looks 6'0.5" here. Closer to 6'1" than 6'0.5" I believe. You guys are crazy.
Oneiroi
said on 19/Mar/19
Looks 6"0.5' next to you, but no more than that.
Zampo
said on 2/Nov/18
It's a reasonable listing. 184 cm is the nearest cm mark I think he would measure to. He is over 6'0 but not sure by how much. 6'0.25 could be a possibility.
Carmine
said on 2/Oct/17
Pretty tall man, looks solid 6"0.5', he could pass for a 6"1' claim
World Citizen
said on 28/May/17
Looks 181 to me
Pierre
said on 2/Apr/17
He look like 5"11.25' next to Rob but he seem have a strong forehead so i would say he's around 5"11.75'
berta
said on 10/Feb/17
dont know if he is taller than duchovny is he really?
Pierre
said on 29/Aug/16
Around 6"0' imo with this picture
gian92
said on 4/Jul/16
Rob what do you think about this photo ?
Click Here
Personally i have always thought that Lea was smaller than Ducovnhy

Editor Rob
when I rewatched x-files, I thought generally Nicholas might just edge out David, but at times they could look pretty much within the same range.
Rick
said on 1/Jul/16
This guy is clearly looking up to legit 6'1 Stephen amell in arrow. I'd say 6'0 flat
Rampage(-_-_-)Clover
said on 18/May/16
Rob, what do you make of this photo?
Click Here
That's a cracker...all the gang!
Rampage(-_-_-)Clover
said on 18/May/16
Strong 6ft is as arguable as weak 6ft1 but then where does that leave Duchovny. This guy always looked slightly taller than him

Editor Rob
when I rewatched X-files I could see them looking quite close...within a fraction of each other.
Rampage(-_-_-)Clover
said on 15/May/16
Rob, how likely is 6ft flat for him?

Editor Rob
I think he's over 6ft, how much is debatable.
Yo
said on 2/Nov/15
In Arrow he was clearly shorter than Stephen Amell. I say 183 max 184. 6'-6'0.25
plus
said on 7/Oct/15
@Lorne very true. He towers Rob he can't be less that 185 cm
SJH
said on 26/Sep/15
He look like solid 182 cm range
Rampage(-_-_-)Clover
said on 8/Jun/15
@dietmar: Duchovny has a hair advantage.
Dmeyer
said on 26/Apr/15
So 6'0.75 would be a better listing if he can look 184-5cm

Editor Rob
I think he is 6ft 1 at a chunk of the day, but then dips under.
Charles
said on 8/Apr/15
6'0 , 600.5 with big head
dietmar
said on 27/Mar/15
Lea and Duchovny are both 183cm.
Click Here
Rampage(-_-_-)Clover
said on 11/Mar/15
Rob, are you confident this guy edges Duchovny?

Editor Rob
I believe he can look anywhere in 184-5 range
pablo77bar
said on 23/Jan/15
This guy is between 6ft 0.25 and 6ft 1
I am a 6ft 0.5 guy and I with a person with 5ft 8 ( Rob height ) looks like too much with this guy
Rampage(-_-_-)Clover
said on 9/Jan/15
William B Davis looks a proper 6ft3 guy in those pictures
Rob, have you looked at those?

Editor Rob
I would say if you compared anybody on a street with one mid stride and the other full stride you'd find a difference of a few inches. In person both actually are very similar, William I think lost 1.5 inches from his own peak.
dietmar
said on 16/Dec/14
This guy is not 185cm. He's moore like 182cm
Click Here
Click Here
Compare him to Mitch Pileggi, who is a legit 185cm. William B Davis was surely peak 190cm.
Kourosh
said on 14/Dec/14
rob, what would be his eyelevel 172cm?

Editor Rob
his eyelevel could be somewhere around that, but he's probably more a weak 6ft 1.
Crypto139
said on 22/Nov/14
Is it just me or is it that his head is bigger than I thought it was? I thought it was kind of smallish but here it looks biggish. So Rob what would be the length of it you would say?

Editor Rob
I wouldn't have said it was big, but if your head is a few inches nearer the camera it can always increase a bit and look bigger than it is.
Rampage(-_-_-)Clover
said on 6/Oct/14
He edged out Duchovny.
judd
said on 7/Sep/14
with rob he looks 6'-6'0.5 max to me, for sure not a full 6'1ish...
Danimal
said on 3/Aug/14
Like Mitch Pileggi, Nicholas was also shorter than David Duchovny on the show (At least to my eyes).

Editor Rob
I've been rewatching it, and at times they can vary
Mathew
said on 12/Apr/14
184 - 185 cm range maybe.
Lenad
said on 12/Apr/14
I can buy a full 6'1 but not more
Alex 6ft 0
said on 31/Mar/14
6'0.5 may be more like it
Dom
said on 31/Jan/14
He looks shorter than Duchovny on X-files by half an inch. Although he does look rather big next to Rob. Duchovny must be like 186 at least.

Editor Rob
he's what I'd say was probably a weak 6ft 1 .

I don't think David looked taller, they were very close in season 2 eps, sometimes either could look a fraction taller.
Rampage(-_-_-)Clover
said on 11/Dec/13
"Nicholas Lea's height is 6ft 0.5in (184cm)"
I can buy 6ft0.75/185cm aswell. He looks nearer 6ft flat in that pic
myself
said on 1/Dec/13
always thought he was shorther than duchovny like 5ft11
Matt 184.7-186.7cm
said on 11/Oct/13
maybe 184 or 185.. his posture looks a bit leaning?
Rampage(-_-_-)Clover
said on 15/Sep/13
Around 6ft0.5-6ft1
cole
said on 28/Aug/13
Looks in the 185 cm range, but maybe 6'0.75 is a better shout?
Jordan
said on 22/Aug/13
6'0ish, Not full 6'1. Thats not 5 inches there. His min. maybe 5'11.75.
herber 185
said on 8/Aug/13
he doesn't look the full 6'1 - i think this guy is around 184.3-184.6 night time
tall/imposing guy anyway
Lorne
said on 25/May/13
Are you joking? That is definetly over 4 inches between them!!@elijah
Elijah
said on 9/Jan/13
I'm seeing 182-183 here. Not 6'1
Probably how I'd look with a 5'8.
Stephen
said on 8/Jan/13
tall guy something between 184.5-185 seems fair enought
Truthman
said on 2/May/11
6ft max! In dress shoes he was around as tall as Duchovny barefoot in one of X-files series.
Hugh
said on 3/Jan/09
I remember him in X files. This is about right. Maybe 186cm. He was about an inch taller than David Duchovny.
CelebHeights Editor
said on 13/Feb/06

"Unlike most of those elevator-shoe-wearing action stars, the New Westminster-raised Lea is a lanky, well-toned six-foot-plus" - Vancouver Province article.
Beckie
said on 7/Dec/05
I met him two weeks ago when he came into my restaurant. I instantly recognized him as I was a huge fan of The X-Files and Once a Thief. He is indeed 6'-6'1"ish, unlike other sites that have put him as tall as 6'4". I don't know how they came up with 6'4" because it's obvious he isn't that tall. I myself am 5'8" (5'9" in my flat runners which I was wearing when I met him).
On another note, he is not a US actor. He is Canadian...and oh boy, does he ever have nice green eyes!