Goldie Hawn's Height
5ft 6 (167.6 cm)
American actress, best known for roles in films such as The Sugarland Express, Private Benjamin, Cactus Flower, Overboard, Bird on a Wire, Foul Play, Shampoo, Death Becomes Her and Housesitter. In a 1978 edition of Time magazine it described her
"5-ft. 6-in. Hawn"
and in an edition of the 1971 Stevens Point Journal mentioned her weight:
"5ft 6, 115lb figure."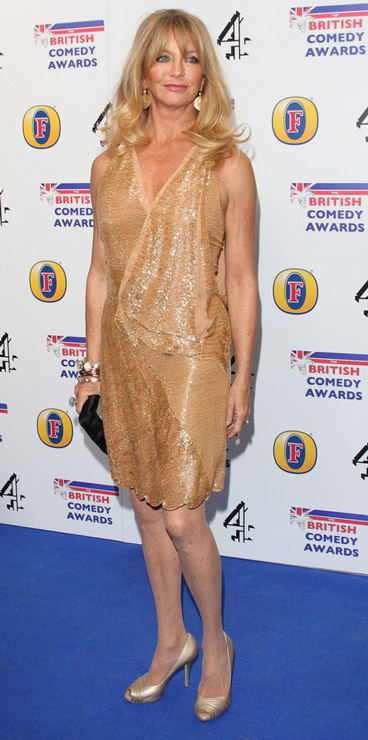 Photo by PR Photos
Goldie Hawn is Five Foot Six inches tall...I wish I was Five Seven.
Add a Comment
40 comments
Average Guess (13 Votes)
5ft 5.62in (166.7cm)
Leesheff85
said on 20/Feb/21
I think she should have a current height rob? Maybe 5ft 4 now and 5ft 6 peak??

Editor Rob
she does look shorter now, though just 5ft 4 I'm not sure quite that low
Leesheff85
said on 19/Feb/21
She was easily 5ft 6 at her peak. Theres a photo of her and Davy Jones and she looks at least 3 inches taller than him in flats so 5ft 6 back then and maybe 1 to 2 inches shorter at 75
richinkle
said on 13/Jan/21
5'-5" max. Here she is with 5'-8.5" Carol Channing.
Click Here
Littlelee5ft6
said on 7/Dec/19
Rob if you watch the scene at the end of the first wives club where her, bette Midler and diane Keaton sing and dance to you dont own me, would you say that Goldie Hawn is the tallest of the three there? Maybe diane isnt quite the 5ft 7 you list her as?

Editor Rob
Goldie might still be near peak, Diane maybe not so...though, Goldie did seem mostly a bit nearer the camera. Could have been very close if barefoot and standing still.
Nik Ashton
said on 1/Dec/19
She is widely believed to be 5'6"!
Miss Sandy Cowell
said on 1/Dec/19
I've observed Goldie walking about with her bum showing in the film 'Overboard' - at before 5 o'clock in the evening!
🍑😂😂😂🍑
She'll have been 41 then - and in bloody good nick! Compared to Kurt, she looks petite, but I'd say that's down to her proportions. 😁👍
5ft6.
Arch Stanton
said on 22/Nov/19
Happy Birthday indeed. I think I'll watch Butterflies Are Free!
Miss Sandy Cowell
said on 21/Nov/19
LOVE her gold clothing! What fun! I used to wear just pink and the kids called me 'The Pink Lady' - and they miaowed at me because of all the cat-stroking!
🐈🐾🐱🐾🐈🐾
Miss Sandy Cowell
said on 21/Nov/19
💐🎂👱‍♀️🎉 Happy Birthday Goldie 🎉👱‍♀️🎂💐
Wishing the ever-youthful Goldie a sparkling 74th Birthday! 💰🎗️🏅
She was recently introducing the Ellen DeGeneres show with daughter Kate Hudson. 📺🌞 I can believe 5ft6 for Goldie's peak height. I've seen enough of her films as proof! 😉👍💝🎁🌹
💐🎂👱‍♀️🎉💐🎂👱‍♀️🎉💐🎂👱‍♀️🎉💐🎂👱‍♀️🎉
Littlelee168cm
said on 6/Nov/18
Rob you should add above that in a wire interview she did with Amy schumer in may 2017 she claimed "goldie Hawn is 5ft 6 inches tall. I wish I was five seven" just thought it would be interesting to add

Editor Rob
Yes, I put the quote in.
Nik
said on 31/Jan/18
I would say that 5'5.75" is possible for Goldie Hawn, but no less!
flavius
said on 31/Jan/18
She can't be listed same height as her daughter Kate Hudson.. nowadays there's a huge difference between them, Kate towers over her mom... and in a recent pic also Dakota Fanning is clearly taller than Goldie
Charlie
said on 23/Jun/17
She looks very tall here but 5'6? No. When she did Private Benjamin she looked no more than 5'3. Even when she worse heels when she joined the Red Squad in the movie she wore high heels and she still looked tiny and Petite. Today i would put her at 5'2 without heels of course. With Heels she looks 5'5.
RisingForce
said on 14/May/17
I've been assuming she's 5'5" these days. I'm not sure if she's shorter because with Penelope Cruz, their dresses cover their shoes. An accurate height for Goldie is important for nailing Kurt Russell's height these days, so if she has lost an inch or more then maybe a peak of around 5'6" and current of 5'5" would be appropriate as she's still active in films.
Flavius
said on 1/Apr/17
need to downgrade... in some recent pix penelope cruz and naomi watts are slightly taller than her, both in similar heels
richinkle
said on 2/Feb/16
I am revising my estimate of Goldie Hawn up to 5'-5". In this tv special from1980 with 5'-4" Liza Minnelli, where they dance side by side for a considerable period of time, she appears about 1" taller.
Click Here
Arch Stanton
said on 13/Aug/15
Yep about 3 inches shorter than Ingrid Bergman in Cactus Flower. 5 ft 6 seems decent.
Arch Stanton
said on 4/Oct/14
@Sue she looked pretty much the same height as Meryl Steep in Death Becomes Her though, although I think Meryl had the edge.
littlesue
said on 14/Sep/14
Goldie always looked more 5ft 4 to 5 to me. Her daughter Kate down as 5ft 6 but she looks the same height as Goldie so maybe she slightly smaller too?
Arch Stanton
said on 14/Sep/14
She could look shorter next to Gibson in Bird on a Wire too, although of course Gibson is almost 5 ft 11 according to big G :-)
Arch Stanton
said on 14/Sep/14
Rob can you add photo and update with American actress, best known for roles in films such as The Sugarland Express, Private Benjamin, Cactus Flower, Overboard, Bird on a Wire, Foul Play, Shampoo, Death Becomes Her and Housesitter.
I'm not convinced she really looked a legit 5 ft 6. Just watched The Sugarland Express and she actually looked a weak 5 ft 5 in it.
richinkle
said on 23/Jan/14
I don't believe Goldie Hawn was any taller than Liza Minnelli, who was 5'-4" or so. Here are both Hawn and Minnelli, looking a few inches shorter than 5'-7" Lucille Ball.
Click Here
jtm
said on 28/Aug/13
really? i thought she was at least 4 inches shorter.
Arch Stanton
said on 27/Aug/13
3 inches shorter than Kurt Russell in Overboard. Really scary how much a younger Goldie Hawn looks like her daughter Kate.
Mikey P
said on 29/Jul/13
I agree with MaskDeMasque - Goldie's only 5'4"-ish. In "Cactus Flower", Walter Matthau (6'2") towers over her, and so does Ingrid Bergman (5'9").
MaskDeMasque
said on 21/Feb/13
hmm, i was watching foul play earlier and thought she looked 5'4.
Lenad
said on 11/Jun/11
I think shes lost 1 or 2cm. Back in the past she and Kate looked the same height but now Golides starting to look marginally shorter.
fan
said on 24/Feb/11
Goldie is very petite, i would say she's 5,4"-5" tall and no taller.
Doreen
said on 17/Feb/11
Met Goldie many times when she was married to Bill Hudson. At the time I was going out with one of the Hudson Brothers' band member. Anyway...she's definately 5'6. Back then she was very "light". I think she still looks good but has gained alittle. Any guesses from anyone out there on her weight?
chris
said on 4/May/09
She's 5-6. She's taller than Kate Hudson but Kate is known for 5-6.
Lenad
said on 3/Oct/08
She sure as hell doesnt look taller than average.
new yorker
said on 8/Sep/08
Stood right next to her at a flower stall in midtown, I had on flats, she jogging shoes, she is not taller then 5'2" has I am 5"6" and she came up to my nose. She may even be shorter. A tiny woman all around. This was in Nov of 2004.
leonari
said on 5/Sep/08
an inch to high. 5'6" women tend to look tall. She never does.
endeavor girl
said on 4/Sep/08
She's definitely 5.5"
dmeyer
said on 1/Oct/07
so rob she hasnt shrinked by 60 for a woman that is very impressive
[Editor Rob: not really looked much, she could lose 1cm. There's a heckuva lot 60-70 year women losing more than men.]
Hamletmiss
said on 20/Jan/07
A friend of mine of average height and not wearing high heels met Goldie Hawn in person at the Waldorf. When I asked my friend if Goldie was really tall and impressive as many think her to be, my friend actually said she was as tall as she was in heels and Kurt Russell is a small man. Looks can be deceiving, and sometimes we get jealous for the wrong reasons.
Years later, my friend met Chevy Chase and saw that he was truly the towering man everyone thinks he is.
Glenn
said on 24/Jul/06
I never met her,but I heard 5-5 tops.
Anonymous
said on 23/Jul/06
Saw her in Santa Monica, she's definitely shorter than 5'6"
phil
said on 16/Mar/06
My sister was right behing her in a store when she was shooting a movie in British Columbia. She had running shoes on and so did my sister. My sister is 5'5 1/2" and said Goldie "was a little shorter". She's in the 5'4"-5'5" range. 5'6" is too tall.
Anonymous
said on 18/Oct/05
I have met Goldie on several occasions. She is about 5'4". Not quite 5'5".