Gotz Otto's Height
6ft 5 ¾ (197.5 cm)
German actor best known for roles in films such as Iron Sky, Tomorrow Never Dies, Downfall, Alien Autopsy, Beowulf and Cloud Atlas. He is listed as standing 198cm tall by his agency and on his imdbResume, 6ft 5 3/4 (197cm).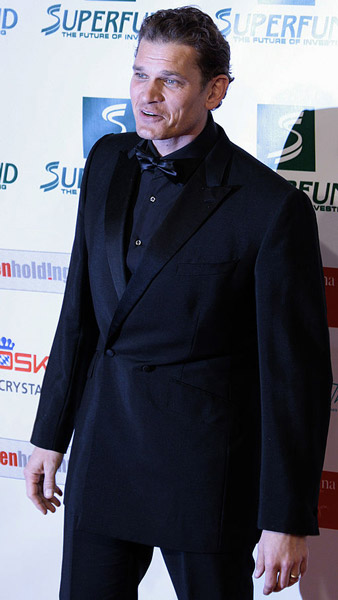 Photo by PR Photos
Add a Comment
43 comments
Average Guess (15 Votes)
6ft 6.12in (198.4cm)
Arch Stanton
said on 15/Feb/21
Götz Otto ist ein sehr großer, klassischer Bond-Attentäter-Typ. Sieht durchgängig wie 1,98 m aus. Ziemlich schlank gebaut, obwohl man ihn für größer halten würde. English: Gotz Otto is a very tall, classic Bond assassin type. Consistently looks about 6 ft 6. Quite slim build though, you'd think of him as bigger.
Canson
said on 11/Feb/21
@Editor Rob: I wonder if that's legit 6'5 3/4 or they listed it to not make it sound as tall. He can pass for 6'6 the more I see. I used to think weak 6'6 which at times looks right tho
Chris Junior Hernandez 1990
said on 29/Oct/20
Rob, would you add a page for Kirby?
Arch Stanton
said on 18/Oct/20
Can you add a category for German actors Rob? I can't find who you've got on here.

Editor Rob
Got was a glaring omission, and now having being added probably raised the German male average a fraction.
Chris Junior Hernandez 1990
said on 20/May/20
Rob, check out one of the best angle they stand
Click Here
Christopher Kirby isn't shorter than Gotz Otto if not counting hair on Otto consider both standing pretty straight. They could be the same height, maybe you should consider to pull out a listing for Kirby.
Chris Junior Hernandez 1990
said on 29/Apr/20
Click Here
Ineteresting that i found this link where Christopher Kirby was listed only 6'4 while he look at least 6'6 with Otto.

Editor Rob
Yeah on
Stephanie Paul's
page I noticed that a few years ago, Kirby might have been underplayed.
Chris Junior Hernandez 1990
said on 9/Oct/19
Dream, Christopher Kirby is really hard to miss as he look taller than me. Otto look kind of my height. Kirby i'm not surprise is a guy holding a fraction over Owen Benjamin.
Dream
said on 30/Jul/19
@Junior
I'll have to look more into Christopher Kirby, but he does look a little taller than Gotz Otto.
Chris Junior Hernandez 1990
said on 15/Jul/19
I mean Ralf peak could be 6'5.75" but not sure how much he lost now.
Chris Junior Hernandez 1990
said on 14/Jul/19
@Dream(5'9.5") I'm super curious about Christopher Kirby height. He was in alot of pictures a little taller than Gotz Otto than i use saw one site list Kirby only 6'5 and i was thinking no hack but that iste remove his height away and google doesn't have an answer of his height atual listing, he look way taller 6'5 like a full 6'6.
Click Here
Gotz Otto stand a little further behind but look like Kirkby bald without hair still edge out his hair top.
Click Here
without a hair Otto look to be fraction lower than Kirby. Otto hair not that flat style look closer to 3/4 inch high.
Click Here
Kirby really look like he is 6'6 on the dot.
Click Here
Btw this picture look on the head Ralf Moeller and Otto is about the same height but look like Otto dropping height, picture taken in 2004 it was a peak height for Ralf also he could have being 6'6.75" same height as Otto. Christopher Kirby could be taller than Bo Burnham, Owen Benjamin and Gotz Otto just three of them. That is interesting when a 6'6 actor one time listed at 6'5.
Dream(5'9.5")
said on 13/Jan/19
He actually looks slightly shorter than Ralf Moeller.
Click Here
Although it's very little. I think Ralf Moeller could be 6'5.625" or even 6'5.75".
Rampage(-_-_-)Clover
said on 7/Dec/18
I just saw he's in a new movie with Ralf Moeller...like a low budget version of Conan The Barbarian
Now that will be an interesting comparison!
Canson
said on 27/Apr/18
I'd say 6'6.25-.5 out of bed and 6'5.5 at a low.his hair is thick as well
Junior
said on 30/Oct/17
Out of bed: 200cm
Before bed: 197.5cm
Rampage(-_-_-)Clover
said on 30/Sep/17
Out of bed: 199.4cm
Before bed: 197.5cm
S.J.H
said on 2/Feb/17
Strange that he doesn't look taller than a bald 6'5 guy Christopher Kirby but he look fractionally taller than 6'6 director Timo Vuorensola
Josh Jeffords
said on 6/Nov/16
Glad he has a page big striking guy not a bad actor not great.
He made Brosnan look tiny no idea on comparable footwear but easily 6 6 or 7 onscreen.
Even towered other freakishly tall guy by 3 inches I think.
Had a good build not to skinny but no bodybuilder.
Rampage(-_-_-)Clover
said on 10/Sep/16
Arch, ironically he's of Jewish descent
Canson
said on 21/Aug/16
I'd say 199 range maybe 199.5 out of bed and a weak to full 197 at his lowest. Can't see him below 6'5.5"
Arch Stanton
said on 20/Aug/16
Saw Iron Sky recently. I'd forgotten how huge this guy is. Still looks very imposing. Certainly looks around a proper 6'6. Probably a guy who measures 200cm in shoes. Perfect casting as a Nazi too, you could imagine Hitler fantasising about this guy haha.
Rampage(-_-_-)Clover
said on 18/Jul/16
199/200cm out of bed is likely
Rampage(-_-_-)Clover
said on 7/Jun/16
I think 197-198cm is more likely than 199-200cm even though he looked enormous in TND w/h Brosnan. Come to think of it, there were a few very tall guys in that. Otto, Colin Salmon and the late Vincent Schiavelli...
joe 193cm night
said on 27/Jun/15
Rob, you still think he ta close to 6'7 in the morning period

Editor Rob
maybe he's a guy who could be 6ft 6.5-.75 range in his 30's out of bed, he might drop to 6ft 5.5 though.
Arch Stanton
said on 1/Dec/14
Rob can you add Downfall, Alien Autopsy and Beowulf ?
Chris
said on 30/Aug/14
He doesn't have the head size of someone this height
Arch Stanton
said on 20/Aug/14
Also think about it. Given that almost 6'6" is an undesirable height for a film actor, especially if he's trying to break into Hollywood, I really doubt they'd come up with a blagged 6'5.75" if it wasn't genuine.
Sam
said on 19/Aug/14
I notice he wears a lot of boxy jackets, which can make he seem like a larger built guy then he really is. Yeah, he can look 196 cm, 198 seems to be a distinct stretch.
AlexMahone
said on 17/Aug/14
With 191cm (6'3) Greg Evigan.
Click Here
Evigan of course stands closer to the camera but Otto is way taller. If somebody thinks that he's only 193cm than all 6'4 celebs in this board need a downgrade to 6'2. That's all.
Arch Stanton
said on 17/Aug/14
From Tomorrow Never Dies you think of him as a Norse giant muscleman type but he's actually naturally a skinny guy and not the bodybuilder type at all. I think he can look near 6'6 in a lot of comparisons but he has the tendency to slouch in a lot of them. In the one taken outdoors with Brosnan he's leaning on a wall and still looks 6'4" range.
Arch Stanton
said on 17/Aug/14
@James Nope, I agree he doesn't look even close to 6'7" there, and oddly looks like 6'3" there!
AlexMahone
said on 16/Aug/14
Disagree. Look like this will be another Dwayne Johnson topic...
Red you choose the wrong picture to compare D'Arcy and Otto height. And what about this one?
Click Here
If D'Arcy 191cm than Otto easly 197. In this photo both stand straight and the shoes are the same. Rob's choice is right.
linke
said on 16/Aug/14
He can be 6'5
Click Here

Editor Rob
bear in mind those resume pages don't show fractions as far as I saw, but they do
On the Pro page
.
Andrea
said on 16/Aug/14
It's not about downgrading him, Alex. I mean, i myself know a real (not like some on here) solid 198 guy and i know how he looks against people... I hardly find someone who's near his height and he stands out very very much! Then i could name other guys like the big 196 challenger or even Kobe Bryant who's supposed to be not even 6'5! They all look huge next to people! This guy doesn't strike me as a huge guy to be fair! Have you seen him with Sam Riley?
AlexMahone
said on 16/Aug/14
Another big and tall guy and come the downgraders. Ralf Moeller is a (former) body builder, Gotz Otto is a simple, tall and slim actor. The compare with Moeller is totally wrong. Another thing...Iron Sky casts are very tall cast. On the left side of the photo what Andrea linked, Christopher Kirby is 6'5 (196cm), the director in front Timo Vuorensola is 6'6 (198cm). Otto stands a little bit behind but this is a good picture to compare:
Click Here
Here is Otto's height exactly the same like Timo's. C'mon guys!!! 6'2 or 6'3 for Otto??? Why not 6'1? Case closed.
Amaze
said on 15/Aug/14
He looked huge to me in tnd. Stamper looked menacing and gigantic next to brosnan. If brosnan was a strong 6'1 there was more than a 3 in difference between them. Like 5 inchs hehe
Andrea
said on 15/Aug/14
Click Here
With Sam Riley, who could not even be 6'1, he doesn't look much over 6'3...
And what about this? Three men, all over 6'5? o.O (Also the women look tall, btw)
Click Here
Just looking at his photos, he really doesn't strike me as a nearly 6'6 guy!!!
I mean, if i think about that big challenger guy or even my solid 198 friend they just look very very tall. You really think he's so tall, Rob? A guy who comes to my mind as a guy who is really near 6'6 is that mayor De Blasio, who really does look huge in every photo and looks it next to guy like Obama...
Arch Stanton
said on 15/Aug/14
As I suspected, look at his footwear in Tomorrow Never Dies
Click Here
Look like lifts. As I say he did look near 6'7" in that film and looks noticeably shorter in photographs nowadays.
Click Here
With Brosnan at the Munich premiere, he can still look near 6'6" though.
Arch Stanton
said on 15/Aug/14
LOL James if you thought he only looked 6'4" in Tomorrow Never Dies there's little hope for Clint Eastwood. He had 5 inches on Brosnan in Tomorrow Never Dies and lie 6 inches on Jonathan Pryce, much taller than strong 6'4" Colin Salmon ever looked in comparison to Pierce. He pulled off looking 2 metres in that film. In photos though I generally see he looks more a 6'5-6'6" guy than near a legit 6'7" though.
Emil 182.5 cm
said on 15/Aug/14
@Rob
What would his morning height be? 6'7?

Editor Rob
on a good day he could be quite near it
James B
said on 14/Aug/14
I would have gussed 6'4 in tomorrow never dies
Emil 182.5 cm
said on 14/Aug/14
Thans you for adding him,Rob! Are you going to add Nikolaj Lie Kaas too?
Amaze
said on 14/Aug/14
Massive bloke
Always looked 6'6 to me or around it
@arch stanton pierce is 186cm right or 6'1.25? Yeah gotz is just like 5 in taller than gotz. Pierce is perfect height to me so i think imo gotz is too tall. But he had a good build for "stamper" very convincing. Must be 200cm or near 6'7 in footwear. Pierce 6'2 in footwear.
Arch Stanton
said on 14/Aug/14
Finally you added him :-) I've seen 199 or 200cm listed for him but was probably a footwear measurement. I'd say 6'5.75" is probably a legitimate barefoot measurement. He could pass for 6 ft 7 in Tomorrow Never Dies and had about 5 inches on Brosnan. In Tomorrow he had to duck through the doorway in one scene and he looked huge next to the door in the Elliot Carver conference thing back room.Scenes of him on the boat he looks 6'7" on screen. I wonder though if they did things to make him look even more imposing and taller though like lifts or whatever.