Griffin Gluck's Height
5ft 5 ¾ (167 cm)
American actor, known for appearing in TV series American Vandal, Locke & Key, Red Band Society and films Tall Girl and Why Him? He listed his Weight on his imdbResume as
"115 lbs"
.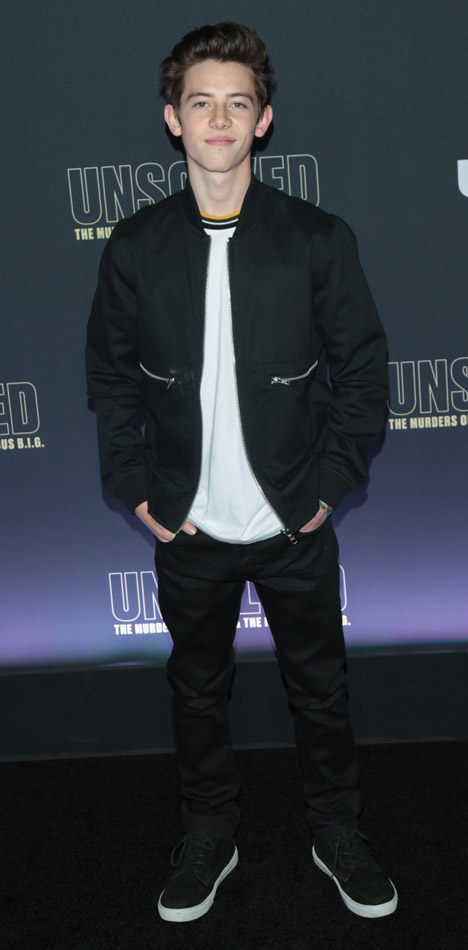 Photos by PR Photos
Add a Comment
18 comments
Average Guess (15 Votes)
5ft 5.7in (166.9cm)
Ngangom Kailash
said on 2/May/20
He is probably gonna be 5 feet 5 or a bit more nothing than that cause sabrina which is 5 feet looks a few inches taller than him. Google list him as 5'7" fake.
Javier
said on 9/Nov/19
To me, this listing seems spot on. He's exactly my age I don't know if there's a possibility he could grow more. It seems to me as if Griffin has been stuck at this height for the last 2 years. He could pull off a surprise though. Rob how common is it for people to grow at that age?
Littlelee5ft6
said on 16/Oct/19
Probably at least 5ft 7 nik
Nik
said on 6/Oct/19
I would be interested to know what he claims.
Brody
said on 5/Oct/19
I don't know why google lists him at 1.71cm when he is listed here at 166cm. Either way, I seriously think he is done growing as he has hit puberty a long time ago and 19 seems too late to grow.
Allie
said on 4/Oct/19
And that explains why all the students in Tall Girl looked so short despite Ava being only 6'1. They really were short.
Miss Sandy Cowell
said on 1/Oct/19
@ Khaled Taban - I knew a fellow of 18 and-a-half who didn't have any facial hair at all! His Mum told me that he would still grow from his 5ft11, and I believe he did - by just a little bit.
⭐ That was a rather superb mistake to make (autocorrect of course!), putting os instead of is! Os is French for bone....
Cheers Khaled! 😁👍
Christian 6'5 3/8"
said on 29/Sep/19
@khlaed
You're right. The "bone age" determines your growth rate, not necessarily outward appearances such as facial or body hair. I started to grow facial and body hair as young as 12, but didn't stop growing until 19.
khaled taban
said on 28/Sep/19
@littlelee5ft6 & @Miss Sandy Cowell.
Men are obviously done growing at age 18 or 19,although some people could grow If they are basically late bloomers or they have special genes and history of late growth spurt.
I said he will reach 5'7" because It's very unlikely to grow more than inch at age 19 ,and saying he looks 15 or 16 doesn't mean his bone age is 15 or 16 , that's too much as the majority of late bloomers are late by year or two .
If his bone age os 15 like Miss Sandy said , he could grow up to 5'8.5" or 5'9" !! And if he has got late growth spurt gene , he could reach 5'10" or 5'11" , It's pretty rare ofc.
Littlelee5ft6
said on 28/Sep/19
I doubt he'll grow anymore most don't grow past 19 but we'll see
Iman Ahmad
said on 28/Sep/19
I Guess If He Still Alive In 2022 He Can Reach 170,2 cm Barefoot , There Is Big Chance He will Reach 170,2 cm In 2022 ,
Andrea
said on 27/Sep/19
He totally looks like Ethan Cutkosky in this photo!
A weak 5'6 doesn't seem a bad shout...
Miss Sandy Cowell
said on 27/Sep/19
@ Khaled Taban - That's (fairly) amazing because I put 5ft7 off my own back without having even taking in the rest of your comment. So at least two Celebheights commenters reckon exactly the same about the future of his height!
Miss Sandy Cowell
said on 27/Sep/19
@ Khaled Taban - I think you're right, and that he is a late developer. 👍
I'm struggling to see any sign of facial hair - all part of the growing-up process for a young lad. He looks about 15 or 16, and I mean that in the nicest possible way, 'cos the young guy will stay looking younger for longer and keep his good looks - and he certainly has those.
5ft5.75. 😉👍 Could well reach 5ft7.
Nik Ashton
said on 27/Sep/19
He's a cool dude!
Littlelee5ft6
said on 27/Sep/19
I remember him as a lad in the Adam sandler film just go with it. And that film wasn't made that many years ago. This listing is accurate though I originally guessed 5ft 4
khaled taban
said on 27/Sep/19
Yes , he is near that mark , there is a chance he will grow up to 5'7" as he is 19 years old and probably a late bloomer.
Chris Junior Hernandez 1990
said on 27/Sep/19
I guess this is the best listing for Gluck.