Henry Simmons Height
6ft 4 (193 cm)
American actor best known for playing Det. Baldwin Jones on NYPD Blue and Alphonso 'Mack' Mackenzie on Agents of Shield. In film he has appeared in Taxi and World's Greatest Dad.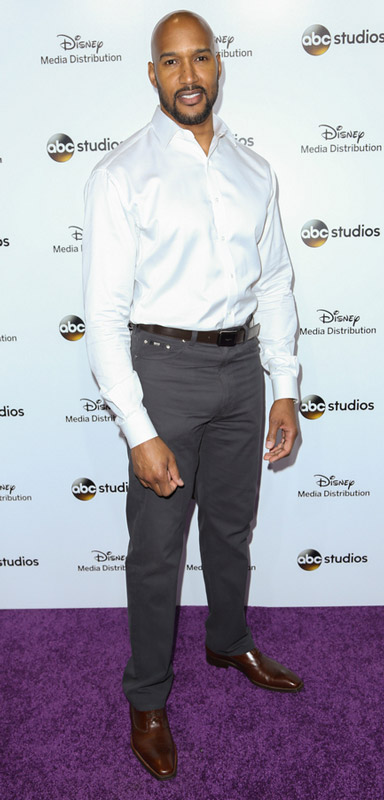 Photos by PR Photos
Add a Comment
36 comments
Average Guess (9 Votes)
6ft 3.81in (192.5cm)
Importer
said on 14/Jul/19
i bet he's been guessed as high as 2m by individuals whom seem to have no clue about height measurement.
khaled taban
said on 14/Jun/19
Taller than Khalifa tower!
Bigger Man
said on 10/Jun/19
I've met Henry a few times. I worked in Hollywood as a minder for many years and our paths crossed many times. Handsome guy, well above average height but a little guy compared to me. I'm 6'11. Henry looks a strong 6'4 to me
K.A 188
said on 17/May/19
@SOTRIS GRAVAS
Agreed with you,Henry is a solid and well proportioned 6ft4 guy I wouldn't be surprise if he edged a guy like Momoa who at time looks more like a weak 6ft4 or 191-192 range .although Momoa does not really have a good posture unlike Henry Simmons who is even 10 years older.
Sotiris Gravas
said on 14/May/19
I forgot to include other supposedly 6'4" guys.
Simmons and Dennis Haysbert (2017)...
Click Here
,
Click Here
W/ Michael Strahan...
Click Here
Sotiris Gravas
said on 12/May/19
Simmons looks 6'4" to me. Here he is w/ other guys who are 6'4" or claim it"
W/ 6'4" Steve Valentine...
Click Here
W/ maybe 6'3.5" Goran Visnjic...
Click Here
W/ maybe 6'3.75" Dwayne Adway (2005)...
Click Here
W/ then 6'3.5" Conan O'Brien...
Click Here
Simmons w/ 6'5.5" Rick Fox (2008)...
Click Here
W/ maybe 6'9" John Salley...
Click Here
,
Click Here
,
This was Steve Valentine w/ maybe 6'4.5" John Corbett (2006)...
Click Here
K.A 188
said on 7/May/19
Solid 6ft4
Junior Hernandez 1990
said on 24/Apr/19
I hardly see him under 6'4 in NYPD Blue and Agent of Shield. Give me an impression taller than Jason Momoa but Hnery posture seem to be the better one.
Rampage(-_-_-)Clover
said on 20/Mar/19
Solid, muscular dude...
Junior Hernandez 1990
said on 8/Jul/18
He kind of give me a Boris Kodjoe impression similar body build and probably weigh in at 220 lbs.

Editor Rob
Watching SHIELD, this man always seems very tall.
Rampage(-_-_-)Clover
said on 29/Mar/18
Somewhere between 192-193cm...
S.J.H
said on 5/Nov/16
i would say 6'3.5 for simmons he just doesn't look in that solid 6'4 david hasselhoff peak range
Mark
said on 25/Jul/16
Simmons Is two inches taller than Brett Dalton and has three inches over Luke Mitchell.
Hypado
said on 5/Aug/15
Henry Simmons height: 6ft 4in (193 cm)
easy 193 in SHIELD series.
Lorne???
said on 24/May/15
Ha, we got a pic now! NYPD blue was such a great show, very nuanced, gritty, etc.
Lorne???
said on 20/May/15
As long as this page is up, you may as well add his recurring role on "Agents of SHIELD".
Lorne???
said on 9/May/15
Damn. No comments?
Yeah, he's tall. So tall in fact, that it's hard to tell his exact height on NYPD blue, as all other other cast members(during his tenure) are under 6 feet, and often well under.
But yeah, he's taller than the guy that plays Simone(can't recall his name this moment) so a good 6'4 seems right, could he even be a tad more? Perhaps...
renee
said on 4/Dec/08
Who cares! I with Sherri....he very tall, dark and handsome at 6'3 or 6'4.
Anonymous
said on 20/Feb/08
I am a very good friend of Henry's and he is, indeed, 6 foot 4 inches.
ed2
said on 26/Dec/07
He looks more than 6ft4 next to 6ft1.5 Roger Cross:
Click Here
patrick
said on 4/Dec/07
Mr.R: sorry but no way being more muscular or wider be able to make you look taller: never!
That guy looks tall because he is and very much!
Sherri
said on 3/Oct/07
It doesn't matter whether he is 6'3" or 6'4" because he is tall, dark and handsome. It seems that his disposition would be just as beautiful as he is handsome. I'd love to meet him again!
Mr. R
said on 14/Jun/07
I stick with my 6-3 sighting. He is so muscular he seems taller!
patrick
said on 13/Jun/07
RightPhil; Yet, they are not that small, while not being very tall.
The only one to be less than 5'7 is co worker. Dennis Franz is about 5'10 or so and M.P. Gosselaar looked much smaller than SVU team in Law & Order, so I just buy he is 6'; Nevertheless being not les than 5'11, he is dwarfed by Simmons, as broad as tall!
phil
said on 13/Jun/07
guy looks a head taller than every other actor on Blue
patrick
said on 21/May/07
Frankly, in NYPD, he makes the others, all of them, ridculous as rarely seen in a TV show! Not only he is towering over anybody but he is also much much broad shouldered! He look like Lothar, if you remember the servant of Mandrake! A positive giant! He perhaps is 6'4, not less but i'd be inclined to think he is more;
Read what Adam Baldwin said about the difficulty inherent in being "too" tall, starting at 6'4 or so! More than 6'4, as i told many times, is awful for an actor career; Vince Vaughn is an exception !
CleverMe
said on 17/Apr/07
I saw him Saturday at UCLA. My son and I took a pic with him and his friend. I believe he is as tall as my ex husband who was 6'4".
patrick
said on 13/Apr/07
I buy 6'4 easily and not 6'3; I know that in NYPD BLUE he was surrounded with quite small actors but, all the same...He looked like a giant and everybody around me was telling "wow! this guy is 6'7!" 6'7, no, but 6'4, yes;
Viper652
said on 16/Oct/06
How short does a guy at 6-3 or 6-4 look to a 6-10 guy anyway?
Viper652
said on 16/Oct/06
He looks 6-3 to me.
Grewal
said on 15/Oct/06
hes about 6 4 I saw him at a gym, and im 6 10 he was much shorter but at least 6 4
Mr. R
said on 25/Jun/06
I saw Henry twice last week, and he was 6'3" both times. He is HUGELY muscular however, and that makes him seem bigger than he is. Nice guy though.
samsl
said on 17/Apr/06
I used to be a personal trainer at the same health club he works out at. He is truly 6'4 and really built.
dave
said on 24/Oct/05
Actually this guy looks pretty huge, but then again I've never seen him in person. In Taxi, he looked at least 4 inches taller than Jimmy Fallon, who is nearly 6 feet tall according to this site.
[Editor Rob: I do agree he looks 6ft 4...others might think shorter, but he does look big]
Anonymous
said on 18/Mar/05
Yeah, I remember seeing him on The Sharon Osbourne Show, some time ago. Sharon's pretty small- 5'1"-5'2" and he towered over her. She remarked, "You're a big boy!". He replies "Yes! I am! I'm 6'4". Yet he actually looked more 6'3"-ish, so Mr. R. is absolutely correct. I also notice that he's often acting opposite significantly smaller people ... take a pretty big guy and put him next to smurf-sized people and he'll look like a giant.
Mr. R
said on 18/Mar/05
I saw Henry at The Grove shopping center in Hollywood. He is actually 6'3". They added the extra inch when he started modeling, before he came to Hollywood.