Hilary Swank's Height
5ft 6 (167.6 cm)
American actress best known for roles in movies such as Million Dollar Baby, Boys Don't Cry, The Core, P.S. I Love You, Insomnia and The Homesman. In the movie boys don't cry film there were some mugshots, and the 'arrest' sheets showed 5ft 6.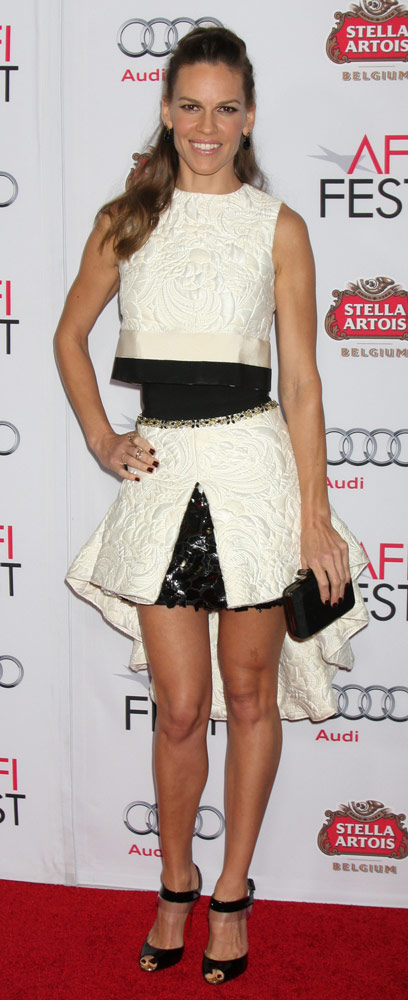 Photo by kathclick/BigStock.com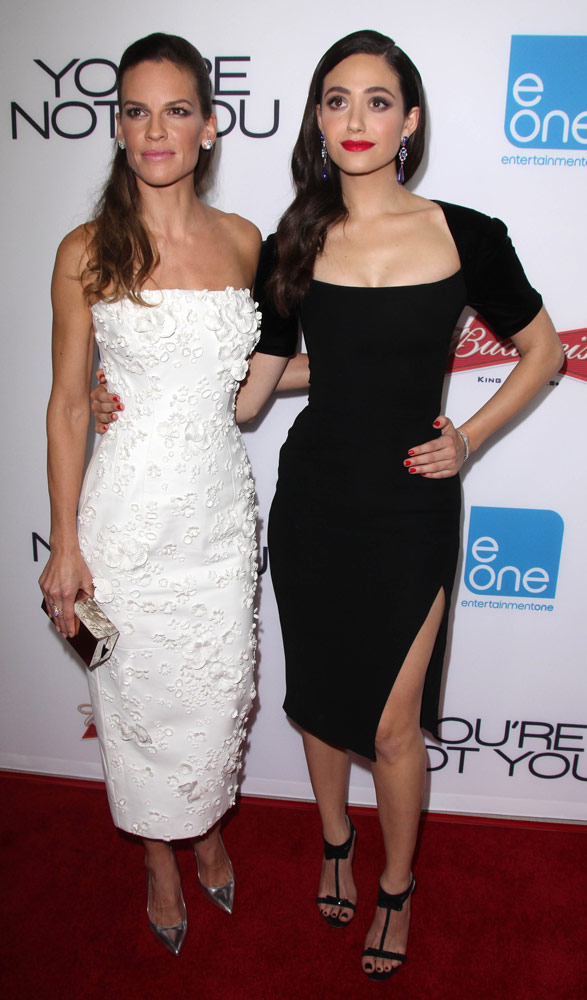 You May Be Interested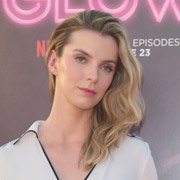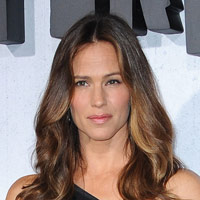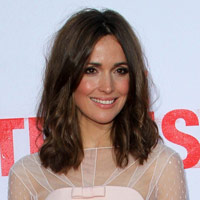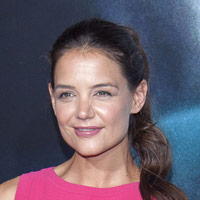 Add a Comment
50 comments
Average Guess (20 Votes)
5ft 6.06in (167.8cm)
Spencer Dobkin
said on 31/Dec/19
5'7" ish
Littlelee5ft6
said on 12/Sep/19
And look at the short guy in the background looking at her bum lol
Littlelee168cm
said on 16/Jan/19
I can understand what he means though Sandy she looks positively lanky in the photo above from this angle she looks taller than all the people behind her too
Sandy Cowell
said on 19/Sep/18
Last night, while watching 'The Reaping', I asked my brother how tall he thought Hilary is. First he said "5ft9!" and then I said, "No, she's not that tall! Compare her to some of the other cast members and try again!"
Next guess was 5ft8! Perhaps Hilary does give the impression of being taller. I would once have believed 5ft7 for her, for instance in 'Boys Don't Cry', but in the film 'The Core', I would have given her at MOST 5ft5.5!
It's all relative to how a person compares to other people but one thing's for sure: Hilary has the sort of super-fit mesomorphic figure that can trick people into thinking she is taller.
5ft6, though she can easily pass for more!
Nik
said on 5/Jun/18
@ Sandy Cowell - Hi!
It jolly well does tell us that on the whole male actors are a pretty tall bunch, women of 5'7" are nearly as tall as the average man! - Believe me! Also 5'7" is an acceptable model-girl height, although it is under average in the female modelling world, they are a pretty tall bunch!
I can also buy 5'6" and change for Hilary, I don't quite buy 5'7" pushing 5'8" though!
Sandy Cowell
said on 2/Jun/18
Compared to the male actors in the film 'The Core', Hilary looks rather tiny! Funny that, because I always had her down as 5ft7, which is an acceptable model-girl height! I have also thought the very same thing looking at the delightful Keira Knightley, who is officially 5ft7! What does this tell us about actors as a whole? I think it tells us that they are a pretty tall bunch, as a 5ft6/7 woman is by no means a short one!
Hilary gets 5ft6.5 from me today. I'm inclined to believe her cousin's viewpoint! 👍😉
Nik
said on 10/Mar/18
For me Hilary is over 5'6" but under 5'7"!
josh
said on 4/Dec/17
No more than 5ft 5, shes a couple inches taller than 5ft 3 Miyagi
Sandy Cowell
said on 23/Oct/16
This girl keeps herself in fantastic shape, which can be seen in the film 'the Resident' which, interestingly enough, comes from the Hammer Studios and stars movie legend Christopher Lee.
My favourite of her films has to be 'the Reeping', wherein she plays a force of goodness in what can only be described as an apocalyptic end-of-days story. I did feel all the better for watching it! (It is visually stunning!)
That cannot be said for Hilary's hard-hitting fact-based drama 'Boys Don't Cry', which is sad beyond belief.
I would have thought Hilary to be at most 5ft6, possibly an inch less, by comparing her to other actors I know the heights of.
John
said on 9/Apr/15
Look at wire image. She is exactly same size as 5-4 Sophia Bush. She is tiny. I walked right by her in NYC
184.9 on a bad day
said on 8/Jul/14
She is very beautiful.
I'm surprised, always thought she is about 5 ft 5, she looks tiny, especially in Ps i Love you with Gerard Butler.
James B
said on 27/May/14
I thought 5'9
Arch Stanton
said on 2/Feb/14
She looked 1.5-2 inches taller than Pacino in Insomnia.
charlie
said on 7/Jan/14
1,68m is right. look at her near Pat Morita (1,60m):
Click Here
Sam
said on 14/Nov/13
I find quite attractive...one of the times I was most attractive to her was, God help me, when she was a little muscled up and sweating in a sports bra in Million Dollar Baby...at least I didn't say Boys Don't Cry.
Jonathan Meyer
said on 12/Sep/13
1.64 m tops. Look this (with Karlie Kloss):
Click Here
Roxannethelycan
said on 8/Jul/13
geeze i thought she was five eight, either because of the heels or her posture.
Steven
said on 13/Oct/12
She's 5 feet 4. Go to gettyimages. She is same height as Anna wintour (who claims to be 5 feet 7 but is an inch taller than Katie course). Halle berry is an inch or to taller than wintour in pics and he is 5 feet 6 tops)
bill
said on 29/Jul/12
She is 166cm
The Dutch Guy.
said on 15/Jun/12
5'4" tops. No way, she can't be taller than this. She has short legs and short body.
Demetrios
said on 30/Oct/11
If you see a post in Richard Gere's page, there is a person claiming he has seen her at the shootings of Amelia (2009) and she was just 5 feet 3 inches. I know she doesn't look that short(she looks like 1.68-1.73), but it is possible. Let's not erase the possibility.
Dmeyer
said on 27/Jul/11
I thaught more 5'7 when i met maybe i am wrong
SAK
said on 24/Jul/11
Y is her page so dead. 5ft6.
Eric F. Scheinost
said on 22/Jul/11
When we were at Disneyland that's about her height.
Jim
said on 23/Feb/09
I just walked past her in the hall in the building where I work (on the U of M campus where she is filming "Betty Anne Waters"). I almost didn't recognize her because I was expecting her to be much taller. I'm going to throw my lot in with the 5'4"-5'5" crowd. I also agree that she looks better in person - she looks like more of a regular person in person, which is probably true of anyone who hasn't has loads of plastic surgery.
MarcustheSwede
said on 17/Jan/09
Hello.Josh you are wrong about Ljungberg.He is not shorter then 175 centimeters.I have met him here in Sweden many times and he is not tall but not a centimeter under 175 centimeter.
Yes he is short but great soccer player..anyway he was great when he played his best.Maybe as good know but although a nice guy.
Courtney
said on 22/Jun/08
No she's definitely not 5'6". I saw her two days ago at Kroger's and I was amazed at how tiny she was. On screen she looks like she's tall. But I would say she's only 5'4" at the most. She was wearing flip flops too so this is a more accurate height.
RICHARD
said on 15/Jun/08
Looked about 5'6 or 5'7 in Boys Don't Cry even next to Chloe Sevigny,who is 5'8, and wasn't very much shorter than 6' Peter Sarsgaard or 5'6 Brendan Sexton,Jr.. I think 5'7 sounds good,as she looked it.
LJ
said on 21/May/08
I thought Hilary was 5''8 or 5''9. But a lot of people have propirionate bodies that make them appear taller. Hilary is beautiful and has a great body shape.
Anon
said on 28/Sep/07
Yeah, exactly Markus. I thought she looked 5'8" or more and then was quite surprised to find her listed at 5'6" on here and, furthermore, 5'5" when you search her on Google.
Markus
said on 23/Aug/07
Hilary gives me a tall impression, long slim arms and legs.
If I would see a picture of her and no one else in it, I think I would guess her at 5'8" judging from her body type. Of course she's not that tall...
Josh
said on 28/Jul/07
I now Larson is 5'9.5 177cm but Ljungberg shorter than 5'9 I dont know felix but is posible hes as tall as mark wahlberg (5'8).About Hilary I think 5'6 is right.
nejv tha man
said on 28/Jul/07
funny thing ljungberg is 5'9, the shortest player in the swedish national soccer team, and still is a model and considered as one of the hottest
17,181*
said on 23/May/07
5'6 is what she gives herself
this here is the legit one
Click Here
Josh
said on 19/May/07
Hilary looks taller than chad lowe in some pictures ive seen so she could be round 5 foot 8.
mike
said on 17/May/07
Esquire ran an interview with Hillary a few months ago & claimed she stood around 5' 4".
Felix
said on 3/Mar/07
Alright, I met Henrik larsson and he's 177cm and Ljungberg is at least 1,5-2 inch shorter than Henrik, this give him 172-173cm, Ljungberg is not taller than that.
bluenose
said on 19/Jan/07
I like Felix do not think that Ljungberg is 175-176cm but I think hes taller than 170cm, he looks in between them, i'd say hes 172-173cm, u should add him and see how tall everyone else thinks he is.
Stevie G
said on 12/Aug/06
Ljungberg is'nt 170 cm. If he was he would be shorter than Ashley Cole who is 173 cm(that ain't happening). But he is the shortest player in the Swedish national team at 175 - 176 cm(The team doctor said that in the newspaper Aftonbladet during the World Cup). He is barely shorter than Anders Svensson and about the same height as 176 cm Linderoth.
DudeX
said on 10/Aug/06
Ljunbgerg is 5-9, or 175cm. No way in hell he is shorter
Mah
said on 9/Aug/06
wierd cuz imdb.com have her at 5'5 check for your self i think she is abt 5'5.5
Click Here
Felix
said on 14/May/06
The funny thing is that Fredrik Ljungberg isn't even CLOSE to 176cm :)He's like 170-171 :)
anonymous2
said on 4/May/06
at the mtv awards in 2005, hilary was wearing flats and lindsay lohan was wearing heels. Lindsay is 5'5" and she is about the same height as Hilary, so I would put hilary at 5'7"
Anonymous
said on 24/Oct/05
We all know that Julia Roberts is 5'6". Hilary looks 5'4" - 5'5".
http://editorial.gettyimages.com/source/search/details_pop.aspx?iid=51598648&cdi=0
Z2
said on 10/Jul/05
Despite the (5'6") height listed in the movie, "Boy's Don't Cry," for Hilary Swank; I think Hilary's height is a solid 5'4". Hilary played the character "Brandon Teena", who was a Cowboy(who wore cowboy BOOTS). Therefore, when they measured Hilary in cowboy boots, Hilary came to the 5'6" mark(because of the 3 inch cowboy boots).
Smoke
said on 1/May/05
Anyone catch her on SNL beside Maya Rudolph (listed at 5'7")? She looked a good inch shorter than Maya, and Hilary was in heals for this skit. The more I see her the more she looks 5'6", she did tower over Rachel Dratch though.
NYC traveler
said on 9/Apr/05
I have stood next to her in the street in NYC near Central Park while she was talking to some fans. She was smaller than I expected and very thin. She was only slightly taller than my wife who is 5'4". Also she was much prettier in person than in movies.
Mr. R
said on 1/Apr/05
I saw her at a Million Dollar Baby screening last November. I did not get close to her, but comparing her to the hostess, whom I had stood next to, she seemed about 5'6".
Raz
said on 30/Mar/05
I agree with canstop25. Her head seems to be an inch or so lower, making her around 5'6" - 5'6.5", or 167-168 cm.
cantstop25
said on 1/Feb/05
if that guy is 5'9" she aint 5'7" he is taller then her in that pic. It just does not completely appear it because that guy has a shaved head. he look to be about an inch taller in that pic