Iain Glen's Height
6ft 0 (182.9 cm)
Scottish actor, best known for roles in movies like Lara Croft: Tomb Raider, Resident Evil: Extinction and for his portrayal of Ser Jorah Mormont in HBO series Game Of Thrones. He used to get listed in the Spotlight Directory as
"5 feet 11 inches"
.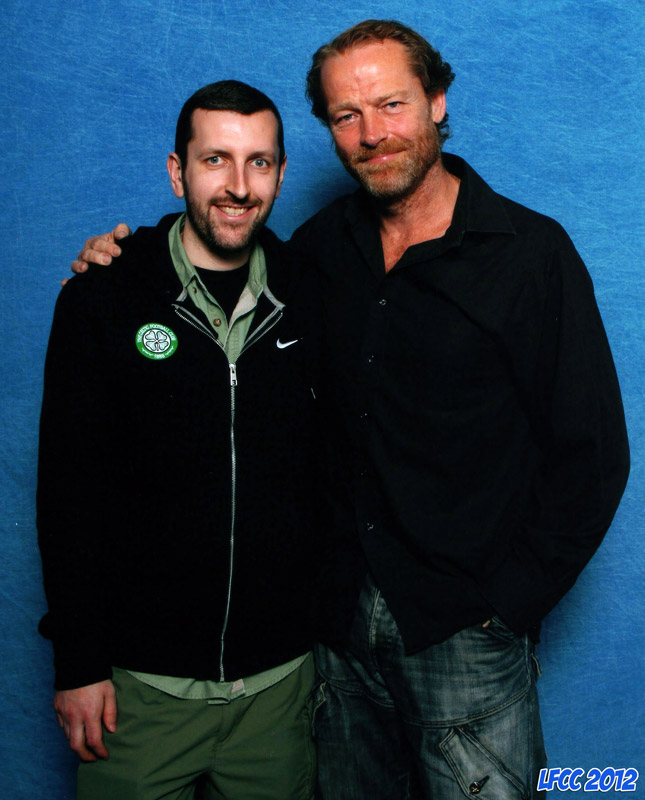 5ft 8 Rob and Iain @ LFCC, 2012
You May Be Interested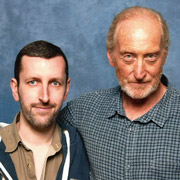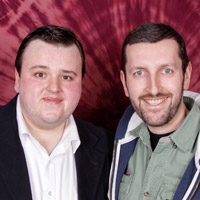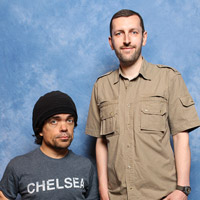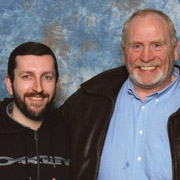 Add a Comment
74 comments
Average Guess (53 Votes)
6ft 0.09in (183.1cm)
slim 6'1
said on 22/Jan/21
Agree with rampage 5'11 is way too low
About 183.5cm
Rampage(-_-_-)Clover
said on 12/Oct/20
5ft11 is definitely too low
Vsquad
said on 26/Aug/20
Was watching Titans, and Iain looks an inch taller than Brenton Thwaites.
This listing is spot on - could be a fraction taller even. He consistently edges out 5'11 guys, and looks a solid inch shorter than Michiel Huisman at 6'1.
berta
said on 30/Jun/20
always thought he looked about 183-184 in movies. but looks shorter here.

Editor Rob
One of a small handful of actors who never changed his Spotlight casting height for 25 years (like Roger Lloyd Pack at 6ft), in each edition it was kept at 5ft 11.
Jam Cherry
said on 4/Jun/20
In resident evil 2 & 3 I saw him nothing less than 183.5 cm
Mandaror
said on 11/Apr/20
Crazy he got listed at 5'11. I can see 6'0.25
Rampage(-_-_-)Clover
said on 24/Mar/20
Stronger 6ft is likelier than weak 6ft
Nik
said on 5/Feb/20
He can pull it off!
Jkiller
said on 17/Jan/20
182cm, 5'11.75
TheBat
said on 25/Dec/19
Can look 6'0.25".
VitoCheng
said on 7/Dec/19
As honest as Michael Gambon, understatement by 1 inch😏
speculate: 183.5cm
Nik
said on 6/Oct/19
@ SMART BERRY - I wouldn't rule it out! I liketh your name!
Christian 6'5 3/8"
said on 26/Aug/19
I believe he can measure 6'0" if he stood straighter.
Jammes
said on 12/Aug/19
Crazy how he got cast as batman on Titans i guess they are gonna for the dark knight returns/batman beyond deal lol does not look like the tradiational 30s or 40 year old bats. Hes only 2 inches off of comic bats
The Horse of FUNK
said on 4/May/19
"Editor Rob: he really wasn't over 6ft in person, I've seen him numerous times and he can seem barely over 5ft 11 at times... "
This is crazy. Even as far back as season 1 he looked an EASY 6'1", scraping 6'2". I guess it goes to show you can't always trust the camera and sometimes it has more to do with a person's proportions than their actual size. Being next to Emilia Clarke so often also might have something to do with it.

Editor Rob
6ft or thereabouts is probably a reasonable figure for him, at times I've seen him at events and he has looked sub 6ft, but then overall in most productions he's been in he's seemed closer to 6ft range.
SMART BERRY
said on 12/Feb/19
6'0.25"-6'0.5" range guy
Caaq
said on 20/Dec/18
I think if he would not be tilting his head and if he stood very straight, Editor Rob would be at level with his eye brows which would make him a comfortable 4.5 to 5 inches taller. But if editor rob were to stand straigher as well, he could maybe gain an unch or at least half an inch..so eventually the actor here would be 4 to 4.5 inches taller than Editor Rob. That makes him a comfirtable 6 foot for sure. Easy to pull off 6 feet 0.5 ibch and maybe was a 6 1 guy in his 30s.
Nik
said on 11/Nov/18
It's fascinating that he got listed as being 5'11" in the Spotlight Directory!
Alex65
said on 26/Aug/18
Looks under 6ft in some pictures next to 5'11 Jerome Flynn: 1 or 1.5 cm more than Flynn but he probably had a little bit more sole. I think he's just under 182 cm now, 5'11.6 or 181.8 cm (peak close to 182.5). In GoT, he has boots, often a good posture and looks 6'1 next to the small Daenerys, this is why he seems that tall.
Tall Sam
said on 9/Apr/18
He looks taller in films and shows than he does here with Rob, I think he's holding relaxed posture and tilting his head.
Rampage(-_-_-)Clover
said on 7/Apr/18
Taller than Aidan Quinn in Song For A Raggy Boy. Honestly, if Quinn is 181-182cm, this guy actually looked 184-185cm
Vexacus
said on 28/Feb/18
I knew Dr. Isaacs (Iain Glen) was at least 6ft . Seems accurate .
MAD SAM
said on 15/Dec/17
He always looked close to 6'1" in resident evil this guy is definitely 183 cm
berta
said on 28/Oct/17
183 is probably closer than 184. maybe 183,5 ore at peak
Aykan
said on 27/Oct/17
I am 186cm and have met him. He is 5cm smaller than me. 181cm.
Andrea
said on 23/Oct/17
This is certainly a better shout! Near enough 6' but not over...
meson777
said on 23/Oct/17
I know that he isnt 184-184.5. You are right Rob
Tom
said on 21/Oct/17
@Editor Rob
Well it seems fitting, he's always appeared around 6ft flat on GOT. He generally looked around the same as Harry Lloyd back in season 1.
Tom
said on 17/Oct/17
Out of curiosity Rob, what made you decide to downgrade him?
Editor Rob: he really wasn't over 6ft in person, I've seen him numerous times and he can seem barely over 5ft 11 at times...
sumdude
said on 20/Aug/17
Iain Glen and Jerome Flynn(181cm) look nearly identical in pictures. Iain Glen is slouching abit though, like he usually does so that might be the reason. Just google images of them together and you'll see. I think Glen might be closer to 183cm. Appears quite tall in most shows and movies. Doesn't get towered but doesn't really tower anyone either. Good proportions and easy on the eyes. In my opinion close to perfect height, 183-185cm. Also, there seems to be ~1.5-2cm difference between him and 185.1cm Michiel Huisman.
Peter175
said on 24/Jul/17
Tom, yeah but seeing as Rob has met him and seen him in motion I think its safe to take his word for it. Maybe 1/4 above or below is debatable but I'm not seeing anything more in this pic
Tom
said on 24/Jul/17
I'm generally not a downgrader, but he often looks 6ft flat in GOT. There's clear height difference between him and 6'1" listed Michiel Huisman.
Tonydaportuguese
said on 1/Jul/17
Iain is a amazing actor i think you have him picked for the right height Rob.
World Citizen
said on 3/Jun/17
Looks 182 183 in the photo.
berta
said on 20/Feb/17
looks shorter than i thought in the photo . in game of thrones he gave a strong 184 -weak 185 impression. looking at the photo he is more in the littel under 184 range. he is losing height in the hips and that makes him look 182 but standing tall he would probably be almost 184
S.J.H
said on 17/Feb/17
I don't see him drop that much posture. He look kind of 5'11 to 5'11.5 max
Belfast Examiner
said on 14/Feb/17
@Tom Kristofer is standing fully erect, while Iain is slouching and leaning noticeably, and yet Glen still manages to edge him out by at least a solid inch.
Tom
said on 25/Jan/17
@Belfast Examiner
Fully upright? He looks like he's slouching and leaning.
Belfast Examiner
said on 16/Dec/16
Definitely looks this height when standing next to fully upright Kristofer Hivju.
Click Here
berta
said on 18/Nov/16
this guy would be 2 cm shorter than cena.
Pierre
said on 2/Aug/16
Imo he's about + one forehead(over the eyebrows) compared to Rob with a good posture. He's around 5"11.75' imo.
Rampage(-_-_-)Clover
said on 13/May/16
Yeah I think 183/184cm now is probably closer (looks 182cm tops with the lean) but 184/185cm or closer to 6ft1 in his 20's. He looked over 1in taller than Aidan Quinn (5ft11-11½) in Song For A Raggy Boy (very underrated movie and he gives a chilling performance as an evil priest)
NBAer
said on 7/Mar/16
Looks 180-181 with the lean,probably a strong 183cm standing upright...Listing seems almost perfect.
Dennis
said on 23/Nov/15
Hey Rob, do you think Iain was at a peak of 6'1 land lost some due to age or do you think his peak is 6'0.5?
Editor Rob: I think his peak was in the 184 range, I don't think he lost much at all compared to 20 years ago.
Nick
said on 2/Nov/15
How does rob get the chance to meet all of these celebs?
[Editor Rob: 99% of any photo is at conventions.
]
Andrea
said on 25/Aug/15
Rob, how tall do you think he looks with you? 181-182? Is he a guy with a good posture? I mean, you said, for example, that a guy like Charles Dance dropped about 1.5 inches in the photo, which could explain why he can look only 183-184 with you! In that case i could buy he's still somewhere near 6'2! But for this guy, it's quite hard to believe he's a big 6'0.5!
[Editor Rob: 182cm, but standing tall I think 183-4 range.]
Rampage(-_-_-)Clover
said on 13/Aug/15
184-185cm range is legit
Sam
said on 29/Jul/15
Could you add Downton Abbey to his credits also, Rob?
Sam
said on 29/Jul/15
Can pass for 184-185 cm on screen but I reckon he looks about a cm shorter than expected here. A good looking middle-age guy for sure, reminds me just a bit of Harrison Ford, but I think I've seen a rather prominent bald spot on Glen on GOT.
Chuckie Cheese 2
said on 18/Apr/15
184 cm for sure. Maybe 6'1" prime. Weighs 180 pounds, looks 6'1" or 6'2" on screen. Exceptionally handsome actor, well suited for highlander / medieval warrior type roles.
Lorne???
said on 4/Apr/15
He wasn't quite Scottish enough, so Rob gave him the awful "British" tag. ;)
184.3cm
said on 4/Apr/15
Rob how come he is listed as British when he is a Scottish actor? Ive noticed you list people sometimes Irish/English/Scottish and other times British. Is there a method to this or am i reading to much into this?
[Editor Rob: I wouldn't read too much into it.]
averagejoe
said on 15/Feb/15
definitely 6ft, always looks tall.
SaveUsY2J
said on 11/Jun/14
@RogerH- He's dropping a good inch with posture next to Rob. Also, Ackles was in boots next to Rob, whilst there's no significant footwear disparity here.
RogerH
said on 7/Jun/14
Ackles sounds taller next to Rob and he is listed 183... Glen, 184... Don't be offended, Rob, but sometimes, this is not logical. Here, I don't see 4 inches difference, sorry.
Connor 184cm
said on 3/Nov/13
He did look maximum 2.5 inches taller than Daniel craig whos 5ft 10 so 184cm is spot on for Iain, if stood up straight without the lean he will definetly look around 6ft 0.5, rob is very accurate at height estimating as usual.
Rampage(-_-_-)Clover
said on 17/Sep/13
Strong 6ft minimum. He's losing a good 1in or so next to Rob.
Akmal
said on 27/Jul/13
Strong 6ft
Bakura
said on 11/Jul/13
Legit 6-footer. Kills any chance of Daniel Craig being under 5'10 as in Tomb Raider there was max 2in separating them.
Lee
said on 29/Jun/13
Wow, he sure does have a big noggin. =o
A 6'0" guy. Dig him on Game of Thrones, he's also been on Doctor Who.
Rampage(-_-_-)Clover
said on 21/Jun/13
Up straight 6"0.5" - 6"0.75". He looked about 6"1 next to Aidan Quinn
lelman
said on 1/Jun/13
Considering his head lean, I'd say 6' - 6'0.5" seems right.
Kyuss
said on 19/May/13
6-0 looks spot on imo.
Len
said on 19/Apr/13
Classic 6-footer. Good lookin' dude, especially for his age.
Balrog
said on 24/Jan/13
He does looks 6 feet but nothing over though.
Stephen
said on 8/Jan/13
183.5 classic
Aragorn 5'11
said on 2/Jan/13
5'11.5 here with Rob.
Rampage(-_-_-)Clover
said on 25/Dec/12
Looks 5ft11.5-6ft in this pic
Sam
said on 10/Dec/12
Rob, he looks closer to a weak 6 footer in this picture. Did he seem almost 6'1" in person?
[Editor Rob: he looked somewhere in 6 foot range today, I don't know if he's lost anything though.]
Lionel
said on 14/Jan/09
He had at least 6 inches taller than 5'7 Angelina Jolie in Tomb Raider.
Anonymous
said on 8/Oct/08
He's got Jack Davenport height 6'0.75 or 6'1 tall might be correct
Anonymous
said on 26/Sep/08
He towered easily Daniel Craig 5'10 so he might be 6'0.75 or 6'1 tall.
Anonymous Bergh
said on 3/Jun/08
In resident evil extinction looks 1.5 shorter than 6'2 matthew marsden.
Ivan 6'2.25
said on 6/Jul/07
6'1 seems right,beside 5'10 tall Daniel Craig in Tomb Raider
In Resident evil,was at least 6 inches taller than 5'8 barefoot Milla Jovovich.