Ian Ogilvy's Height
6ft 0 (182.9 cm)
British actor best known for playing Simon Templar in tv series Return of the Saint. In film he has had memorable roles in Witchfinder General, Death Becomes Her and My Life in Ruins. Says on his CV he's 6ft. I met him in 2006 and 2008, I think he is close to 6ft. In this photo (by Malcolm at Collectormania) he is wearing Nike Air Force One's, a fraction thicker than mine.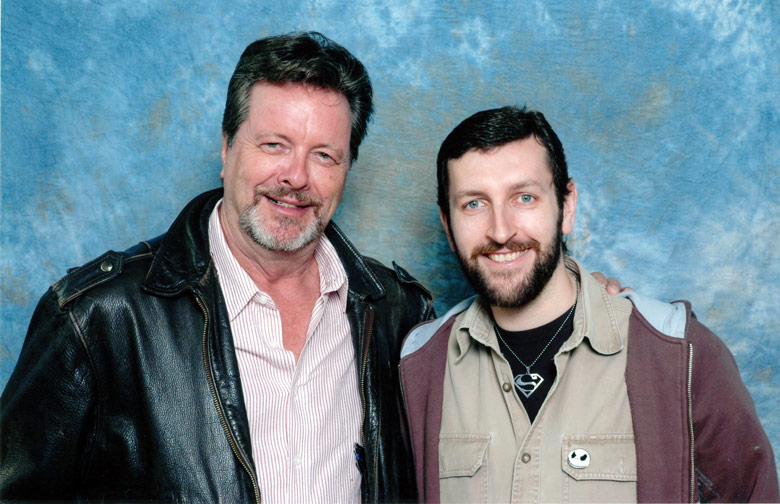 5ft 8 Rob and Ian
You May Be Interested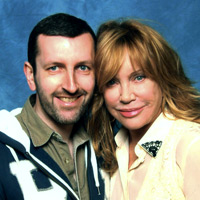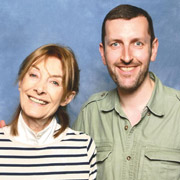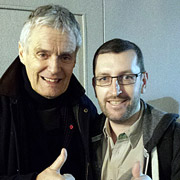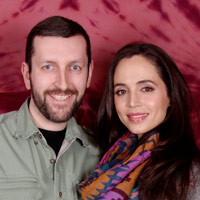 Add a Comment
20 comments
Average Guess (10 Votes)
5ft 11.53in (181.7cm)
Christian 6'5 3/8
said on 5/Oct/20
@Rob
How much does the Adidas Samoas give in comparison to NIke AF1's?

Editor Rob
roughly 1/4
Rory
said on 3/Aug/20
I read an interview with him where he described himself as being "only just six foot". He also bizarrely described Roger Moore as being six inches taller than him. Rob met him in his 60s and if he looked roughly six foot then you'd imagine in his 30s he had a chance of being a solid/strong six footer.
Nik Ashton
said on 11/Aug/19
I trust Rob and Ian!
Miss Sandy Cowell
said on 8/Aug/19
Ian looks incredibly good when you think just how far his films date back to.
Last night on the Horror Channel, they were showing 'Witchfinder General'. I turned it over for a few minutes and immediately heard that distinctive voice of Vincent Price. At 6ft4, he'll have made Ian look comparatively normal height, but much of the film centres round Ian doing his all to save his partner, so he does look considerably above average in the production.
It's a very sad film, and I have a copy upstairs any time I wish to study the details.
As there is only the one box, 6ft will go therein. Oh yes, and what about good old Simon Templar from 'Return of the Saint'? That's going back DECADES, just like 'Witchfinder General', which hails from 1968. 😇
World Citizen
said on 13/Feb/18
Looks like a flat 5 ft 11
Bobby
said on 18/Jan/18
Straightening up, Rob's eyes are level with the upper portion of his mouth area, he might be more 5'11 than 6ft. Not sure if he had a peak height yet but wouldn't be surprised if he was over 6ft when younger.
Sandy Cowell
said on 22/Jun/17
Well Rob, if Ian was nearly 6ft on the day you met him, then he MUST have been a very strong 6ft in 1968, when 'Witchfinder General' was made! 👍
Sandy Cowell
said on 21/Jun/17
I am watching 'Witchfinder General', and have been waiting for the opportunity to compare Ian Ogilvy with Vincent Price!
The time hath cometh; I guessed him to be 6ft - and I'm right! I can't believe it! I must be getting better! 👏
The film was made in 1968, and banned for ages. It looks quite tame in comparison to some of today's offerings!
🔥🔥😨 🔥🔥😭
Editor Rob: it is relatively tame...but I suppose for late 60's was possibly 'shocking'.

Ogilvy that day was very close to 6ft, taller than Benedict Cumberbatch for instance in person...
Rampage(-_-_-)Clover
said on 25/Oct/14
Looks around 5ft11 range
Simon Templar
said on 22/Jan/12
If there´s an actor with no doubts about his height and possible minimum height difference between what´s real and what´s supposed, this is him. No one has ever stated that Ian reaches 6´1"; no one has ever declared he´s 5´11". 5´11,5"/6´ is correct.
Big King
said on 29/Oct/08
There aren't four inches difference too. That guy has only three inches on Rob.
Lozzer
said on 28/Oct/08
What sneakers were you wearing Rob?
[Editor Rob: I wear adidas samoa here.]
Brad
said on 28/Oct/08
God has he aged.
Anonymous3
said on 27/Oct/08
slouching, I see legit 6 feet. He;s git really loose posture. Dang Rob you look pretty tall yourself in that photo. He doesn't seem to have a significant amount on you. Maybe down grade to 5'11.75 Rob? Looks a weaker 6 feet maybe
[Editor Rob: I actually loosened a bit after he stood loose. He looked about 6ft though, looked near an inch taller than michael rosenbaum for instance who I met 10 minutes later.]
derek d
said on 27/Oct/08
He's 5'11.5 in the picture but he's clearly slouching in the pic.... Looks like a legit 6 ft.
Marcelo C.
said on 23/May/08
Dear boys, let
Seb
said on 23/Feb/08
Frankly, I find hard to believe he lost the part of Bond because he is 5'10. According to Ogilvy he never got the part because the producers thought he was too similar to Roger Moore. Anyway, 5ft 11.5 is virtually 6 ft; that is a small difference to tell apart...
Marcelo C.
said on 10/Nov/07
He used to be extremely handsome and British looked; He
Dmae
said on 9/Jul/07
At any height he is a very talented actor and writer and incredibly handsome. He would have made a terrific Bond!
Mr Mayfair
said on 10/Jan/07
He failed to get the Bond role because he was 5.10.