Iko Uwais Height
5ft 5 (165.1 cm)
Indonesian actor best known for starring in the films The Raid:Redemption and The Raid 2.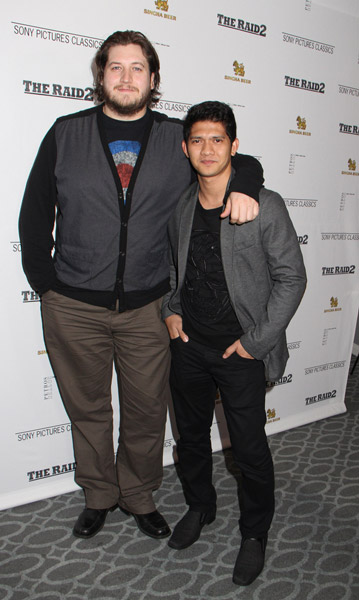 Iko with Raid Director Gareth Evans
Photo by PR Photos
Add a Comment
34 comments
Average Guess (22 Votes)
5ft 5.64in (166.7cm)
FE
said on 16/Feb/20
@Editor Rob,
Here are his Claims & Agencies….
Click Here
Click Here
Click Here
Click Here
I am not sure his 5'10" claim was a part of his character or not, but from what I've seen he looks nothing under 5'11"!
On an interesting note, He was described as the "Tall Guy" in the last ep of Warrior S1 and had 2 inches on Joe Taslim (5'10" @Best).
BTW, Could U add a page for him?
FE
said on 13/Feb/20
@Editor Rob,
How tall is the Actor Andrew Koji?
Click Here
Click Here
Click Here
Click Here
Click Here
Click Here
Click Here
Click Here
Click Here
Click Here
Click Here
Click Here
Click Here
Click Here
Click Here
Click Here
Paul Chan (Listed 5'2"), Christopher Goh (Listed 6'0"), Elizabeth Tan (Listed 168cm) and Kenneth Fok (Listed 5'8")
Click Here
Click Here
Click Here
Click Here
Click Here
Click Here
Click Here
Click Here
Joe Taslim (5'10"), Rachel Colwell (Listed 5'7") and Perry Yung (Listed 5'9")
Click Here
Click Here
Click Here
Click Here
Click Here
He's the Main Actor from the "Warrior" Netflix Series & plays Storm Shadow in the upcoming Snake eyes film.
He once claims "5'10," I think" in an Interview, the Warrior Director described him 6ft and His agencies list him 5'11".
Although he's listed on some sites as 181cm, I thought he looks like a decent 5'11" guy from what I've seen.
What do u think Rob?

Editor Rob
It would be interesting to see if he said 5ft 10, the 5ft 11 agency I could easily believe.
Jammes
said on 15/Aug/19
I just finished Wu Assasins yeah I figured he was like 5'5 or 5'6. Lewis Tan towered him(Maybe he is a legit 6'2)
Littlelee168cm
said on 13/Oct/18
How tall would actress Julie Estelle be Rob? Certainly under 5ft 7 I'd imagine
dhani
said on 29/Jul/18
i met this guy in jakarta.. im 171 cm (5'73), and he shorter than me bout 5 or 6cm ( 2 inch /2,5 inch) i guess his tall around 5'4 or 5'5
his neighbor
said on 23/Jul/17
no he was 168cm max
Cabe-Cabean
said on 27/Jan/17
I met this guy at a hotel here in Indonesia, and i must say i completely dwarfed him while I'm 6'1-2, he is 5'4 TOPS
5'7 15 year old boy
said on 8/Dec/16
He is not shorter Than 165 cm. I would say around 5'5.35 - 5'6 , he is Max 168 cm, but My guess is 167 cm / 5'6 14 year old boy
Ya levis
said on 3/Apr/16
He is at the chin level of Ade Rai, same as my friend whom is 155 cm lol, 174 is iko's height when standing on 2 levels of stairs lmao
KnightX
said on 17/Jan/16
It seens that not just Google translate do mistakes. In height also. 1,74 m for this guy?! Please!!!
Bryan
said on 8/Jan/16
If Iko Uwais is 183cm, then i must be 200cm ;)
NutrionZ
said on 27/Oct/15
I'm 180 cm and when I saw this guy i freakin towered over him, he is not over 155 cm ...
173cm
said on 24/Oct/15
Iko is part of a local mma group, and they bill him at 1.74m .... In reality he is more 155 cm really
Narwiko
said on 15/Oct/15
@Indonesian you serious bro?
He is max same height as RondaRousey, if not a bit shorter .., and she is 5'5/165 cm lol, this guy is possibly 163-165cm
Indonesian
said on 14/Oct/15
@Narr very possibly, many people even say Iko Uwais is near the 1.95 mark, I don't believe it though
Narr
said on 13/Oct/15
@Indonesian Then Gareth Evans is over 2,10m tall?
Indonesian
said on 11/Oct/15
No he is more than 165 cm.
My friend who is 182 cm met him, and said he was about 7-10cm shorter than Iko. My friend even showed me a picture of them, and I believe it was about 8 cm difference.
190 cm Iko
InaBersatu
said on 19/Sep/15
I am 170 cm and he towered over me when I saw him in my country ... 183 cm roughly for this guy
Kingpindom
said on 14/Sep/15
I cant believe you give it 165 cm, Bob ? He is listed 174 cm on Google, maybe that's his maximum height. Julie estelle is 170 cm and Iko is a bit taller than her. You can clearly see it on Sundance festival . Where Iko and Julie had interviews together,Julie wears medium heel but she had same height as Iko.
Click Here
and this Iko with black belt tae kwon do, TKD guy looks like 180 cm for me.
Click Here
Iko didnt look like 165 cm .
Iko height is in range 173 - 174 cm.
Rövi
said on 9/Sep/15
Iko uwais is 165cm and Joe taslim 177-180cm and yayan ruhian is 157cm and gareth Evans 195cm. That's the real fact
Hikks
said on 19/Aug/15
This guy is actually tall, seen him in my country ... 178-183 cm easy for him
tracker34
said on 25/Jul/15
Know the hell could this guy even got 1,74 m on Google? Is google trying to be nice?
Matt
said on 23/May/15
Iko Uwais is 170cm, Joe Taslim 178
Drew
said on 14/Apr/15
@Themetter Are you unironically implying that google/imdb listings are truthful in anyway? lol
Ace
said on 11/Jan/15
I always thought he was 5'6-7 range, although I guess 5'5 is possible. I suppose that makes Joe Taslim in 5'9-5'9.5 range though.
jawara
said on 21/Dec/14
no Iko actualy 169cm
Gareth Evans 193cm
Joe Taslim 180cm
Click Here
da jum
said on 25/Sep/14
Iko 165 cm
Joe Taslim 176 cm
Shun oguri 183 cm
gareth evans 191cm
aaron kwok 168cm
Xabier
said on 3/Aug/14
Iko is like the perfect example of a good 5'5" guy, he actually looks like one of my mates who is 5'5" himself.
Sam
said on 1/Aug/14
I agree a weak 6'4" for Evans...wonder how he got that much of a boost but a guy that tall and that heavy can look mountainous when walking around, even though I'd actually be taller. Iko does look 5'5"-5'6" in general to me.
Andrea
said on 1/Aug/14
He looks more 6'3 with Michael Jai White... Noway 6'5!
Sam
said on 1/Aug/14
So he's not 6'7" obviously after that picture w/ Michael Jai White, but do think Evans could be 6'4"-6'5" range, Rob?
[Editor Rob: 6ft 4 is a possibility, but I doubt he's a real 6ft 5.]
Hypado
said on 1/Aug/14
Iko looks short in The Raid 2
165cm
robert
said on 31/Jul/14
hey rob how tall you think tony jaa is ?
[Editor Rob: he can look 5ft 6]
SaveUsY2J
said on 31/Jul/14
How tall is Gareth Evans if he's 5'5? Must be at least 6'3 right?