Jack Huston's Height
6ft 0 (182.9 cm)
English Actor best known for roles in TV show Boardwalk Empire and films like Outlander.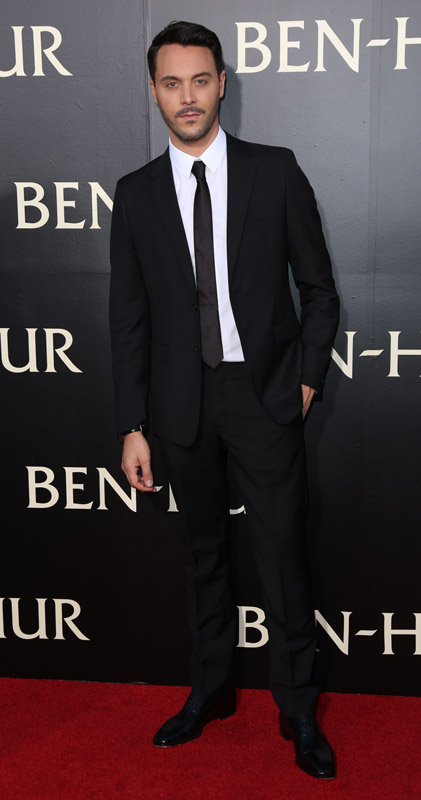 Photos by PR Photos
Add a Comment
23 comments
Average Guess (15 Votes)
5ft 11.92in (182.7cm)
Junior Hernandez 1990
said on 23/May/19
I think he edge out aging Nicholas Cage. 6'0 1/8 is the min he look and also sometimes pull off 6'0 1/4.
Tall Sam
said on 8/Oct/18
Yeah it's possible he's a smidge over the mark, doubt someone like Ryan Gosling would have anything on him.
Sandy Cowell
said on 5/Oct/18
I discovered today that Jack, who I found brave, sweet and very appealing in 'Boardwalk Empire', is in a horror film called 'Shrooms', which is showing tonight on the trusty old Horror Channel at 12.35. Funny that; I have a copy, but never noticed him in it! That's because it wasn't until I started 'Boardwalk Empire' that I realised what an interesting and awesome actor he is, and now I'm hungry for more! He also comes from a showbiz family and has proved himself in his own right.
I always thought he looked a strong 6-footer in Boardwalk. Jack will therefore get 6ft0.25.
Ace guy! 😊👍
BT
said on 20/Sep/18
He mostly looks like a typical 6 footer, and could possibly measure a fraction over the mark for much of the day. Is he a 6ft 0 1/8 candidate @Editor Rob?

Editor Rob
He might fall into that strong 6ft range.
Nik
said on 9/Apr/18
@ Sandy Cowell
Nice one! I think he is 6 foot on the nose! Let's not go down that road! Ha ha!
Sandy Cowell
said on 7/Apr/18
@ Nik - Yes! Also he's a darn good actor and thoroughly likeable in 'Boardwalk Empire'! He's become my new favourite character!
Nik
said on 6/Apr/18
Jack is a solid 6 footer for me!
Sandy Cowell
said on 4/Apr/18
🐓-Up:
It is 'Darmody' and NOT what I put! (Domardy!)
I just KNEW I'd spelt it wrong in one of my recent comments. This is it!
Sandy Cowell
said on 2/Apr/18
In the very episode that I decided for sure, that yes, I love this sensitive-natured guy, he ends up scalping an old man!
Yet there is so much bravery in this Richard Harrow, the character played by Jack. He has to wear a mask, having lost half his face in the War, and he has never experienced the love of a woman. So when Angela Domardy draws him one afternoon and talks to him, enabling us, the viewers, to see what sort of life he's had, my heart truly went out to him. He came back from the War and couldn't even stand for his beloved sister to see him.
If that's not bad enough, the drawing upsets him terribly, for it is clear that he's never been close to a mirror. Dreadfully depressed, he goes into the woods and tries to shoot himself, but along comes a rough-looking hunting dog and runs off with his mask! He chases after the dog saying, "Hey, I need that!"
Then he meets some hunters who are kind to him, chat to him at length and feed him. To conclude, one of them tells him, "These woods are for hunting in... Do you get my meaning?"
I felt it was Richard's equivilant of therapy, for he is shortly to return to his friend, Jimmy, and carry out the killing of a brutish old man, and I'm sure the punishment fitted the many crimes he was guilty of, because Richard Harrow is still a firm favourite of mine, and I admire him for his bravery in soldiering on!
I am going to give Jack Huston a strong 6ft! I reckon he probably reaches 6ft and a quarter - at least - but at his day's shortest point, he should still clear 6ft! 😁🐇👍
berta
said on 8/Jun/17
i thouth this guy was maybe 181-182 but dont even now what i have seen in him. I guess this is about right like most of the time
Rampage(-_-_-)Clover
said on 16/Aug/16
Solid 6ft if not a fraction more
Sam
said on 13/Nov/15
I think there's a chance Huston's more in the 6'0.25"-6'0.5"...as an aside, I don't think most people here on celebheights have really tried to get McConaughney at six foot.
cole
said on 22/Nov/14
@Editor Rob: It breaks my heart to see legit 6 footers like Jack here, getting a correct 6ft listing (on a certain movie site), only for some 5'10.5-11 guy like Matthew McConaughey to get away with the same listing (yeah, someone put in a request for him to be listed 6ft, and wouldn't you know it - the fools obliged).
Rampage(-_-_-)Clover
said on 7/Oct/14
He can look 184-185cm next to Danny Huston. This is definitely legit
Sam
said on 21/Oct/13
Also, I think it's worth adding Boardwalk Empire to the description, it is for now his most famous and breakthrough role to date.
Sam
said on 18/Oct/13
It amused me slightly how giant Huston looks here with Daniel Ratcliffe and Dane DeHaan...if Huston was six feet even, to me DeHaan looks 5'6"-5'7" and Ratcliffe 5'4"-5'5", however Huston's throwing his head back which maybe makes him look bigger. Huston might actually be a bit over listing, something like 6'0.5".
Click Here
cole
said on 10/Sep/13
He can look up to 184 cm next to his uncle Danny, who is 187 cm range. 183 cm is fine though.
Sam
said on 12/Dec/12
Not the best photo but he and James Gandolfini seem to be around the same height:
Click Here
Sam
said on 8/Nov/12
Looks around the 6 foot mark with his aunt Angelica:
Click Here
Brian
said on 19/Dec/11
Pretty sure he's even taller than 6 ft, here's a picture of him with Shannan Click:
Click Here
She's 5 ft 10 in and is wearing heels and he's still taller. so...
MaggieMay
said on 16/Oct/11
On tonight's episode of Season 2's BOARDWALK EMPIRE, he appeared to be at least 6 ft. He seems thin, which may have helped give him that appearance, but I'd be very surprised if he was less than 6 ft.
xaoxio
said on 23/Mar/11
so how tall is this guy, Rob?
[Editor Rob: actually I think he can slouch a bit, he might indeed be near 6 foot.]
xaoxio
said on 22/Mar/11
Rob, are u sure he's 6'0"? doesn't look to be this tall
[Editor Rob: yeah he looks shorter]