Jake Roberts Height
6ft 4 ¼ (193.7 cm)
Peak height was 6ft 5 (195.6 cm)
Aurelian Smith Jr. is an American wrestler, who wrestled under the name Jake 'The Snake' Roberts. In Mysteries of Wrestling he was quoted saying "When I started wrestling I got my ass kicked because a lot of guys couldn't kick my dad's ass, so they took it out on me. My dad was 7 foot, 450. Okay, I'm 6-5, 240. They had an axe to grind with him and I got some of it."
You May Be Interested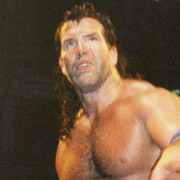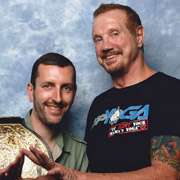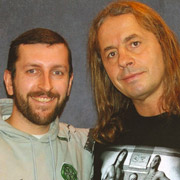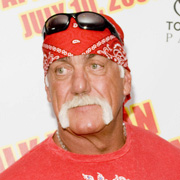 Add a Comment
31 comments
Average Guess (35 Votes)
Peak: 6ft 4.78in (195cm)
Current: 6ft 3.98in (193cm)
Christian 6'5 3/8"
said on 26/May/20
@Bensim1993
Ever since I've seen him looking only around 5"-5.5" than Cody Rhodes, my opinion on Archer's height changed a bit. I give him max 6'6" now.
Click Here
Cody could be 6'0.25" IMO.
Bensim1993
said on 24/May/20
I think lance archer is 6ft 6.25in or 6ft 6.5in
Michael186
said on 1/May/20
197cm peak, about the same as Hogan (peak), Hall (peak), Test, and JBL
Christian 6'5 3/8"
said on 12/Apr/20
I don't think he's under 6'4" to this day, as he looks barely 2" shorter than Lance Archer, whom I guess to be around 6'6"-6'7".
Rampage(-_-_-)Clover
said on 14/Feb/20
No, I think he's still at least 6ft4. Scott Hall on the other looks like he's struggling with that mark nowadays
Njp
said on 26/Nov/19
Used to have huge heels on his wrestling boots. I'd guess 6'4" peak.
Frank R
said on 13/Nov/19
Jake Roberts looked all of 6'5" in the 1980s, but I'd say that he's just under 6'4" today. Scott Hall used to be 6'5", but now he looks about 2 inches shorter than Jake Roberts.
the commet
said on 6/Nov/19
jake the snake roberts was 6.9 249 lbs according to wwf chewing gum cards lol, hulk hogan 6.8 303 lbs, scott hall razor ramone 6.9 287 lbs ultimate warrior 6.2 275 lbs for many years lol exactly 275 lol more like 235 lbs like how can he be 15 lbs heavier than dino bravo at 6.1 260lbs andre the giant 7.5 550 lbs he was actually 6.10 485 lbs giant gonzales 8 foot 460 lbs pfff 7,7 340 lbs huge difference maybe vinces bank account isnt 8.7 billion maybe its 5.2 billion lol
Mickie
said on 9/Aug/19
@ Sotiris Gravas - Alex Trebek isn't actually 5'8". He is more like 5'10.5" to 5'11" or something. I haven't seen enough of him to know exactly, but that's a closer range to keep in mind for him.
Sotiris Gravas
said on 11/Jul/19
Roberts w/ 5'8" Alex Trebek from WrestleMania 7 (1991) at the 3:55 mark:
Click Here
Funny how Roberts isn't TOWERING over Trebek.
Sotiris Gravas
said on 3/Jul/19
Roberts and a fan...
Click Here
Same fan w/ Tarik Glenn (listed 6'5")...
Click Here
Let's just say he didn't wear thin soles like Andre, lol...
Click Here
,
Click Here
Was he really 6'5"? Maybe not.
NCL
said on 19/Jun/19
I met Jake the Snake last night. Very cool guy! Here is a pic. I am 5'10" in my barefeet and I was probably about 5'11" in my sneakers. The picture unfortunately doesn't really do him justice. I'm closer to the camera and he's leaning a bit. He gave me a 6'5" impression, but 6'4" is definitely possible (I have a 6'4" Uncle, that was my comparison):
Click Here
Sotiris Gravas
said on 6/May/19
Roberts (billed 6'6) w/ Outback Jack (billed 6'5")...
Click Here
(1987)
Canson
said on 3/Jan/19
Agree with Rampage
Dan Trojan
said on 30/Dec/18
I seen him a couple of months ago at a comic con and i swear he's still 6'5" or damn close to it
Sotiris Gravas
said on 17/Aug/18
Hey, I came across this pic of Roberts...
Click Here
Wow. He's wearing boots w/ heels bigger than Big Show's. Probably to keep up w/ the GIGANTIC custom-made cowboy-boot heels Savage is sporting. Dear Lord! This was from November 23rd, 1991... when Roberts' snake bit into Savage.
This was basically the facial expression of everyone who saw this...
Click Here
James B 171.5cm
said on 14/Jun/18
rob could 6ft4.75 peak be possible? he clearly didnt look over 6ft4.25 compared too randy orton

Editor Rob
Well it might be, I think probably that would be lowest I'd give him.
Rampage(-_-_-)Clover
said on 7/May/18
I think because he got his health back, lost some weight and his posture improved he hasn't lost as much height as you'd expect.
He still looks at least 6ft4 today.
mikeyup
said on 18/Apr/18
for such a tall guy which such a physically dangerous past job, he hasn't lost much!!
berta
said on 13/Apr/18
good to see a honest wrestler
Diablo
said on 3/Apr/18
Click Here
what do you think... 6'4 1/2 ??

Editor Rob
They are very close in that video...in fact you might have to measure them to see any difference!
Mayfield
said on 14/Mar/18
Compared with Hogan, he looks like he could have pulled off 6'5 1/2 at times
Canson
said on 8/Mar/18
195-195.5 peak
Somewhere 193-194 now
heightchecker34
said on 15/Feb/18
Classic 6'5 guy, always looked that height in his wrestling days including when he fought fellow 6'5er Barry Windham. If you watch Jake Robert's Snake Pit on You Tube, he as tall as Hillbilly Jim and Hulk Hogan on separate interviews, which is why I thought Hogan was 6'5 in his prime. Good to see he has made so much progress from his heavy drug use which nearly cost him his life. I think him and Scott Hall are both 6'4.5 now, wrestling and their risky lifestyle probably dropped them nearly in inch. Still they both look taller than 6'4 Diamond Dallas Page, unless Page has dropped half an inch.
Zahid
said on 7/Feb/18
6'5" peak for sure:
Click Here
Rampage(-_-_-)Clover
said on 4/Feb/18
I'm almost certain I've heard Jake also claim 6ft6 for himself.
Logan
said on 4/Feb/18
Is say 6'5" looked almost as tall as taker who 6'7"
Rampage(-_-_-)Clover
said on 3/Feb/18
Spot on. Still looks minimum 6ft4 today and edges out DDP
5'12
said on 3/Feb/18
Google has his dad listed at 6'8"
HeightcrazyRed6ft
said on 3/Feb/18
Finally, still love his Team and Feud with Taker 91/92
Click Here
6´5" peak, still taller than Hall and DDP today so 6´4"-4.5" seems right
Mayfield
said on 3/Feb/18
Thanks for giving him a page

Editor Rob
There is still a proportion of wrestlers who haven't got one. It's getting there, a bit slowly.

I would say, the 'Wrestlers' tag on this site is the most visited one.