Jameela Jamil's Height
5ft 10 (177.8 cm)
English TV and Radio presenter. On twitter she commented on her height numerous times, including her weight
"5'10 and 10 stone [140lbs] mate"
, offering advice
"I'm 5'10 1/2. WEAR hells woman! If they have a problem with it...F**k em. (NOT literally.)"
and how she was always tall
"i was 5'6 by the time i was 10, 5'10" by 14"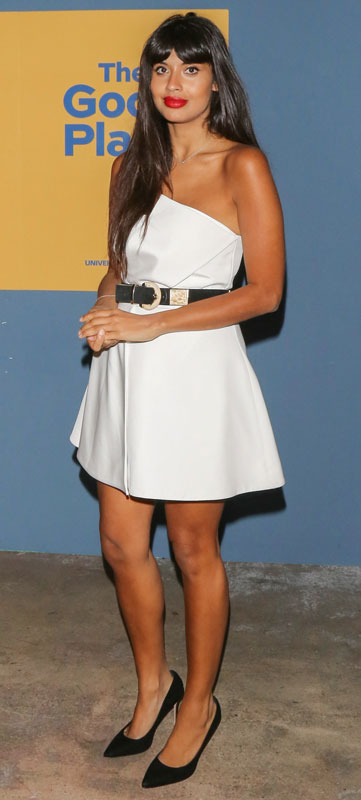 Photos by PR Photos
Add a Comment
17 comments
Average Guess (35 Votes)
5ft 9.94in (177.7cm)
Nik
said on 28/Jun/20
Yeah, if they have a problem with it....**** 'em! It's cool for people to wear heels if they want (and not to wear them if they don't want to), whatever their height!
Arch Stanton
said on 24/Jun/20
Very exotic and attractive physically but her attitude and demeanor completely puts me off her, she seems extremely opinionated and high maintenance.
SL9
said on 23/Jun/20
Looks taller generally, due to the additional height from heels
Beautiful actress.
Miss Sandy Cowell
said on 25/Feb/20
💐🎈🎂 Happy Birthday Jameela! 🎂🎈💐
Ha ha - I had no idea Jameela was 5ft10! It's her 34th Birthday today, so she has many years to go before she starts shrinking. Have a lovely Birthday, young lady!
5ft10. 🎁🥂😁👍
💐🎈🎂🎁💐🎈🎂🎁💐🎈🎂🎁💐🎈🎂🎁
Steve Smiths
said on 8/Jun/19
@:):
No, it isn't.
I'm a dude and I'm 5'10" and 134 pounds and I'm not underweight at all (BMI of 19).
Paul NS (6ft 0.5)
said on 6/Feb/19
Rob, how tall would you say her boyfriend, the R&B singer James Blake, is?
Click Here
Click Here
Haven't seen a claim from him, but Google gives him 6'5", which doesn't seem that crazy. Clearly a very tall dude

Editor Rob
I had a quick look and found him claiming that mark.
Nik
said on 20/Nov/18
She is taller than over 60% of men! I like her comments above!
M.P.
said on 7/May/18
Every woman on The Good Place except Bell is an Amazon!
Subwoof
said on 19/Oct/17
She gets a 178cm on the dot from me.
:)
said on 18/Oct/17
5'10 140 lb is underweight as a men don't know about women though. I guess depends on the country. Where i live many people are obese (US) XD
Faza
said on 18/Oct/17
Rob would you class 5ft10 as very tall for a lady must be like a 6ft2 guy i guess generally any guy above 180cm is tallish bit more than average height
Editor Rob: it's equivalent to 6ft 2-3 range fella's, so definitely a rather tall height. When you also add in a 5ft 10 women wearing heels, she will be above 80% of men easily.
Nik
said on 18/Oct/17
@ Slim 6'
Yes, I agree. She is a weak 5'10" for me too!
Anonymous
said on 17/Oct/17
D'Arcy Carden can seem a smidge taller, but heel size probably gives her a slight advantage. Jamil can seem a pretty good 5'10" So I could see Carden at 5'10.25"-5'10.5". The Good Place worth adding to top credits BTW.
Ed Kline
said on 17/Oct/17
I like how she publicly embraces a weight that sounds heavy ( eve if it isnt much for a 5'10-'10.5 woman.
Sam
said on 17/Oct/17
Wow! She does look tall on the Good Place but I thought it was because of how tiny the lead actress was. She's one fine lady.
Sandy Cowell
said on 17/Oct/17
Ha ha ha - you funny woman!
If you're wondering what I'm referring to, people out there, I've just read what she says to other women of her height about wearing high heels! And I like it!
I never expected Jameela was as tall as 5ft10! That's because I haven't seen her standing up when she's doing her presenting; 5ft10 or thereabouts always stands out a mile on a girl presenter when she stands up!
I will therefore stick with my second 5ft10 of the day, and I'll throw in another quarter inch because she says she is 5ft10.5, and my last 5ft10 incher got one for good measure, so why shouldn't she?
Slim 6'
said on 17/Oct/17
A weak 5'10".