James Dean Bradfield's Height
5ft 5 ½ (166.4 cm)
Welsh Singer from the Manic Street Preachers. Said in a 1997 bliss magazine the biggest surprise people get is
"That I'm going to be 6ft 2ins. They go, 'God you look like the terminator on TV, but you're so short.' I'm five-five and a bit, I think. I'm tiny"
. His bandmate Nicky Wire said of his height:
"I'm 6ft 3ins"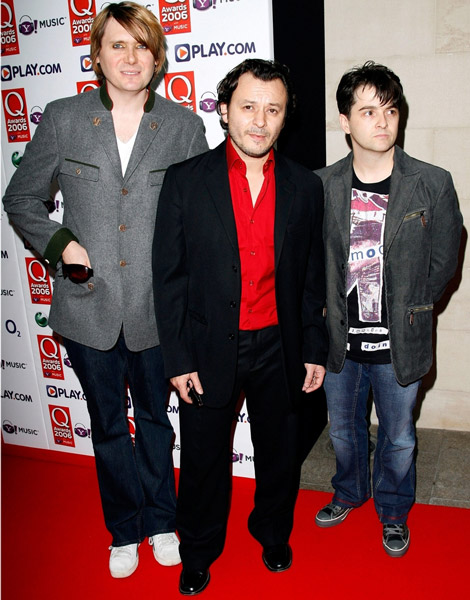 Nicky and James
Photo by PR Photos
Add a Comment
31 comments
Average Guess (1 Votes)
5ft 5.5in (166.4cm)
Nik
said on 8/Jul/20
He is short but he ain't vert short!
Anders McTommo
said on 12/Dec/19
I'd say that Nicky Wire is at least 6'3"-if not taller.
I saw him at Reading M4 motorway services in May. I did a double take and was about to say hello as I recognised him and then realised who he was.
I'm 5'8" at a push and he looked really tall!!
Spiderknut
said on 17/Apr/18
Can I please state with certainty,Richey Edwards was not 5.5 and was 5.8.I socialised with the guy.
Senth
said on 12/Nov/17
Hmm, that's odd. 'His bandmate Nicky Wire said of his height: "I'm 6ft 3ins"'
At Manchester NYNEX James Dean Bradfield said that he is 6ft 4ins. (
Click Here
)
Scarlett Rose
said on 20/May/17
little sue said on 11/Aug/13
The drummer Sean Moore is about 5ft 3. I doubt if he would wear lifts, does'nt seem bothered about being vertically challaged at all...
Thought you implied "lifts" wouldn't make a difference to your height, especially if you think high heels don't, Little Sue. You contradict yourself. 👞
Sam
said on 11/Nov/13
This seems right.
What about their former guitarist Richey?
He's listed as 173 cm (5'8) i see, and his sister also claims he's about that height, but he doesn't look more than 2 inches taller than James.
I would put him at 5'7-5'7.5 at most.
Scott five eleven
said on 7/Sep/13
Have a friend who has met bradfield many times. My friend is heavy built but only 5'7 and looking at the photos I couldn't help but notice my friend being around 2 inches taller.
little sue
said on 11/Aug/13
The drummer Sean Moore is about 5ft 3. I doubt if he would wear lifts, does'nt seem bothered about being vertically challaged at all. Him and James Dean Bradfield are first cousins, their Mother's are sisters, both tiny women under 5ft. You should look out for a picture with Bradfield with his wife!! she tower's above him, about 5ft 9 to 10!
Arch Stanton
said on 9/Aug/13
I mean 50 feet, not 50 yards!! I was close enough to see his facial features anyway! Rob, the drummer must be no more than 5'2" surely and in suspicious footwear?
little sue
said on 8/Aug/13
Another gorgeous little bloke. No more than 5ft 5.5 though. The only photo I have had took in the last 13 years is standing next to him. He has about 4.5 inches on me in the photo which would work out about right as I'm about 4ft 11 plus 3 inch heels
Arch Stanton
said on 8/Aug/13
Rob if he's 5'5.5" how tall is the drummer (who actually looks like he's wearing lifts)!!
Click Here
[Editor Rob: probably not over 5ft 2]
Arch Stanton
said on 8/Aug/13
I've seen them live about 50 yards away in around 2000 and he looked around 5 ft 6 on stage as a guess from what I recall, looks taller than Kelly Jones to me anyway but still really short. I was really surprised he was short too because he's quite a well built guy and often had a beard which I suppose made me think he was tall too.
Kara
said on 25/Mar/13
166 or 165 is spot on. he's such an honest man, and very handsome one.
me
said on 18/Mar/13
he's not he's 5ft 3" - Sean that is, not James.
littlesue
said on 7/Nov/11
I'd say Sean Moore is about 5ft 4, I've stood by him in my 4 inch heels (I'm 4ft 11) and he still seemed 2 or 3 inches taller
John
said on 6/Nov/11
Does anybody know Sean Moore (the drummer of Manics) height? He actually appears to be about two inches smaller than James.
Peter
said on 22/Jul/11
I´ve met him. He seemed to be around 165 cm (5'5).
Anonymous
said on 8/Feb/11
Richey and James are both only 5'5 at most. They often looked exactly the same height. There is no way either of them is any taller than 5'5!
Anonymous
said on 22/Feb/09
I think richey is 5ft5
judging by this photo
Click Here
Daii
said on 2/Feb/09
I always thought he looked average, about 5'8 but obviously not...
He doesnt seem 5'5 but I bet meeting him I would be looking down (Im 179 cm)
littlesue
said on 12/Aug/08
Have been a Manic's fan for years, 5ft 5.5 is about right, the drummer Sean Moore is even smaller, about 5ft 4. The are cousins though, so share the same short gene
Evanna
said on 7/Dec/07
I finally saw Manics live, here in Manchester Central. Wasn't much of a gig, Bradfield was ill, sang quite poorly, and overall it was pretty dull. Unfortunately I didn't get anywhere near them, but I took a chance to compare Bradfield and Wire on stage. Well, if Wire is 6'2" then Bradfield is 5'5" tops or even shorter. Although Wire could well be 6'3", he really looks huge, and very colourful compared to the other two. And the drummer is amazingly tiny, like 5'3" or so.
Evanna
said on 21/Jun/07
spiderknut, I doubt that Richie was 5'8". Maybe in big boots. If you look at some of their old videos, like "Motorcycle Emptiness", Richie looked approximately the same height as James. Truesay in later vids he looked taller, but that was only after he developed a taste for high heels. Still, he was quite a character. The **** disappeared exactly on my birthday 12 years ago, that was one of my worst birthdays ever.
spiderknut
said on 11/Mar/07
bradders is 5.5,i met The Wire who looked 6.3 to me,and I met Richey,who told me he was 5.8(yes,i asked!).perhaps their names should be included,after all ,they are just as famous and for all we know Richey could still be with us.
Evanna
said on 23/Feb/07
I never saw them in concert either, but I attended one of James Dean Bradfield's solo gigs "with friends". What a great musician and what a big voice from such a small guy.
Viper
said on 22/Feb/07
Nicky Wire is 6-2. Its ashame how such a great band as the Manics have never been played in the States. The only Manics song I have ever heard in public was in a restaraunt bathroom.
Evanna
said on 21/Feb/07
Wire certainly dwarfs his bandmates, could be 6'3" or at least 6'2". Anonymous, have you met him?
Anonymous
said on 17/Jan/07
nicky wire is 6'3
chris
said on 10/Nov/06
I am also Welsh and from Cardiff where people are the same as UK average. However in many parts of Wales people are certainly smaller. This may be partly due to high unemployment, bad diet, drug addiction and even a poor standard of education. The tribes that the Welsh descended from are usually described as being smaller and darker than other settlements in England and Scotland for instance.
Anonymous
said on 3/Sep/06
chris, it's a myth about the Welsh being short. The average height for men in the UK is about 5'9'' and this is about the average in Wales at least for young men. I'm Welsh and growing up there were loads of guys around 6ft or more. I think that the English might be slightly taller on average at least in parts of England but the difference is small like a cm or two. This is probably a reflection of the fact that Wales is about the poorest part of the UK with the worst diets and health care rather than reflecting differences between Anglo-Saxon and Celtic physical types.
chris
said on 30/Jul/06
I have met James in the City Arms in Cardiff and I think this listing is probably correct. Mind you he's not THAT short for a Welsh guy...