James Phelps Height
6ft 2 ½ (189.2 cm)
British Actor best known for playing Fred Weasley in the Harry Potter movies. One is fractionally taller than the other, although I don't know which of them said "6ft 3" in person though.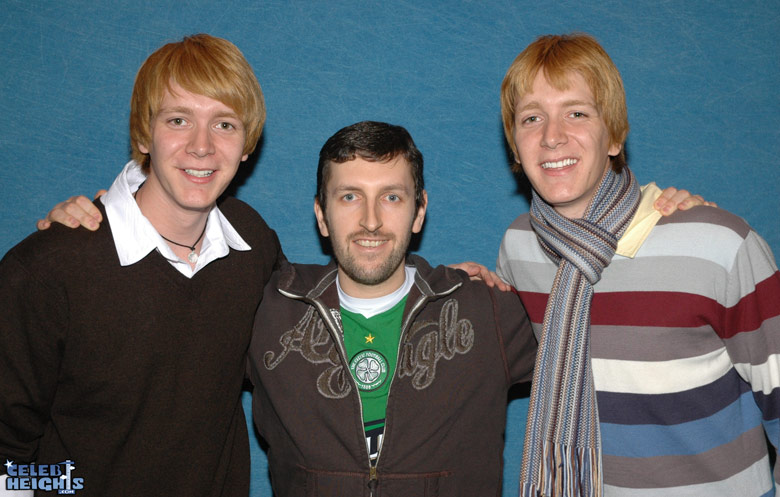 5ft 8 Rob, 5ft 8 Jenny with The Phelps Twins.
You May Be Interested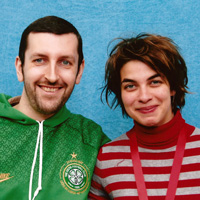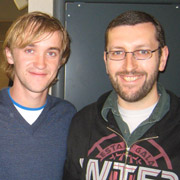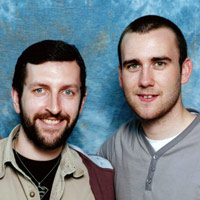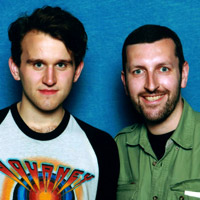 Add a Comment
34 comments
Average Guess (15 Votes)
6ft 2.37in (188.9cm)
Ray ? Atikian
said on 22/Sep/20
I think James is 6'2 (190 cm) and Oliver is 6'3 (191)
Junior Hernandez 1990
said on 24/Mar/19
Rob, would you say 6'2.25" for James?

Editor Rob
that might be the absolute lowest they can look
MAD SAM
said on 10/Jul/18
That's not how 6'3" would look, 6'2.25"for James at 189 cm
Junior Hernandez
said on 4/Feb/18
@Anthony No way they could be 6'3 it's impossible. They both hit 6'2 1/4 at the best. They had at least 7cm top by 6'4.75" Kobe Bryant. Phelps twins maybe 6'2 1/8 not more.
Click Here
: Can look max 3.25" difference.
Anthony
said on 13/Oct/17
Saw them yesterday in Solihull at a car event. Both quite tall, easy 6.2 possibly 6.3 when stood up straight.
Canson
said on 31/Jul/17
@Rob: S.J.H has a point. With Jenny especially at 5'7.75 that's a 5" difference maybe 5.5" if you take into account maybe a mild slouch. I used Jenny for reference because posture appears a little better for all people in the pic (still probably not perfect tho). They (both brothers) appear to slouch more with you and look even shorter imho
S.J.H
said on 6/Mar/17
Rob, it looks like they're not even over 6'1 with kobe bryant. Kobe taller than both brother by near 4". If kobe was 6'4-3/4 then i really can't see them higher than 6'1 and even tom felton look like a flat 5'8 with kobe bryant not even 5'8.25. Felton is more honest in his claim height than phelps twins
Click Here
Click Here
Click Here
S.J.H
said on 2/Mar/17
Click Here
none of phelps twins is over 6'2 and one look 6'1.5 with 6'4-5/8th kobe bryant.
Lily Jarvis
said on 13/Feb/17
They are both 6'3". James often looks shorter than Oliver because he holds himself differently.
S.J.H
said on 4/Nov/16
I think both phelps needs a downgrade at 6'2.5 since matthew lewis get his downgrade at 5'11.5 rather 6foot
nicole
said on 27/Sep/16
Well, unfortunately, the problem of whether or not they're the same height is not really open for debate since the twins have said themselves again and again that they're not the same height. It would be too easy if they were same height :-) In fact, their slight difference in height is one of the subjects they often joke about in interviews , along with their being born 13 minutes apart, their hair color and golf ...I personally tend to believe that Oliver and James are just short of 190cm and 187cm respectively but these are only ballpark figures, nothing precise enough ... One such video back in the HP days :
Click Here
: first they joke about their slight height difference and then, at around 4:34 , you can see Oliver stretching for half a second, before James starts playing with his feet to compensate and appear as tall as Oliver for fun :-)
S.J.H
said on 24/Sep/16
No. Thye're both 6'2 don't judge by picture above. I've met one of them clear 6'2 a wee bit. 6'2.25
nicole
said on 9/Aug/16
After a bit of research on the net, especially pics and videos, it could be that Oliver really is at least 189 cm / 6 ft 2.5 ( he claimed himself in a video "about 6ft3") and James about 6ft1.5 / 186.5cm or even 6ft1 as the second photo with Jenny seems to indicate. That would mean that 182 cm for Oliver on
Click Here
is indeed out of date, but not 187cm for James on the same site. And since they don't have the same agent, Vic Murray for James and Michael Ford for Oliver it could well be that their pages are not kept up to date together at all. In fact, when you look at Olivers' page on DAA Management, it clearly says "6 3" but when you look at James' page on DAA Management, it dosen't say anything about his heigth and the whole page is treated differently with less information. So, yeah, the idea that their different agents do not manage their different pages the same way is not completly insane. Of course, for entertainement purposes they could be incited to look the same height in movies / promotion etc to reinforce the "identical twins" theme and since they're alomst the same height (1 inch or a bit more is not much) it would be easy for them.
nicole
said on 8/Aug/16
On spotlight.com (mentionned by CD) there is a page for Oliver too :
Click Here
His height is listed as 6.0 (182cm) and his playing age is listed as 26-30. James, the taller one is listed as 6.2 (187cm). These figures could be out of date, but the height difference is interesting.
CD
said on 7/May/16
Rob I did some digging and found that James has a Spotlight page listing his height as 6ft 2:
Click Here
Is this enough for a downgrade?
Interestingly the same agency (DAA Management) lists Oliver as 6ft 3:
Click Here
Editor Rob: could depend on how out of date, I know one said he was every so slightly taller than the other, but I still don't know which.
AJ
said on 7/May/16
Honestly rob I'm seeing more 6'2" range for both looking at the pictures with you and Jenny.
Rampage(-_-_-)Clover
said on 5/May/16
I don't quite see 6ft3 for either of these guys. A good of the guys you have at this mark really look 189/190cm max
Greg
said on 5/Nov/14
Absolute worst listing ever. Those two pictures prove that they're no more than 6'1 maximum.
Tim181
said on 15/May/14
Kashfia says on 22/Jan/12
James and Oliver Phelps are not 6'3" in their bare feet. They are 6'5" in their bare feet.
__________
Maybe Rob is 6 feet then.
Kashfia
said on 22/Jan/12
James and Oliver Phelps are not 6'3" in their bare feet. They are 6'5" in their bare feet.
Rachel
said on 28/Nov/11
Wow that's really tall.
Alex
said on 27/Jul/11
Damnn their incredibly tall :O
Autumn
said on 13/Jul/11
Oliver is the taller one. He is the one wearing the eagle t-shirt. He looks about an inch taller than James, but keep in mind that Oliver is a sloucher, whereas James stands with a straighter posture. So if Oliver straightens his posture, he would be about 2 inches taller than James.
lambert
said on 1/Jul/11
james phelps is 6.3 but oliver phelps was 1/2 inch shorter than james phelps may be oliver izzz 6.2 1/2
lily
said on 5/Jan/08
I'd say they are about the same height! oliver is probably taller
casa
said on 29/Sep/07
james is the one on the left and oliver is on the right.
anonymous1
said on 28/Aug/07
nooo there seems to be more difference between them than just .5"? I'd say about an inch! And which one is the taller anyway? And of course the question is, which one is the 6'3" they're listed at? Is the other one taller or smaller?
Anna
said on 14/Aug/07
Is there a possibility that they could be more than 6'3"?
thekiddd
said on 4/Aug/07
James is 6'2 1/2" and Oliver is 6'3".
nanna
said on 26/Jul/07
did some research, and i'm convinced that james is the one on the left. He's the one who plays Fred in Harry Potter, and is perhaps a bit shorter than his brother. take a look at this site
Click Here
thekiddd
said on 24/Jul/07
These guys did claim '6'1"' about 5 years ago but probably grew about an inch or so but when they were first staring in Harry Potter, they were probably this tall but grew since then.
Glenn2
said on 15/Mar/07
6'1 id say from that pic, but they look to be leaning a little
Cathy
said on 24/Feb/07
On most James and Oliver sites they claim they're about 6 foot 3. They don't exactly look it in that picture, probably because they're bending over a bit.
Anonymous
said on 15/Jan/07
I am 4 11 and when i took a pic with them i was even below their shoulders