Harry Melling's Height
5ft 9 ¼ (175.9 cm)
English actor best known for playing Dudley Dursey in the Harry Potter movies. Harry used to be weigh 16st but said in an interview he went down to 11st 5lbs.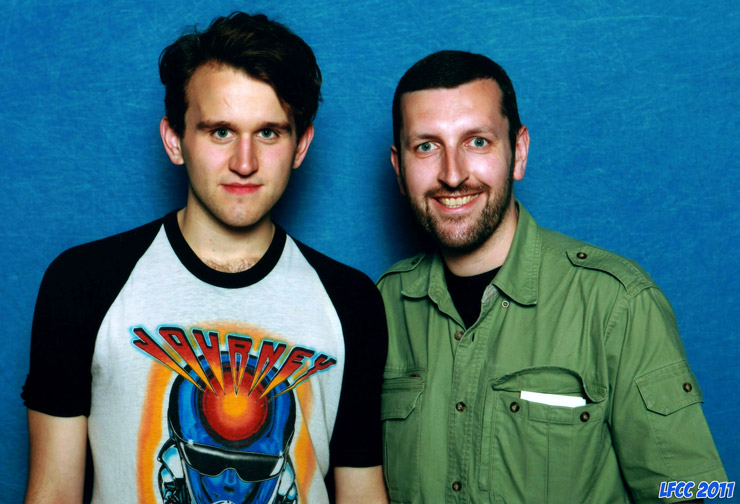 5ft 8 Rob and Harry @ LFCC 2011
You May Be Interested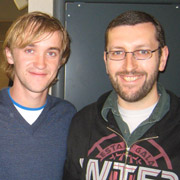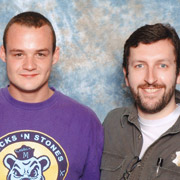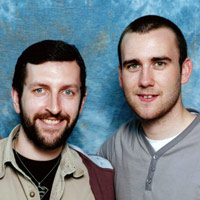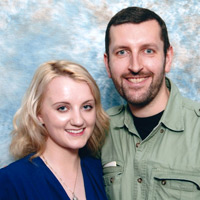 Add a Comment
48 comments
Average Guess (24 Votes)
5ft 9.54in (176.6cm)
Karin Marie
said on 9/Aug/20
He looks a lot taller than 5'9.25", in the photo with Rob. Depending on his shoes, he might be 5'10".
JohnMoore-162cm
said on 30/May/20
5ft9 tops
Yang (5 footer 8, 173, Aries)
said on 20/May/20
His face is unrecognizable due to drastic weight loss from the last time when He played Dudley Dursley aka Harry Potter's big and fat cousin from Private Drive # 4 from HP movie series. As he looks more skinnier than decades ago, it makes it easier for me to guess the height that you listed this page... Little more than solid 5ft 9 as I can see at least...
Perfect Paul
said on 18/Feb/19
Rob, this listing is spot on!
I was actually stood right next to him for about 10 minutes on a Jubilee line train last week!
I'm 5' 9.25" (176 cm) at my low and had 1.25" dress shoes on - so I looked like a 5' 9.5" guy.
He wore Nike Air Max that are about 1.3-35" and looked 5' 9.5" to maybe 5' 9.75". So take away the boost that these trainers give and he's a textbook 176 cm - just like me. Looked exactly the same height as I do in my Air Max's.
The floor surface was flat and I mirrored his posture too. Height twins!

Editor Rob
Yeah, I also don't think Melling is as tall as 5ft 10 in person, but somewhere in between that 5ft 9 to 10 range.
James694
said on 5/Dec/18
Would he be 5'8 3/4 or 5'9 if he had a smaller head

Editor Rob
He might look taller with a smaller head.

People can sometimes glance at photos take in cue points like eyes/nose/chin and filter out a little the top of heads.
Tunman
said on 5/Nov/18
It has been years I didn't watch a Harry Potter.I thought he was easily around 230 since he was really overweight.Looks definitely average built now.
Rob,is it me or his interpupillary distance seems very small?

Editor Rob
Yes, I would say about 52mm for Harry's pupil distance, which is at the lower end of the range. Usually 60 to 65mm is common. Over 70 very wide, under 55 very narrow.
Nik
said on 8/Sep/18
5'9" at tops!
Paul Wood
said on 7/Sep/18
@Christian-6'5 3/8
What you say is correct but I think you're unusual amongst people of your height. Most people of well over 6ft would regard 5'9" as short. Height, as with most things in life, is relative.
Christian-6'5 3/8"
said on 13/Jun/18
@Bobby
I've seen and heard some people say 5'9" is short, which is ridiculous. These people have no idea of how a legit 5'9" looks like because so many people exaggerate their height. They probably see a true 5'7" as being 5'9" and a true 5'10" as being 6'0".
Canson
said on 13/Jun/18
@Dream: I know right! Legit 6'5 and 6'5.25 guys are often guessed 6'6/6'7 or even 6'7. Lol Christian will vouch for that! And even for me I'm guessed 6'5 often and 6'5/6'6 still sometimes. It takes me in casual like shoes to be guessed 6'4 and by an honest person but prob because I don't come down all the way
Dream(5'9.5")
said on 12/Jun/18
@Hans
So John Cleese is short too? 6'5"-6'5.25" is short to you? Well then, we are hobbits!
Bobby
said on 22/Mar/18
@Hans Meiser, unbelievably short? 5'9.25 is actually above average height even for a man, average height globally is only 5'8, and in most countries, a stature of 5'9.25 is above average outside of Europe, and some parts of the U.S, he'd be average to above average in Canada, which is where I live. Again, how is he short if he's average height at worst?
NOTTHATSMALLFORALAOTIAN
said on 10/Oct/17
Yeah right... So we can forget Hagrid's stand-in, Madame Maxime's stand-in, the actors who played the Weasley twins, Alfred Enoch, Matthew Lewis, Jamie Waylett, and so on...
Slim
said on 26/Sep/17
Nothing above 5'9"/175
Canson
said on 31/Jul/17
Doesn't even look over an inch on rob maybe 5'9-5'9.25
World Citizen
said on 29/May/17
He looks a flat 5'9 in the picture
Hans Meiser
said on 24/May/17
My god. The Harry Potter cast is so unbelievably short.
Lily Jarvis
said on 13/Feb/17
i'd say you are spot on.
George
said on 30/Oct/14
Not a single chance he is this height in 2014. Met him today he was 1 foot fr and he was at the very least 178-179cm. He must be leaning in robs photo. But then again I have just met Jessie J who he has listed at 174cm and she is no more than 172 MAX. So there is even margin for error even by the mighty Rob.
[Editor Rob: he looked about the same height in person as Jenny's 176cm sister! He certainly didn't give a 5ft 10 impression, unless I was to include hair.]
Chris
said on 4/Mar/14
His face kinda looks squished.
Md
said on 21/Feb/14
french guy, child actors are usually children picked who are smaller/shorter than their age. It has nothing to do with the lifestyle. They routinely pick children 4 and 5 years older than the role they are playing for. Reasons for this are because of acting regulations (an older child - or maybe even adult in the case of 18 year olds - can legally work more hours), or because the child may already be a seasoned actor so its an easier movie to make for them.
french guy( 184-182 cm)
said on 18/Feb/14
i believe that many harry potter's actors did not reach their potential which could explain why many are short(ish), or atleast below average, like many child actors( malcolm and his brother, anakin skywalker in star wars 1,mom i missed the plane) .Maybe due to a lot of stress which had slowed their growth down.
Rhonda
said on 6/Jan/14
Yalo, I concur.
yalo
said on 1/Jan/14
hey koursh and rob no offence guys, but i dont see how that method works, because different people have different sized heads. like my uncle for example my body and limbs are like a quater of an inch longer than his my shoulder is a above his shoulder slightly, and my eye level is above his eye level. yet he has a large forehead, whereas i have a small one, which makes him taller than me, even though my eye level is over his. and i think he does look 177cm, so a very strong 5'9.
benjo
said on 2/Nov/13
id say a weak 5'10 but 5'9.5 seems better
Kourosh177cm
said on 14/Sep/13
rob why his eyelevel is at your middle of forehead? because thats how a 5'10 person would be look like next to 5'8 person. Because if he was 176cm his eyelevel would be at above your eyebrow but its slightly higher than that.
[Editor Rob: usually my eyeline would be at the end of a 5ft 10 person's nose.]
Connor 184cm
said on 22/Jul/13
Wow crikey 16 stone? i used to be 15 stone and i thought i was overweight.
Yaspaa
said on 22/Jun/13
Good on him for losing the beef.
Mikey T
said on 28/Jan/13
Wow! I don't believe it. He's only 5'9"? I thought he was atleast 5'11" or maybe 6'-6'2"
Maximus Meridius
said on 24/Nov/11
Rob that he is slimmer does he look taller like 5ft 11in.
[Editor Rob: in person he looks in the 5ft 9 range, I think with thick hair he could possibly appear near 5ft 10 to people I guess, his slim build could help nowadays.]
Adamz
said on 21/Nov/11
180cm afternoon height is perfect.
Kostas
said on 11/Sep/11
ryan atwood:i take it you are 178 yourself
two can play this game
i say the perfect male height is mine...173-4 :P
ryan atwood
said on 5/Sep/11
178 is the perfect male height
jake
said on 1/Sep/11
5ft10 with the hair, 5ft9 flat in reality.
Kostas
said on 15/Aug/11
I know this is completely irrelevant to height discussion, but here he looks like a different person!
Cranberries (18m, 193cm)
said on 15/Aug/11
Lol, I like how the tallest actors in the Harry Potter films were the Weasley/Phelps twins. But I guess even 5'9.25" is enough to dwarf 5'4" Daniel Radcliffe... Radcliffe is extremely small so they had to make everyone else smaller to match :P.
Maximus Meridius
said on 12/Aug/11
Rob does he look better now he is slimmer to when he was fatter a weight loss of nearly 6 stones is a lot and very noticeable who weighs more him or you Rob as a guy myself trying to lose weight he defiantly looks better now to what he was before.
[Editor Rob: I'm 11st 8 or 9lbs in this photo.]
Very short and stocky
said on 12/Aug/11
Agree with Wei.
Wei
said on 12/Aug/11
Take away his 3cm of hair and he's not over 175cm.
Adamz
said on 12/Aug/11
looks 5'9.5" or more.
Mr. Tempus
said on 12/Aug/11
he looks more 5'9.75
A
said on 11/Aug/11
I guess this listing is correct but it's kind of hard to tell because he has so much hair advantage. His eyes look too close to each other.
USYD
said on 10/Aug/11
I'm thinking 176.5cm.
Kian
said on 9/Aug/11
Rob how tall are you because hes the same size as you his hair is atleast 3 inchs he looks 5ft8 are you 5ft8 he looks your height.
[Editor Rob: yeah he does have a good inch of hair, but i think he was around the height I put him at.]
miko
said on 9/Aug/11
He does seem a fraction closer to the camera. I'm thinking 5'9 on the nose.
James
said on 9/Aug/11
He has a considerable amount of hair advantage over rob.
Josh (170-172)
said on 9/Aug/11
Rob, how tall do you think Dan Radcliffe is in this photo with Harry, cheers
Click Here
ACG
said on 9/Aug/11
Now that he's thin, his face kinda looks like Tsim****is(God bless his soul).