Josh Herdman's Height
5ft 10 ½ (179.1 cm)
English actor, best known for playing Goyle in the Harry Potter series of films. In this photo Josh was wearing
Converse Sneakers
, and my
Merrell
Mens Relay sneaker wasn't much thicker.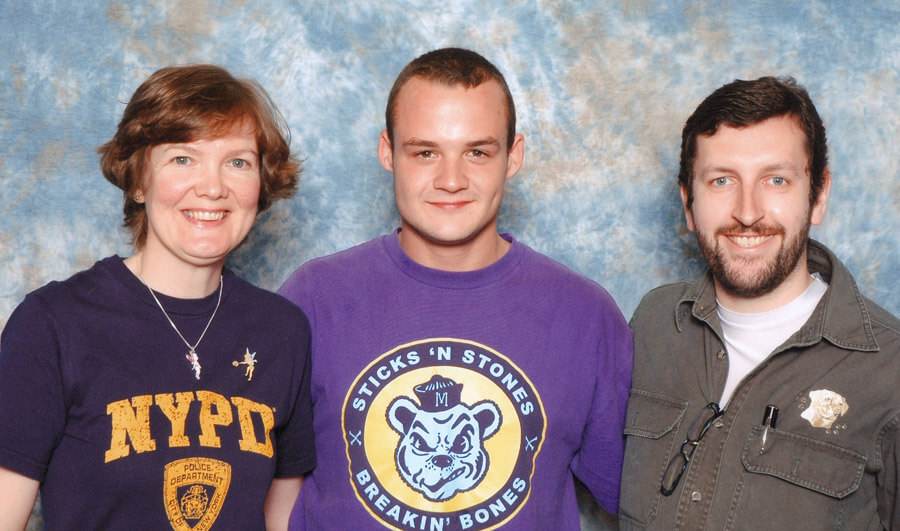 5ft 8 Jenny, Josh, 5ft 8 Rob
You May Be Interested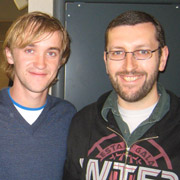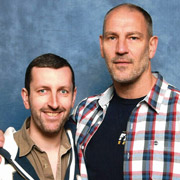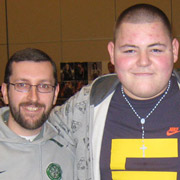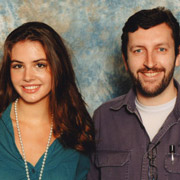 Add a Comment
87 comments
Average Guess (38 Votes)
5ft 10.49in (179.1cm)
Rampage(-_-_-)Clover
said on 3/Sep/20
I don't think Jamie is under 6ft1
Van Halen
said on 2/Sep/20
Yeah, 179, however Jamie Waylett looked at worst a full 185 with him even 186
Realist
said on 21/May/20
He is just barely taller than me I thought these guys were huge lol
Yang (5 footer 8, 173, Aries)
said on 20/May/20
Solid 5ft 10!!!!
PAN BERRY
said on 23/Dec/18
5'10" or 177.5 cm
Mike5
said on 19/Sep/18
Not even 5'10 sorry
Canson
said on 26/Jun/18
@Dream: lol
Dream(5'9.5")
said on 25/Jun/18
@Andrea At least he claims 5'11" which is a fine claim.
Dream(5'9.5")
said on 25/Jun/18
@Rampage Agreed! If he was 6'4", I could claim 6'3" and @Canson could claim 6'11" and Christian could claim 7'0"
My goodness. I wonder what kind of Drugs was Google taking. How much electrical 'alcohol' were they taking?!
Conan
said on 23/Jun/18
In photo, he looks like 5'10"
Rampage(-_-_-)Clover
said on 18/Mar/18
If he's 6ft4 then I must be 6ft10
World Citizen
said on 16/Feb/18
Looks 5 ft 9.75 max
Andrea
said on 12/Oct/17
For those who are worried that he really could claim 6'4... He doesn't, of course:
Click Here
Just goes to show how stupid and unreliable Google is, AGAIN!
If he really is 5'10.5, 5'11 doesn't seem a bad claim, although he certainly doesn't look over 5'10 with Rob...
Editor Rob: they don't do half inches on the imdb resume, which means sometimes if a guy genuinely was 5ft 10.5 he'd have to put in 5 feet 10 or 11!
Mark(5'9.5
said on 14/Jul/17
I swear if he claims 6'4", I'm probably going to puke absolute rainbows everywhere! LOOOL!
Mark(5'9.5
said on 4/Jul/17
Out of curiosity Rob, do you know what this guy claims. If he claimed 5'11", then I wouldn't be that surprised.
Editor Rob: I'm not sure!
Rory
said on 3/May/17
Does he really look much more than a weak 5'10 in the pic ? I'm not sure.
Mark(5'9.25
said on 18/Dec/16
Let's see. There are a few instantace that Google did manage to get someone's height near correct like Jamie Waylett even though he's listed shy of 6'1", I still think he can look a full 6'1".
Dave Legeno is a legit 6'3". Tom Felton could be considered a 5'9". Overall, I do agree google listed him as 6'4" is beyond me! 😂😂😂😂😆
Editor Rob: it's a good example of why you should never use algorithms to take data from sites - by doing so, you end up with an example like this!
Mark(5'9.25
said on 16/Dec/16
He would edge me out, but google listed him as 6'4"?!
YAY, I can claim 6'3"! *sarcastic*
this billing is kinda similar to Kurt Angle except it's even more ridiculous, rob! 😂😂😂😂
Editor Rob: the fake height service - aka Google - is totally discredited when it has put this guy's height out there as 6ft 4 for 10 years.

Total misinformation, completely embarrassing 😂

If I was 6.5 inches off with a height listing, I would be ashamed to leave the house for 6 months 😮 😲 😵
the Slav
said on 16/Jul/16
he recently had his MMA debut lol
rop
said on 4/Jul/16
If josh herdman is 5'10 Jamie waylett must to be 5'6
Peter 180cm
said on 26/Apr/16
Looks about 178 to me,accounting for footwear too.
johemoth the dog
said on 22/Apr/16
Looks 5'10.25 in the pic, accounting for footwear, probably 5'10.5 as listed.
Mat
said on 17/Jan/16
Rob he looks 5'10. It's a safer bet
pablo77bar(184cm)
said on 16/Nov/15
Still listed at 6ft 4 in google
Rob,maybe he lost some discs before met you hahahaha
Editor Rob: in my dealings with them I have found Google to be a discredited search engine...

A6'2Guy
said on 27/Jun/15
He looked tallish next to the other actors his age in Chamber of secrets, but they were just a bit or more below average.
Mike T
said on 13/Apr/15
He's 6'4"? Awesome!! Now I can claim that I'm 6'3" lol jk
Tunman
said on 25/Mar/15
@Emily
Quite a normal head for his height,probably around 9.25"
Mike
said on 8/Dec/14
He's 6ft 4 (sarcastic).
Emil 183 cm
said on 22/Sep/14
@Rob
How was his posture next to you? Looks 5'10 flat in the picture
[Editor Rob: normal, but a fraction less sneaker]
Oanh
said on 27/Aug/14
5'10 1/2" and not a mm taller. Rob, you have a nice beard...you should keep it.
RogerH
said on 11/Jun/14
He would be just 1 cm smaller than a guy like Sean Patrick Flanery (photo on this site) and the difference is not as much striking...176/177 is the best I can see here.
Realist
said on 5/Jun/14
In the book Crabbe was the short fat one and Goyle was the tall thinner one. Its all fans doing in this case. Rob he looks a lot like Peter Saarsgard dont you think so ?
[Editor Rob: maybe a bit]
Sean
said on 15/Apr/14
How in the name of all that is holy did he get listed at 6'4????
[Editor Rob: maybe a touch of madness was involved]
cole
said on 5/Apr/14
@Editor Rob: Can't see the 2.5in difference in this shot, but perhaps it's more based on what he looked to you walking about in person?
[Editor Rob: 5ft 10.5 is maximum range for him, he can also look 5ft 10]
Themotorbikeman
said on 25/Jan/14
5ft 9.5 is all i can see in the photo.
Emily
said on 6/Jan/14
Does he have a head smaller than 9 inches?
[Editor Rob: wouldn't think so]
truth
said on 5/Jan/14
I could live with 178cm at the most for him.
Rampage(-_-_-)Clover
said on 18/Dec/13
Actually, Rob Josh is 6ft4, you and Jenny are 6ft2-6ft3, Radcliffe is 5ft11, Tom Felton is 6ft2 and the Phelp Twins 6ft7!
Sound good?
Realist
said on 17/Dec/13
Haha Thats funny Crabbe is taller than Goyle. He looks a lot like Peter Saarsgaad. I would give the guy 5'10.5-5'11. They should not have killed Goyle in the movie.
Emil
said on 16/Dec/13
@Rob
He's 6'4, Radcliffe is 5'10.5, you're 6'1.5 and I'm 6'5.5. Is that a good deal?
[Editor Rob: I could live with that.]
heightwise
said on 3/Dec/13
Hahaha he's 6'4 if you search his name! Surely that's the most ridiculous difference ever
Vibram
said on 30/Nov/13
176 - 177cm. In the mid-high 5ft9 range.
Matt 184.7-186.7cm
said on 13/Oct/13
come on rob there's not even close 2 inches there, did he look bigger in person?
the photo gives impression of 5ft 9.5ish taking shoe into account
James Crowley Maximus Meridius
said on 4/Oct/13
Hey Rob is there a chance he could be 5ft 10.75in 5ft 11in range.
[Editor Rob: never looked that tall]
Mike T
said on 8/Sep/13
He's definitely not 6'4". If he was then that would make me like 6'2" or something. I'm 5'8 or 9
Ali
said on 6/Aug/13
Thats about 5 9. No more.
Rampage(-_-_-)Clover
said on 31/Jul/13
Rob, do you and Jenny have a rule that you both have to wear identical sneakers. You always look the same height in pics
avi
said on 13/Jun/13
2 inches so 5'10 tops
Stephen
said on 8/Jan/13
177.5-178 max.
MaskDeMasque
said on 18/Nov/12
an inch taller than jenny. 5'9.25.
greg
said on 28/Oct/12
He's listed at 6'4 !?!?!?!?
Derek
said on 1/Oct/12
Looks about 5'10"-5'11" in this picture. Your 5'10.5" listing is a fair one.
matt678
said on 29/Sep/12
thanks rob and he looks about 5 ft 10 in this pic i think
matt678
said on 28/Sep/12
how was he ever listed at 6 ft4???? u know rob?
[Editor Rob: I've no idea, but if other sites copied a height from one site it can then appear on many sites and stay that way for a long while.]
The Exorcist
said on 21/Sep/12
He looks 5'9.5
Shaun
said on 16/Sep/12
I don't think he looks over 5'10 here.
Reality
said on 19/Aug/12
Looks rather 5'10,posture and footwear disadvantages makes him look shorter but he still won't look over 5'10.
Mr-KILLER-SHRIMP
said on 3/Jan/12
176cm. 179 is way too high.
Godred
said on 14/Dec/11
I can`t believe they have this guy at 6`4,a girl on the site seems to still believe this aswell,goes to show fangirls will believe anything they are told,probably the same people responsible for the Tom Felton 6`1 listing.
Theman
said on 28/Nov/11
Looks 177 at max here atleast.
ChiasmataX
said on 22/Nov/11
Bad listing but not as bad as the 6 feet 4 from IMdp. He's 176 cm guy base on this pic. I can buy 177cm at the most though but not 179cm.
Milky
said on 6/Sep/11
I'm seeing 176cm here Rob?
random guy
said on 5/Sep/11
hmmm...cranberries is a bit crazy, 6'1 is 4 inches above average height. I'd say that average limit is about 5'8-5'10 with 5'8 being weak average, 5'9 spot on and 5'10 strong average
Josh B
said on 5/Sep/11
@Martin
I'm sorry but are you saying that 6'1 is average?! That's incorrect. By following this a 5'9 person and 6'1 person are in the same category...
Martin
said on 25/Aug/11
Re: Cranberries (18m, 193cm)
Well, yes. 5'9-6'1 is average height. Under 5'9 and you are shortish, over 6'1 and you are tallish. Under 5'7 you are def. short and over 6'3 and you are def. tall/really tall.
This guy looks like he is 177-178 cm. I guess 179 cm would be ok aswell since we don't know his posture.
Physics Enemy
said on 22/Aug/11
Wow, he looks shorter than Mike Tyson does next to Rob if you factor in Josh actually has good posture here too. Tyson's definitely taller than this guy.
It should be 5' 10.5" for Tyson and 5' 10" for Josh.
Tom
said on 17/Aug/11
@cranberries, and with the amount of emphasis you seem to place on height i'm guessing you make the average person look like brad pitt.
Cranberries (18m, 193cm)
said on 31/Jul/11
Who considers 5'11" or anything near it "tall"? People become "tall" when that's a trait they'd commonly be described as. Unless someone is short, people usually won't even notice "tallness" until about 6'2"/6'3".
Maximus Meridius
said on 29/Jun/11
5ft 11in is start of tall for men in the Uk
Cranberries
said on 3/Jun/11
It depends on the build; some tall dudes basically look like stretched out short dudes, with thin bones, narrow shoulders and hips, and a long skinny head. But other tall guys, like Dolph Lundgren and Tom Selleck (both 6'4"), practically look like a different species the size difference is so great.
James
said on 26/May/11
A legit 6'4 guy will defenintly make a 5'11 guy look short no doubt about it. 6'4 is mega tall and 5'11 is just above averge/'tall'. Clearly when you get to 6'4 or 6'5 that is probably when you would make even tall men look normal sized.
SAK
said on 10/May/11
Cranberries says on 8/May/11
He's the average height for a white male. 6'4" is hilarious. A 6'4" man makes a 5'11" man look like his Mini-Me.
------------------------------------------------------------------------------------------------
Err hardly, yes the 5ft11 guy will be considerably shorter but it's bot that bad.
Cranberries
said on 8/May/11
He's the average height for a white male. 6'4" is hilarious. A 6'4" man makes a 5'11" man look like his Mini-Me.
James
said on 2/May/11
A 5'10 guy listed at 6'4 is just well..........
Rampage(-_-_-)Clover
said on 21/Apr/11
If he was 6"4 then Rob and Jenny would be at least 6"2
mike
said on 17/Apr/11
If this guy is 6"4 that means, I'm like 6"9
Aaron
said on 4/Apr/11
Lmao... Imagining this guy at 6'4" just doesn't work for me. He's between 5'10" and 5'11". He couldn't be 6' on his tallest day at the start of the morning.
Rampage(-_-_-)Clover
said on 2/Apr/11
177cm in the picture
Josh B
said on 29/Mar/11
Rob can you believe the infamous four letter site has this guy at 6"4 :O
Detox
said on 6/Mar/11
looks 176cm-177cm max
James
said on 14/Feb/11
No more than 5'10 (178cm) in the pic.
Dean
said on 31/Jan/11
in the pic theres a 3-4cm taller..so about 3.5cm add .6 for the extra footware..hes about 4cm taller..5 at the absolute most! 177-178..he cannot be more than 178 rob surely?
James
said on 23/Dec/10
He does not really look over 5'10 in the photo.
did he have footware advatnage rob?
[Editor Rob: it's above the photo, jenny/josh had 0.25 inch less sneaker than mine.]
Bob445
said on 22/Nov/10
@Rob
That's pretty lame. They're cheating people
Matt
said on 17/Nov/10
I cannot see anything over 2 inches difference in this photo, but i really only see 1.5 inch difference max. probably an illusion becasue his head looks alot smaller than robs so the chin level is around 3 inch difference.
but from the top of the scalps, 1.5 inch difference is the reality.
Bob445
said on 14/Nov/10
@Rob, I've seen many websites who claimed that you can gain some height if you do stretching exercises and eat better.
Are they true or scams?
[Editor Rob: it's this bad...

one site is using a photo of me and they stretched the photo from 5ft 8 to 6ft and changed the shirt color etc to make the 'claim' of magic growth more believable lol]
Darkzeven
said on 27/Oct/10
rob is 173. If Josh had 1/4 inch less sneaker than Rob then this means that he had approximately 0,6 cm less. Now, i see a 3 cm difference between Josh and Rob. Add 3,6 cm to Robs height and we get a height of 177 cm rounded up. What do you think of this possibility Rob?
[Editor Rob: he looked a 5ft 10 range guy, but come to think of it there was a 5ft 11 guy that day who looked a good 3cm taller, although he had thicker shoes than josh]