Jamie Lynn Spears Height
5ft 3 (160 cm)
American actress known for starring in tv show Zoey 101. In 2018 she said
"I'm like 5'3"
.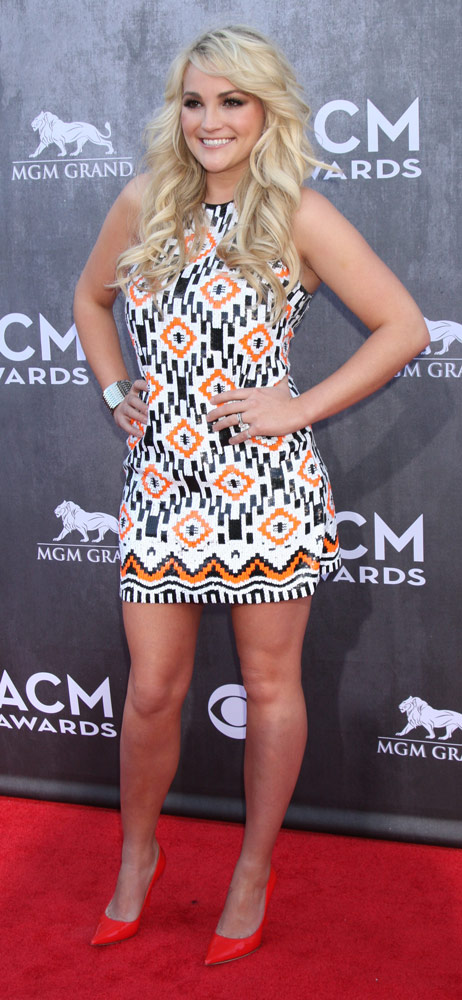 Photo by DFree/BigStock.com
Add a Comment
70 comments
Average Guess (7 Votes)
5ft 3.11in (160.3cm)
Nik Ashton
said on 15/Sep/21
@ Granit - I like your name! ⚽️🇨🇭
Plenty of people out there think that Jamie Lynn Spears is taller than Britney but ……..
It's interesting that you recall Jamie Lynn Spears being taller than Britney at some point as Britney is 9 1/3 years older than Jamie Lynn and Rob thinks she is currently taller than her sister too!
7️⃣0️⃣
Rhianna
said on 30/Jul/20
Their mother Lynne is tiny, at 5' tall
Harry Houlton
said on 30/Nov/19
How tall do you reckon the guys from Zoey 101; Sean Flynn and Christoper Massey, were?
Layla
said on 19/Sep/18
I always figured Jaime Lynn's listing was too high. As Jamie Lynn grew up, Britney always looked to have an inch at the very least over her..
Nik
said on 10/Sep/18
I love her comment "I'm like 5'3"!
Stephanie
said on 9/Sep/18
Jamie said she's "like 5' 3" on Instagram:
Click Here
Granit
said on 5/Dec/17
Britney is the taller of the 2 sisters. I also recall Jamie Lynn Spears being taller at some point- not sure if it's possible for Jamie Lynn to have shrunk.
The Fan
said on 21/Oct/17
Jamie Lynn definitely appears taller than Britney. Whenever Britney appears taller, you can see she's wearing higher heels. Why the change in heights?
Jess
said on 22/Mar/17
Naz, you are right. Jamie Lynn Spears as a teen was easily taller than Britney Spears. Not sure how Jamie Lynn lost height, but Britney Spears is easily the taller sister now?
Naz
said on 7/Mar/17
Strange that Jamie Lynn Spears at the age of 15/16 was clearly taller than Britney Spears. However, Britney clearly stands taller now.
Justine
said on 30/Jan/17
Britney Spears is taller than her- Google "Jamie Lynn Spears, Britney Spears- Blockbuster". Both in flats, Britney owns her by an inch.
Ashley
said on 31/Mar/16
I saw an Instagram of her and Britney getting spa treatment. Britney is barefoot. I don't know about Jamie Lynn. If Jamie Lynn is barefoot, which looks like she is, then she's looks like she two inches taller than Britney. I say that she's about 5'6".
marla singer
said on 3/Nov/12
I thought she was shorter than Britney: Jamie doesn't even look average height
Rach
said on 28/Jul/12
I'd say 5ft 5.5 because she looks about that in Zoey 101.
Button
said on 18/Jul/11
I don't think Jamie Lynn is any taller than Britney. I actually think they're both the exact same height. I would say 5'4.5" (164cm) is correct for them both.
sophie
said on 5/Feb/11
she's 5'4. honestly look at her, slouching or no slouching, she's not tall. 5'4 seems right.
Anonymous
said on 5/Jun/09
No Way Jamie Lynn takes Britney in a wrestling match. Britney has those huge muscular legs. Britney is a dancer and is very powerful and agile.
diana
said on 11/May/09
anon
for some reason in terms of girls height an inch or two is towering over someone somehow. i don't get it. a lot of girls don't really like being tall so a few inches up on someone is "crazy" in terms of whose taller
Anon
said on 11/Apr/09
How is a half-inch/inch height difference "towering" over Britney?
mookie12
said on 7/Apr/09
If this is true, i am the same height as Jamie Lynn. So Cool! :)
drivin43
said on 25/Feb/09
All I am saying is that Jamie Lynn is TALLER then Brittney is...and that if the two were to fight britney seems as if she will lose
why not
said on 1/Nov/08
drivin43, so are you stating that a taller person, even just an inch or so difference, will always win a wrestling match? That isn't true.
drivin43
said on 30/Aug/08
Jamie Lynn is without a doubt starting to tower over Brittney. In a recent wrestling match Jamie pinned Brittney and had to be left up
drivin43
said on 30/Aug/08
It is clear that Jamie is taller then Brittney these days. Jamie has a good full inch on Brittney. Jamie and Brittney have wrestled (playing around) and Jamie pinned Brittney down. Brittney had to have Jamie let her up...
Fan
said on 30/Jul/08
She's def 5'4-5'5 no shorter and no taller. Victoria Justice is def 5'6-5'6 1/2. Justice looks shorter than my sis who's 5'7 & 16.
Anonymous
said on 31/May/08
Isn't Jamie shorter than her Zoey 101 costar Alexa Nikolas who's only listed at 5'2"1/2?
bebe/
said on 31/May/08
hi,
u ppl seen stils of miss/guided
judy greer, 5.10, is standin nxt 2 jamie and both in flats, jamie was 2 inchs max shorter.
jamie is 5.8, victoria justice is definately 5'8.75.
on a shooting set, iwent 2 meet jamie, im 5'10, and i saw her itook a pic, i wz jst 2 inch taller, she was in flats and victoria, ws wearing an inch and a a half heel and she ws taller than me by half inch, she is a year younger than me.
it was great.
im almost 16 and 5.10 and male.
these 2 if in heels, they tower me. ahh
C.
said on 20/Dec/07
This height is spot on. B/c she doesn't look that much taller than her sister.
Lissa
said on 19/Dec/07
I'd say anywhere between 5'4'' and 5'5'' is possible. Oh Yeahh and she just announced that she's about 3 months Pregnant right now at age 16. The father is HER 19 YEAR OLD boyfriend from her hometown of Kentwood Louisianna. They have been dating for 2 and a 1/2 years, and are "shocked about the baby" If you don't believe me check out just about any celebrity website right now.
face
said on 19/Dec/07
Click Here
Victoria is taller than Jamie Id say she is 5'6
El
said on 19/Dec/07
Victoria Justice isn't listed on CelebHeights but other sources say that Justice is 5'4". Jamie looks about that height.
Anonymous
said on 1/Dec/07
She absolutely skies over her mother:
Click Here
Jez32uk
said on 8/Nov/07
She certainly looks quite tall next to this guy plus she looks quite big too, maybe even bigger than britney:
Click Here
anonymous
said on 14/Oct/07
i saw that Victoria Justice was 5'6.5. Jamie looks just as tall as she does. Either Victoria is too high or Jamie is too low.
Anonymous
said on 13/Oct/07
Both in heels, she looks maybe an inch or so taller than Britney now...
Click Here
Anonymous
said on 13/Oct/07
Jamie Lynn is probably around 5'5 now; she is really taller than Britney.
Click Here
anonymous
said on 7/Aug/07
I recently saw Jamie at the set of Zoey 101 and I have to say she is probably around 5'4".
Anonymous
said on 21/Jun/07
Yeah, she's definitely taller than Britney. Here is a recent picture, with Britney standing up straight and wearing heels, while Jamie Lynn is wearing flats and slouching, and even then Britney is barely bigger. I'd say, barefoot, Jamie Lynn has got to be a solid half inch taller.
Click Here
Anonymous
said on 17/Jun/07
She towers over Paula Abduhl....though I think Paula is max.....4'11 so Jamie might be 5'4" but no more, and Brit is 5'3.5"
anonymus
said on 16/Jun/07
i saw jamie lynn about a month ago and she was a little taller than me. im 5'5 and we were both wearing flip flops.
em
said on 4/Apr/07
It seems to me JL is 5ft3/5ft4 her sister is only 5ft4 and they arent a tall family and shes probably done growing now as she had some difference in her appearance on the 2nd series of Zoey 101 which clued us to thinking she grew to 5ft3 3rd series she looks almost the same so no growing there.
Anonymous
said on 1/Apr/07
Is this Paula Abdul she's with in these photos? Because if so, she absolutely skies over her (and they are both in heels). VERY significant height difference.
Click Here
Click Here
Click Here
Stephanie
said on 31/Mar/07
Jamie looks about 5' 5" to me. 5' 4" maybe, but not shorter than that. I always thought Britney was in the same range. It'd be nice to see the sisters together, because the last time I remember seeing them photographed together it was a few years ago and Britney was alot taller and in heels, and Jamie wore flats.
Johnny
said on 11/Feb/07
I was wondering what we thought between her and her sister. Sometimes her "little" sister Jamie Lynn looks 5'5" (taller than Britney) and sometimes she looks shorter. If Brit is 5'4.25, then how tall is Jamie Lynn?
Mimi
said on 7/Feb/07
Maybe she's 5ft 4.5 ou 5ft 5... But she looks like 5ft2
Anonymous
said on 25/Jan/07
"She'll be 5' 7" by August." Doubt it. She's almost 16! She might hit 5' 5", but having been through high school and seeing girls in that age group, many of them stayed the same height (or within two inches) from age 14 all the way until they were 17/18 and graduated. Girls Jamie's age just don't grow. And if they do it's very rare. She was 5' 3" at 14, may have grown a little (still haven't seen her next to Britney so I can't tell for sure who's taller), and is probably in the 5' 4" range. She MIGHT grow to be 5' 5" but that's it. If you look at growth charts for girls at 16, they only gain about half an inch on average, so some were done growing at 12/13 and others grew like about an inch and that's it.
6'2'' JK
said on 26/Dec/06
Look at this video Rob
Click Here
This video is from the 23rd of December 2006, you can clearly see that Jamie is 5'3'' absolute Max next to Emma Roberts
Brad
said on 14/Dec/06
She'll be 5' 7" by August.
Martijn
said on 11/Dec/06
Dutch Magazine: J.L.: Up to my 13e Britney managed me. As from that point I became slowly larger and stronger. I am much stronger than Britney now. I have become stronger and Britney have slackened by the pregnancy. If we wrestle I tease Britney. I often lift her up and carry her round the house. A the end i thrown her on the ground and pin her down. She begs and she calls for help. When she is tired i let her go.
Martijn
said on 8/Dec/06
Not only taller, but JL is none to be stronger than Britney. There must be some pictures of them wrestling, but i can't find them.
6'2'' JK
said on 7/Dec/06
Jamie lynn now is very close to 5'5''
Emily
said on 18/Oct/06
hey..uh Stephanie, no ones talking about the Harry Potter people. Welcome back!
Anonymous
said on 14/Oct/06
She's a lot taller than her mother....from earlier this year, you can see her mother has on some nice sized platform sandals, while Jamie Lynn is wearing slippers. She's scrunching down (notice the bent knees), and she's STILL taller than her mom...
Click Here
Click Here
Jangstrom
said on 3/Sep/06
Click here:
Click Here
Britney does look taller than Jamie in this pic,but i don''t know,maybe it's a bad angle?
Anonymous
said on 16/Aug/06
look at pics on jamie lynn.com jamie towers over britney she must be about 5'6 now this height must change
Anonymous
said on 16/Aug/06
Can these pictures be used to finally confirm that Jamie Lynn is taller than Britney? These don't seem to use any weird perspective tricks, and they're both wearing sandals, and Jamie is definitely noticably taller:
Click Here
Rachael
said on 20/Jul/06
By looking at her pics i think she looks about 5ft 4.5 - 5ft
Anonymous
said on 27/Jun/06
Hmm I'd say that recent pic is kinda dubious. Brit is leaning back and she's slightly more in the background than Jamie Lynn is. JL is slightly closer to the camera. If anything, I would think from the pic Jamie Lynn is now just AS tall as Britney. There are other pics from that link that show them as if they were side to side and they look the same in height
leonari
said on 27/Jun/06
Anonymous: wow man. You must be the specialist here for providing pictures which reveal..well let me put it in a nice way: Absolutely nothing!!!! Such a bad pic for comparing heights D.A!
Anonymous
said on 27/Jun/06
This picture makes it official that Jamie is taller than Britney. She is on lower ground and is still taller, both in flats, both standing up straight.
Click Here
Stephanie
said on 12/Jun/06
Emma is not taller than Dan! That's dumb. She ONLY looks taller if she's wearing heels! I think that they are about the same height, both around 5' 5". Emma is NOT ANYWHERE NEAR 5' 6.5".. that's how tall Rupert is!
Anonymous
said on 2/Jun/06
seeing her pics i'd say jamie lynn is probably 5'4 - 5'5
john link
said on 30/Apr/06
Amanda: did you realize that this site has changed Dan's height to 5'5"? I agree with Andrew, Emma looks to be over 5'6.5". She is way taller than Dan. Jamie Lynn is probably in the 5'3" to 5'4" range.
daniel
said on 13/Apr/06
in the picture that milano girl puted,she looks like she is a few inches shorter than her sister which i dont know how to spell.
Stephenie
said on 10/Feb/06
I think she's about 5' 4" now. That's what I put on my site. She was supposedly 5' 3" on her last birthday (April 4, 2005), so she could have grown an inch since then. Britney looks 5' 5".
Serene
said on 5/Feb/06
Mika.. you are right. InZoey101, she seems to be quite tiny you know..
But in many sites,she was listed between 5'4" 5'6".. is that possible?? I don't think so..
But a magazine shows that Brit was much more taller than Jamies.. 2 inches at least.. so Jamie could be 5'2.5"
Bert
said on 2/Feb/06
She doesn't look 5'6.5" based on her pics. Her picture with Jesse McCartney beside her shows that she is less than 5'6. It shows that she's 5'3" or 5'4" not 5'6".
Anonymous
said on 9/Jan/06
I don't know, during Britney's pregnancy (where Jamie Lynn was spending a lot of time with her, and the paparazzi were getting a lot of pictures), there were defintely moments where Jamie Lynn easily looked the same height.
John
said on 8/Jan/06
Yeah, she does look 5'1"! Hmm..... lets look into this,,
Wicked Kid
said on 6/Jan/06
Well, I think you're totally over-estimating Jamie Lynn Spears. She looks like what, 5'1"? There's no way she's 5'3.5".