Janice Dickinson's Height
5ft 9 ½ (176.5 cm)
American Fashion Model. She once said
"I was 5-9 and a half and 134lbs when I first came to New York"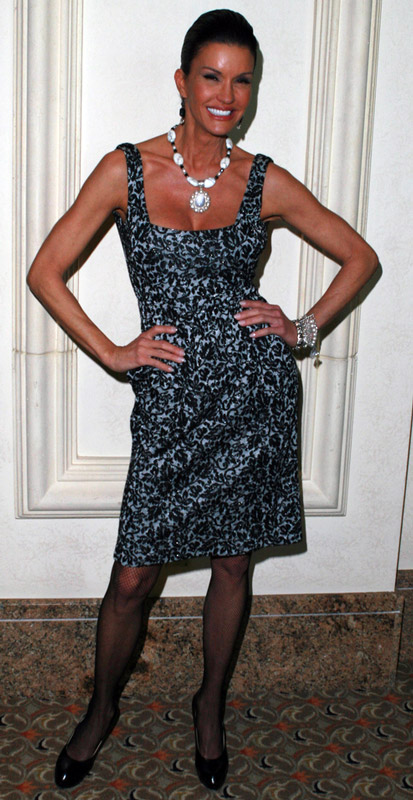 Photo by PR Photos
Add a Comment
25 comments
Average Guess (6 Votes)
5ft 9.5in (176.5cm)
Nik Ashton
said on 14/Sep/20
Look at this:
Click Here
Nik Ashton
said on 14/Sep/20
She is taller than Sylvester Stallone! 👌
Miss Sandy Cowell
said on 15/Feb/20
Amazingly, I've just discovered that Janice was in the jungle just over 12 years ago! Doesn't time just FLY? 🙄
Miss Sandy Cowell
said on 15/Feb/20
💐🎁🎂 Happy Birthday Janice! 🎂🎁💐
It's Janice Dickinson's 65th Birthday today, so "Hey man! Happy, happy Birthday, man!"
I remember her well in 'I'm A Celebrity...' the other year, and she'd say the word 'man' after nearly everything! She was an interesting contestant, so interesting, in fact, that I didn't even size up her height, and that's saying something. 😯
I just found 178cm for her, which I see is wrong. I trust Rob's judgement over the rantings of people whose forte is Birthdays. So ner!
5ft9.25, as she must surely have lost a bit by now, man!
💐🎁🎂🎈💐🎁🎂🎊💐🎁🎂🎈💐🎁🎂🎊
MaryAnne
said on 29/May/19
@Allie, she must be high when she remarked that claim lol
BilboBaggins
said on 14/Apr/18
Yes, I believe Janice is close to being 5' 10" for sure because, if you've ever seen photographs of her alongside veritable 5' 7" model Gia Carangi back in the day (with both wearing similar height shoes), Janice appears visibly taller than Gia.
gregorio
said on 27/Jul/16
met her in nyc 5-8 tall with shoes trust me
Allie
said on 4/Dec/15
Ah, the woman who declared herself the First Supermodel. :).
5'9-5'10.
kevin
said on 2/Oct/15
she's always walking around west hollywood, where i live. she frequents the starbucks on robertson & santa monica. she is very tall, taller than most men. she's between 5'9" easily and 5'11" and well over 6'2" in heels. (i serve her at starbucks all the time)
Pepe
said on 26/Sep/14
When she stood barefoot back to back on ANTM with Tyra Banks she was at least two inches smaller than Tyra (who is 5' 10). So would more likely be 5'8.
GraceLee
said on 28/Mar/13
I met her on the street in NYC a few years ago she was very tall and believably 5'9" to 5'10"
Louise
said on 23/Oct/11
I'm sure she is that tall indeed. When she was in America's Next Top Model she used to stand at the same level as Tyra Banks, who is 1,78 (5'10).
anon
said on 6/May/09
probs 5'10 if you ask me.
pinky5
said on 12/Nov/08
janice is jus awsome..she can b quite annoying but she is really fun and she gave the word faboulous a new meaning n i don'tcare what is her height she looks awsome...but i do hink she is 5'9 or maybe 5'10..anyway keep on looking fabulous janice.........
Anonymous
said on 18/Sep/08
she probably shrunk though now my mum was a model back in the day and she was 5'9.5 and I am too and shes 3 inches shorter than me now!
Anonymous
said on 1/Aug/08
My wife and I ran into her in NYC. She actaully was pretty friendly but same height at my wife, 5'10" give or take an inch.
Brad
said on 4/Jul/08
Owns Sly when both are not seen in lifts/heel. Great proof Sly isn't even 5' 9".
jack
said on 26/Mar/08
yes i've seen her constantly on every mtv or vh1, E channel show, ever. She's around 5'9 or 5'10. Truly an American Nightmare
Sam
said on 18/Feb/08
That's about right - I'm 5'7" and she towered over me.
Rachel
said on 24/Nov/07
On I'm A Celebrity...Get Me Out Of Here! she is noticably taller than Ant and Dec, and when she did a trial with Marc Bannerman, he didn't look that much taller than her, and he is about 6' 6'1, so I think 5ft 9.5 is about right.
Meagan
said on 28/Jun/07
Isn't being 5'9 cool? I am too.
Chris
said on 19/May/07
I think many of those pictures of driving licences which show height are fake.
Julia
said on 21/Apr/07
On her driving license it states that she is 5'10", that must have been her maximum height. Given her age now, she's probably smaller.
Scarlet
said on 19/Apr/07
Looks 5'8 ish on America's next top model thing. She is really much older now you know.
charlie
said on 18/Apr/07
I believe her to be around 5'10''. She often looks titanic next to just about everybody because she seems to always wear the biggest heels she can. Sure she's crazy, but she sure is entertaining.