Jeff Jarrett's Height
5ft 10 (177.8 cm)
American professional wrestler, who was regularly billed as 6 feet through his career.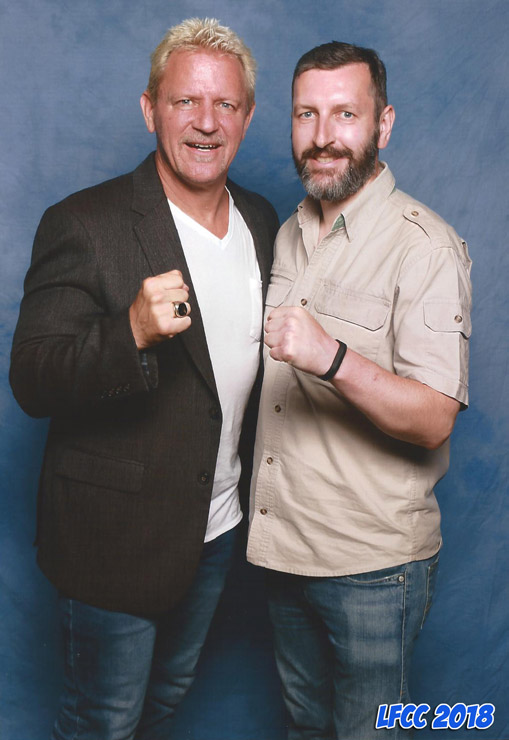 5ft 8 Rob and Jeff @ LFCC 2018
You May Be Interested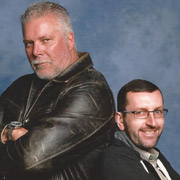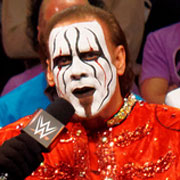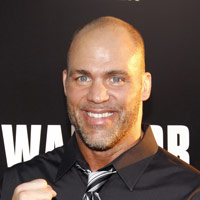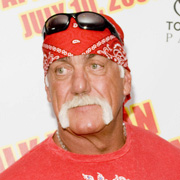 Add a Comment
28 comments
Average Guess (40 Votes)
5ft 9.58in (176.7cm)
Tony Random
said on 20/Apr/20
Huh, looking at that photo, 5'10 seems even generous. But than how tall does it make Owen Hart? Jeff seems considerably taller than Owen in every picture, but mainly in the promo tag title pics with Debra.

Editor Rob
Jeff could have lost a bit of height by time I seen him...Owen at times seemed 5ft 9
SeanR
said on 30/Oct/19
Rob,
For Jarrett 5'10" peak, current 5'9.25"?
He barely looks over an inch taller than you there.

Editor Rob
Possibly 5ft 9.5 today
Miss Sandy Cowell
said on 12/Apr/19
I wonder if he was ever the full 6ft? A 2" loss is rather drastic for a guy of 51 and three-quarters.
I can't even see 5ft10 here. I have decided to give him 5ft9.75.
Zampo
said on 30/Aug/18
@heightchecker34, could X-pac really be 5'10? maybe because it's been ages but he always seemed to be dwarfed in the ring.
On Jeff Jarett, a 176-177 cm guy today.
heightchecker34
said on 11/Aug/18
6'0 is completely ridiculous, unless he is wearing wrestling boots with 2 inch lifts. He is a classic 5'10 guy. He actually looks 5'9 with Rob. He came along in an era, where smaller guys were becoming more accepted. Like HBK (5'11 ish), Bret Hart (6'0), and X Pac (5'10 ish). No doubt he lost some height over the decades he has been in the ring. So 1 inch isn't unheard off. Love his southern drawl by the way....
Y07
said on 7/Aug/18
Since he's 51 and has been a wrestler for well over 3 decades now. It seems very likely he could've lost some height now. It seems very likely he could've cleared 5'10" in his prime.
Powerhouse
said on 5/Aug/18
Changed my mind looks maybe an inch difference, 5'9 flat.
Myself
said on 4/Aug/18
Rob, he really didn't look to you more than 5-7 mm shorter than big Lewis? ;)
I have a hard time seeing here bad posture from Jeff, maybe it's the camera angle, because he doesn't look over a weak 5'9 here to me...

Editor Rob
His peak I think 5ft 10 range, today...a fraction under 5ft 10 is probable.
Sepanta
said on 3/Aug/18
Comparing to you he looks around 5'9.25.
Andrea
said on 3/Aug/18
He certainly looks a lot closer to 5'9 than 5'10 here, like not much more than 176 range.
Powerhouse
said on 2/Aug/18
I'd say 5'9.25-5'9.5, definitely not seeing a two inch difference here.
Nik
said on 2/Aug/18
@ Rob
Do you think he is losing height?

Editor Rob
I think for a measurement standing at his tallest he should clear 5ft 9 easily, because he looked taller than that mark.

RP
said on 2/Aug/18
Needs peak & current!
Peak 5'10"
Current 5'9-1/4"
heightchecker34
said on 2/Aug/18
Jeff was definitely a 5'10 guy during his career. He does look only in the 5'9 range with you in this picture, and I am not seeing much of a lean. Maybe 176-177 cm tops, kind of how I would look next to you Rob. He is only 51, but perhaps wear and tear to his body after a LONG career may have knocked a few cm's off him. Great guy and very well respected in the business. Gotta love Double J! Peak: 5'10 Current: 5'9.5
Agent Orange
said on 2/Aug/18
177 cm is reasonable.
Mack
said on 2/Aug/18
people who say he looks 5ft9 rather if you look at his legs they look pretty diagonal as far his stance so maybe he lost a small bit in the image for not standing completely straight.
Christian 6'5 3/8"
said on 2/Aug/18
Looks nowhere near 5'10". A 5'9.75" listing may be a good start, Rob. You did say that it's possible he's under 5'10" today.
Mahesh jayan
said on 2/Aug/18
Looks no more than 176 Cms..peak max 177..actually did he appear more than 176 to you rob?

Editor Rob
Well I think he seemed over 5ft 9 to me.
Jim hoppa
said on 2/Aug/18
Seen him billed as 6-1 even!! LOL
Peyman, 5'10.25"
said on 2/Aug/18
he looks an inch taller than rob' so 5'9.25" is my guess
I'd also go with 177 peak next to 174-5 owen hart
cmillzz
said on 2/Aug/18
Barely looks taller than you Rob. I'm not seeing anything close to 5'10 in this photo...

Editor Rob
Well under 5ft 10 today is very possible, but I don't know by much.
Rampage(-_-_-)Clover
said on 1/Aug/18
I see a bit over 5ft9 but may measure close to 5ft10. I agree with Rob that he may have been a strong 5ft10
BTW he was also billed as high as 6ft1
SharpshooterTom
said on 1/Aug/18
Jeff Jarrett looks like he's leaning forward a bit in that photo. I reckon he's got 1.5-2 inches on Rob if that's the case.
Mayfield
said on 1/Aug/18
Good listing, even Hacksaw Jim Duggan's autobiography says Jeff is 5'10
James B 172cm
said on 1/Aug/18
not a very nice guy is he rob for what he did too this wrestling fan
Click Here

Editor Rob
Well he's a tough guy, I wouldn't piss him off!
SD(172cm)
said on 1/Aug/18
He looks like a strong 5'9 in this photo!!!
Kourosh
said on 1/Aug/18
No where near 5'10 in that pic. Looks nothing more than 5'8.5
Y07
said on 1/Aug/18
Looks like a weak 5'10". Unless if you have a footwear advantage over him that day.

Editor Rob
Quite similar, I don't know if Jeff has lost half inch or so...it might be possible he's went from a bit over to a bit under 5ft 10.