Jennie McAlpine's Height
5ft 3 (160 cm)
English actress, best known for playing Fiz Brown in ITV soap opera Coronation Street. She listed her height as being
5 feet 3 inches
tall.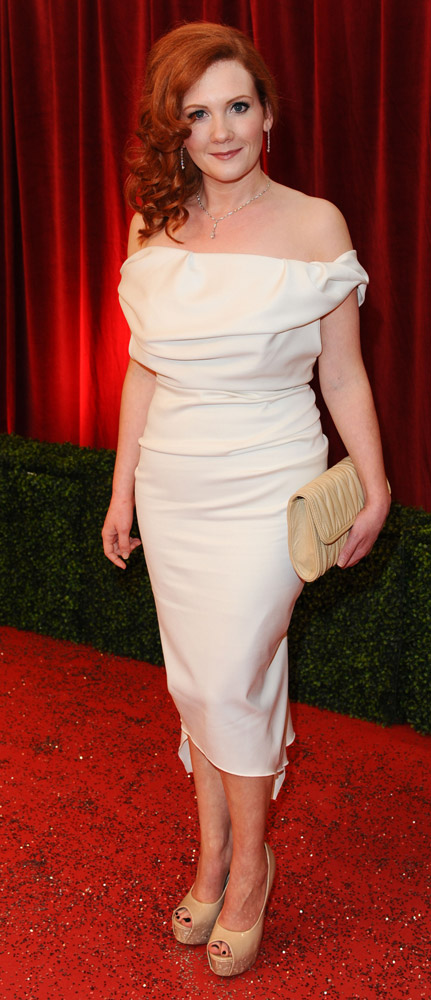 Photos by PR Photos
You May Be Interested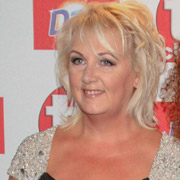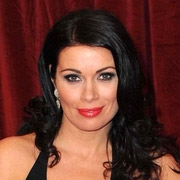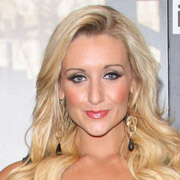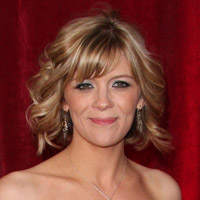 Add a Comment
16 comments
Average Guess (11 Votes)
5ft 2.91in (159.8cm)
Miss Sandy Cowell
said on 7/Nov/20
I used to think Jennie was around 5ft4.5 - 5ft5. She was overweight at the start of her time in 'Coronation Street', and she was one of those people for whom the plumpness didn't cut her height.
I'm still going for a strong 5ft3, but anything below 5ft3 is a definite no-no! Therefore, Jennie gets 5ft3.25.
😃🌹
Miss Sandy Cowell
said on 12/Feb/20
🎂💐🎊🎈 Happy Birthday Jennie 🎈🎊💐🎂
Wishing Jennie McAlpine a lovely 36th Birthday today! I remember only too well when she started out in 'Coronation Street' as a youngster!
5ft3. 😁💝🎉
🎂💐🎊🎈🎂💐🎊🎈🎂💐🎊🎈🎂💐🎊🎈
Miss Sandy Cowell
said on 25/Jan/20
Jennie's character Fiz's attack on Jade was unnecessary, even if she'd been provoking her. Hopefully, this will show people just how dreadfully dangerous it is to hit someone on the head.
Five foot three.
Miss Sandy Cowell
said on 18/Jan/20
Jennie is the voice in Rylan's 'Supermarket Sweep'! You can see her at the end, sitting in the store's 'office'! Perhaps one day, we'll get the chance to see what a 13" height difference looks like if they stand together.... 🤞
Miss Sandy Cowell
said on 8/Jan/20
What the blazes is happening to this World of ours when the authorities take the rantings of a seriously messed up and bitter woman who has only got spite and cruelty on her mind, scheming away to get revenge for the death of her murderer of a father? They should have probed about in her background before even consider taking away two well looked-after little girls from their family circle. They should do a house search and then hopefully they'd find the stage make-up that 'caused' those bruises, as it were.
As regards Jennie's height, I think that the average guess of BELOW 5ft3 is much too low. I was quite startled to find out that Jennie was only 5ft3. I previously put her as at LEAST 5ft4. I will today give her a guess of 5ft3.5.
Miss Sandy Cowell
said on 25/Nov/19
That wind-up merchant of a daughter of hers is getting worse - AND she has an ally now in a grown woman.
That horrid little brat is her Dad's daughter, and possesses none of the good attributes of her mother, played by Jennie.
5ft3, but I did used to think she was nearer the 5ft4.5 - 5ft5 mark.
Miss Sandy Cowell
said on 5/May/19
I'm watching a Celebrity Chase and Jennie is a contestant. Her hair is a truly glorious red, and she is wearing dainty little heels, but bigger than the 'kitten' variety. She isn't as tall as 5ft8.5 Bradley, but just the sort of height a girl would reach with that variety of shoe.
I tell you people, this girl's as bright as a button! She's through to the final Chase. They ALL are, but I feel Chris Packham has the edge on her. He's also much taller, but the tallest of all is TV presenter Dan Lobb and Jodie Prenger is the other girl, who looks around Jen's height.
Hooray! They've won their money! £63,000 for their chosen charities, and Jennie has chosen the Mood Swings Network. How cool is that?
5ft3 for Jennie the Redhead!
Sandy Cowell
said on 30/Oct/18
Congratulations to Jennie on the birth of her second child!
Jennie gets 5ft3 on this happy day.
👶👨‍👩‍👦‍👦 👌😁 💐
Sandy Cowell
said on 4/Sep/18
Well done to Jennie's character, Fiz, for correcting Tyrone for using the word Pacific in the wrong context. He took great exception to this!
I suppose he sails the Specific Ocean when he's cruising off to America!
I shall give Jennie 5ft3 and a thumbs up emoji for losing weight and keeping (most of!) it off! 👍
Nik
said on 12/Dec/17
@ Sandy Cowell - Hi!
No problem! To be honest there are a few comments from you to me that I haven't replied to, I am working on some of them in the next few days! It's easily done on a big website like this so don't worry about it.
I think that you have written a glowing opinion on Jennie, one she would be proud of, and everything you have said about her is true. She is an extrovert with a lot of passion for everything that she does, and she is a really nice person too like her on screen character Fizz is! She has got nice red hair in plaits too, like you said!
I enjoyed the goings on in the jungle and it is a real shame that this programme is all over now, everyone acquitted themselves very well, and the things that I saw Toff having to endure, well!
Cheers!
Sandy Cowell
said on 9/Dec/17
@ Nik - I've popped over to this page to state that it's due to this girl that I regret not having watched as avidly as I normally do, the nutty goings-on on this year's 'I'm a Celebrity - Get Me Out of Here!' The few bits that I have caught have shown her to be one of this year's extroverts! I saw her singing her little heart out as loudly as anyone could expect and in fact, whenever I see a preview clip, she is present, sure as mustard, often with her lovely red hair in plaits!
I wonder how many comments of yours are still awaiting replies, because I had no idea of this one! It had completely slipped my mind that I had written you a comment on Jennie's page which warranted a reply from you, and in due course, one from me, so sorry about that! Sure enough, you wrote a reply and I'd forgotten all about it! I am perhaps a little too reliant on the 'Latest Comments' page, so in future, I shall put an asterisk by the pieces of writing which aren't exactly 'closed', in my scrapbook, and hope that helps my dozy ways!
There will be a repeat of yesterday's edition of Celebrity, after 'Take Me Out', so I WILL will catch that one and see how she compares height-wise to the others! 📏
Bye for now Nik! 😊😀😄
Sorry once again for the delay! 😴
Nik
said on 26/Oct/17
@ Sandy Cowell - Hi!
I fully agree with you in that Fizz is the sort of dependable friend that you could count on, she is not the sort of person who would let you down and she is warm and loyal as a person! Also you came up with a good point in that she calls on her own experience to help others!
I think that Tyrone and Fizz are a good match, they are both good people and it's great to see them both settle down with someone who won't let the other one of them down, Tyrone has been let down a lot of times but it won't happen again.
I also think that Fizz can give the subconscious impression of being taller than what she is as she is strong and bold as a person, but as we know smaller ladies are like that too but our minds work how they work!
I think that Fizz is about 5'3" or maybe 5'3.25", Tyrone is probably about the same height as Kevin, which I would say is around 5'5.5"!
I have always thought of Jennie as between 5'4" - 5'6" until now, but I will stay at 5'3" because that sure is what she looks in the photograph above!
Cheers!
Sandy Cowell
said on 25/Oct/17
@ Nik - Oh, yes! I do agree that Jennie deserves a page! It came, as they so often do, with a mega surprise - for me anyway - because I did think she was taller! It's as Rob says: her character is a larger, or taller one, than her 5ft3-size would have us believe! She is a dependable friend to have, and draws on her own experiences to help others. She isn't a girl who has let herself be a victim, but she could so easily have been, marrying John Stape. She had his daughter, but moved on, marrying a decent man in Tyrone also from an abusive marital background, and himself the parent of a little daughter. Together they became a happy family. Furthermore, she's lived through the hell of having a very sick child, and come through stronger. All these aspects are those of a strong person, so I think it's easy to have mistaken her for a taller lady! Subconsciously, I'm sure this is the way the human mind tends to see people with strength to their bows!
@ Gladstone Screwer - Hi Gladstone! So many soap stars, particularly women alas, have to portray shabby characters, so as to reflect real life situations. When they all gather up once a year for the Soap Awards, it is time for them to show the world that they too can be glamorous, and rightly so! They don't half bloody well earn their money! Hollywood stars are paid infinitely more and somehow seem to manage to stay beautiful. If they don't, and take on arduous parts, they are made for life! We should appreciate the hard working soap stars who are on our screens throughout the week, taking on storylines that go hand in hand with our own lives, sometimes mundane and at others, anything but! 🌽😉
Nik
said on 25/Oct/17
It's great that Jennie has a page on this website and I am sure you will agree Sandy that it is much deserved! I have read quotes of 5'6" on the Internet for Jennie so that is what I believed for many years until I found out differently, however up until going on this page I had believed that she was 5'4" but after seeing her on "Coronation Street" I thought that was slightly too high. I doubt that Jennie is below 5'3" because she only looks a couple of inches shorter than Alan Halsall so for me Jennie is in the 5'3" - 5'3,25" range. Jennie looks really good in the photograph above and 5'3" seems realistic to me!
Sandy Cowell
said on 24/Oct/17
How nice to see that Jennie McAlpine has her own page now! This chirpy redheaded actress has been part of 'Coronation Street' for years, but how many younger viewers of the soap are aware that she is a successful slimmer? She lost a good couple of stone I reckon, but most importantly, she has kept the weight off, which is all too often by far the hardest part! Good on her for that! She has set an excellent example to young and old alike!
I did think that Jennie was around the 5ft4-5 mark. The reason is that her friends on the soap tend to be a fair chunk smaller than her!
However, I have often suspected that a person who has at one time been chubby, continues to come over to some people as larger than should really be the case, even when all the weight has been shed and kept off. This can also apply to height, from my own experience! I think there's a distinct possibility that this is so for others as well as myself! Furthermore, it's been proven to be that way for ex-fatties, who go on seeing themselves as plump, for instance standing in the same position by the sink when they are doing the washing-up! What a shame! Time to fork out for a well-deserved automatic dishwasher!
Jennie can have 5ft3!
Editor Rob: yeah, she has a taller personality I think, I could understand how people would think of her as taller...

Anonymous
said on 24/Oct/17
The coronation street women always look at least 5.8 on screen,that's because most of them wear killer heels.Women have the ability to fake false height.