Jennifer Beals Height
5ft 8 (172.7 cm)
American actress, best known for films like Flashdance, The Book of Eli, The Grudge 2 and TV shows The L Word, Swamp Thing and Taken.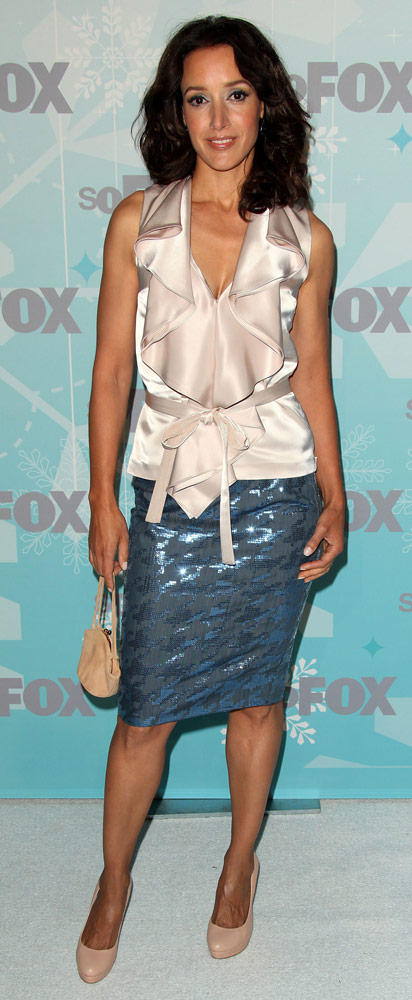 Photo by DFree/BigShot.com
Add a Comment
25 comments
Average Guess (6 Votes)
5ft 7.83in (172.3cm)
Miss Sandy Cowell
said on 18/Dec/19
I was more than a little impressed to find that Jennifer starred alongside the great Christopher Walken in 'Prophecy II' and she was in another horror, 'The Grudge 2'. Added to that, you can see Jennifer in a Tarantino film called 'Four Rooms', which stars Quentin himself, Tim Roth and Madonna! How impressive is that?
I shall go with 5ft8 for the beautiful Ms Beals. 😄💐
KH
said on 28/Nov/19
This lady looked pretty tall in Flashdance. I can believe at least flat 5'8. Super hot also still at 53. People need to rewatch the movie and not look at her dancing scenes but when its actually Beals. She is taller then some of the shorter men in the movie. In shoes with some kind of decent heel we are talking about 5'10-5'11.
Shonda
said on 1/Jul/18
For some reason everyone believes they are 2 inches taller than they actually are. I don't get it.
BVCats
said on 6/Mar/18
On Taken she is clearly taller that some. Not seeing if she has 4 inches heels though. I think 5'8" is a good estimate.
Youssef 5'8
said on 25/Mar/17
I saw her only in flashdance and she didn't look tall at all may be she has the proportions that makes her looks shorter than she is
perfect 5'11
said on 1/Jul/15
definitely 5'8"
IR
said on 15/Mar/14
peak height: 5 ft 8.5 in ( 174 cm )
cantquit
said on 5/May/13
Surprised, she always seems so little. Almost mousy. But beautiful.
SL9
said on 27/May/11
5'8.5" - Always wears high heels, hence walk around height never under 5'11"-6'
michelle
said on 19/Feb/11
Saying she's 5' 8" would be a little short for her. She's clearly 5' 9".
Steve
said on 2/Nov/10
I'm an extra on the show The Chicago Code being filmed now, she's at least 5'8"
Boswell
said on 5/Jun/09
Jennifer Beals is someone I saw at a wedding in Toronto. I'm not sure I would give her 5'8" but it is somewhere just south of there. It could be as low as 5'6". She had heels on at the wedding and looked like a classy/not glitzy million bucks. She's another one who has obvious presence and charisma. I'll never forget just watching her walk by as she left the place. Wow!
jessie
said on 23/May/09
I'm surprised that she's 5' 8". She didn't look it in Flashdance but if she's 5' 8" and all of those pics show it, then she is. I would have guessed 5' 6 1/2", but oh well.
Anonymous
said on 27/Dec/08
She looks shorter in her dance scenes in Flashdance, because it was done by a double, Marine Jahan. Jahaon's height is probably around 5'5-5'6.
laura
said on 11/Sep/08
i think she is around 5'6/5'7. In Flashdance she does not look very tall, her legs dont look that long. She is pretty.
Anonymous
said on 4/Sep/08
she doesn't look 5 ft 8
quas
said on 9/Apr/08
heres a pick of Jennifer Beals standing next to Marlee matlin who is listed at 5'3 on this site. Beals towers over Matlin.
heres the link
Click Here
dmeyer
said on 15/Jan/07
for some reason didnt apear that tall when i met her maybe i had floor advantage
Isa
said on 14/Oct/06
I met her a time ago, well didnt really meet her, but she was standing next to me, and she was just a bit taller than i, im 170cm so shes gotta be around 172-174cm...and she wasnt wearing heels
Glenn
said on 26/Jun/06
Saw her from a distance last year.she was about 5-8.
designer
said on 25/Jun/06
Jennifer is 5'8". How do I know? No, I never met her but if anyone is any kind of fan of hers they have read every article they could find, watched every interview they could find, and followed her work closer than she has followed it herself. With that said, Jennifer has said in more than one interview that she was 5'8", and also that before she had her baby she was wear a size 10 tailored, of course, so no matter how she looks to this person or that person, and we all see things differently, what is important is what she says on the matter because truly no one knows better than her.
lola
said on 16/Feb/06
Jennifer is at least 5'8. I saw her in Canada a few years back and she was very tall and leggy. She was wearing flats.
dmeyer
said on 10/Jan/06
it is funny because she was standing next to me with 3" heels on she was steel way shorter then me 5'11.5"
a person
said on 8/Oct/05
In Flash dance she doesn't look tall.She doesn't look any taller than Jessica Alba.In the movie her legs look short.I believe she look like 5'4-5'5.Plus heels are usually worn with a formal dress and heels can be at the highest without platforms 3.5-4" in stilettos.She is definitely not 5'8.
kcq
said on 16/Jul/05
I think Kevin Bacon is about 5'9 and they are about the same height in this pic. However I assume she is not wearing flats with her formal dress and is in standard 3" heels. So wouldn't that make her shorter than 5'8? I think she is 5'6 at the most