American actress best known for playing Josselyn Carver on TV series Mistresses and Ava Sharpe on Legends of Tomorrow. On
twitter
she mentioned her height on a few occasions, claiming to stand tall at
"5'9""
. In this photo Jes had about 1-inch more sneaker than me.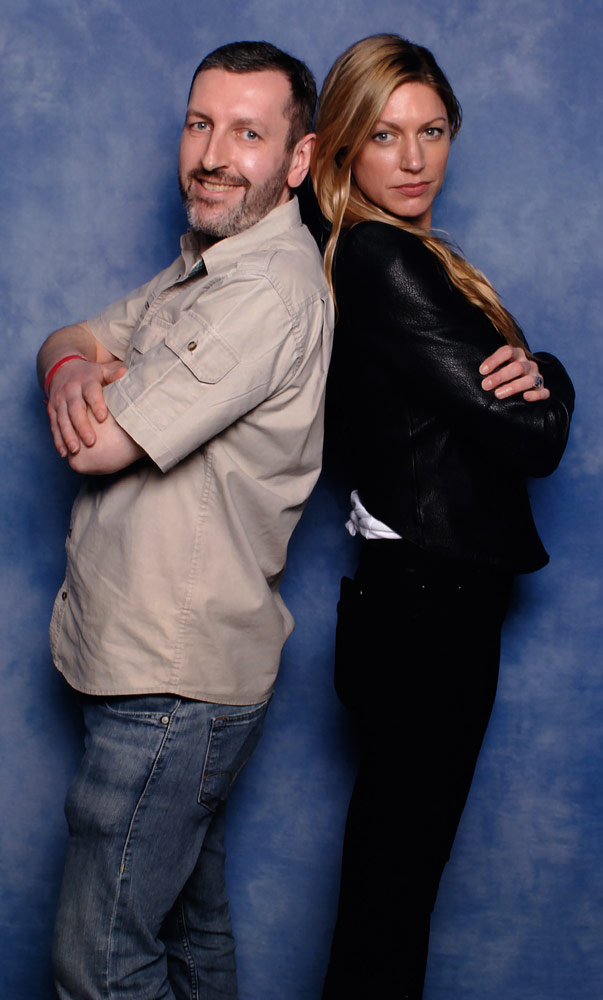 mark thompson
said on 17/May/23
@RoyzDaBoi she has 1 inch footwear advantage over rob, she's further in the 5ft 7 range
RoyzDaBoi
said on 24/Mar/23
If you stood straight I think you'd be the same height here.
Jackie Lee
said on 5/Oct/22
@Nik
I think she looks no more than 5'7 from this pic.
Nik Ashton
said on 1/Oct/22
@ Jackie Lee - How tall do you think she is?
Maybe she's closer in height to me than Rob!
JOSHUA12481418
said on 28/Sep/22
Jes Macallan is definitely 5'8". People are forgetting that Rob himself is not a flat 5'8", he is literally 5'9 in the morning and 5'8 1/8 at night.
Jackie Lee
said on 28/Feb/22
But she looks same height as you while you are leaning and wearing an inch less footwear...
classic 5'1 lady
said on 15/Nov/21
she looks tense, rob
it's all in the shoulder i think
Andrea
said on 13/Aug/21
She's standing better, with 1 inch footwear advantage... and yet she still looks barely taller. What's going on here??? Cuz she certainly looks no 5'8, taking all of that into account.

Editor Rob
Well I did think she looked nearer 5ft 9 than 8 when I spoke to her...there is a chance she's weak 5ft 8
Nik Ashton
said on 8/Jul/21
@ Hyper - She has thicker hair than Rob 2!
Nik Ashton
said on 14/Jun/21
She's smaller than Rob!
David Tang
said on 11/Jun/21
5'8
Miss Sandy Cowell
said on 6/Jun/21
The extra inch sneaker notices, Rob!
5ft8, so smaller than you! 😉
kaycee
said on 2/Jun/21
Has a slight resemblance to supergirl's Melissa Benoist
Slim 6'1.5
said on 31/May/21
Looks around the 5'8 mark
Lava
said on 29/May/21
174.8 cm. out of bed. 172.8 cm. before bed.
Nik Ashton
said on 21/May/21
@ Rob - How tall is Jason Gray-Stanford?

Editor Rob
I would think he was near 2 inches taller than her barefoot
Lava
said on 21/May/21
5ft 8. - 5ft 8.1. at night.
Nik Ashton
said on 19/May/21
@ cupcake - How tall are you?
cupcake
said on 17/May/21
5'8 flat
Lava
said on 14/May/21
Rob. 5ft 8. Head Size 26-27 cm.
Jes Macallan. 5ft 8.7-5ft 9. with shoes. Head Size 24-25 cm.
Lava
said on 14/May/21
Out of Bed: 175 cm
Before Bed: 173 cm
Hyper
said on 13/May/21
Rob, she looks shorter than you, despite you leaning.
Nik Ashton
said on 13/May/21
@ Rob - Do you have camera advantage?

Editor Rob
Well my head certainly isn't any closer than hers, but I did guess her as closer to 5ft 9 than 8 that day...

but as I linked to in the video link, she had Adidas Wedge sneakers, giving her an extra inch....barefoot she might be 5ft 7.75-8.
ChaosControl 6'2.5/189.2cm
said on 13/May/21
She only looks 5'8 because of how Rob is standing
Nik Ashton
said on 11/May/21
Just look at Rob's lean!
Dpa
said on 10/May/21
She never looked close to her 5'9" claim on Legends. 5'8" at most
Nik
said on 17/Jul/19
Rob thinks she's telling the truth!

Editor Rob
I'm not so sure, I met her and when I get round to finding the model of sneaker she had, she may well end up on 5ft 8...
Sehim
said on 24/Jan/19
She's a liar. 5'7 at best...
Akshay
said on 5/Apr/18
Look about 5'8" on Legends of Tomorrow.
French girl
said on 26/Jan/16
She definitly 5'9, she 's tall girl
Click Here
katty
said on 18/Mar/15
she is 170cm
fsd
said on 24/Jun/14
looks 5'8 ft