Jessica Ennis Height
5ft 5 (165.1 cm)
British Athlete, she is an Olympic Heptathlon Champion. In her book she mentioned
"being five feet five inches"
tall.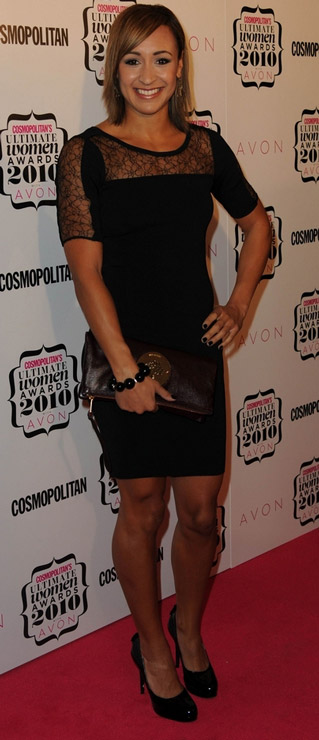 Photo by PR Photos
Add a Comment
18 comments
Average Guess (11 Votes)
5ft 4.86in (164.8cm)
Nik
said on 29/Jun/20
@ Sandy Cowell - What more can you ask for from someone? She supports good causes and encourages people to be healthy, we would all achieve the greatest things in life for ourselves and others if we practised what she preaches. The time for people (as many as possible) to do more of these things (and me and everyone else can do more) is now!
She can have 5'5" at 11:45! The charge on my iPad is only 5%!
Miss Sandy Cowell
said on 28/Jan/20
💐🎊🎂 Happy Birthday Jessica! 🎂🎊💐
Birthday Greetings to Jessica Ennis-Hill, who is 34 today. Have a lovely day, Jessica!
5ft5. 😁🎈
💐🎊🎂🎈💐🎊🎂🎈💐🎊🎂🎈💐🎊🎂🎈
Littlelee5ft6
said on 7/Oct/19
Sorry rob didn't realise katarina was on here. I can buy 6 foot for her or a fraction below
Littlelee5ft6
said on 6/Oct/19
Rob how tall would you guess katarina Johnson- thompson is? She's listed 6 foot and does look very tall next to Jessica somewhere in the 5ft 11- 6 foot range?

Editor Rob
I gave her
that 6ft mark...although can see 5ft 11.5 as possible too.
Nik
said on 1/Apr/18
@ Sandy Cowell - Hi!
That is very interesting to know, thanks! Jessica must have been very dedicated and this will have impressed Jim, who will be an admirer of such qualities!
It's amazing that Jim's former partner and her three daughters were all over 6 foot!
Cheers!
Sandy Cowell
said on 30/Mar/18
@ Nik - Hi! It was up in Norfolk, and the cream of schools from all over the country would meet up for some sports finals!
One of Jim's missus's daughters had a friend who was an extremely promising hurdler! I was actually quite surprised to hear it wasn't one of the three girls he brought up! They grew to 6ft, just over 6ft and 6ft1! Their Mum, Jim's Missus for many years, was herself 6ft tall!
Nik
said on 30/Mar/18
@ Sandy Cowell - OK, many thanks!
I hope he wasn't too angry!
Sandy Cowell
said on 30/Mar/18
@ Nik - Still haven't found out yet! I interrupted his sleep last time I phoned him up, and I didn't have the heart to ask!
Next time I catch him wide awake, I shall proceed! 🍫🐇
Nik
said on 28/Mar/18
@ Sandy Cowell
I was thinking that Jim had maybe seen Jessica training at an army camp as I believe there are a few army bases in Norfolk, how wrong I was! I am eagerly anticipating hearing about where Jim had seen Jessica, thanks for that!
She is an incredibly good role model for everyone and her example is one for us all to follow!
Also, could you tell me the names of some of the celebrities who Jim met during his army days please?
Cheers!
Sandy Cowell
said on 28/Mar/18
@ Nik - I will ask Jim later today! It was nothing to do with his army days; it was, for him, casually observing a young girl while he was taking his family for days out, probably to a park with a sportground!
Jessica does so much good and encourages young girls to look as good as she does (healthy and toned), albeit inadvertently, is just one of them. She also supports many good causes and my hat goes off to her for that! If I was a sports fan, I'd surely be an avid supporter of her and others like her!
Nik
said on 25/Mar/18
@ Sandy Cowell - Hi!
It would be great to find out where Jim saw Jessica training, let me know when you find out please!
It's good to see members of the army and police force both undertaking similar roles in protecting different celebrities at public events, we can be proud of the bravery shown by everyone in both these services!
I think that I know who you would rather have met ... Vincent Price! And that is no disrespect to Jessica!
This Wintery afternoon, Jess can have 5'5"!
Sandy Cowell
said on 24/Mar/18
@ Nik - I'm not 100% sure, but it could have been in Norfolk where Jim observed her training; I have to ask him!
While he was in the army, he met loads of famous people, as soldiers are often drafted in to protect stars at concerts and the likes. One of them was Vincent Price, who complained bitterly of a toothache he was suffering from that day!
Not being starstruck in the least by sports stars, I know which of the two celebrities I'D sooner have met!
🐷🐯🙊
This Wintery evening, Jess can have 5ft5!
Nik
said on 22/Mar/18
@ Sandy Cowell
I like your comment from back in December 2016! It is incredible that Jim used to see Jessica training when she was younger and then see her becoming an household name! It's great that she is such a dedicated person and that she has done so much for good causes!
Well, Jessica must have gone down south to train when she was a schoolgirl! She has jokingly Said that her parents wanted her out of the house!
Jessica, from Sheffield, can have 5'5"!
Nona
said on 24/Apr/17
What a great all round athlete she is plus she competes against women who are on an average 4" taller and about 40 lbs heavier than her. That she is the best looking athlete is another thing altogether.
@Rob she is the only track & field athlete who has a page. Can you put up pages of other champion track & field stars please. For starters please creat a page for the champion shot putter Valerie Vili from New Zealand. She is a clean drug free champand a real role model for other little girls wanting to take up the sport. Further the fact that she stands at a whopping 6'4" entitles her to a page.
Sandy Cowell
said on 21/Dec/16
My boyfriend used to see Jess training away while still a schoolgirl! He said she looked very dedicated and he liked her.
Well, all that training certainly paid off for her! Well done Jessica!
I know she's 5ft5 and about 9 stone of pure muscle. I think she sets a great example to the young to persevere at what you're good at! I like the fact that she supports many good causes as well!
Chaz
said on 23/Aug/16
she is gorgeous,how she can Put a 4kg Shot well over 14m at her weight and height is super human.
Arch Stanton
said on 13/Aug/16
I've been watching her at the Olympics and must admit I have a crush on her. There's better looking athletes, but she has an amazing body and this aura about her, the sort where you walk into a room and people go silent or stop in awe. I was watching her yesterday and noticing that she has this really special sort of earthy presence about her, sort of like Eastwood and Chuck Norris have in their films haha. Looks small compared to some of the others, but she can still jump over Ben Affleck's head which is impressive!
Editor Rob: for her height, she does remarkably well as an all round athlete.
Jakob
said on 26/Apr/16
Sounds about right. Gorgeous woman who is a great role model.