Jill Wagner's Height
5ft 7 (170.2 cm)
American Actress, best known for appearing on TV series Teen Wolf, Blade, Stargate: Atlantas, co-hosting Wipeout and for films Splinter, Braven and Mystery 101. In this photo I had an inch sneaker and Jill had near
3 inch heels
that day. On
twitter
she once mentioned her height, claiming to measure
"around 5'8""
.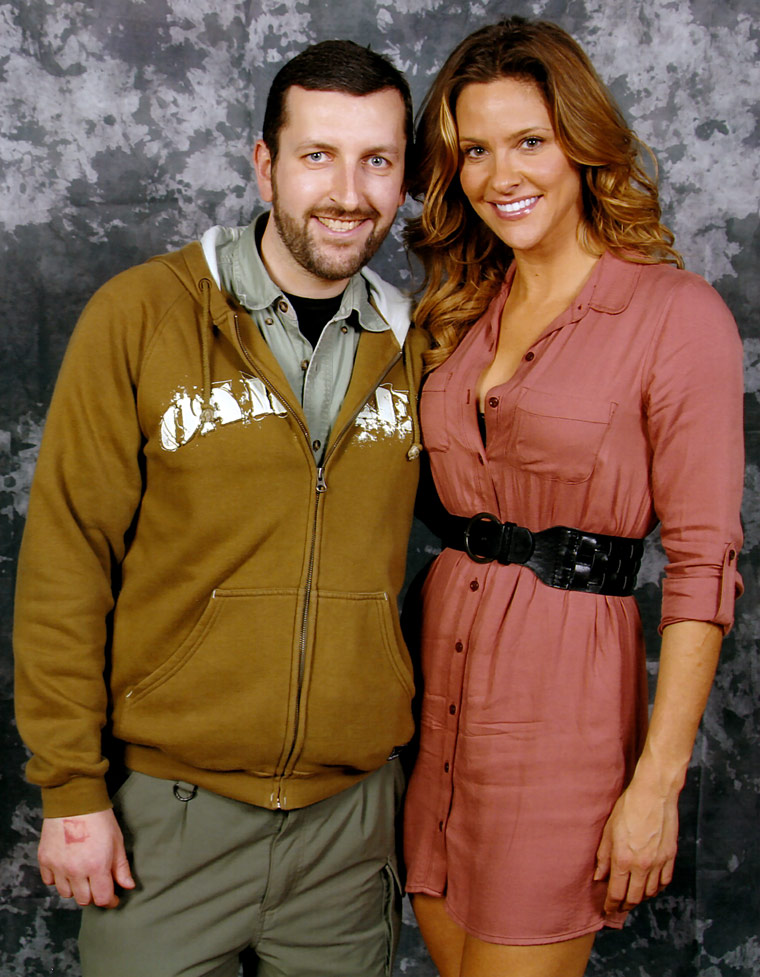 5ft 8 Rob and Jill @ MCM Comic Con 2011
You May Be Interested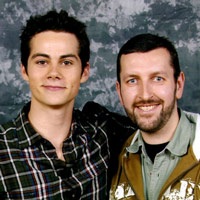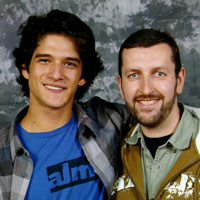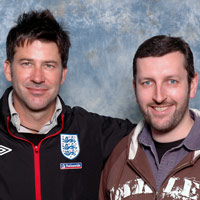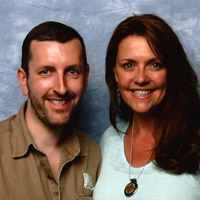 Add a Comment
37 comments
Average Guess (14 Votes)
5ft 7.23in (170.8cm)
JohnMoore-162cm
said on 10/Apr/20
Jill Wagner is pretty tall, not 173 cm though, probably 170/171 cm
khaled taban
said on 2/Oct/19
6'7" is a fair listing to be honest , she is tall for sure !
Nik
said on 5/May/19
5'7" is fine for Jill Wagner!
davec
said on 20/Oct/18
Rob if you and she both stand up straight she looks to have about an inch on you. With her 3 inch heels it would make her about 5'7" Saw her in a movie with Taysia Teles listed here at 5'9" and Taysia had a good 2-3 inches on her. They were both wearing same heel. Very beautiful woman, always loved her.
MAD SAM
said on 10/Jul/18
Beautiful woman definitely 5'7.25" or 171 cm
Slim 181 cm
said on 12/Jul/17
Not sure if it was camera angling or something but she does look taller than crystal reed in teen wolf, I didn't check their footwear unfortunately. Will update often. 😊 🤝✌🏻
Slim 181 cm
said on 10/Jul/17
Rob, that's disgusting what those men do to these actresses... may they suffer for their actions. Back to Jills height I definitely think she's 5'7 or possibly around out for all we know...
Slim 181 cm
said on 8/Jul/17
Rob, what is that stamp on your right hand?
She's hot and definitely is 169 minimum or 171 cm maximum. You're both slouching on the picture so it isn't the most reliable source.
Editor Rob: a re-entry stamp I think to the MCM event...yes, she looked a fit lady in person!

So fit, I seen at least one creep in the queue 'accidentally' move his hand from the small of her back to nearer her derrière.

Sometimes it is completely by accident an attendee puts their hand a bit too low (they might be short/tall and it was just that moment and they didn't realise), but I've seen MANY guys try the old 'boob press' manoeuvre.

I honestly want to punch these guys, this is a reason some females had sat on a stool in the past, because of being creeped out in the past 😡

Actually, even James Marsters at one event asked the photographer to sit on a chair midway through a shoot as some of the females were getting carried away and 'feeling him up'...now I believe he doesn't do many intimate poses, of course having a wife probably is the main reason!

Slim 5'11.5
said on 5/Jul/17
Similar height as Crystal Reed, I think they're within a quarter inch of each other.
Crystal reed 171(5'7.25)
Jill Wagner: 170(5"7)
Greg
said on 8/Mar/15
Colleen Smith on wipeout was easily a foot taller than her. Colleen could be 6 ft 8 however.
Sean73
said on 2/Nov/14
What a beauty!Always thought she was 5'8".
Sam
said on 12/Dec/13
Yeah, that dress is something to behold.
Zach
said on 3/Mar/13
You'd certainly need some strong trousers standing next to her Rob ;)
Alex
said on 9/Dec/11
Yea her heels look like a good 4-4.5 inch heel which would def give a solid 3 inches over barefoot height I think. If Rob is 5'9-5'9.25 range in 1 inch sneakers that puts her at a solid 5'10 in heels minus 3 inches would be 5'7 barefoot.
nyc
said on 7/Dec/11
Hard to gauge from this picture. If Rob is standing at approx. 5'9", Jill is already at 5'10". But Rob is leaning in a bit. Jill is slouching and her knees are clearly bent in that picture. She might be 5'8" if she stood up straight.
Dean 5ft 9.25
said on 7/Dec/11
rob her hair is thicker!! shes more like 174cm in heels meaning 166cm or 167cm flat foot?
Alex
said on 29/Nov/11
Rob, those heels like to be giving her 3 inches of height or do you mean they are 3 inches and giving 2-2.5 inches? She looks a good 5'10 in her heels though.
[Editor Rob: they give near 3 barefoot I thought, bigger than a 2.5 for sure.]
Golden Colts
said on 23/Nov/11
Nice 5.11 Tactical Pants Rob lolz xD
[Editor Rob: they are good trousers. (we don't call them pants in the UK)]
Mitchell
said on 21/Nov/11
Isn't she the chick from the Mercury commercials?? You're a lucky man, Rob! She's smokin' hot!
[Editor Rob: yes she's in them, she was very fit in real life!]
luna
said on 14/Nov/11
169 cm sounds right
MrX
said on 12/Nov/11
she is solid 169 cm, in the morning 170cm
linke
said on 11/Nov/11
Perhaps,she's 5'6.5
Shortish86
said on 10/Nov/11
Mitch, she's slouching.
the AMAZING Babushka
said on 9/Nov/11
ahh wow, i forgot why im even here
Mitch
said on 9/Nov/11
Rob is being generous because she's hot.
Click Here
self confessed 5'10" Paolo is 3 inches taller whilst she is wearing heels. How can she be 5'7"?
horacle
said on 8/Nov/11
at least 5'7 and hot
Junior31
said on 8/Nov/11
Those heels look higher the 3 inches Rob so maybe 5'6 is spot on??
[Editor Rob: I thought they looked like they would give near 3 inches.]
nona
said on 8/Nov/11
She is hot but she is short. Saw her on wipe out talking to a 6'4", 220+ girl and Jill at 5'6" & abt 120 lbs looked really tiny
Shortish86
said on 7/Nov/11
I would say 170 is right for her. Rob, you should also add Crystal Reed, she's 172-173 and Tyler Posey, he's like 173-175 kinda range.
Physics Enemy
said on 7/Nov/11
Haha, Rob, what is that loveheart on your hand? You sly fox. ;-)
Larc 6 ft 1.75 in
said on 7/Nov/11
damn...she's hot :P
5'7 is right
MrX
said on 7/Nov/11
what about John Anderson anda John Hanson?
jas
said on 17/Aug/11
I saw her in WipeOut talking with another woman (5 ft 9 in) and the difference between them was heigher than 5 cm.. so she is not 5ft! i think she is 5'6"
supes78
said on 1/Aug/11
This just can't be right. She's never looked taller than 5'6" on Wipeout or Teen Wolf.
Jess
said on 27/Jul/11
I thought Jill Wagner was around 5'5.5-5'6.5. She is on MTVs show 'Teen Wolf' & looks quite a bit shorter than 5'8 Crystal Reed..
JayJay
said on 4/Jan/11
Jill Wagner is pretty tall, not 173cm though, probably 171cm. Both Henson and Anderson is 6`3" (191-192cm)
PJ
said on 29/Apr/08
No in person account to speak of, but she doesn't appear to be quite 5'8. Her stature reminds me of Jessica Biel. I'd guesstimate 5'6.5 to 5'7