Joe Flanigan's Height
5ft 11 ½ (181.6 cm)
American actor, best known for playing Major/Lt. Colonel John Sheppard in Stargate: Atlantis. He has said 6ft as his height at conventions before. In the double shot I was wearing
Converse
thin, whilst Joe had a fraction more thicker trail shoe.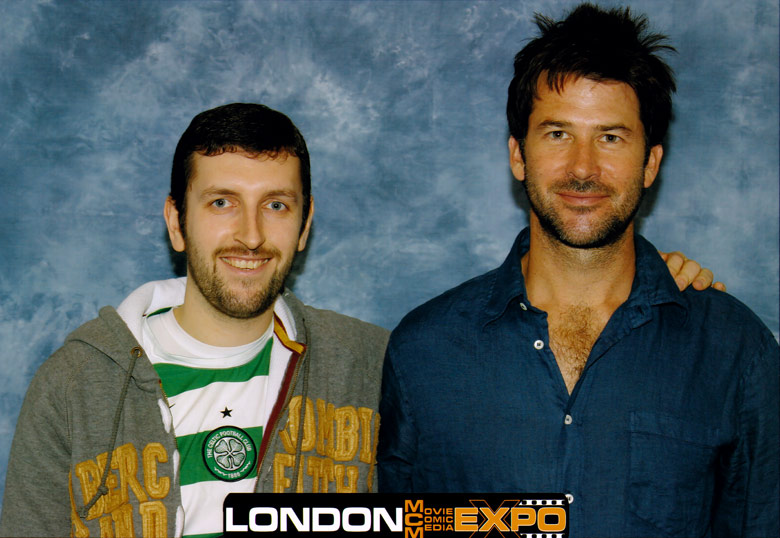 5ft 8 Rob and Joe @ MCM Expo (28th Oct 2006)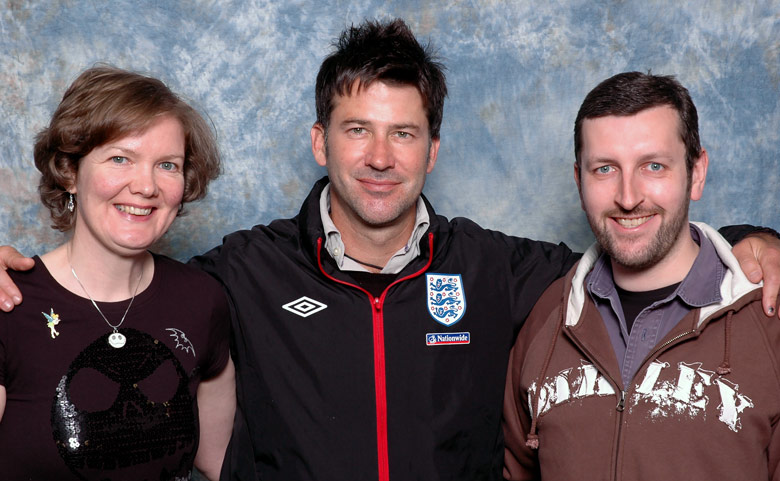 5ft 8 Jenny, Joe, 5ft 8 Rob @ Collectormania 16 (30th May 2010)
You May Be Interested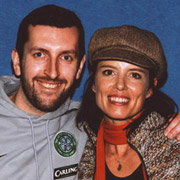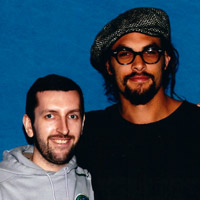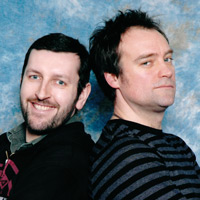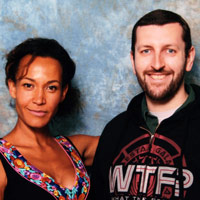 Add a Comment
159 comments
Average Guess (52 Votes)
5ft 11.49in (181.6cm)
Blanc (1.69 m)
said on 13/Nov/20
6'1" in the first then 5'10" in the second which averages out to be 5'11.5" xD
berta
said on 21/Sep/20
same height as robert patrik. 181 cm. 183 out of bed on a good day.
Jkiller
said on 4/Jul/20
Looked around 5'11.5 in Stargate Atlantis.
John S
said on 19/Mar/19
Looks 5'11.5 in the top pic. Everyone saying he's shorter are being fooled by his posture in the last 2 pics.
I'd say the listing is spot on.
Benjamin Grott
said on 27/Jan/19
I got a shock when I saw Googles listing. There is no way he is taller than me... He seems like a lightweight or a welterweight. 5'9" to 5'11" tops. 165lbs to 175lbs
PAN BERRY
said on 23/Dec/18
181.5 cm or 5'11.5"
5ft7Accountant
said on 9/Apr/18
The 6ft2 Google height listing is ludicrous!
Nik
said on 21/Mar/18
He is about 5'11" - 5'11.25"!
Bobby
said on 20/Mar/18
Yeah, he's looking 6ft in the top photo, but more 5'10.5 in the bottom photo. Maybe, he's just a legit 5'11 guy, like a flat 5'11.
Adnan
said on 14/Feb/18
180 cmor 5'11"
Rampage(-_-_-)Clover
said on 5/Nov/17
I can see a strong 5ft11. He looks nearer 6ft in the older photo though
berta
said on 18/Oct/17
classic 181 cm guy is my opinion still
Pierre
said on 4/Oct/17
By the first pic 5"11.5' seem to be good by the second 5"10.75'max,he seem to look a little tired in the second then probably not in his best posture
Matthew Robinson
said on 18/Aug/17
Looks taller in the top photo than in the bottom one.
F97
said on 6/Aug/17
Rob do you Think that he is more of a weak or a strong 182 cm guy? Also how would I look like next to joe?

Editor Rob
wouldn't say strong, but there's a strong chance he is 181 range too.
Rampage(-_-_-)Clover
said on 1/Aug/17
Rob, what are the chances of 5ft11 flat?

Editor Rob
not impossible
berta
said on 15/Jun/17
i think this guy have avery low chanse of measuing 182 and 0% to be 183. to me he looks like a 181 guy even in stargate with big boots on that gibves him 3,5 cm in height he only looks like a 182 guy at best. Time for a 181 listing maybe`?

Editor Rob
wouldn't rule out 181.
F97
said on 25/May/17
Rob who looked taller to you Joe flanigan or Ben Browder?

Editor Rob
Browder I think looks taller in person...
World Citizen
said on 25/May/17
On the picture above he looks exactly almost 6 ft as listed, but on the picture beneath he looks 5 ft 9.75 but that's because his loose posture and possibly camera advantage.
growtallerguru
said on 4/May/17
what were the posture and shoe differences from Joe from the first to second pic? He looks 6 foot in the top pic of you guys Rob but barely 5'11" in the bottom pic, and thats me counting you at 5'8.5" Rob
Thanks

Editor Rob
actually in that bottom photo he had a kind of hiking style footwear, but I think it was still a bit under an inch...but I was actually in
Thin version of Converse
so he had a slight edge, but not much really. I believe quite similar inch range in top shot.
All you need is to be 1-2 inches further away and have the camera sligthly on one side to get some extra height.
shiva 181 cms
said on 19/Apr/17
Looks 182 in first pic and 179 in other He's 180-181 tops
Paleman
said on 24/Mar/17
Woah! Google has him at a ridiculous 6'2!
berta
said on 21/Feb/17
i thinkhe only is a littel over 180 never looks tall and if he would be 182 he would look almost tall on tv
Balrog
said on 2/Feb/17
Basing on the bottom pic, I'd say a flat 5'11''
berta
said on 14/Dec/16
looking at the guys proportions and after seen stargate many times i think he is more in the 181 range. could be 180.but i dont know about 1827
180 25%
181 60%
182 15% looks 182 i the top pic but it looks like the way they standing and angle gives him 1 cm advantage
Sarah
said on 6/Nov/16
His hair makes him look taller, but I'd buy 5'11.5" or so. Good character on stargate too.
Brandon
said on 18/Oct/16
6'0" in top
5'10" in bottom
I'll vote right in the middle.
Sam
said on 10/Oct/16
Solid 6'0 in the top photo, and around 5'10 in the bottom. Funny how the camera can do that. In person, I'm guessing he looks closer height-wise to the top photo than bottom based on Rob's listing of 5'11.5.
Alex
said on 23/Apr/16
Perfect example of what camera angle advantage can do between the 1st and 2nd pics. He has camera angle advantage in the 1st pic and Rob and Jenny have camera angle advantage in 2nd. Does look like he's lost a bit of height though, looked near "6'0" at first.
Rampage(-_-_-)Clover
said on 17/Apr/16
Someone in 06' insisted he was 6ft2!
Fez
said on 16/Apr/16
[Editor Rob: wouldn't have thought much over 9.5 inch range. I belive having a healthy dose of hair adds to head size.]
True, but y does his head look soo Huge?
Click Here
Click Here
Click Here
Click Here
I know its his hairstyle, but it just seems huge for some reason?
Paul
said on 14/Jan/16
Rob, in the bottom pic, why does he look way shorter than his listing? Is it due to him wearing thin soles?, Because he isn't hunching down or anything like that.

Editor Rob
no, if anything he had a little more than me.
mr.rashid
said on 19/Nov/15
@Editor Rob, what would u say his head size is?
his head does look sometimes long so im guessing it's around 9.5-75 inch range, which is pretty normal 4 a near 6ft man. Do u agree?

Editor Rob
wouldn't have thought much over 9.5 inch range. I belive having a healthy dose of hair adds to head size.
josh b
said on 26/Oct/15
Here is my photo with joe,
Click Here
I thought he could be an inch taller than myself when upright.
Jakertini
said on 9/Aug/15
He looks 6'0" on the nose in the top photo.In the bottom he looks like he is 5'10.5".
Alex
said on 26/Mar/15
He looks 6ft in the top photo
Hypado
said on 19/Feb/15
Yes, Joe Flanigan is a legit 182 cm / 5ft 11.5in
kreyzig 6ft 3
said on 20/Jan/15
I can see him at 180cms with rob.
miko
said on 19/Nov/14
Danimal thinks everybody loses about 5 inches by 50, in the case of wrestlers, Hogan has lost a whole foot, 6'6 down to 5'6. This guy is 47 so must have lost at least 2 inches.....
Rampage(-_-_-)Clover
said on 17/Nov/14
At 47, Danimal? I highly doubt it. He probably just had bigger shoes in 2006 and fooled many into thinking he was near 6ft. He was originally down here at 5ft11¾
"Joe Flanigan's height is 5ft 11¼in (181cm)"
Danimal
said on 17/Nov/14
Looks to have lost some height from 2006 to 2010 and you Rob definitely lost weight since 2010.
Danimal
said on 17/Nov/14
Looks a bit like David Duchovny.
Rampage(-_-_-)Clover
said on 6/Oct/14
Near 6ft in the older picture. Barely 5ft11 in the new one, probably a little less.
5ft11 flat, Rob?

Editor Rob
he can look 5ft 11-11.5 range more than 11.5-6 range.
Realist
said on 29/Jul/14
Lower pic he looks like 5'10.5, but in the upper one a strong 5'11.5.
robert
said on 28/Jul/14
he looked tall in stargate atlantis like 6ft1 did he wear lifts in atlantis
anonymous
said on 10/Jun/14
rob, what about his shoes? in the top pic he look between 5'11.5 and 6' but in the lower he looks no more than a strong 5'11...

Editor Rob
he had a little more in the double
Alex 6'0
said on 3/May/14
Looks 6'0 in top photo and like 5'10 in bottom photo.
averagegiant
said on 30/Aug/13
what's the more accurate photo? he looks well above 5'11.5 in the top picture and well below 5'11.5 in the bottom. If you take the average of the 2 photos you would get 5'11.5 but I don't think that's the goal.

Editor Rob
in the top picture he is nearer the camera, in the bottom there's really not much difference. He was about the same height that weekend as a 5ft 11-11.25 friend
Lorne
said on 22/Aug/13
This is interesting, cuz in the top pic, he is closer to the camera, making him look 6ft, while in the bottom, Rob and Jenny are a bit closer, and he doesn't look more than 179cm. Shows how distance from the camera affects things.
Balrog
said on 10/Aug/13
Rob why is he looking 6'0'' in the top pic and 5'10" range in the botton pic?

Editor Rob
I'm a little further away in the single shot.
Len
said on 3/Aug/13
He looks more like 5'10" on Stargate Atlantis. You have to ignore the spiked-up hair.
Yitzhak (181 morning-179 late afternoon)
said on 23/Jul/13
How on earth does he look a full 1.5 inches taller in the first picture than in the second?
Elijah
said on 21/Jul/13
No he's not, he was 6' in shoes. So about 5'11".
Bakura
said on 20/Jul/13
@Elijah: Actually, Drake is 6'1"
lelman
said on 13/Jun/13
In the top pic he looks over 6'
Elijah
said on 6/May/13
Nathan Drake is 5'11". So yes Flanigan's height is good for the film but with camera angles and stuff pretty much anyone could play him.
For some reason I think that Cibrian resembles Uncharted 2 Drake more and Flanigan resembles Uncharted 3 Drake more...
SolidSnake
said on 18/Apr/13
Eddie Cibrian best fit for Nathan Drake imo
Elijah
said on 15/Apr/13
Nathan Fillion looks nothing like Nathan Drake, Flanigan looks much more like him than Nathan does. It's just the fanboys that promote him so much. I agree that Eddie Cibrian looks a lot like him though.
And yeah Fillion looks too old lol... Flanigan is actually older but looks younger. Fillion is too wrinkly yeah
And about the teens thing, it's because a lot/most late teens look the same as early to mid 20s so actors that age they don't need any "work" done and can believably portray them. But the bottom line is that Fillion looks too aged.
jimmy
said on 13/Apr/13
johno says on 23/Oct/11
This guy looked about 2.5 inches shorter then the guy who plays Conan: The barbarian, currently
I think Jason looks 4" taller without standing at his tallest.
Click Here
SolidSnake
said on 5/Apr/13
FA they make people look younger all the time in movies lol. 21-25yr old actors playing teens for example, eg Superbad
SolidSnake
said on 30/Mar/13
@Elijah, not as much resemblance as Nathan Fillion or Eddie Cibrian
Elijah
said on 26/Mar/13
Unrelated to height but this guy bears a pretty strong resemblance to Uncharted's Nathan Drake IMO. Would be a great choice for the film.
MOF
said on 26/Mar/13
He's 5'11" max. Comparing him with numerous fellow actors from Stargate Atlantis through 5 seasons, it's clear he is 178-180cm. Whatever his height is, he's in no way taller than 5'11".
Elijah
said on 30/Dec/12
I'd say that this height is accurate in the first picture... he looks more or less 6' tall. But I'm not seeing anything above about 5'10" in the bottom one. What the hell happened there?
random
said on 11/Nov/12
What odd photos. In the above one he looks about 6´1" while in the lower one perhaps a weak 5´11". A rather striking difference I´d say.
Mimi932
said on 2/Nov/12
I just finished watching Six Bullets and he played opposite the Van Dame's and Anna Louise Plowman who is listed at 5'11, he looked to be slightly taller than she. Considerably taller than the 5'9.5 JCVD, but a tad shorter than RVD. I'd say 6 to be about right.
Jack
said on 26/Oct/12
1.86? He really doesn't look over 6 ft in above pic...

Editor Rob
This guy is 186cm
...flanigan isn't even even close in person to a guy like that.
I remember somebody else on here who met him insisted he was 6ft 2...the guy only claims 6ft. I saw Joe and David Tennant (who claims 6ft 1 and at least is pretty close to it) talking to each other at a show a while ago and he really did look no more than 5ft 11.5, certainly he always wears spiky hair which gives him a bit of a taler look.
Anonamous
said on 21/Oct/12
i think overall hes 6ft bcuz he looks 1.86m(above picture) and 1.79m(down picture)
ZealousNorth
said on 6/Oct/12
Looks close to, but not, 6 feet.
C10TIm
said on 3/Sep/12
Definitely cheating with lifts tall hair and posture in the top pic
Len
said on 19/Aug/12
Looks like a 5'10.5" guy using moussed-up hair and lifts to cheat. And Rob's falling for it a little bit.
On the show (which I watch a lot), he definitely does not look tall.
Hob
said on 27/Jul/12
No on top pic he looked 5'11 despite he had higher hair advantage on rob. lower pic with jenny, rob he look 5'9.25
Chris
said on 7/Feb/12
Looks 6' in the top pic and 5'10.5 in the second. 5'11.25 is my guess. Weak tall range.
ChiasmataX
said on 3/Jan/12
Without lifts or the shoes he wore in the top picture, this guy is nowhere near 182cm. He's 178.5-179cm barefoot. His hair add a few inches to his height.
Shortish86
said on 9/Nov/11
He's listed as 188cm, I thought he was near that tall, but its becuase of his hair as well as build. 182 is right.
Physics Enemy
said on 7/Nov/11
5' 10.5" guy wearing lifts in the top pic. Hey Joe, Stallone called, he wants his lifts back!
johno
said on 23/Oct/11
johno says on 19/Oct/11
Camera angles can't explain the difference...
[Editor Rob: I saw Joe again a few weeks back...notably he was walking with David Tennant and was at least an inch smaller, but not as much as 2 inches smaller than Tennant...]
_________________________________________________________________
The Dr. is listed at 6'1, somewhere between 1 and 2 inches would be 5'11.5; however, in that second picture, his eyeline seems to be 1.5 inches above yours. Your head seems lengthier then his rob. I would believe that Joe looks a weak 5'10 there. I cnt see how he could be losing that much height, unless he had a footwear disadvantage. Maybe with his arms spread, he might of lost some height. I'm willing to accept that he looks 5'10.5 in that second picture and that would be very to him. In the first picture, he looks anywhere from 6'0.5 to slightly above, impressive gain. About a standard 2 inch gain on standard, regular footwear.
To me, the Dr. always seemed similar in height to jonathon ross. If was between 1 to 2 inches shorter then the Dr. I would put the Dr at a very strong 6'0, as i personaly believe to be ross at. But thats obviously just my opinion.
Tennant is listed at 6'1, however evidence aside, if i were a betting man and just using usual habbit of celebrities exaggerations. Without seeing tennant and reading just 6'1 listed height, if i were to give a real height; i would say 6'1 might be a tad exaggeration as trends go but nowhere near the typical 2 inch+ exaggeration hollywood gives.
Joe 5'10.5
Ross 6'0 - 6'0.5
Tennant/Time lord 6'0 - 6'0.5

Editor Rob
I've met Tennant, I think he's near what he claims
johno
said on 23/Oct/11
This guy looked about 2.5 inches shorter then the guy who plays Conan: The barbarian, currently
johno
said on 19/Oct/11
Camera angles can't explain the difference...

Editor Rob
I saw Joe again a few weeks back...notably he was walking with David Tennant and was at least an inch smaller, but not as much as 2 inches smaller than Tennant...
johno
said on 19/Oct/11
Wow, now thats massive height differential. An example of how celebs can sex up thier heights, even in photos. If we went purely by the photo, then yeh 6'1 would have been a good figure but judging by the second, not a chance
r3v001
said on 9/Aug/11
was about to say strong 6'1 until I scrolled down and saw the second pic, clearly he was pumping himself with some footwear help in the first photo! Im guessing you didnt get a look at his footwear as you made no comment on his advantage in the first photo?
John
said on 6/Aug/11
Looks 5'11.25-181 cm
Matt (6ft 1/4 - 6ft 1)
said on 24/Jul/11
Novak Djokovic lol.
Yo
said on 7/Jul/11
First time you met him in 2006; do you remember if he had an heel advantage?
I don't think he shrunk cos he is only 44 and he must be a good 6footer as Shanks or Ackles.

Editor Rob
no, I had that day similar heel, between 1-1.1.

maybe I'm not standing as well/camera advantage in the 2006 photo.
Legend
said on 28/Jun/11
Looks like he could even be 5'10.5 in the lower pic.
Yo
said on 25/Jun/11
You've downgraded Joe's height Rob. from 5ft11.75 to 5ft11.5; then you think that he is 182cm max?

Editor Rob
the last times I saw him he really looked like he was nearer 5ft 11 than 6ft
Dmeyer
said on 17/Jun/11
181 182 first pics second 179 do you list Jim too High

Editor Rob
funny thing is, he and robert patrick were in pilot I think of stargate atlantis and pretty much were similar.

he can definitely look 5ft 11 last time I seen him.
Rampage(-_-_-)Clover
said on 13/Jun/11
182/183cm in the older pic
Weak 5ft11, 179.5cm-180cm in the more recent pic.
James
said on 31/May/11
looks 5'11 in 2006 and maybe 6'0 with the hairstyle
Rampage(-_-_-)Clover
said on 29/May/11
In the 2006 picture he does look almost 6ft(182-183cm). But in the more recent pic he struggles to reach 5ft11(180cm).
tim
said on 29/May/11
there is diffrence between up and down photos. i agree. on the 2006 picture he has to wear lifts.
Rampage(-_-_-)Clover
said on 27/May/11
Looks 5ft11-5ft11.25 max in the lower pic
runt
said on 22/May/11
2006 has got to be lifts.
James
said on 15/May/11
Does not really look 182cm in both pics
ddavey
said on 12/May/11
1.82/1.83 in the first pic. 1.79 in 2nd pic.
James
said on 24/Apr/11
6'1 is ridicolous he's 5'11 and looking 5'10 in the recent pic.
Rampage(-_-_-)Clover
said on 16/Apr/11
He's not 6"1...Rob has him nailed
Naia
said on 13/Apr/11
I think 1,84 or 1,85 m. (6'1"), He's tall, if you see a photo of him with
Jason Momoa
(6'4") you can see he's tall.
voicelessdentalfricative
said on 19/Feb/11
did he shrink?
James
said on 18/Feb/11
Looks 5'11 in 2006 and 5'10.5 now
Anonymous
said on 7/Feb/11
Got to be using lifts in the top pic
SAK
said on 2/Feb/11
In the top pic he looks 6ft0 and in the bottom pic he looks 5ft10, y such a difference, his footwear should have been noted, he might b a lift wearer on occasions
5'7.37
said on 6/Jan/11
Comparing the eyelevel he actually does look 2" shorter in the second pic!
krazy krippled!
said on 1/Jan/11
Maybe Joe shrinked an inch in 4 years, and also didn't sleep well so he looked like 5'10 in 2010 when he looked a safe 6' in 2006. It's all really possible.
Yo
said on 27/Dec/10
Good comment DV8! I agree with you; Joe is definetly not a tall guy: 5ft11.25 max to me. In SG-A; he seems to be 6ft cos his cast-mates are around 5ft8-9 then, he used to wear big shoes. The first pic wit Rob is wrong cos Rob has a bad posture. Somehow, the second reveals Joe's real height.
DV8
said on 26/Dec/10
Joe is a solid 5'11 with shoes on. Saw him last year wearing a shoes with about 1/2 inch sole and I'm 6' even and I was wearing 0.25 inch thick flip flops and still taller than him standing next to him and he has a good posture and was astanding straight. He was with david hewlett and I david was wearing nike sneakers with about 1 inch sole. I would give david 5'9 with shoes. I paid very much attention to their height.
Anonymous
said on 7/Dec/10
whi in one pic he looks 180 and the other 182
Yo
said on 6/Dec/10
There is a problem: in the first pic;Joe seems to be 6.05ft(184cm) and in the second; he must be a weak 5ft11. Whereas, in SGA; he clearly towers hewlett which is around 5ft9.25!! Rob, do you think he is the same height as michael shanks or jensen ackles which are classic 6footers or smaller?

Editor Rob
all I know is that if someone has sticking up hair half of people seem seem to get fooled by it and include some of the hair in how tall they think a celebrity appears :)

joe is somewhere between 5ft 11 and 11.75 I would bet or 6ft and 6ft 1 if hair is counted!
Rampage(-_-_-)Clover
said on 3/Dec/10
Looks 5ft 11in flat in the more recent photo
Fonda
said on 10/Nov/10
You're gorgeous! Who cares how tall you are? I sure don't. Yeah, I know what you're thinking? So why did I click this link? Just tired of the questions from other people.
Mathew
said on 7/Jun/09
looks 6' easy. could just be good posture, though.
rob89
said on 5/Jun/09
Looks more like 5'11 to me actually in rob's pic. His hairstyle might give the illusion of 6'-6'1 to some, but no way is he that tall without all that hair barefoot. It looks like Joe is standing straighter than rob as well, AND he's closer to the camera. I can't help but chuckle a bit when people seriously think he looks 6'1 here.
Alex5
said on 24/Apr/09
He looks 6'1" O_O
Olivia
said on 11/Mar/09
After all, maybe only 6 ft but not less ;-)
Alex
said on 16/Jan/09
6'0 looks right.
Josh
said on 16/Jan/09
5'11.25 (181cm)
Anonymous
said on 15/Jan/09
looks taller than 182 cm...
Chrissie
said on 11/Jan/09
He seems to be a little shorter then Colim Meaney in a episode from Atlantis in season 1 and Colim Meaney is a solid 5' 11 no more stood next to him.
Vibram
said on 5/Jan/09
Looks 184cm next to 173cm Rob. What footwear was he wearing? Looks like young Pearce Brosnon.
Olivia
said on 5/Jan/09
I love Atlantis and watch the show regularly and I'm pretty sure he's at least 6 ft and maybe more like 6 ft 1 !
Grace
said on 16/Dec/08
I believe that Joe Flanigan is 6 foot even. If he says he's 6 foot than he's 6 foot now leave him bee you guys.
Anonymous
said on 25/Oct/08
common , he looks easily 6 foot. let
B
said on 1/Aug/08
Rob is right, his hairstyle adds about 1.5 inches to his height this guy is a weak 6 ft = 182 cm
Jake
said on 1/Aug/08
They got this dude listed as 6'2 on hollywoodupclose.com
It's crazy. I'd give him 6 feet for sure. But no way in hell 6'2.
Anonymous
said on 1/Aug/08
Rob, I will have to agree with the majority here. We cant make claims like 5'11 and 3/4 unless you have actually measured the guy with a tape measure.
Until then, he looks like a legit 6 footer.
Chris
said on 5/Jul/08
Rob if you are 5ft8 you can be sure he is 6ft.He even looks 6ft1.You come up to his eyes and thats like 4 inches
jack
said on 18/Jun/08
if joe want to say he's 6ft god people let him say he's 6ft im 4'11".75 my teacher says im so close he puts me down as 5ft leave him alone good lord just leave him be
Roxette Heart
said on 10/Jun/08
First time I have ever heard of 5'11".75. Please people, don't deny him his wish, just let him be 6'.
Malcolm Cringe
said on 19/May/08
I just walked by him on the streets of Vancouver, and I was at least a good inch taller than him. I scrape 6'. I might say that he's a bit over 5'10".
BERTA
said on 12/Apr/08
looks like 10-11 cm difference between you
Linda
said on 28/Mar/08
Joe is definately an easy 6ft to 6'2". His feet hang off all beds in the show. How do you guys meet these people? It sounds like you see them all the time.
Chris175
said on 13/Mar/08
yeah i agree, glenn and rob sometimes have me doubting myself that i am 175 lol, but i agree rob and glenn can both look 5-9. there really isnt much difference, if you take a 5-9 guy with bad posture and a 5-8 guy with good posture and stand them side by side the 5-8 guy could potentially look taller. wierd lol
glenn
said on 13/Mar/08
exactly james,and no smokes and mirrors.no lifts,low cut adidas.
glenn
said on 12/Mar/08
i beg to differ.rob in reality is a hair taller than me,possibly,but in alot of pics people think i can look 5-9 as well.i know i do.
Jamal
said on 11/Mar/08
rob even though you and glenn both list yourselves @ 5'8, you defiently look like your taller. No offense to glenn, not calling him a liar or anything. Maybe it's your stature, you look 5'9 atleast to me.

Editor Rob
any actor I meet I'm basing off the knowledge I am exactly 5ft 8. No room for uncertainty.

If you start from knowing someone's exact height without question, know they are wearing 1-1.1 inch sneakers in vast majority of pics, the floor is flat, take note of occasions where it's mentioned if the celeb is wearing more or less footwear, know that 95% of the time that person is trying to ensure heads same distance or his is slightly behind the celeb by 1 or 2 inches then you have a half decent base to go on.
xyzblast
said on 1/Mar/08
Easy 6 feet. I am a bit surprised at the 3/4" listing really.

Editor Rob
scroll down to the comment I made about the scale. That's about as close to showing accurate height as you'd get on here.
Anonymous
said on 29/Feb/08
Looks 6ft to me.
Anonymous
said on 29/Feb/08
I think the 6ft is his morning height, to me looks about 5ft 11.5 A good height for any actor!
Yaspaa
said on 28/Feb/08
Torri does give the impression of height,your right,I just saw her on an episode of NCIS and she looks taller than 5'7. Quite surprised by that Rob,nice one.
Yaspaa
said on 25/Feb/08
Good enough for me Rob. Do you reckon over 6ft in the mornings?

Editor Rob
yes he'd clear that. I've got a lot of atlantis cast, the only shock is Torri Higginson who I swear looked an easy 5ft 8 on show with flanigan, but in person she was looking more 5ft 7!
Anonymous
said on 25/Feb/08
he looks 5'11ish, so 5'11.5 would be it, but 5'11.75 makes sense as well.
maximus
said on 25/Feb/08
5"11'3/4...that sounds silly.....might as well be 6ft.

Editor Rob
that's what all the 5ft 11.5-11.75 guys say - might as well be 6ft!
nick
said on 25/Feb/08
Click Here
Rob you really nailed an accurate listing for joe, This is what he looks like in comparison agaist Routh and another guy thats listed 6'3, but in the photo seems closer to 6'1-2. Routh(6'2.5) is a legit 6'2, so much so that he often seems taller. Routh is a guy who is 6'3 in the morning and 6'2 at night. Joe as you can se is inches shorter than routh.

Editor Rob
Joe's got the biggest hairstyle, on first glance I think he'd look easy 6ft-6ft 0.5, but he didn't look it.

Routh/Joe are standing decent, Dorn is the looser of those 3. I still think Dorn peak is 6ft 3.
Derek
said on 25/Feb/08
Looks a weak 6'0".
AAAA
said on 25/Feb/08
I thought 185 till I saw that scale, the hair kinda threw mw off
miko
said on 25/Feb/08
Looks around 6"0, so 5"11.75 is fair.
Yaspaa
said on 4/Feb/08
Erin,this site doesn't deal with with what is quoted,it deals with what probably is.
Ronin (6'4") is easily more than 2" taller,try watching the show.
sw
said on 25/Nov/07
He's 5 foot 11.75
Erin
said on 19/Nov/07
Joe Flanigan is 6ft 2in. Its a fact, just check any site besides this one.
Elyse
said on 12/Nov/07
David Hewlett is 5'10". Joe Flanigan is 6' (or the 5'11.75") as someone asked him at a convention how tall he was and that's what he said.
Dana
said on 30/Oct/07
I'm sorry, this is wrong - he's 6'2" - I KNOW, cos I stood next to him at Melbourne Armageddon (I'm 5'8") and top of my head was just up to his earlobe - he's exact height of an ex-bf who was six-two.

Editor Rob
if you include his hairstyle you can call him 6ft 2 if you want.

Atlantis is one of a number of shows I really want to meet as many of the cast as I can, similarly with 24, Lost, Heroes, Eureka, Firefly, all Trek etc. I like Joe, I felt sorry for him at one con where they shoved him near a DDR machine and you could barely hear yourself speak, but I've seen him a few times like yourself and would disagree with 188cm :)
Tschakaman
said on 3/Sep/07
In one episode of SG Atlantis he plays side by side with Colm Meaney who is an honest 5'11. Why does Flannigan look to be of the same height? Hmmm....Big Dave you seem to be right with your first estimate of 5'11!

Editor Rob
hmm, Flanigan looked taller than Meaney in latter episode where he dies, meaney character that is. I'll trust what I see, you trust what you see :)
Luke
said on 12/Jul/07
David Hewlett is 5'11 and Joe is atleast 3 inches taller so he must be 6'2
Hester
said on 13/Apr/07
5'11" is a sexy height.
Dan
said on 28/Mar/07
He does look tall when Ronan is not around. Probably the tallest one there.
He is probably 6' in the morning, so 5'11 and a half, or three-quarters seems reasonable.
Big Dave
said on 15/Jan/07
This guy looks about 6'0 flat. I'm not sure why he is described as 5'11.75 here. He is clearly 2 inches taller than David Hewlett in Stargate Atlantis and about 4 inches shorter than 6'4
Jason Momoa
(Ronan in SG Atlantis)
Marishal
said on 3/Oct/06
When I first starting watching Atlantis I thought Joe and Torri, and other actors from the show were basically the same height, but after watching pictures (where I could see their feet) it seems to me Joe may seem shorter but he isn't. I really think he is taller than 1.83cm.
Maybe I am not very good at guessing his height but in this picture,
Click Here
we can see all their feet and well, Torri and Rachel are like a complete step shorter than him!
Not sure if they use "steps" things to film Atlantis but I can't see the height difference from the picutre in the actual show.
andy
said on 25/Jan/06
guys... when he is next to Ronon wich is 1.95 m (6ft 4"- 6 ft 5") he is clearly only maximum 5-7 cm shorter...
another example would be when he is standing next to dr . Weir... my ex-girlfriend is 1.70m , and Weir (film name) is ranked at 1.75m... now... he looks very 1.88m to me... i am 1.87-1.88 (6ft 1.5") and i know how it's at that height

Editor Rob
the funny thing he can look taller, yet with robert patrick looked similar...
Big Dave
said on 13/Jan/06
I watch Stargate Atlantis every week and I wouldn't say that he was that tall. I think that he is more like 5'11 (180cm)