David Hewlett's Height
5ft 9 ¼ (175.9 cm)
English-born Canadian actor best known for playing Dr Rodney McKay on tv series Stargate Atlantis. In film he can be seen in Cube, Splice and Rise of the Planet of the Apes. In this photo I had just under 1 inch sneakers, whilst David had Nike Shox giving him near ½ inch footwear advantage. On his
resume
he had himself listed
"Weight: 155"
pounds and
"Height: 5'9"
.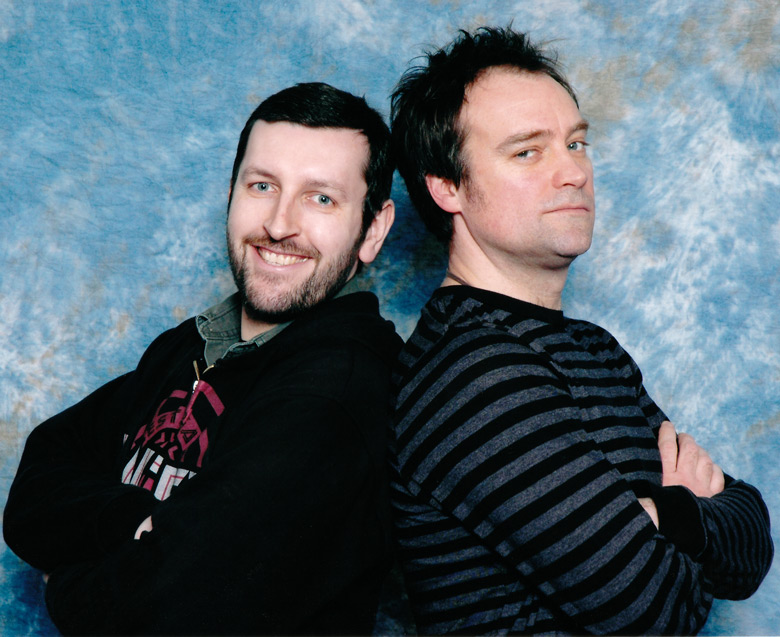 5ft 8 Rob and David @ 2010's Chevron Convention
You May Be Interested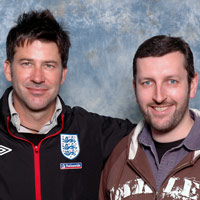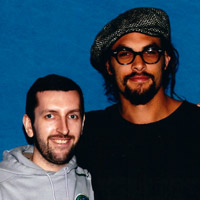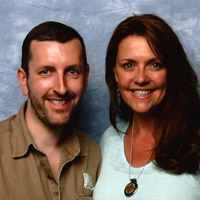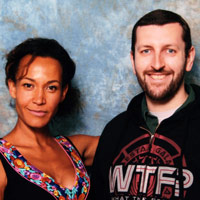 Add a Comment
47 comments
Average Guess (39 Votes)
5ft 9.26in (175.9cm)
Nik Ashton
said on 20/May/20
He's above average for a Canadian man!
JohnMoore-162cm
said on 7/May/20
not over 176 cm

Editor Rob
In person he definitely was nearer 5ft 10 than 9, but of course a fairly decent footwear advantage so 5ft 9.25 might be what he measures.

However, he did have 5ft 9 on his acting resume once.
Jkiller
said on 29/Jan/20
In Stargate Atlantis he looks anything from 176-177cm. So 5'9 and a half seems spot on.
Paul Wood
said on 19/Jul/19
If Canada is the same as UK and USA, he's right at the average male height!
khaled taban
said on 18/Jun/19
He is around 176cm not 176.5.
Bobby 178cm
said on 31/Jan/19
I initially thought 5'10 flat for this guy, but I see that he has just over half an inch footwear advantage over Rob. So, anything from 5'9.5 to 5'9 5/8s seems plausible for him. Definitely a weak 5'10, I would edge this guy out a little.
joshjeffords
said on 24/Jan/19
Good listing always liked his style very memorable.
Usually average look kinda lanky when younger but still average height.
Nik
said on 1/Oct/18
I could buy this listing when I compare him to Jenny!
Adnan
said on 14/Feb/18
5.9.25" or 176 cm
Click Here
said on 21/Jan/18
5'9 - 5'9.25"..
Canson
said on 5/Nov/17
I'd go with 5'9.25 max. He's not but 1.5-2" over rob max before the footwear advantage. Take the 0.6 off it brings him below 5'9.5
World Citizen
said on 5/Jun/17
Looks 174 with Jenny.
berta
said on 21/Feb/17
i think 176 ore couple mm over that. 177 is a good listing to buty may be about 0,5 cm to tall i think
kai
said on 3/Oct/16
Rob.. Are you looked up to him as 176.5 (exactly 5'9.5) or more strong 177cm low ?
Editor Rob: well he wasn't really over 5ft 10 up close and had a significant footwear advantage, so around 5ft 9.5 at most I'd have said, 176 and change.
Height Columbo
said on 14/Aug/16
5'10" in the morning, 5'9.25"-5'9.5" genuine height. IMDb lists him 5'9". He's shorter than many main characters and guest stars on Stargate but never really looked short himself. Has the rare quality of not looking under average at this height despite being stocky.
Alex
said on 23/Apr/16
Wow he looks like a completely different person with you and Jenny rob lol
Danimal
said on 17/Nov/14
5'10" guy based on those pics.
Rampage(-_-_-)Clover
said on 27/Oct/14
Almost 5ft10 with Rob and barely 5ft9 with Jenny
Josh b
said on 3/Sep/14
Click Here
My photo at the same convention as Jenny, real cool fellow.
Anon
said on 31/Aug/14
Great pic with Jenny. Looks 5'9.
Sarah
said on 23/Jun/14
good listing. what does he claim? 5'10?
[Editor Rob: don't know, but probably that. Jenny wants to get a photo with him at upcoming convention, as she loved his character in stargate.]
jasperwasup
said on 20/Feb/14
In Cube he gives off a shorter image. I would have thought 5'7''-5'8'' minus the shoes.his co-star black actor must have been over 6'1'' because he dwarfs Hewlett. Hewlett came up to his eye or just below. I guess that's a 5.5'' difference given his forehead was above average typical forehead 3-4''
avi
said on 18/Jul/13
@Editor Rob: he can look between 3 and 4, but the ground isn't perfect in that scene]
Yes but it could be giving Lee the advantage. Anyway if you watch the movie right when Moore arrives on the island there's solid 20 mins where Moore and Lee walk together. Would you agree Moore was 6'1 and Lee a tad over 6'4? Most scenes Lee has the 3 inches on Moore.but if Moore was 6'0.5 then Lee could never be a solid 6'4.
[Editor Rob: inside you could say there was somewhere between 3 and 4, it could look either.]
avi
said on 16/Jul/13
@Rob
so it seems 2 inch difference...Rob would you agree Roger Moore is no more than 3 inches shorter than Chris Lee in this picture?:
Click Here
its hardly more than the difference here..
[Editor Rob: he can look between 3 and 4, but the ground isn't perfect in that scene]
LG69
said on 23/Apr/13
Looks about 5'10.5" here, but since his shoes are about 1/2" thicker, he's probably 5'10" flat.
[Editor Rob: look closely, he has a lot of hair and I'm leaning back ;)
Heres the guests at that show
...the guy in black t claims to be 6 foot
Here
, but he's a stunt guy and said injuries take their toll with damaged back, cartilage etc etc, I think he's about 182cm]
Bard
said on 6/Apr/13
Good listing.
Balrog
said on 9/Jan/13
He looks 5'10'' here but the listing is fine because he had thicker footwear.
Hullywood 1.75.5m
said on 17/Nov/12
More 1.76m to me. Looks seldom taller then Paul McGillon on screen, who Rob has listed at 1.74m.
Stiffelio
said on 25/Oct/12
Rob, what shoes were you each wearing? He looks taller than just 1 1/2 inch taller than you.
[Editor Rob: i had 0.75 range sneaker, he had nike shox 1.3 range]
Josh B
said on 29/Dec/11
Click Here
Don't have any info on footwear, but a nice photo :)
goal height 183cm 6'0
said on 25/Oct/11
178 reset of day
177.5 before bed
179.5 out of bed
i'm def spot
cause this exactly my current height
Dean 5ft 9.25
said on 8/Oct/11
That to me looks like a guy whoes 177cm but hes got 1.5cm more sneaker so hes probably 175.5cm my exact height or possibly 176cm at max no more
TRUTH BE TOLD
said on 9/Aug/11
That is more than 2 inch diff.....look at nose height, chin height, etc....
Josh B
said on 4/Aug/11
Nikkster
Morning height is not your correct height, neither is your evening height as both of these you are only for max a few hours. Correct height is the height you are for the large proportion of the day.
jtm
said on 1/Aug/11
rob do you think 5'9 flat is possible?
[Editor Rob: in sg1 when he first appeared with amanda tapping he looked pretty close in height, whether he had thinner shoes is harder to tell.

I think he looked over 5ft 9, but under 5ft 10, as I say he had half inch thicker sneakers]
Alex
said on 31/Jul/11
I would have def said 5'10 but 5'9.5 would be right with the shoe advantage.
Nikkster
said on 31/Jul/11
Rob: I think the reason why some of these posted heights on Celebheights differs from other websites, e.g i-m-b-d - is because you choose to post your night-height which is caused by gravity. You should know that our height in the morning is our correct one(the doctors are usually measuring in the morning on little kids and for an example on regular medical examinations). These errors normally occurs on determinations on photos of celebs that you're standing next to. I'm not talking about the height right of bed, but probably like 1-2 hours after. I am mysql 6'0 feet in the morning 1-2 hours after bed, and around 5'11.75 in night. You might wanna consider this - Celebheights is a good website afterall.
James
said on 26/Feb/11
177cm with footware and advantage and 176cm without
TheVerve
said on 18/Feb/11
5ft9.75 sounds good.
mike
said on 17/Feb/11
This guy on 5'10 for sure !!!
Yo
said on 11/Feb/11
he is a bit taller than Mc Gillion(weak 174cm) and clearly towered by Flanigan( 182cm) so 175-176 cm sounds good for him.
krazy krippled!
said on 1/Jan/11
In season 1 of SG Atlantis they made Joe Flanigan look clearly taller than everyone else in the pics, but starting season 2 David and Rainbow didn't seem that much shorter than him anymore, plus Joe sometimes looks really shorter than Jason Momoa, maybe that's just because Jay has a relatively strong build.
lolo
said on 8/Dec/10
rob is leaning more.
Will
said on 28/Nov/10
David Hewlett is 5'10 1/2" tall.
me
said on 29/Jan/09
re: Paul
He's not tall, but he looks taller on Atlantis because he's stacked up against Alpha Male Joe Flanigan who clocks in @ 5'11" rather than RDA who is 6'2". Also if you're comparing him to the women, Amanda's 5'9" (SG-1's lead actress) where Rachel's 5'4" (Atlantis' lead actress). SG-1 just has a taller cast than most any other TV show. Even near 6'1" Ben Browder said that he looks short in some shots on SG-1. Corin Nemec (Jonas) who claims to be 6'1" said he "disappears" amongst the rest of SG-1, including Amanda Tapping. Amanda herself says people who have only seen her on SG-1 and meet her in real life tell her "oh, you look like Amanda Tapping, but you're way too tall."
Paul
said on 7/Nov/08
It's interesting to note the rather extreme difference seen early on in the stargate seasons (season 5 or 6) where he makes guest appearances, compared to his stargate atlantis figure. You can obviously tell that he's quite short, even shorter than Samantha Carter.
5'7-5'8 is most likely accurate, with boosts added in stargate atlantis. After all, they wouldn't purposefully try to make him look shorter earlier on.
Chris
said on 29/Oct/08
Oh dear. Of all this site, not one height debate from you insecure people.
Seriously, David Hewlett should get at least some recognition, hes a brilliant guy and tallented actor.
give the guy a couple more inches, hell, give him 1.125.6 inches to be exact.
[Editor Rob: this guy is a real good actor...and can at times look 5ft 9 on atlantis.]