Jim Beaver's Height
5ft 11 ¼ (181 cm)
American Actor known for roles in tv shows Deadwood (as Whitney Ellsworth) and Supernatural (as Bobby Singer). Says he's 6-0 on his myspace and on twitter:
"Supernatural is the only show where I look short and fat. I'm 6 feet tall and weigh 185"
. I would guess he was 5ft 11 range, this photo was at the Asylum Convention 2008 in Birmingham Hilton. Jim said he used to be 6ft 1 and has shrunk to around 5ft 11 and change.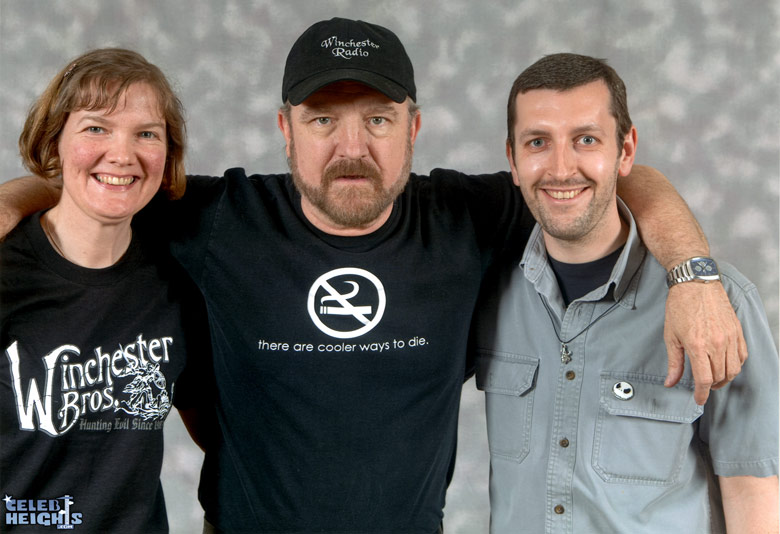 5ft 8 Jenny, Jim, 5ft 8 Rob @ Rogue Events Asylum, 2008
[Chuck Norris] claims 5'10", but according to his Air For e records, he's 5'8 ½ ". At any rate, as a general rule, guest stars on his show couldn't be taller than that. I'm 5' 11 ½". Thirty years ago, I was 6' 1".
You May Be Interested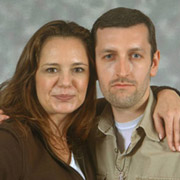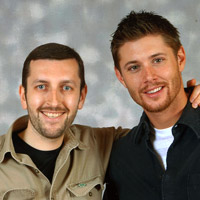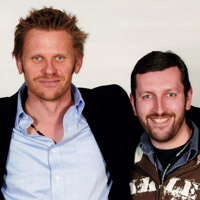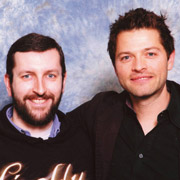 Add a Comment
86 comments
Average Guess (27 Votes)
5ft 10.71in (179.6cm)
Steven Stinson
said on 19/Feb/21
Looks 5ft10 3/4 - 5ft11 based on this photo
CD
said on 2/Jan/21
Rob what are the chances he;s dropped a bit more height in last few years? Just like you I could buy 5ft 11.5-.75 peak height, perhaps age 70 he's dropping under 5ft 11.

Editor Rob
he might be a bit under 5ft 11 now and I suppose his 6ft 1 claim would be possible in shoes, but barefoot I would be surprised.
Rampage(-_-_-)Clover
said on 13/Nov/19
Sorry I thought Jim was the guy in the red with the beard not the guy in the blue
Rampage(-_-_-)Clover
said on 9/Nov/19
If Tim was close to 5ft11 in the Home Improvement then I suppose 6ft isn't exactly impossible for this guy, does look about 1in taller
Rob, how tall would you say the guy in the middle is?

Editor Rob
Richard? He could have been 5ft 9-9.5 range
Rampage(-_-_-)Clover
said on 3/Sep/19
Rob, is 6ft peak arguable?

Editor Rob
Well check him out
With Tim Allen
, maybe he was minimum 5ft 11.5 range peak.
Hopping hopper
said on 31/Jul/19
Doubt he was over 6-0

Editor Rob
he might be a guy who has lost height and is 5ft 11 now and 6ft peak, although I would be surprised 6ft 1 and losing 2 inches.
Sandy Cowell
said on 15/Oct/18
The Beaver looks about 2" taller than Rob and Jenny - at the most!
5ft10.
ouz selek
said on 11/Feb/18
cmon rob how money did he give you for show him at 5'11 (1.81cm) range?
David
said on 16/Dec/17
From the picture i would say less than 5ft 10.
Truth
said on 23/Jul/17
5ft 11.25 is a joke. He is actually 5ft 10.5
Bobby
said on 9/Jul/17
I used to watch Supernatural, I've stopped now for religious reasons of course, but in the show, he looked an easy 6ft next to Jensen Ackles.
John
said on 3/Apr/17
Peak: 6'0.75
Now: 5'10.5
Nik
said on 27/Feb/17
I am worried.
Sandy Cowell
said on 24/Feb/17
...and here are the BMI results!
If Jim is 6ft - 25.1, if he is 5ft11.5 - 25.4 and should he be 5ft11.25 - 25.6.
Anything over 25 is overweight, so Jim would be well advised to lose a few pounds before the pounds mount up! If you slap on 10 pounds, then no wonder he feels he looks a trifle plump on the TV. Nipping the little problem in the bud is the most sensible course of action before it turns into a bigger problem! At his size, it should be a walkover!
Sandy Cowell
said on 24/Feb/17
It must be annoying for actors to find their bodies look distorted or shorter and fatter on TV. Jim reckons, and I quote, "Supernatural is the only show where I look short and fat. I'm 6ft tall and weigh 185lbs."
They say that the camera immediately adds 10lbs! Typical that it doesn't do the opposite - and why so many actors keep themselves on the low side, weight-wise. If they look heavier, they're going to look shorter too!
185lbs, or 13st 3lbs is not excessive for 6ft or just under, but it's not on the skinny side! Let me go away and work out his BMI and I'll get back!
Meanwhile, I'm going to give Jim 5ft11.25, taking into account Rob's synopsis on the matter! 📏😎
berta
said on 11/Feb/17
hm i fhtat was really him writing it vould be like this ( i have only seen this guy in couple of series , really dont know how tall he is looked littel over 180 to me) either way he was maybe measured in the morning at 184,5 and round that up to 6 foot 1 and then by evening was down to 183 and now he is 181? i really have no idea but that the only way you can explain the height claim. he is 66 ore something . there is a big chase he is 2 cm shorter than he was at peak. atleast 1 cm.
Estonian
said on 21/Dec/16
No way, 181 cm. He looks 178 most.
Brandon
said on 17/Oct/16
6'0" peak?
5'11" range today?
He's pushing 70
Jakertini
said on 6/Aug/16
He looks 5'10". With better posture I could see 5'11"
truth
said on 7/Jul/16
Never was 185 cm peak, more like 182 cm range. Now 180 cm flat I guess.
184.3cm (Night)
said on 31/Mar/16
Jim edges Misha out. Just saw a clip on youtube where Jensen jumps on them both during an interview and i was surprised to see that JIm was slightly bigger.
NBAer
said on 29/Feb/16
Looks nomore than 177-178 range in the pic,with good posture he could be 179-180 range but certainly not taller(judging by the pic only).
Danny 1.98m
said on 21/Jan/16
Jensen has 2 inches on jim and clearly edges misha out. To me that puts Jensen more of a 1.84 guy.
Jared 1.94
Jensen 1.84
Misha 1.80
Jim 1.79/1.80
DeanWinchester
said on 29/Oct/15
Nice shirt Jim man I miss him on SUPERNATURAL as a regular, but yea I think 181 is on point Rob!!!
TJE
said on 24/Aug/15
Peak height: 5'11.25
Current height: 5'10'75
Dingus
said on 31/Jul/15
Peak height 6'00.00"
Current 5'10.75"
Charon120
said on 26/Jul/15
He looks 5ft 10
Andrea
said on 30/Apr/15
He also appeared in Breaking Bad and in the few scenes with Bryan Cranston he seemed to edge him out too... Still, 5'11.25 is a stretch! He looks 5.5 inches shorter than Jared Padalecki! This listing would make Jared near 6'5 and Rob says he's not that tall in person!
lelman
said on 21/Apr/15
He's in an episode of That 70s Show and he struggles to look this tall next to Kurtwood Smith. Looked to have an inch on Don Stark who is listed at 5'10" but looks 5'9" next to the rest of the cast. I think 5'10.5".
[Editor Rob: he did pop up once in dexter and I'm sure actually looked over 5ft 11 flat in a scene with Michael C Hall but he might have had a boot on...]
CD
said on 11/Apr/15
181 could have been a dodgy stadiometer (or even with footwear). And I reckon his 6ft 1 peak claim is false and he simply doesn't remember wearing shoes for the measurement, or something like that. Wouldn't surprise me if Jim measures 179 today.
TJE
said on 10/Mar/15
Bet that 5'11.25 measurement was done early in the morning.
cd
said on 2/Dec/14
Rob, just saw this and found this interesting. Not saying Jim is a liar, but if he was solid 5ft 11 this year and has lost 1.75 inches, surely a big chunk of that loss happened since you saw him in 2008? You seem to indicate he looked barely 5ft 11 in 2008, so something is amiss. Also maybe his 6ft 1 was in shoes and he forgot it was in shoes and he was just 6ft at peak?
[Editor Rob: I watched a few seasons recently 4 through 7 and that was around time I seen him...given that jensen is typically with more footwear I can buy him looking around 5ft 11. Maybe stretched up for a measurement he got 181...]
Andrea
said on 27/Oct/14
Yeah, exactly, Lorne. If he's 181, there's noway Jared is only 6'4... Noway! Btw, Lorne, you're not much active on here recently. You're busy? It's always a pleasure to read your posts :)
Rampage(-_-_-)Clover
said on 24/Oct/14
Rob, what about his peak height? Does it carry any weight?
[Editor Rob: I don't know! Seems an awful lot to lose, but then if someone got measured near 6ft 1 a few times in youth you would think it would rule out a dodgy stadiometer.]
mike
said on 22/Oct/14
Rob, How can you have Jim taller than Misha?! Upgrade Misha to 182 then. Beaver is no way over 5ft 11 (although he did look a bit taller than Bryan Cranston on Breaking Bad who you have at 5ft 10.5 so i guess 5ft 11 but i doubt he's over it).
And yeah Jensen Ackles can sometimes look barely taller than Beaver, but other times he can look 1 inch taller let alone big 2 inches taller!
Andrea
said on 21/Oct/14
Arch, i've learnt not to trust anyone on the net, especially on a site like this which is full of trolls (apart from a small group of posters)! I have no problem into believing thats the real Jim but the fact he claims that Jensen is "a good couple inches" taller is not a good thing for his credibility. And, hey, Arch, just type Jim Beaver and Jared Padalecki on goog and tell me there are only 12 cms! Nope, noway! Rob himself said Jim is a weak 5'11 in person... I can buy 5'11.25 if Jared is near 6'5, in that case, yeah, it is possible!
184.3cm
said on 20/Oct/14
To be fair Andrea, Jim does look taller than the SaveUS guy from user heights who i thought was about 5'10. I think 180-181 is fair for him maybe he has less footwear than Jensen?To be honest i dont see much between the two of them on the show. However if jim is 181cm then Jensen is for sure 183cm and no less. And as for Jared im sure hes more than just a 6'4 flat guy. I still think hes 6'4.5 look how he measured up next to Tom Welling and Jason Momoa.
Arch Stanton
said on 20/Oct/14
Andrea says on 20/Oct/14 Anybody could see where he stays at the moment (one of the bad sides of Twitter eheh), fake his location and try to write a message under his name!
You'd have to be a pretty sad git to stalk Jim and impersonate him here and make up a fake measured height. A pretty tall order Andrea, I think it's more likely to be genuine than not.
[Editor Rob: I have no problem believing that is Jim.]
lelman
said on 20/Oct/14
@Tommo
MishaC_183: I am a legit 6 footer, I think Jensen has me by an inch or two.
Andrea
said on 20/Oct/14
First) Even SaveUs seemed genuine but he wasnt 6' for sure, but he believed to be a solid 183 and so could Jim! I repeat, ok, maybe he's 181 range, but Jared can't be only 6'4 and that's quite an objective thing! And what about Jensen? He's only a cm taller and he thinks he's two good inches taller? I mean, in that case, he should review his idea of "two inches"... Second) are you really sure he's the real jim? Anybody could see where he stays at the moment (one of the bad sides of Twitter eheh), fake his location and try to write a message under his name! Third) Jim, if that's really you, as i said, write something on your twitter, so nobody will doubt about you ;)
Andrea
said on 17/Oct/14
Lol, yeah Rob, more chance that's Jensen Ackles who want a big 6'1 listing... Jensen could be 186 for sure, in big 1.5-1.75 boots, though! Barefoot he isn't over 5'11.75... Imo, Jared is somewhere between 193 and 194, Jensen around 182, Misha 180 and Jim a strong 179! I can't buy 181 unless he measured a couple of minutes after waking! If he was 181, Jared is no less than 6'4.75! And Rob himself said he's 6'4 flat in person! Rob, if Jared came out with something like "I measured 6'4.5 at the doctor", would you change him too? Just to see how you "work" with the listings...
[Editor Rob: why would Jim lie about his measurement, from his postings elsewhere and his writings he seems genuine.]
Arch Stanton
said on 17/Oct/14
@Jim You were in Magnolia weren't you? What was Philip Seymour Hoffman like in person? Loved that guy to bits, one of the greatest actors ever, what a loss. Also what about Tom Cruise? Some insist he's only 5 ft 5!
Arch Stanton
said on 17/Oct/14
@Jumblejim Is it really you? I hope so. I think I saw a post from you on the John Wayne page. Would be good to see you comment on any of the pages of people you've met if you're genuine!!
Tommo
said on 17/Oct/14
@Chris haha, maybe this is the start of a trend. It'll be 'JPadalecki' next, "I'm 6'4 and Ackles is only 3 inches shorter than me!"
Andrea
said on 17/Oct/14
Jim, how tall is Jared? 6'5-6'6?
Andrea
said on 17/Oct/14
To me 5'11.25 is quite optimistic! Jared is easily more than 5 inches taller than him, i always thought he was a weak too and you too! Misha Collins, your words, looks slightly taller than him, he's what then? 182? I doubt it because he looks shorter than Jensen by at least a couple cms! And how can a guy who is a cm shorter than someone guess him two inches taller? I repeat, Jim, if that's really you, write something on your twitter... I don't rule out 100% him being real, but it's quite unlikely to be fair! If jim is really 5'11.25, then Jared is near 6'5!
Chris
said on 16/Oct/14
I think Jumblejim is Jensen Ackles. Desperate for that over 6ft listing
Andrea
said on 16/Oct/14
Rob, seriously, you think that is Jim? You yourself said he's likely a weak 5'11 today, like 5'10.5! And the fact that he claimed that Jensen, a guy who is 182 tops, is two inches taller doesn't help at all! If Jensen is a good two inches taller, what about Jared? 7 inches taller? Jim, if that's really you, write something on your twitter page. Rob, it's not that difficult to appear in a different place, just so you know!
[Editor Rob: I believe that is Jim.

Funnily, as I mentioned recently Jenny has been rewatching Supernatural from the start again and in the season which he appears, it doesn't look that much of a difference between Jensen and Jim...]
Arch Stanton
said on 15/Oct/14
Rob are you certain Jumblejim is actually this guy and not one of the "I'm 7 ft Vince", or "I'm Brad Pitt and 5'11"" type of posters?
[Editor Rob: if it wasn't him, the guy's done a remarkable job of being able to post from the area Jim is at the moment, so I'd say it was.]
Rampage(-_-_-)Clover
said on 15/Oct/14
Rob, did he actually look 181cm in person or is this more likely to be a peak height?
[Editor Rob: As I said in person I thought around 5ft 11, so measuring 11.25 isn't really outwith the realms of possibility. Shrinking 1.75 inches is a lot though!]
Jumblejim
said on 14/Oct/14
I was 6'1" when I went into the Marines 46 years ago at 17. I've shrunk since then. Last time I measured, barefoot, for an insurance physical last spring (2014), I was 5'11 ¼". I've never weighed over 200 pounds in my life, have wavered between 185-195 for more than a decade. On Supernatural, they dress me in loose clothing and down vests, and people are always surprised I'm not fat when they meet me. And Jensen Ackles is a good two inches taller than me. I hope that answers the questions and speculation. Jim Beaver
[Editor Rob: that's a lot of shrinkage by early 60's!]
RogerH
said on 12/Jun/14
Beaver : 177/178 here
Hall : I won't change views = 176/177
176,2Tunman
said on 29/Mar/14
179 these years,could hit 180 at peak.Misha is probably 5'11 and Jensen a hair under 6'.
Hypado
said on 20/Feb/14
Yes, 179 would be more accurate.
rolfer
said on 25/Dec/13
179 would be more accurate i think
averagegiant
said on 6/Sep/13
Any chance he's more 5'10 1/2 or 5'10 flat rob?
[Editor Rob: 5ft 10.5 isn't impossible]
Lorne
said on 30/Aug/13
A good 180cm, in boots he is clearly taller than 182cm range Jensen Ackles, so he is over 6ft tall in boots.
Len
said on 25/Jul/13
The 185 lbs thing makes me chuckle. He's somewhat portly on Supernatural, definitely over 210 lbs, minimum.
lelman
said on 19/May/13
Maybe 5'11" at peak, no more than 5'10" now, he didn't look any taller than M.C. Hall on Dexter.
Yitzhak
said on 2/May/13
Shortest looking 5'11" I've yet to see on here. The hat makes it hard to judge from top of head, but eye level wise he doesn't even look 178, maybe 177.
voovoo
said on 16/Feb/13
if he is 5'11", jensen ackles must be 5'11.25" because they look about the same height while standing in supernatural(with heels).
Joey
said on 18/Jan/13
looks 5'9 in the photo next to jenny and bad posture rob....5'10 is the most i can imagine for him....
Aragorn 5'11
said on 2/Jan/13
5'10.5. Looked half an inch taller than (5'10) Michael C. Hall in Dexter Season 7. However he barely looks 5'10 here with Rob.
matt678
said on 6/Nov/12
bad posture here i would say a geniuley 5ft10.75
nice guy
said on 31/Dec/11
180cm u serious? he looks 177cm max on that pic..I give him 5'10 with casual shoes on
dicksock
said on 7/Dec/11
There is no way he is 3" taller than Rob.
lorne
said on 2/Oct/11
Was he wearing boots? Because he doesn't quite look 5'11 to me. I ask because him and Jensen both wear boots a lot, and Jensen always looks an inch taller.
But he is 61 years old now, Rob. He has most likely lost a cm or 2. If he did look close to 5ft11 at age 59, he was almost certainly a solid 5'11 at peak, but if he looked a full 5'11(which personally I don't think he does, but you met him) then 5ft11.5 peak might be fairer.
[Editor Rob: running style sneakers I think that day]
LUCOSO
said on 18/Sep/11
cool shirt
Kostas
said on 12/Sep/11
i think he appears taller than he really is because of his hat...i cant see a three inch difference here!
fiveeleven
said on 10/Aug/11
Always held his own on Deadwood.
Tyler
said on 17/Jul/11
His peak was probably 6'0". He probably lost an inch over time.
Dmeyer
said on 11/Jun/11
Since hé looked 179 givre him that
hakunamatata
said on 18/Apr/11
looks 1.77
jake
said on 27/Feb/11
Yes I agree he looks below a full 5' 11" here. Would you consider downgrading him to 179 cm Rob? He may have lost height in his advancing years.
[Editor Rob: I think if he's not 5ft 11 he's very close, but I don't think he's quite pensioner age :)]
James
said on 26/Feb/11
appears 176-177cm in the pic. maybe he ain't standing great?
SolidSnake
said on 17/Feb/11
pretty much everyone who is 5 ft 11 claims 6 foot dont they lol. I know i do lol
adams1818
said on 9/Feb/11
178-79 cm is closer to truth.
jb
said on 12/Nov/10
Recently on the mentalist and is taller than baker by a fair margin, not sure what shoes he was wearing though
jb
said on 6/Nov/10
Looks like Captain Price :)
Haze
said on 15/Jun/09
looks his listed height. hmmm. i live about 20 mins from deadwood. boring town. but im sure back in the day there was enough gun slinging to keep one entertained haha
James
said on 31/May/09
Rob in your pic Jm looks kind of tired
[Editor Rob: not a big smiley guy, he looked like that a lot of pics!]
Josh
said on 13/Nov/08
He looks 5'10 tops I agree with Lego.
Lego
said on 4/Nov/08
BOOOOBBY!!! :D
love this guy in Supernatural, great actor.
honestly he's not quite 5'11, does look 5'11 in this image even though he's bending a bit, but remove the shoes and he might as well be 5'10ish.
i feel his real height is 178cm, and 180-181 with shoes shoes.
anonymous
said on 31/Oct/08
he does look about 5`11 in this pic.
The best thing though is his shirt.
ed
said on 23/Jun/08
there is a high school Quarterback named Shavodrick Beaver... he is going to Michigan for college ball. Anyway, 5.11 seams right for this guy
Anonymous
said on 21/Jun/08
what a funny name ! Mr. Beaver