Misha Collins Height
5ft 11 (180.3 cm)
American actor best known for playing Castiel on TV series Supernatural. On
twitter
he once said
"Let me tell you about myself: I'm 6' tall, blue eyes, i like walks on the beach & exploring sewers."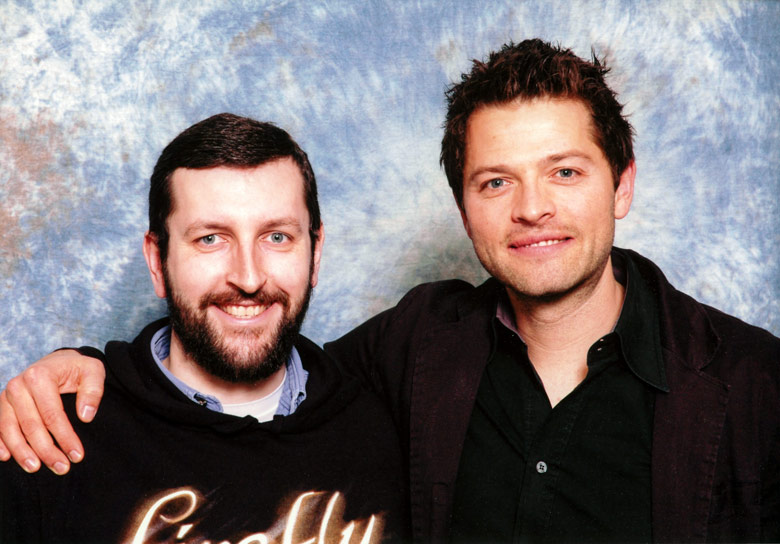 5ft 8 Rob and Misha @ Collectormania London 2009
Because the other actors on "Supernatural" are misfits of nature - they're giants - fans usually think that I'm short. I'm actually 6 feet tall, but when I'm filmed next to Jared Padalecki, who's 6-6 or something, I look like a tiny wood elf.
-- 2009
5ft 8 Jenny & Misha @ Asylum
[Misha had 1/2 inch more footwear than Jenny]
You May Be Interested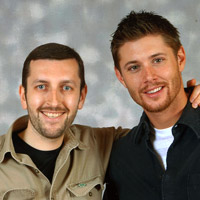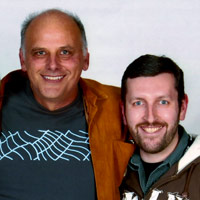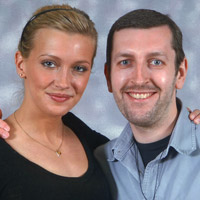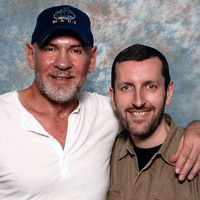 Add a Comment
218 comments
Average Guess (111 Votes)
5ft 10.57in (179.2cm)
Soda machine
said on 18/Jan/21
Gezz is say 5-10.5 in reality. 6-0 is bonkers. Looks a very very average guy on the show. Certainly not tall.
Guest66
said on 14/Nov/20
@Canson, What's even funnier is that he was always vigorously insisting on Jake Gyllenhaal being a strong 5'10" guy in the comments, but was caught on voting for 5'9" range for Jake over a million times. You really think the same thing didn't happen here as well ?
Canson
said on 26/Oct/20
Chris Junior Hernandez 1990 said on 25/Jun/20
I don't know if Rob try to cover up his real height. Sometimes kind of look at him like a strong 5'10 guy not a close to 5'11 person.
Editor Rob
In person, he looks nearer 5ft 11 than 10. The question is whether he is a fraction under 5ft 11 and there is a far greater chance of that being true, compared to a fraction over 5ft 11.
What's funny is that Greg guessed him a fraction under 5'11" and was told he "downgrades celebs"
Anthony B
said on 6/Sep/20
5ft 11 spot on
Jkiller
said on 30/Jul/20
Looks 5'10.75 max next to you Rob.
TM4
said on 27/Jun/20
If I'm going to be honest Rob he doesn't look the full 5'11, I think him and Jensen both need a 1/4 downgrade. 5'10 3/4 to Misha and 5'11 3/4 to Jensen.
Chris Junior Hernandez 1990
said on 25/Jun/20
I don't know if Rob try to cover up his real height. Sometimes kind of look at him like a strong 5'10 guy not a close to 5'11 person.

Editor Rob
In person, he looks nearer 5ft 11 than 10. The question is whether he is a fraction under 5ft 11 and there is a far greater chance of that being true, compared to a fraction over 5ft 11.
Cathy Wu
said on 17/Jun/20
If his eye level is at 5'6, there's no way he's 5'11. Legit 5'11 guys have an eye level of at least 5'6.5 if we're considering the top of the head to the eye level being 4.5 inches, and Misha's head looks normally proportionate.
Greg
said on 9/Jun/20
@TheBat where did you meet him? Yeah he seems like a nice guy though I don't think he would be 5'11 at his lowest he seems to strike me as 5'10.5 give or take.
Chris Junior Hernandez 1990
said on 18/May/20
Flanery gave a taller impression than Misha.
Ali Noufal
said on 5/Apr/20
I think 5ft 10.75in would be right on the dot.
Bwk
said on 11/Mar/20
Not seeing the full 5'11'' here. He looks more 5'10.5'' - 5'10.75''.
TheBat
said on 6/Mar/20
I briefly met Misha before, very friendly and cool. Looked about 5'11", maybe a bit below.
VitoCheng
said on 21/Feb/20
179.7
Canson
said on 10/Nov/19
That's why he and Jensen think Padalecki is 6'5 or 6'6 because they both claim shoe heights.
Christian 6'5 3/8"
said on 12/Sep/19
@Yang
You're probably going by his hairline. His hairline's around 5'9" but the top of his head's clearly taller than that.
Yang (5 footer 8, 172-173)
said on 10/Sep/19
Looks like 5ft 9 half than 5ft 11.. not even weak 5ft 10 IMO..
Nils2
said on 17/Aug/19
I don't quite see 5'11 in photo, not very convincing.. With Jensen he looks 5'11 but that's assuming Jensen is legit 6ft ;)
Click Here
Canson
said on 1/May/19
@Greg: I agree
Greg
said on 29/Apr/19
@Canson I think Jared doesn't pay attention to exact figures apart from his own height, I'm sure he won't stop to think if Jensen's really 5'11.5, 6'0 or 6'1, same with Misha Collins height.
Canson
said on 23/Apr/19
@Andrea: i agree. Unless he claimed it like he did in the one interview where he mistakingly gave 197cm instead of 193, he never refuted what they say relative to his height such as 6'5 and 6'6 claims for him
Andrea
said on 22/Apr/19
And the funniest thing is that Jared himself doesn't seem to have any problem buying their claims. At least with Jensen, I'm sure he once described him as 6'1, although there is clearly well more than just 3 inches between them...
Canson
said on 22/Apr/19
@Greg: yea I've seen them inflate Padalecki to both 6'5 and 6'6
Greg
said on 21/Apr/19
@Canson Agreed they seem to look over/under the marks at certain points of course it shows when they inflate jared to 6'6 in order to try and make their claims seem believable.
Guest66
said on 21/Apr/19
They both exaggerate by 1in at least, no way one is over 5'11" and the other is over 6'0" in the evenings. They have greater chances to measure a fraction under than over the mark before they go to sleep.

Editor Rob
To be fair, the only actor claiming a reasonable height on supernatural is jared - sheppard inflates to 5ft 10, misha to 6ft, ackles to 6ft 1. Then they call jared 6ft 5 or 6 to help their own claim stand up.
Canson
said on 20/Apr/19
Both Jensen and Misha can look the full 5'11" and full 6'0" but at times can appear weak as well. it does, however, show that their claims are inaccurate
Greg
said on 19/Apr/19
@Guest66 Yeah same genetics can be rather tricky some people stop growing randomly like in your case or Robs at 14/15 which isn't too common seeing most men stop at around 18 or so. I know at 16 I was approximately a weakish/flat 5'9 I believe. Also knew some kid who grew around 8 inches between 15-19 which is just insane seeing his parents are of average heights. I too thought I would have a late growth spurt due to low facial hair/baby face etc. but alas it didn't go as I thought. And yeah I estimate him to end at 6'1 range maybe 6'2ish I would be surprised if he became near 6'3 or taller but you never know.
Greg
said on 19/Apr/19
@Rob ah okay so he was compared to legit measured people that makes sense. And ah so 6'0 and 3/8ths I thought he was maybe 6'0.5" he'll get there soon I'm sure if not probably be 6'1 before August I take it. And ooo I'll be sure to look out for it love the new content Rob 👌.

Editor Rob
It might be a while until Lewis does another video, I think probably age 18 he will come back and do a final or 'nearly finished' update.
Andrea
said on 19/Apr/19
Apart from when Jensen is in his SPN boots (or has any kind of footwear advantage, anyway), Misha never looks as much as 1.5 inches shorter, yeah. More like 1 inch at most, and arguably even a bit less than that. And Jensen, I doubt he's even a mm over 6', and I still think there's a good chance he's more of a weak 6', in fact.
Guest66
said on 18/Apr/19
Man I'm jealous of Lewis, in a good way of course. I was already in the 5'10" range by the age of 15, and then I just suddenly hit the wall and didn't grow at all since then :( but I also didn't have any facial hair yet at that point, so you could hardly call me an early bloomer either. Good for Lewis though, I think he might have a potential to hit even 6'2".
Greg
said on 18/Apr/19
@Rob yeah didn't you say Louis was already 5'11 by Christmas? How do you know did he measure himself and report it to you? Or where you just estimating. Yeah .75 of an inch is noticeable while it may not be a major difference but it's close to an inch. It would have been cool if you got a measurement in at the time for a video. A 3 inch difference is definetly noticeable I know he's a strong 6 footer now probably nearing in at 6'0.5" right? I think Louis will end up at least 6'1 if he doesn't reach 6'2. He's definetly had a steady growth usually you can generally see where a child will end up once they hit 16. Like if he was 5'10 range by 16 I wouldn't expect him to be any shorter than 5'11/6'0 and that's at the worst case scenario best case would be around 6'2. Especially with his parents heights I am not surprised.

Editor Rob
He was beside people who have been measured. Not quite 6ft 1/2 inch yet.

And one of those people agreed to do a video also, which surprised me, so look out for that one on Saturday.

Greg
said on 18/Apr/19
@Guest66 Yeah since we mainly see him with Jensen I think Jensen is a flat 6 footer with a chance of 6'0.25" though in photos there seems to be just over an inch between them. I seen some photos with 2 inches between them but the angle was in Jensen's favor it's most likely 1.5. As Bobby was saying there is 1.5 inches between them I doubt Jensen is 6'0.5" so maybe Misha is a weak 5'11 guy or something is weird. He looked about the same height as 5'10.5" Matt Cohen maybe a small shade taller but he could just be 5'10.25". Yeah I mean I know Sebastian Stan is a legit 5'11 guy we don't dispute that same with Leo Decaprio. Chris Evans seems near enough 6'0 he may or may not be the full mark or 1/4th under.
@Canson yeah pretty much that in a nut shell my statement was completely harmless as I was saying he looks to be more or less my height in that photo but obviously some people get triggered at things like that 😂. Like it was just my opinion and yeah a lot of arguement break out here because of that.
Guest66
said on 18/Apr/19
@Bobby, I can't answer on your question because I don't think that Jensen will measure 1.5in taller to begin with, and apparently Rob doesn't think so either.

Editor Rob
There's not that much between them, not from what I've seen.
Bobby 5'10 (178)
said on 17/Apr/19
@Guest66
Actually, I would say that in most pictures, Misha and Jensen, can look 1.5 inches from each other's statures. So, what this means is that Jensen will look 1.5 inches taller. Which would put Misha at 5'10.5. However, if we assume the 5'11 figure for Misha, then Jensen has to be 6'0.5. So, it boils down to this: Which is more likely, Misha being under 5'11 or Jensen being over 6'0 but not 6'1?
Andrea
said on 17/Apr/19
I see, Rob, but that should apply for everyone. Yet it doesn't, apparently... Did you or did you not receive my monthly paycheck? 🤨
Speaking of Misha, since you met both of them, how do you think he'd stack up next to someone like Big Josh? 🙂

Editor Rob
Well he's taller up close than Josh, but it is always possible it could be half an inch.

There's a significant difference between what Lewis was 8 months ago and today. It's a shame I couldn't have measured him when he was bang on 5ft 11, because that is a figure I'm always trying to get for a video and it's an obvious difference (from my perspective) of how 5ft 10.25 looks compared to 11.
Canson
said on 17/Apr/19
@Greg: I agree with Rob that this has deviated from Misha's Height. However, when he said about 100 comments ago, the comments that were insults and led to arguments weren't addressed then such as the one that commenced this argument. This discussion, on the other hand, with us was a discussion not an argument. And what you said is correct because it's happened on other pages where the problem is not addressed directly. It's addressed via a message to another poster
Guest66
said on 17/Apr/19
@Greg, Comparison between him and Jensen is an interesting one, it was the first thought that came to my mind, to see how they look next to each other, and honestly it didn't seem like they were more than an inch apart. The difference has varied a little, but sometimes they seemed to be only 0.5-75 range of each other, they kind of reminded me what Chris Evans and Sebastian Stan look like when stood together.
Canson
said on 16/Apr/19
@Rob: understood but the problem is the discussion Greg and I are having is not even an argument and a response was made to a post that was completely cordial. The discussion Greg and I are having was in response to what he and Johan discussed not he and the others previously. But On the other hand, Look at some of the other disrespectful comments that were made to Greg along the way. No disrespect, but this is consistent with other arguments in the past where I have mentioned that only "certain" people receive those types of "friendly warnings" to their posts. The ones who should be receiving them and clearly antagonize do not. Meaning the real issue is being ignored

Editor Rob
Well it was veering away from Misha's height like about 100 comments on here. My advice is more general and applies to the whole thread.

Guest66
said on 15/Apr/19
Yeah I can see him settling at 5'10.75" before he goes to the bed, at that height we would be truest form of a "weak" 5'11" I think, but I tend to believe that he doesn't drop below 180cm at his low, hence why 5'11" flat is still a totally fair shout.
Bobby 5'10 (178)
said on 15/Apr/19
@Johan 185 cm
I don't even mean half of it. I only start saying crap like this when an argument goes on for too long. I'm hoping if I make it sound ridiculous enough, the other party will just give up and go home. If you had followed this from the beginning, I was trying to be nice from the start but that clearly didn't work.
Besides, I would say Misha could be as little as 5'10.75.
Canson
said on 15/Apr/19
@Rob: Greg and I are having a very civil discussion. There is clearly no argument between us here and what he and I are discussing has nothing to do with the argument here that has been going on. And to Greg's credit, I don't believe he did anything wrong. he didn't start the argument here. He was baited into one. Instead, He and I were simply stating how long we've been around here. If anything it's the complete opposite of the tone on this page for the past couple months. Very cordial I actually have not argued with anyone on this page.

Editor Rob
Well if people can keep it civil and on-topic, it would help me.

I have only so much patience and time 🤗
Canson
said on 14/Apr/19
@Greg: I believe Christian was 2016. I was '15. But we've both been here for 3 years or more so it all begins to run together.

Editor Rob
I have cleaned this page up a bit, I think sometimes an argument just drags on and there's no end in sight at times...
Johan 185 cm
said on 14/Apr/19
Bobby 5'10 (178) said on 13/Apr/19
@Andrea
I'm sorry to burst your bubble Little Missy, but I'm 24 years old. I'm not nearly as old you think I am. You don't have to believe me, but the fact is I did grow after 18. I grew about an inch or 2cm. I think the fact that you keep coming back for more shows how far gone you are and how confrontational you've become over the years. I have asked you repeatedly to cut the crap but you keep persisting in saying more and more of this nonsensical BS you claim to be logical. I tried to be nice to you but you seem either incapable or too stupid to recognize kindness from rudeness, and my guess is a bit of both. But at the end of the day, your countrymen wish they were like my countrymen, but here's a little history lesson for you. Everything the Italians did, the Greeks were doing first. Oh, come again? What gave birth to your country's revitalization? Could it have been Ancient Greek thinkers? Ah-ha. Gotcha. If you're gonna keep coming back for more, I'm going to keep dishing it out. Go back and make a new strategy with Mario and Luigi. Okay. Good luck, you'll need it. Mario might even share Ravioli with you.
I hate to be that guy but thats some xenophobic right there lol. Andrea is a dude as well no need to go all condescending thinking its a girl ( sexist !!!!!!) lul.
Put away the purses ladies and that goes for everybody its embarrassing, just think maybe Misha comes to look at his height out of curiousity and he sees this nonsense.
@Greg
I think Andrea claimed to be around 6 ft in the past but not sure.
@Misha Don't worry fella you're a weak 5'11" at least. lmao
viper
said on 11/Apr/19
cmillzz said on 8/Apr/19
Viper's been here since 2006 I think, probably one of the oldest posters who still posts here
2005 actually
Guest66
said on 10/Apr/19
Rob wouldn't claim 5'9" or something silly like "almost 5'9 in the mornings" simply because he isn't insecure about himself and doesn't feel the urge to convince everyone that he's bigger than he is. Rob claims what he walks around at for the most part of a day, which is closer to 5'8" flat than to anything else. Btw, an example of a "weak" 5'11" would be someone's who's 5'10.75" at his/her low. Peace
Canson
said on 10/Apr/19
@Greg: I think you've been around longer than Christian and me though. I'm coming up on 4 years Christian is probably coming up on 3 if I had to guess
Greg
said on 9/Apr/19
@Cmillzz well Rob could easily claim 5'10 too as he could wear boots and round up but that would be cheeky and dishonest. I think there's been a time where Robs measured the full 5'9 out of bed. I think if you measure a mark or close to it at any point of the day you're fair to claim it that's just me though and of course not everybody will follow these guide lines as long as you're not like my 5'9ish friend claiming 5'11 then I don't see an issue with it or like this 5'10 range guy I know who claims 6'0.
Canson
said on 9/Apr/19
@Cmillz: Rob measures 5'8 1/8-1/4 max 1/4" at lunchtime. Maybe the 3/8" is on a very relaxed day but usually after 5 hrs you're close to and 1/8" above your low and his low is 5'8 1/8"

Editor Rob
When on feet for 5-6 hours at cons I'd definitely class myself in that range rather than 8.25 to 3/8th.
cmillzz
said on 8/Apr/19
Rob would easily get away with claiming 5'9 to people anyway, but we know he's not that tall of course (maybe literally right out of bed after a 9 hour sleep he could be very close to the full 5'9).
cmillzz
said on 8/Apr/19
If Greg is 5'10 3/8 at lunchtime, then he's exactly two inches taller than Rob, who actually measures a strong 5'8 3/8 at lunchtime (after lunchtime really if we define 'lunchtime' as being around noon).
Click Here
So if Greg can claim 5'11, surely Rob can claim 5'9, no?

Editor Rob
I would never claim 5ft 9 unless we are going by 12-hour sleeps, 5 seconds out of bed and busting a gut.

cmillzz
said on 8/Apr/19
Viper's been here since 2006 I think, probably one of the oldest posters who still posts here.
Canson
said on 8/Apr/19
@Christian: while I can agree with what Andrea said that it can go both ways with upgraders and downgraders, it's clear that the former is more prevalent. It's as evident as it gets on Hulk Hogan's page. It's funny that Sotiris is getting all types of grief yet you have people there trying to convince the world that Hogan was 6'7" and that Rock was 6'5 in his prime all because "they said so"
Canson
said on 8/Apr/19
@Johan185: there was a poster here a couple years back named Johan. Wasn't sure if that was you. Yea I'm not in that group you mentioned either, such as Rampage Arch, Viper and Rising is another
Johan 185cm
said on 4/Apr/19
5'10.75" he is on the weaker side of 5'11".
@Andrea
Nice to see you still posting , I don't see many of the older posters here anymore.
Canson
said on 23/Mar/19
@Bobby178: yea I hear you. I was thinking with Bernthal that it could be a strong 5'11 or solid and Misha Weak to solid 5'11". For Misha it could've simply been the picture with Rob. In some pics, I've seen the celeb look taller or shorter. Example Mike Tyson looked taller than he is listed with Rob. I've met Tyson myself and he looks how Rob lists him. That could've been the case with the picture as the video Rob posts here is a good example of how Misha looks with Jenny. But even with Jenny who is under 5'8" by a hair, it looks 3"
As far as what you said about the debate, I've tried myself as of late to be more respectful here on the site. I've even let a few things slide whereas before I would not. As far as the insults that have been directed toward you, it's hard but just ignore them. If you pay close enough attention to the climate here you will see the dynamics on this site and I do agree with everything you said because I remember in some arguments we've had, Christian and I received the "friendly warnings" after our posts if we said something out of line or if we went overboard.

Editor Rob
I'd have still given Jenny 5ft 8 and 1/8th with Misha, since it was like 8 years ago.
Canson
said on 21/Mar/19
So with Rob having said that, either Bernthal could've been over 5'11" flat or possibly Misha could've been a weak 5'11" like he's guessed here by many people from which the avg guess implies. If the latter is the case, all of the backlash and negativity that Greg received here over the last few months was even more unnecessary.
Greg
said on 20/Mar/19
Also Misha has his hair spiked up to give an illusion that he's taller. But proportionally if he straightened his head Rob would be looking slightly above his mouth. We would need to see him without hair to figure it out for sure but that's why I'm thinking nearer 5'10.5".
Greg
said on 20/Mar/19
@Andrea I'm done going back and forth with you because you don't listen to anybody but yourself, it's no wonder why Canson and Christian had a problem with you before. As for Misha Collins for all we know he could even be taller than this listing, judging in the average which is approximately 5'10.65" many people agree with me that he looks shorter than he does with Rob. Now this website is called celeb heights am I right? Also we "guess" height here, so simply I was saying he looks similar to myself. And if he ends up being taller cool, if he ends up being shorter that's cool too that's really not going to change a damn thing. I think you're just upset because I said my opinion and you have some sort of grudge against me get over yourself lol I bet you sit there constantly refreshing your page waiting for the comments to update so you can spew more nonsense 😂 .
@Christian Canson Exactly them saying that Christian has no clue about judging height is contradictory because I'm sure Andrea has made some incorrect estimates before and me always downgrading celebs is nonsense. I think some should be taller than their listing I.G:Jeff Seid I recently found some shots of him in an Expo and India and he actually manages to look around 5'10 range next to chesty who might be Robs height or slightly taller granted Jeff had less sneaker than Said. Also there's always going to be celebs who look taller or shorter. Look at Seth Macfarlene Rob listed him as 5'10.25 yet his average is closer to 5'11 meaning majority of people agree he looks taller than his listing. Also Ian Kusick who Rob has at 5'10.5 has an average of almost 5'11, meaning people think he looks taller again these are just thoughts and you can't bash someone for having an opinion. With that being said Misha also looked similar to 5'10.5 listed Matt Cohen infact they looked almost identical in a photo. However, Matt's average is closer to 5'10. I'm sure Misha hits 5'11 at some point of the day but I don't think he holds it he most likely dips below the mark that's just my opinion and just like Jon Bernthal who Rob met and has at 5'11, he might be similar to him 5'10.5ish at worst but I believe Bernthals average is 5'10.75" anyways.

Editor Rob
Bernthal can give a taller impression in person than Misha, I would say there was a greater chance of Jon having a slight edge.
Bobby 178cm
said on 18/Mar/19
@Andrea
I understand it just well. Greg had an opinion stating that Misha looked a weak 5'11. You disagreed, and now you're going back and forth at it like a lover's quarrel. Just give it a rest. So, Greg thinks Misha is shorter than the listing Rob gave him, so what? Are you going to suffer an existential crisis because of that? Big deal. Move on.
Greg
said on 18/Mar/19
@Andrea I didn't read all of what you said you are trying to hard lol no I didn't run out of points to make I just gave up trying to argue with stupid aka you.. good luck out there. Assume that he's taller than me I'm sure him and I most likely look the same in person at least not with a noticeable difference between us and hey we might even measure similarly but I know that would upset you poor thing. 🤯
Christian 6'5 3/8"
said on 18/Mar/19
@Andrea
"Often"? How "often" do you really see me accusing someone that they want celebs to be taller? Give me the number of times that I've done that. 5 or 10 examples out of thousands of comments isn't "often". Btw, I do call out people who lower celebs too. But obviously either you don't pay attention, or you pick and choose what you wanna believe.
As for the arguement between Greg and Someone, I'm not saying that you shouldn't have gotten involved. I've gotten involved too, so obviously I'm not gonna condemn you for doing the same thing I did. It's a free site, so anyone can say what they want, unless it's violating the Terms & Conditions on CH. What I had a problem with you, is that you didn't criticize Someone for what he said to Greg, or at least call him out. Instead, you just joined him on attacking Greg.
And why are you suddenly so concerned about me getting "hated" on this site? First off, it's not a popularity contest. Second, there a few posters who hate me, I won't deny that, especially the ones that I had heated arguments with in the past, but the majority of my conversations here with people, I get along with them fine. Again, you pick and choose what you wanna believe, to fit your narrative.
TheBat
said on 17/Mar/19
@cmillzz
A lot of 5'11" guys claim 6'0" which isn't anything new. It's more of an inflation if some random or famous man is 5'10.75" or lower claims 6'0".
cmillzz
said on 15/Mar/19
He's close enough to 5'11 to claim it, but claiming 6'0 is definitely inflating.
Andrea
said on 11/Mar/19
LEL, Bobby. Why do you persist in getting into discussions that you obviously can't understand (like your last comment proves)? If I were you, I'd stick to talking about the universal values, as only you can... 🤭
Canson
said on 10/Mar/19
@Rob: out of all of the celebrities you've had the pleasure of meeting, what would you say is your most delightful experience?

Editor Rob

I had a great conversation with many actors when I did manage to get autographs in the past.

Not so much in photos because over the years they have sped them up - in the past I remember talking to many actors in photo ops for more than a brief "hey there", because there was time.

Now some organisers are making the process too fast and shoving you through them.

The autograph has kind of faded away in many cases to be replaced by photo ops as the thing people are going for - folk love showing their ops on instagram/facebook etc, but nobody really cares about your auto as much....although they are still a massive part of cons as it is the chance to talk with an actor.

Jared actually was one of the friendlier guys, even though he had massive queue...Misha was also interesting, he is a pretty funny guy...

Canson
said on 9/Mar/19
@Rob: I agree with your statement you made to Christian where you said that there are people who want celebs to be their height, taller, or shorter than them. But then there are others who just want anyone to be taller or shorter than their listing on this site or taller/shorter than they are in real life, regardless of how tall the poster himself/herself is. Usually it is wanting them to be taller, not shorter as we have seen. I do not believe, however, that Greg is doing that here. To be honest, what Christian has said in his arguments is 100% accurate and much of the backlash Greg has received was completely uncalled for. people pick and choose reasons for doing things and people they do it to, and won't do the same when a person they don't have an issue with or a person that they respect or like is involved in an argument. Greg has now received backlash from multiple people simply for giving his reasons why he thinks Misha is a weak 5'11/5'10 range guy as opposed to a straight 5'11 like he's listed. Funny that that is never said to some of the other posters who ask "Rob is there any chance at 186 or 187" when a guy is listed at a solid 6'1". It's only when a different person thinks that they're shorter than listed. Sotiris, while I don't generally agree with all of his estimates and I will respectfully challenge them, is one person who is often chastised and bemoaned for even just thinking a celeb is shorter than you have them listed or than they're listed on paper. Yet he remains about as professional as it gets despite it. And there are a bunch of posters who regularly believe or want celebs to be taller than your listing for them. One of them is a poster who disappeared for a few years and has now resurrected himself within the past year, who was obviously very problematic here on this site in the past making accusations against other posters who actually posted pics with celebs, and had a track record for scolding anyone who guessed a celeb lower than you listed him or didn't believe his opinion on the celebs' height. This person actually believed back then that celebs were taller than they're listed here and still does more often than believing your estimates.

Editor Rob
There is a healthy proportion who can see the listings and think that seems ok, maybe a bit taller or shorter, but another proportion who might always think I'm underlisting or even overlisting based upon their own point of view.

as for Misha, if I get hold of Jenny's photo with Misha I will include it in a short video for him. Whether it helps or hinders Misha's listing, we'll see 😲 That's if I can find the bloody thing...

Nik Ashton
said on 5/Mar/19
80 voters are not daft!
Andrea
said on 5/Mar/19
OMG, Christian isn't going to excuse me for what I said. 😢 Please, Christian, give me your forgiveness, pleaseee! 🤣🤣🤣 (and there you go again, randomly putting yourself on a pedestal and acting as a judge of good and bad actions, how hilarious are you, Christian? LOL)
Again, not that I need to justify myself to you, but my answer to Someone concerned the last comment he made on here (not the previous one, which I reckon is the one you're referring to). Speaking of which, all Someone said to Greg was "It really SEEMS like you have a TENDENCY to downgrade actors to make them closer to your height", which is far away from being "defamatory" in my book, considering that he just commented about an impression he had about Greg (be it true or false). And it's very hypocrite of you (once again), of all people, to make such a big deal out of that, considering that you're the same guy who often (directly, in your case) accuses posters of wanting celebrities taller than they are and of being fanboys, whenever they estimate celebrities taller than you think they are. The same proverbial hypocrisy which makes you say something like "If Andrea was a decent person and had character, he would've called out Someone for making those derogatory comments towards you.", and at the same time not call out Greg for calling me a fanboy towards Misha (not that I care, given that, as you can see, I didn't even bother to answer to such juvenile comments).
Christian 6'5 3/8
said on 23/Feb/19
@Canson
Of course not all celebs who Rob met are actually as tall as he lists them. A lot of times he gives them the taller benefit of the doubt. Like for example, if he's unsure whether a celeb looked 5'11.5" or 6'0" in person, he would often just give them 6'0". And while Andrea does make a good point, I don't like the way he responded to Greg. Greg already said that he doesn't care if Misha's taller than him, but Andrea continues to try to rub it in his face that Misha's taller, to somehow try to make him feel inferior or upset IMO. It's childish on Andrea's part.

Editor Rob

Benefit of doubt is measured by how much they slip into the back of my pocket 🤪

j/k, I don't care about the actual figure (if somebody is 5ft 5, 10, 6ft 5 etc), I just care about trying to be reasonable. Nobody is going to be perfect, which is why estimates and opinions can change.
Andrea
said on 21/Feb/19
Exactly, Rob. And in the same way, even if a Mike Tyson looks at least 5'10.25 with you, I certainly wouldn't put him over his 5'10 flat listing, and in fact I think he has more chance of being a bit under 5'10 than over, from what I've seen.
That being said, there are admittedly way more celebrities who look shorter than their listings with you rather than taller, for some reason...

Editor Rob
Misha is definitely taller against Malcolm the photographer than how Tyson looked opposite him.
Andrea
said on 18/Feb/19
Hmm. I guess you didn't get the point of what I said, Greg (strange...).
All I said is that just because a celebrity looks a certain mark with Rob, doesn't necessarily mean they cannot be over that mark. So while it is true that Misha doesn't look much over 5'10.5 here, that doesn't necessarily mean that he has to be that low.
That being said, you're perfectly entitled to believe and say he's 5'10.5 "or maybe 5'10.6" (LOL)... Personally, based on how he generally looks (with other people such as Jared Padalecki), I believe he'd measure somewhere around 180, 5'10.75-5'11, so 0.5-0.75 inch taller than what you claim to be, as I said. 🤗

Editor Rob
In the same way sometimes a celebrity can look taller in a single photo, some may end up shorter. Misha I would still say is likely a fraction taller than in this photo.
Bobby 5'10
said on 18/Jan/19
Misha does look a 5'10.5 guy. Even his eye level is 5'6.
Canson
said on 3/Jan/19
I think 5'10.5-.75 would be the real fit for a weak 5'11" person
Canson
said on 3/Jan/19
@Peter180: well said based on the picture and the chart above
Peter 180cm
said on 2/Jan/19
I've probably said it again in the past-he doesn't look over 179cm with Rob hence a weak 5'11 even if there wasn't a height chart..He doesn't strike me as a legit 180 guy i mean look at eye-levels and top of heads-he's certainly over 5'10 but not guite 5'11 hence the 5'10.5 look. 179cm for sure.
Canson
said on 28/Dec/18
@Christian: I agree. I don't think Greg actually cares who is taller or shorter than him. I don't think Greg is making a big deal out of this though. He didn't deserve the comment in the first place. However, After seeing other encounters with Celebs that Rob has had, I would say that this pic is sorta consistent in that Collins looks shorter than his listing. I definitely don't rule out a weak 5'11" as I thought he looked it too, but also don't rule out a solid 5'11" completely. Maybe 5'10.5 or .75 would fit as well but that would be at a low for him as opposed to an early morning measurement. But I wouldn't have guessed him as low as 5'10 1/4-3/8 at a low tho
Canson
said on 28/Dec/18
@Christian: I agree. I don't think Greg actually cares who is taller or shorter than him. I don't think Greg is making a big deal out of this though. He didn't deserve the comment in the first place
Andrea
said on 26/Dec/18
Very well said, Someone. It's funny when people challenge Rob's listings and they think a celebrity is overlisted JUST BECAUSE they look shorter than they're listed at with him, when Rob is the same guy who posted those photos and I'm sure is the first one who acknowledges it.
In Misha's case, while it is true (and factual) that he looks more 5'10.5 than 5'11 with Rob, that certainly doesn't mean that he is that low. As you said, if you see him with someone like Jared, he generally doesn't look more than 5 inches shorter than him, so assuming that Jared is near 6'4 (which I certainly believe he is), 5'11 is still a decent shout for Misha. At worst a fraction under.
And IF Greg is as tall as he claims, I'm quite confident he would be AT LEAST 0.5 inch shorter than Misha, and possibly 3/4 of an inch in fact... 😊😉
Christian 6'5 3/8"
said on 25/Dec/18
@Someone
Who cares whether or not Misha's taller than Greg? There will always be some people that are taller than Greg, you and even me. Both of you are making it a bigger deal than it is.
Greg
said on 25/Dec/18
@Christian 6'5 3/8ths in reality it doesn't matter if you're 5'10.5-5'10.75" or 5'11, if I'm reguarly guessed at a height that I only hold for the first hour or less out of bed it's whatever. I usually say almost or about 5'11. Misha doesn't even claim 5'11 he claims 6'0. I'm not trolling but a few others can agree he's a weaker 5'11, Darvil is listed 5'11 flat and Rob Had a footwear advantage my guess is I would be similar to Joel Edgerton and Taylor Kitsch, a legit 5'11 guys mouth would be lined up with Robs eyes here I only see 5'10.5-5'10.75" and even that might be questionable his hair sure goes over 5'11 and let's not forget his shoes as they aren't ignored so in shoes with the hair I'm sure Misha can be like 5'11.5 maybe a bit over but subtract them you have a sub 5'11 guy maybe he's 5'11 out of bed but at the time of the photos he's lost height.
@Someone Look at Connor Trinneer he claims a hair under 5'11 and he looks 5'10.75" with Rob. FassBender would probably be taller than Misha, Ackles looks around 5'11.75 or a bit over, he looks an inch shorter not to mention there's a photo on Instagram where he was standing next to a 5'10.5" guy and he looked almost identical. He probably hits the same low as me i don't think he's 5'11 at that exact point of Rob meeting him. I wouldn't go as low as 5'10 though. The point I'm trying to make is they are proper examples of a texting book 5'11 guy.
Someone
said on 21/Dec/18
Saying this guy only reaches 5'11" with his hair makes me think you're basing your estimate solely off the height chart for Rob's pic. Of course, he's probably standing worse than Rob here... Seeing him with Jared Padalecki, who is pretty much unanimously considered a legit 6'4", I have no problem believing he's a good 5'11"
"he's nowhere near an inch taller than me", well I consider 3/4 of an inch to be near an inch 😉
I don't know what point you're trying to make in that last comment since all the people you mentioned are listed over 5ft 11 (except Darvill) and 3 of them have footwear advantages.
Christian 6'5 3/8"
said on 21/Dec/18
@Greg
I get where you're coming from. Those types of comments are the dumbest ones ever. I'm sure you couldn't care less if Misha's taller or shorter than you. Besides, Misha looks 5'10.5" here and you're more 5'10.5" for the majority of the day so both of you are basically very similar so who really cares.
Greg
said on 19/Dec/18
@Someone Want to see how an a legit 5'11 guy looks like next to Rob? Look at Arthur Darvill, Benedict Cumberbach, Finn Jones, Shaun Murohh. Eugene Simon..
Greg
said on 19/Dec/18
@someone I'm closer to 5'11 than 10 for most of the day get your facts checked.
Greg
said on 19/Dec/18
@Someones First of all Robs only estimating and not actually taking them under a stadiometer so he could be wrong. I'm basically the same height as him so in Person we could look almost identical in fact he's nowhere near an inch taller than me plus include footwear and his hair style and you can have a 5'10 range guy look 5'11. You're just being ridiculous right now. I don't downgrade anybody to be closer to my height in fact I don't care how tall they are at all. I'm just putting my input and there are others who agree with me seems you just want to upgrade everybody.
Someone
said on 1/Aug/18
Greg said on 31/Jul/18
@Sabrina Ferguson, yeah Real "Shoe height" Misha isn't the full 5'11 take away his hair and you have a weak 5'11 guy/5'10 range guy.
Rob's not going to mistake a person's hair for the top of their head... That's borderline insulting. It really seems like you have a tendency to downgrade actors to make them closer to your height. Unfortunately for you, Misha would be taller than you by nearly an inch.
Greg
said on 31/Jul/18
@Sabrina Ferguson, yeah Real "Shoe height" Misha isn't the full 5'11 take away his hair and you have a weak 5'11 guy/5'10 range guy.
Sabrina Ferguson
said on 22/Jul/18
Dos anyone of you stand right next to him???
He is 5'11 or 6... it doesn't matter you all are freaking jealous of him. Grow up.
Height (real ones, not the ones u want to be live they areare)
Misha 5'11 1/2
Jensen 6'0 1/2
Jared 6'4
The 6'6 comment it's a joke. They all are changing Jared's height all the time between 6'4 and 7' they all had being telling Jared is abnormal high. That us all
Rourke
said on 13/Jul/18
Nothing draws attention more to your height than lying about it like him, 5'11 absolute maximum, that's for your ego
Nik
said on 31/May/18
I have no problem believing Misha is at least 5'11"!
Christian-6'5 3/8"
said on 29/May/18
@Amaan Hale 5'10 5/8
Misha's likely identical to your height.
Amaan Hale (5'10 5/8)
said on 27/May/18
I'm assuming that you both have similar footwear height since you didn't mention it but In my opinion, he looks more 5'10.5 than 5'11, but hey I could be wrong.
Zampo
said on 12/May/18
@Dinho101, spot on! I see this guy measuring around the 5'10 5/8 as a normal low , coincidentally I stated I felt Jason Ackles was a solid 182 cm (5'11 5/8) at a low and there is probably an inch between the two. Misha is a weak 5'11 I feel.
Dinho101
said on 6/May/18
I would guess this guy would measure probably around 179.4 as a normal low, so on an average throughout his day 180.3 would be near it, probably wakes up at around 181 give or take. If he claimed 5'11 that'd be respectable enough but he's another weak 5'11 claiming 6 foot...
Bri
said on 28/Apr/18
His Hair gives him 1.5 cm
cruiser
said on 21/Apr/18
misha collins looked 5'9-5'10 on screen
judging by the pic I give him 178-179cm
BamBan
said on 17/Apr/18
5'9.75", I guess you could say weak 5'10" barefoot and strong 5'10" in shoes.
Kurtis
said on 26/Jan/18
Misha looks 177-178 range, but is actually 179ish, and thats the weird part
Kurtis
said on 26/Jan/18
I would guess
Misha Collins: 179-179.5cm
Jensen Ackles: 181.5-182cm
Jared Padalecki: 193cm
JJJ
said on 12/Jan/18
He'd get away with claiming 5'11 as i think he's nearer to 5'10.5.
Greg
said on 8/Dec/17
@Sam something is not right with that, How can Collins be anywhere close to 5'9. That claim would be laughable for him, at worst I would expect him to be 5'10.5" possibly a fraction under that, he looks to be a weak 5'11 or somebody that hits the mark right out of bed. Rob's eyes are looking just below his nose which usually 2.25-2.5' inches of difference. Imo Rob was generous with a 5'11 listing for Collins. You don't seem to know how to properly measure height it doesn't just stop at your forehead lol, wtf?
Greg
said on 19/Nov/17
I'm seeing more weak 5'11 then flat 5'11, possiably even 5'10.5"
Paul NS (6ft0.5)
said on 17/Nov/17
How would Misha be a 5'9 guy? It's not like his forehead ends where his hair starts. I think the average guess for him is about right.
(Making my comment name less vague starting now, since I've seen a couple other Pauls floating around.)
Canson
said on 10/Nov/17
@Sam: you measure slightly different too tho with morning height as opposed to afternoon although I'm not sure what your afternoon height will be. I measure like you tip of scalp but in the afternoon (I'm 6'5 out of bed or hair over). I had longer hair before and was between 194/195 if I did it. Now I'm more precise between 193.7-193.9 at night and claim 6'4 but always have even when I measured 6'4 1/2.
Sam
said on 8/Nov/17
Rob, I feel like our standards of measuring heights are different. For me, for example, I measure in the morning at 5'11.25 without shoes and not taking into account of my hair either, just the tip of my forehead. If hair included, I measure at roughly 6'.05. According to your pictures of celebs, for example in this one with Misha Collins(asssuming his wearing shoes). For me, he would be considered as more of a 5'9 guy since that's where the tip of his forehead is. For example, I claim myself as 5'11 to my friends, but I think by your standard I would be considered as 6' or 6'05. That's just how my firends and I claim our heights, thought you'd like to know.
Editor Rob: height is simply the highest point of our heads from the ground, standing in an optimal posture, with hair flat and feet planted on ground and no footwear, it's pretty much how everybody gets measured.
Canson
said on 1/Nov/17
I struggle to see 5'11 with rob next to him. Looks 5'10.5. He and Jensen both inflate Jared to make themselves taller Very insecure
berta
said on 26/Oct/17
everyone should take a look at him and jensen ackles they have a photo o f them together when they are asked about there heights so they stand back to back jensen is 1 inch taller in the photo. but jensen have probably bigger shoes on. so there is max 1 inch beetween them
Deltad
said on 24/Oct/17
Does it really matter about their height etc. They are great actors no matter what
Editor Rob:
people definitely seem to have an interest in their heights.
Click Here
- Why else would massive company like Google mention a height above his full name, spouse and children.
Or why does arguably the biggest movie site in the world mention a Height beside name and birth as being one of the 3 most significant details about a famous person?
If it was of no interest it wouldn't be there, but people are interested enough that these big companies decided to put a mention of 'height' as being relevant and in a prominent position.
CelebHeights offers a chance for people to discuss heights, something these other big services don't...in person he doesn't look as tall as how 6ft men look to me, nor does he look as short as 5ft 10, so I estimate somewhere near 5ft 11.
Canson
said on 20/Oct/17
Have to agree with Christian, Bobby. Misha and Jensen always inflate Padalecki when in reality he's the one telling the truth about his height. He's one of the most legit 6'4" guys on this site and I could even buy a hair over it possibly but I'll leave him right at 6'4" just because people underestimate how tall that is. I am 6'4" and change myself and I can look at Jared and tell he's at least near me in height maybe a cm less
Christian-6'5 3/8
said on 20/Oct/17
@Bobby
Weak 6'0" for Misha's a joke. If he was really that tall, then Jared Padalecki would be 6'5"+.
Bobby
said on 5/Oct/17
I'm gonna argue and say that Misha is a weak 6ft, I wouldn't be surprised if he measured 5'11.5, he's probably 6ft straight out of bed, or close to it. I'm gonna find proof on that too.
Edit: I'm gonna go with the assumption that Rob is a 5'8.25 guy. Which would mean that 5'6.5 is at his forehead, and assuming Misha has an average eye level, which is 4.5 inches, this gives his total height as 5'11. However, on the other hand, Rob has been perfectly level with other 5'8.5 celebs, so assuming he's more of a 5'8.5 guy. This would place 5'6.75 at his forehead, making Misha 5'11.25. I think 5'11.25 is also a fair shout. Which means, he can come across as being a 182cm guy.
Christian-6'5 3/8
said on 18/Sep/17
People exaggerating tall guys by a couple inches isn't anything new. I've seen and heard some people describe me as 6'7" and a few 6'8". Anyways, I think Misha's in the 5'10.5"-.75" range, Truth is correct.
Canson
said on 5/Aug/17
@Rampage: not so sure about that for him. Padalecki at 6'4" would make him more like 5'11 or slightly under maybe
Truth
said on 23/Jul/17
Come on, he is around 5 ft 10.5-75 for sure
Canson
said on 23/Jul/17
Estimate is on point and for him to call padalecki 6'6" shows he's lying about his own height.
Mike
said on 22/Jul/17
Jared: 6ft 4-6ft 4.5
Jensen: 5ft 11.5-6ft
Misha: 5ft 10.5-5ft 11
BSW
said on 22/Jul/17
Misha and Jensen are so insecure.
Misha calling Jared 6'6" and Jensen calling him 6'5" while they both proceed to lie about their height. Misha is 5'10.5", Jensen is 6'0" but he wears boots so he can claim and look 6'1". Jared is just a simple 6'4" guy, tall height but very normal height. He's not a huge giant like they wish he was so they can get away with their lies. 5'10" to 6'0" is a very solid height range and nothing to be insecure about.
Rampage(-_-_-)Clover
said on 27/May/17
He's definitely nearer 6ft than 5ft11…
Greg
said on 11/Apr/17
@Bobby I agree, he's probably a weak or flat 5'11, similar to me. I think at a worst case scenario he'd drop a 1/4 to 1/2inch under the mark at his ultimate low!
@Roman that's not nice don't say that about Rob, I'm sure he has more experience with judging height then you do. After all he runs a website dedicated to it. Honestly I don't see Misha as a weak 5'10, weak 5'11 seems more fitting.
Bobby
said on 21/Mar/17
Look at Misha's eye level in comparison to Rob's, that's three inches! Stop downgrading the man, he's 5'11.
Roman
said on 5/Mar/17
@Peter179cm Totally agreed with you dude. But unfortunately Rob seems to be a stubborn guy who only believes in what he thinks and sees.
Bowie
said on 12/Feb/17
I could understand someone 181-182 who claims to be 6'0, its fair to belive but 179-180 guy for 183?He is just making fun of himself.
HonestSlovene
said on 30/Jan/17
Another 179/180 cm guy claiming 183 cm.
DINO
said on 22/Nov/16
MORE ABOUT 5'10.5
S.J.H
said on 7/Nov/16
At most a stretch at 5'10.5 and still fall into 5'10.25 by evening/night
Peter 179cm
said on 28/Oct/16
He doesn't look much over 178cm.I think he's maybe 179-179.5cm range,claiming 183 is just bs.That would also make Ackles about 182cm (181.5-182 range is what he mostly looks) and Padalecki a solid 193cm but certainly not over.
Bobby
said on 19/Oct/16
He looks to be 5'11.5 to me, are you sure you're not 5'9 Rob? The imperial measurements are very inaccurate, try measuring using metric, it's accurate down to the centimetre. I measure 6ft flat barefoot, but that was about three years ago, I've gotten a bit taller since then.
Tedrenegade17
said on 11/Oct/16
Hey Rob. Would you say both of you were standing straight in this photo? Judging by the measurement markers Misha Collins hair is barely over the 5'11 mark. And because his hair is spiky I would think the top of his head would be between 178-179 cm. I see 179 cm tops for him but I would agree with 180 if he wasn't standing at his straightest. I'd love to hear your feedback when you get a chance. Thanks!
Editor Rob: yes I was standing fine, but at worst he would be a little fraction under 5ft 11...I thought near enough to the mark though.
S.J.H
said on 21/Sep/16
Not more than 5'10 i see here
Sam
said on 30/Jun/16
He probably measures half a cm below 180cm but above 179cm at his low.
Omid
said on 28/Jun/16
Rob obviously you're the expert here but I have this experience that always influences my height guesstimates, I'm 5'10.5 (around 178.5 to 179.5), I have a thick body, Broad Shoulders, not a lot of neck, not a lot of leg and you could say bigger than average head, now I have a brother too who had (I say had cause he's grown taller now) longer legs, slimmer body , more neck and smaller head, also my hair falls down while his goes up.
When we were seen together or alone, 90 percent of the people who I asked told me he was the taller one, even I used to think he has to be like a half cm taller, even rigt next to each other and infront of the mirror not only others still saw him to be taller, I myself thought that too..in front of a mirror.
Until one day I decided to do a little experiment, we stood in front of a big mirror and I placed a long piece of cardboard box on top of our both heads, one end of it on mine, the other on his.
To everybody's shock I ended up being slightly, like barely a half cm taller, since then I always look at the body proportions before making a guess, then I'd add or subtract up to 2 cms to or from the person's guessed height and that usually ends up being on dot or close to the actual height.
That's why I say I think Collins is shorter, he has a good deal of these little things that make him look tall, with all of them he looks 5'11 onscreen, whereas I think he should've looked taller than 5'11 with all these stuff IF he was 5'11 without them.
Roy
said on 23/Jun/16
I estimate he's between 5'10.5 and 5'11 so the listing is good until he agrees to be measured on Conan.
truth
said on 23/Jun/16
@markus Compared to Rob he looks around the 180 cm mark or 5'10.75 - 5'11. You don't know what the hell are you talking about, right?
Omid
said on 23/Jun/16
Rob do you see any chance on him being 179?
I feel like he's one of those guys who might look taller than they actually are, I mean the tall forehead, slim body, long neck and the hair....
Editor Rob: I wouldn't bet on only 179cm...I feel he is taller, but then anybody can get a shock when it comes to measuring, sometimes a person could end up taller or shorter than most of us expect.
markus
said on 20/Jun/16
between 176cm and 178cm
above that is an exageration for a man who is much shorter than 6ft jensen ackles
Francis
said on 14/Jun/16
mmm
when do we tell rob that the 5'11 mark is on the top of his spiky hair and not the top of his head?
misha collins is 5'10/5'9.5
175.5 cm
said on 13/Jun/16
he is 179cm
Rampage(-_-_-)Clover
said on 10/Jun/16
How likely is 181cm Rob?
Andrea
said on 4/Jun/16
Rob, the black guy in this clip actually claimed 6' on Twitter but he clearly doesn't look any taller than Misha:
Click Here
Actually he can look a bit shorter in certain parts but i don't know if he'd be just 5'10 or 5'11... I'd definitely rule out 6', though...
The other guy might be near 6'2?
In the meanwhile, enjoy Misha's coreography :)
Editor Rob: he certainly isn't taller than Misha (unless he had bigger footwear which wasn't obvious), so he is probably claiming a boot height.
datguy
said on 22/Apr/16
Rob is he dropping any height in this picture?
Editor Rob: I felt he was pretty static, I didn't think he moved much.
lak
said on 11/Apr/16
I guess he just said 6 feet tall as in 'you know, I'm not 4 feet tall as I look when I'm with Jared Padalecki' he just meant that he's not really short.... I think 1.80 looks about right (maybe even a couple of cms more)
184.3cm (Night)
said on 29/Mar/16
@ray
for a woman perhaps. The average male its more 4 inches from eyebrow to the top of head.
184.3cm (Night)
said on 29/Mar/16
@ray
for a
ray
said on 28/Mar/16
@night. The average person is 4.25 inches from eyes to top of head, it's not small. If his eye level is 5'6 then he is around 5'10 and a 1/4. I think Anckles is 5'11.5, however with his 2 inch logger boots he is 6'1.5
184.3cm (Night)
said on 14/Mar/16
5'10.5" could be argued i suppose but 5'10 flat? A 4 inch eye level is crazily small.
Andrea
said on 14/Mar/16
No, if he has got a 5'6 eyelevel, that would make him roughly around 5'10.5... In this picture, he does look more 5'10.5 than 5'11 for sure!
I still think he'd measure around 180 but you could argue anywhere in 5'10.5-5'11 range, i guess! Certainly noway near his 6' claim!
Ray
said on 11/Mar/16
Misha's eye level is at most 5'6. That would make him 5'10.
Lez
said on 19/Feb/16
Hey Rob, how tall are you? in cm
Editor Rob: 173cm barefeet
caliban
said on 18/Feb/16
Rob, don't you think he could be 5ft10 and something? In supernatural he often look below it
Editor Rob: at his worst he might be a bit under 5ft 11
Alex
said on 9/Feb/16
He should be a good 178 cm barefoot, 180 with shoes. As Ackles, Misha have some problem to say his real height, and to do so, they have to pump up Padalecki XD in this way, they look taller than they actually are.
Paleman
said on 4/Feb/16
He doesn't seem like a person who is insecure of their height, the 6 foot claim was probably something off the top of his head, like "oh, I'm think I'm around 6 feet". Anyone in the 5'10'5"-5'11"5 range can get away with claiming six feet. Now, if they were using the metric system it would be a completely different matter...
Collins is definitely closer to 5'11 than 6', and even if someone said that to his face I don't think he would start jumping up and down and arguing, he'd probably just be like "yeah, that's possible."
Andrea
said on 4/Feb/16
Rob, does he look similar to a Connor Trinneer in person? One claims to be a hair under 5'11, the other one 6'...
Editor Rob: yes they can look quite close.
Rifle
said on 29/Nov/15
How tall do you think Misha is in this pic if the guy is 184cm?
Click Here
Editor Rob: wouldn't guess him under 5ft 11
Carter
said on 18/Nov/15
176-177 cm range
nothing more than that
Sam
said on 16/Oct/15
Strong 179cm/weak 5'11 guy.
Andrea
said on 12/Oct/15
Only 99.999? I'd say 100%, 5'9.5 is just crazy for this guy! How much difference you see in the photo with you? Maybe over 2 but not quite 3 inches? Have you got any photo of him with a 5'10 and a 5'11 guy? That would be interesting because i'm sure he'd be closer to the 5'11 guy than the 5'10...
[Editor Rob: there was a 5ft 11 guy in front of me who got a photo and Misha was similar, although he actually ended up looking taller in the photo...]
Andrea
said on 11/Oct/15
What do you mean with "arguing"? I know you say that till someone is measured nothing is impossible but even without measuring him you could safely rule out 177, 100%! Do you think 179 is possible at his low or there's 0 chanche he's that low? Another thing you can rule out is his claim because there's noway he's 6 feet tall or even near that! My guess is somewhere around 180, from watching him with guys like Jensen and Jared! 5'11 is actually a smidge over 180, so i guess i wouldn't be surprised if he measured a fraction under 5'11, maybe at his low but generally this mark fits him!
[Editor Rob: I mean it's impossible in my opinion to argue he is 177cm, I've seen him up close and with other people and he's taller than that...

but, you could still make an argument for 179cm...my own argument is around 5ft 11, I'd say 90% more chance he is nearer 5ft 11 than 5ft 10.5 and 99.999 he's nearer 5ft 11 than 5ft 9.5]
Andrea
said on 10/Oct/15
Really 179, Rob? I thought the lowest you'd argue was just a few mms under 5'11, like 5'10.75 at worst! Do you really think 179 is possible? Of course "176-177" is out of question, he generally looks near enough 5'11 to me!
[Editor Rob: I'm saying you could argue 179, but arguing 177 seems infinitely more harder. I think near to 5ft 11 is fine for him.]
gachakun
said on 10/Oct/15
176-177 range.
[Editor Rob: the lowest I'd argue would be 179cm, under that I don't think I could, in person I think near enough 5ft 11]
WAF
said on 19/Sep/15
@Mat 5'10
What does someone who is truly 5'11" say when he says he is 5'11"? The same as the 5'10" guy but in a more relaxed fashion?
Triplescrew
said on 8/Sep/15
Click Here
That's a funny picture. Looks like Misha has an inch on Jensen.
joe @@
said on 1/Sep/15
Rob, seems a perfect 5'11 with you or below ben above the mark I would say solid 5'11, you guys had such footwear?
[Editor Rob: I was in I think adidas and him just a normal inch shoe, so basically very similar.]
Triplescrew
said on 17/Jul/15
They use camera angles to make Jensen look taller than he is in SPN. Misha is usually stuck wearing shoes with an inch less than Jensen too.
Don't think there's much of a difference between them in reality. I thought Misha looked near 6 feet in
24. Put him and Jensen barefoot next to each other and I think you'd only see a small difference of maybe half an inch; 5'11" vs 5'11.5", or 6'0" vs 6'1.5" when in shoes.
Andrea
said on 15/Jul/15
Well, i've just read he himself has claimed 6'5... And also 6'6! So that implies he's not a big 6'6 but maybe measured between them! How tall do you think the black guy is? He's listed at 6' on the net but he can look shorter than Misha in the clip!
[Editor Rob: not sure about that other guy.]
Andrea
said on 15/Jul/15
Rob, do you really think he's 7 inches shorter than Ryan Lee Stiles?
Click Here
He can look maybe 5-5.5 inches shorter than him in that clip but i doubt 7!!! There's noway a 5'11 guy would looks so tall next to a 6'6 person! He actually doesn't look much different than how he looks with Jared!
[Editor Rob: he can look about 6, maybe a bit more shorter...ryan may well not be quite 6ft 6 anymore.]
Andrea
said on 8/Jun/15
While he might a fraction under 5'11 at his worst, i highly doubt he's 5'10! Even with Rob he does look over it...
Ron
said on 8/Jun/15
I was just catching up on Supernatural, and in that second to last episode when he has face-face scenes with Dean I was surprised how small be looked. If Ackles is 6' that would make him perhaps 6'1.5 in those big boots he wears, by comparison Collins looked no taller than 5'10, making him perhaps 5'9 without shoes. This obviously seems a little low, and of course this is only one incident skewed by posture etc. I'm starting to think though Collins may be lower than 5'11, and 5'10 is closer to the mark...
Andrea
said on 8/Feb/15
Jensen can appear a big 6'0.5 guy a lot on Supernatural but, as Rob said, he's a guy who often wears big boots (like 1.5-1.75 inches) so he's got some advantage next to the other costars who wears thinner shoes... In reality, i think he's just about 182, a weak 6' guy! Misha is maybe a couple cms smaller than him, even if, yeah, he can look 1.5 inches shorter than him at times! Misha at around 180 and Jensen at 182 are fine, IMO! And Jared he's at least a solid 6'4 guy, no less than that!
Richard
said on 7/Feb/15
Just looking at various reference pictures now it strikes me that he's a bit like Jude Law - a chameleon of heights. If we take this site's reference for Jensen at 6'0, Misha can frequently look between 5'10 and 5'11.5. Whilst I think his 6' claim is unrealistic I do think he does just mean "oh, you know, I'm about 6' (he does strike me as not caring much - 5'10/11 is basically weak 6' region if you're not making an effort to notice height anyway).
Either he or Jensen sometimes wear lifts or very large heels on shoes, or I'd put him at solid 5'11, possibly hitting a little higher on a good day but generally standing 5'10ish with posture and shrinking. Maybe it's just something as simply as he has a spine which compresses a lot with a larger amount of fluid between the vertebrae, taking him from 11 to perhaps 10 or lower by the end of the day: that would quite nicely account for his slightly erratic height.
And for what it's worth - I've never considered him short! In actual fact when watching Supernatural he always struck me as tall, as a 11 guy would do, it's just that JJ strike you as massive (in height, but I think also predominantly in muscle mass, they both seem to be that rare combination of very tall AND mesomorphic) so that, I think, accounts for why people think he's small.
[Editor Rob: I'm sure in one episode at least he was in something like a vans type sneaker like half inch, then he's up against Ackles in 1.6 inch boots, he's going to be at a 1 inch disadvantage...in fact he did look a couple of inches under Ackles in the episode so it made sense.]
Dmeyer
said on 27/Jan/15
No léss than 5'10.75 with rob as he looks 2.5-2.75 in and rob is prêtty much 5' 8.25
joe 192cm
said on 15/Jan/15
I noticed that the jared uses big shoes times and forced posture in photographs with Momoa
Lonestar
said on 15/Dec/14
Jared 6'6 LOL.. He must have exaggerated too much. His not even 5'11. I see a 5'10 guy with solid 5'8 rob here
Andrea
said on 20/Oct/14
You really think he's shorter than Jim then? I mean, i think near 5'11 is fine for Misha, not impossible he measures a bit under it, but he looks around 180 next to Jared and a couple of cms under Jensen, sometimes more but Jensen wears big shoes a lot!
[Editor Rob: they both can look similar]
mike
said on 5/Oct/14
Rob, what do you think is more likely for Misha 5ft 10.75 or 5ft 11.25?
[Editor Rob: at 9am 11.25, at end of day after being thrown about set, maybe 10.75!]
Andrea
said on 16/Sep/14
Rob, you think a guy like him, who claims 6' but actually isn't over 5'11... He knows he's not 6' or he really thinks to be that mark? He always says that he's 6' but he clearly is not...
[Editor Rob: he certainly is what I'd call an entertaining personality, at least he tries his best. But I wouldn't take him too seriously, he probably is giving his shoe height.]
mike
said on 19/Aug/14
he could be a strong 5ft 11 181 cm.
RogerH
said on 31/Jul/14
Around 178 compared to Jensen imo...
TJE
said on 19/Jul/14
Looks like a 2.75 inch difference. Unless Rob's got more footwear or he accidently forgot to drop to 5'8, I'm seeing 5'10.75.
Tommo
said on 1/Jun/14
Another guy upgrading Jared to make himself feel better about his own height, same as Jensen. That must get tiresome!
Emmett
said on 21/May/14
@Andrea, Most people can't tell the difference between a 5 and 6 inch difference in height just by eyeballing it.
freddy
said on 22/Mar/14
@andrea he says that jared is 6'6 to make his own claim seem more believable...in realitly misha is about 179cm without shoes and 180cm in the morning when the spine is at its longest
Andrea
said on 8/Mar/14
Well if he looked a solid 5'11, i guess you would have listed him at 5'11.25 :)
5'11 is probably his max... Strange he says Jared is 6'6, i mean he claims 6' and thinks Jared is 6 inches taller than him... He looks about 5 inches taller for sure, but i doubt he would be 6 inches taller!
Lo sgozzatore
said on 8/Mar/14
Rob, could he be a bit under 5'11? Or he lOoks a solid 5'11 in person?
[Editor Rob: he's probably more of a 5ft 11 than jim beaver, possibly beaver is weak 5ft 11 and misha is just about on the 5ft 11 exact]
Dan
said on 4/Mar/14
Rob is spot on as I've met Misha at Asylum 8 Supernatural convention and he is definately at least 5'11"! I didn't think he was that tall until I met him
Hypado
said on 20/Feb/14
179cm in Supernatural.
Emmett
said on 10/Feb/14
I don't think he was saying that he was 6'0 exactly, just that he was in the ballpark of 6 feet tall-- not particularly short.
kyuss
said on 8/Jan/14
i see 5-11 here,sorry not 6-0.
Misha
said on 26/Sep/13
If Jensen is really 6'0, Misha must be 5'10, 5'10.5 because on the show he looks about 2 inches shorter than Jensen.
vj
said on 15/Sep/13
I think he is between 5'9 and 5'10
lelman
said on 31/Aug/13
@mdl c'mon man, Rob has met all of them. They are all tall(ish) guys. Jared is easily 6'4.
sherry
said on 24/Mar/13
I am really surprised, he does look short, I wouldn't have thought he was six feet tall.
tom
said on 25/Dec/12
a very weak 5-11" imo
ANDREA[ITA]
said on 14/Aug/12
Next to jared, he doesnt look under 5'11!
ray 6' 158 lbs
said on 8/Aug/12
i think he is 179 cm jensen 182 cm and jared is 193 or at least thats the way how i saw in the past 7 years in supnat and i guess bobby is 178-9cm
lol93
said on 27/Jan/12
i thought too that he was like 5'9 or something when i saw him in supernatural nex to other actors but he really is 180cm
nice guy
said on 24/Jan/12
accurate listing ..however I guess its more like his morning height with perfect posture..jensen is actually 5'11 too but wears fat boots to appear an inch taller..I always had jensen for a 6 feet guy but after I noticed his huge shoes and saw season 2 ep 1 of supernatural in which he was barefoot 5'11 is max for him
....jared is around 6'3 flat i think and 6'4 in sneakers or something
btw I like Misha's claim...he only rounded up by about an inch unlike the majority actors rounding up by at least 2-3 inches and wearing lifts -.-
marylou
said on 28/Dec/11
That is so awsome! i didn't know that-try 5'2 that sucks but i keep on going-so keep up the great job, don't let it get ya down
Isabella
said on 2/Dec/11
LOL Jared is 6'6"? The guy is tall but not THAT tall. Misha's such a joker :P.
Jay
said on 24/Nov/11
Misha doesn't look 5'11" here. I buy 5'10.5" tops here. Most people its 3 inches the distance between your eyes and your mouth. Both Rob and Misha look like they are standing pretty straight but Rob's eyes are at the tip of Misha's nose which looks like Misha has 2-2.5 inches on him at the most. I guess one way to tell also, Rob what kind of shoes was Misha wearing at this convention? If he was wearing boots most of them can give you a 1 inch + advantage.
[Editor Rob: I was wearing 0.9 inch sneakers, Misha had normal inchish footwear from what I recall, certainly not his cowboy boots which he sometimes wears at events.]
linke
said on 1/Nov/11
jared has always maintained 6'4.
Ash
said on 1/Nov/11
A thing to keep in mind is that the shoes Misha wears on the Supernatural set are men's dress loafers with very thin soles. Jensen and Jared both wear heavy boots on set. Jensen especially wears thick soled boots to help even the height difference between the "brothers" since they often have to be blocked in the same shot and Jared really is enormously tall.
I'd easily believe that Misha is 5'11" and just rounding up for extra emphasis in that quote as he often does while speaking about anything. I think Jensen is 6' without the boots and have no idea about Jared who I think probably tends toward under reporting his actual height for fear of not getting parts since he tends to make everyone he's around look oddly small.
Triplescrew
said on 26/Oct/11
Jared maybe brushes 6'7" in 2 inch boots right after waking up after 12 hours of sleep if you include his hair.
Victoria
said on 24/Oct/11
Jared is 6'7". He has told his fans how tall he is during conventions, he is 6'7". With the way that they shoot Supernatural is looks like Jared isn't that much taller than Jensen but he really is MUCH taller. Misha's around 5'11"-6'.
Triplescrew
said on 19/Oct/11
5'10.75" barefoot, over 6'0" in whatever shoes he wears in Supernatural. Another shoe height guy.
ANDREA[ITA]
said on 9/Oct/11
2-3 cms shorter than Jensen, who is 181-182! He's more like 178-179 and he looks it next to rob!
linke
said on 8/Oct/11
ackles does have him by an inch or so.But this guy at his lowest could be 5'10.75 nothing under.
Mat
said on 25/Sep/11
5'10, Ackles=5'11, Padalecki=6'4
Yo
said on 7/Jul/11
If you look at pics from last convention, he is clearly shorter than 6ft Ackles so i'd say 5ft10.75
rob89
said on 18/Jun/11
Barely 2 inches between him and Rob IMO, don't be fooled by his hair. Doesn't look a legit 5'11 at all, and his posture looks fine as well.
JellO
said on 7/May/11
No, Ackles looks more four inches shorter than Padalecki, there's a significant difference between them. Granted I think Padalecki is a very strong 6'4, but still, I'd put Ackles at closer to 6'0, MAYBE 6'0.25. Collins is a strong 5'11.
Julia
said on 4/Apr/11
He must be his claimed six feet. In the show he consistently appears about an inch shorter than Jensen whom I believe to be 6,1". Jensen is three inches shorter, and appears so, than Jared, who is 6,4".
Kim Debyah
said on 17/Mar/11
I thought Misha was like 5'7 when i saw him next to Jared :) LOL X So happy to hear that my favorite heavenly angel is tall enough for my 5'9 framed!!! Yeah!!
azza
said on 7/Mar/11
Next to ackles looked a pretty similar height... i had him 5'11 - 6'0
linke
said on 7/Mar/11
Rob,found a quote where he claims 6 feet as his height
Because the other actors on "Supernatural" are misfits of nature - they're giants - fans usually think that I'm short. I'm actually six feet tall, but when I'm being filmed next to Jared Padalecki , who's 6'6" or something, I look like a tiny wood-elf. People who've only seen me as the brooding, ethereal Castiel, are also usually surprised that in real life I have the capacity to smile and blink.
Click Here
[Editor Rob: I'll add that at the top thanks. I believe he's 6 foot in a shoe.]
Jo
said on 26/Feb/11
In Supernatural he really doesn't look a full 5'11, especially given that I'm pretty sure Ackles is more 6'0 than his claimed 6'1. I'd say 5'10.5, I'd even buy 5'10 before 5'11. I just don't see it.
Yo
said on 20/Feb/11
5.ft10.5in
Viper
said on 3/Dec/10
Dont see 3 inches. More 2-2.5 inches.
Hes 5'10 range.
Claire
said on 1/Dec/10
Of course it's hard to tell someone's height from a photo or film (especially when we're talking about 1 and 2cm), but I always figured Misha was a six-footer, and his "Supernatural" co-stars Jensen Ackles and Jared Padalecki were 6'1 and (at least) 6'4 respectively.