Kurt Fuller's Height
6ft 2 ½ (189.2 cm)
Peak height was 6ft 3 (190.5 cm)
American Actor best known for roles in films such as Wayne's World, Ghostbusters 2. This photo was from Rogue Events Supernatural Convention in 2010. On his twitter in 2013 he commented on his height, mention he was
"6'4"
and in 2017 when someone couldn't wait to see how tall he was in person, Kurt said
"6'3""
.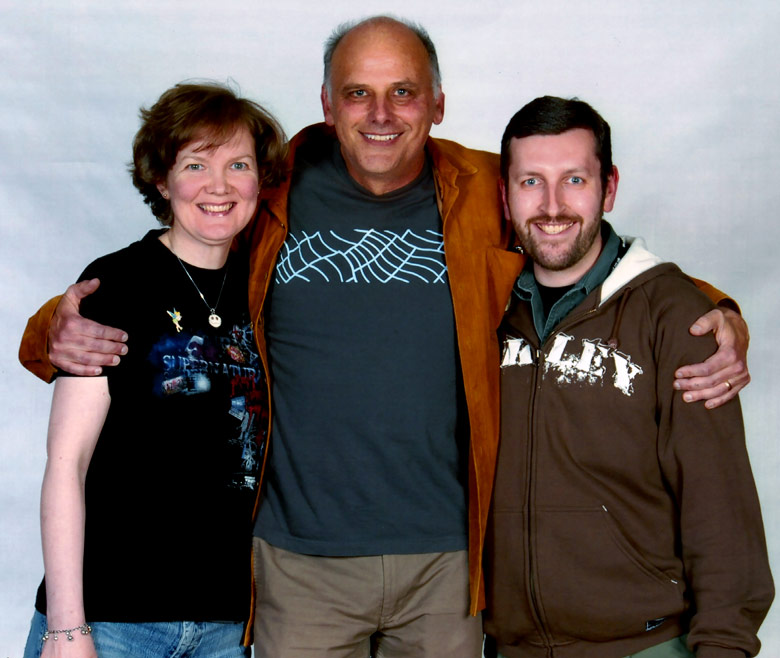 5ft 8 Rob/Jenny and Kurt
You May Be Interested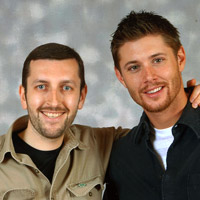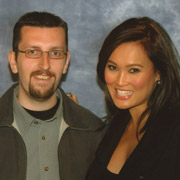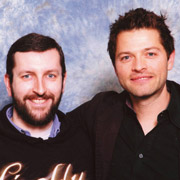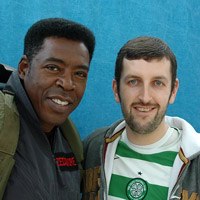 Add a Comment
57 comments
Average Guess (13 Votes)
Peak: 6ft 2.79in (190cm)
Current: 6ft 2.15in (188.4cm)
Hulk.23
said on 3/Sep/20
Perfect listing. Even when was young in GB2 he looked 2" taller than Bill Murray who was for sure at times an honest 6'1...6'3/191cm peak for sure, while in the pursuit of happiness he looks a little taller than Will Smith (6'1.5) so also today I think he's a little taller than a flat 6'2
OriginalAnon
said on 4/May/20
Peak 190cm
Now 188cm
It's really hard to see him being outside of these ranges.
Canson
said on 30/Dec/19
He claimed 6'4 when he was probably barely 6'3 in his prime. Shoes of course

Editor Rob
Actually in 2017 he said 6ft 3 too, so it's a more believable figure.
Miss Sandy Cowell
said on 12/Dec/19
Regardless of his size, Kurt would always have a Fuller figure!
(Well, I thought it was....
Oh, never mind!) 😩
6ft2 today and an inch more for his peak.
Nik
said on 22/May/19
@ Bobby - That's what I thought too!
Junior Hernandez 1990
said on 2/Sep/18
The slouch make him look 6'1 1/4 with Jenny and Rob. Don't feel him edge out Jack Coleman in person.
Bobby
said on 22/Oct/17
Why does Jenny look taller than Rob here?
Editor Rob:
it's called dropping posture 👍 You can see the effect of having
Good Posture
...
Anonymous
said on 28/Sep/17
6'2.75"/190 cm on peak and 6'2.25/188.6 cm today.
Rampage(-_-_-)Clover
said on 3/Jun/17
I don't think he was less than 6ft3 peak.
berta
said on 16/Feb/17
he coould look 6 foot 3 + at peak. but if he was 189 range when rob met him then he probably was no more than 6 foot 3 peak
DINO
said on 22/Nov/16
ROB IS 5'8 And the girl is 5'8
Rampage(-_-_-)Clover
said on 10/Jun/16
Ok he can look 186-187cm in that photo with the slouch. But standing upright, he'd clear the 6ft2 mark and maybe look close to 6ft3. A decent 189cm guy today at worst and a very solid 191cm peak.
Eric
said on 8/May/16
in that picture he look 6'1.5 but i guess it's not his best posture
Rampage(-_-_-)Clover
said on 16/Mar/16
-_-(Peak)-_-/
Out of bed: 193-194cm
Before bed: 191-192cm
/-_-(Today)-_-
Out of bed: 191-192cm
Before bed: 189-190cm
:D
Rampage(-_-_-)Clover
said on 28/Feb/16
Strong 6ft3 peak
Modeus
said on 23/Aug/15
He has a very high shoulder level height trough
Rampage(-_-_-)Clover
said on 16/Jun/15
6ft5 definitely looks extreme...
Rampage(-_-_-)Clover
said on 15/Nov/14
"Peak height was 6ft 3¼in (191cm)"
Today he's a bit under 6ft3 at 189-190cm.
MrTBlack
said on 7/Oct/14
Yeah, don't know how this guy was initially listed as 6'5"? I guess people underestimate what a true 6'3er looks like.
[Editor Rob: not on here as 6ft 5 :)]
184.3cm
said on 5/Oct/14
I wouldnt go as far as 192cm. I always thought he was somewhere between 189-191cm back in the 90's. A 192 guy can give a 6'4 impression which i never saw Kurt as. I think Rob has this one nailed.
Rampage(-_-_-)Clover
said on 2/Oct/14
Hogan might have cleared 6ft8 in wrestling boots, so I'm not all that shocked at the somewhat naive and inflated estimations.
Rampage(-_-_-)Clover
said on 1/Oct/14
Rob, is 192cm peak possible for Kurt?
Sam
said on 1/Oct/14
Just read his Random Roles interview and he seems like a great guy who can't believe he has an acting career. In it, though, he credits (through a quote by another person) Hulk Hogan with a height of 6'9"!
184.3cm
said on 28/Sep/14
Looked 3 inches or so under Hogan in No Holds Barred. So if Hogan was 6'6 peak then he was 6'3.
Kostas
said on 3/Aug/14
I think this guy seems to have low eyelevel. So 6'2.5" isn't impossible. Don't you think so Rob?
[Editor Rob: in that room kurt had about 1.25-1.5 inches over mark pellegrino, they were both in it together.]
Yaspaa
said on 18/Jun/14
He was in The Running Man, but they never stood together.
calvinator
said on 13/Jan/14
about right, he was an inch taller than Arnold in the Running man or Total Recall, I can't recall :)
avi
said on 6/Jan/14
@Rob
Is he dropping height?
Looks 6'2. I'd say 6'2.5 peak.
[Editor Rob: he was an easy inch taller than mark pellegrino in this room]
Lo sgozzatore
said on 9/Nov/13
Rob, he obviously is a big guy but you think he really measures 6'2.5? I guess he's losing some height in this picture...
[Editor Rob: near that, somewhere in 188-9cm range.]
Sam
said on 24/Oct/13
I swear he used to get listed as 193 or something elsewhere on the net. I think he's roughly accurate listing though...he can look 6'1"-6'2" but is a sloucher and often looks somewhat huge in full shots with other actors.
Matt 184.7-186.7cm
said on 1/Oct/13
is he really anything much over 6ft 1 here? or is he bending down his neck substantially? looks a little bit like it...
Barnabus Stinson
said on 26/Apr/13
I just met him today great guy I am a good 6'0 and he had at least 2inches on me with bad posture. 6'2.5 seems fair
Ricky
said on 14/Apr/13
6'3 seems right. I wonder if he's taller than Hulk Hogan today.
Rampage(-_-_-)Clover
said on 20/Dec/12
Somewhere between 6ft3-6ft4 in his prime
The Exorcist
said on 7/Sep/12
His shoulders are about 5'5". lol
Ajax
said on 18/Jan/12
He never actually claimed 6'5". Just was listed that. 6'3" sounds more reasonable.
nice guy
said on 8/Jan/12
187cm now 190cm in his younger days from what I see
Rampage(-_-_-)Clover
said on 4/Sep/11
Looks like he'd be 192cm or nearer 6"4 if he stood strighter.
Ajax
said on 27/Aug/11
It's beyond me why someone who would claim 6'5" at 6'3". Most men stop exaggerating
When they reach 6'2" IMO
USYD
said on 10/Aug/11
189cm-190cm. A true 6'2.5".
Danimal
said on 20/Jul/11
Look where his shoulders are in perspective to yours. That shows how much he should be towering you, but because of his curvature of the upper spine, he has shrunk.
Danimal
said on 20/Jul/11
My uncle who is the same height as him used to be 6'1.5" (based on many pics) now has the same curvature of the upper spine/neck and is down to 5'11". A younger Kurt would have towered you and Jenny Rob.
[Editor Rob: someone posted a link to a younger Kurt with Ryan Stiles...he didn't look over 6ft 3 20 years ago...]
Johan Cruyff
said on 20/Jul/11
6'1.80" - 6'2" in the picture!
James
said on 17/Jul/11
LOL 6'5 is funny
Rampage(-_-_-)Clover
said on 17/Jul/11
In the picture I estimate 187.5cm or 188cm tops. Losing 2cm with the lean
Rob, what were his shoes like?
[Editor Rob: they were probably around quarter inch more than mine.

He does have a bit of Kyphosis in upper spine.]
Yaspaa
said on 16/Jul/11
Looked 6'3 in the eighties, looks similar now, he's leaning in.
X
said on 11/Jul/11
I've been reading that's he's like 6'5.... no way. Still a big guy.
Viper
said on 10/Jul/11
This guy has been in a million things.
Moke
said on 9/Jul/11
Rob almost reaches eyelevel. He's no more than 6'2.
jtm
said on 8/Jul/11
ryan stiles has claimed 6'5 before.
Lincoln
said on 7/Jul/11
Click Here
in this video with Ryan Stiles, he looks at least 3 inches smaller so I'd say 6'3" peak.
Danimal
said on 7/Jul/11
You can tell he's lost height. I've seen it many times. He's hunched over in the neck/upper spine. Was definitely taller in his younger/straighter days.
avi
said on 6/Jul/11
Rob he is only 5.75 inches taller than you
Yaspaa
said on 6/Jul/11
This guy was in Hulk Hogan's No Holds Barred, he didn't look much shorter than Hulk. Seems like a nice guy.
James
said on 6/Jul/11
Poor posture? Does not look over 188cm to me in the photo
Mathew
said on 6/Jul/11
Looks a strong 6'1" but is dropping a bit of height. Still definitely not 6'3" today.
Truthman
said on 6/Jul/11
He was only 2 inches shorter than Hogan in his huge howboy boots. 6'3 for peak height just spot on.