Ernie Hudson's Height
5ft 11 (180.3 cm)
Peak height was 6ft 0 (182.9 cm)
American actor best known for roles in films such as Ghostbusters, Congo, The Crow and TV show Oz. In a video interview he once claimed to stand
"Six One"
tall.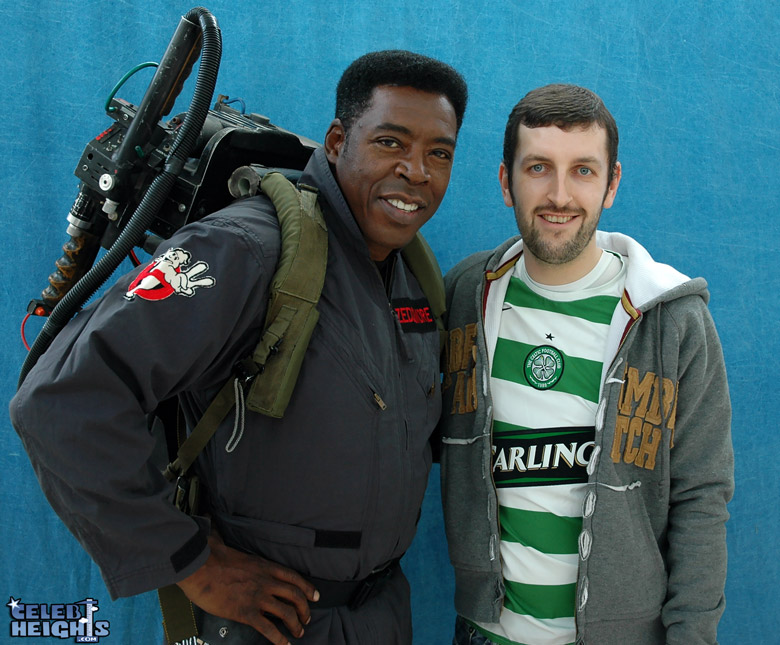 5ft 8 Rob and Ernie @ Collectormania 2006
You May Be Interested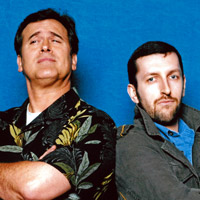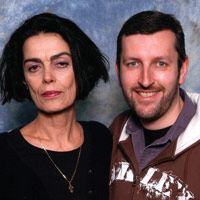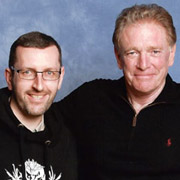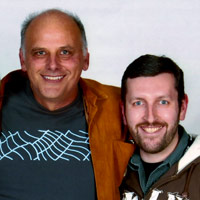 Add a Comment
85 comments
Average Guess (18 Votes)
Peak: 6ft 0.06in (183cm)
Current: 5ft 11.11in (180.6cm)
Mckinley
said on 28/Sep/20
Was slightly taller that brandon lee in the crow I'd say 6'1" but now maybe just 6'.
billionaireslayer
said on 23/Mar/19
Strong 5'11 peak
berta
said on 5/Nov/18
looked 6 foot in his older movies but there was more than 1 inch beetween him and murray. either he was no tqaller than 182 ore Murray need that 186 cm upgrade i always talk about :P
Zampo
said on 18/Sep/18
Agreed Junior, At close to 73 today, Ernie Hudson looks very good. He seems 5'11 range currently, possibly a weaker one from what I have seen.
Greg99
said on 2/Jun/18
Looks like a fairly big-framed guy in that image with Rob - I can't imagine less than 6' in his prime, looks at least 5'11" in the pic. Very competent, well-preserved actor at 60'ish in the above image, we should have seen more of him.
Scoobydoo
said on 28/Nov/17
182 cm in peak
180 cm nowadays
Junior
said on 15/Aug/17
Ernie Hudson was almost 72 years old and still looking good. I doubt that he only lost about 0.75 not as much as a full inch. I did wonder 5'11.25" now he looks it with 6'0 Leslie Jones and right on the nose 6'0 peak
RichardSpain
said on 29/Jun/17
@S.J.H, Murray was taller than 185.5cm. He was a strong 187cm. 185 cm is today.
Ernie next to Rob has bad posture . Do you see??
Ernie in peak 6 foot ( 183cm)
Nowadays 180 cm.
S.J.H
said on 21/Jun/17
A better fit below:
Peak Bill Murray 185.5cm , now 184.5cm
Peak Ernie Hudson 182cm , now 179cm
berta
said on 16/Feb/17
rob what about maybe giving this guy 182 peak if murray still is listed as 185. I think Murray had this guys with about 3,5 cm ore 3 cm no less
S.J.H
said on 21/Jan/17
Standing with most trustable 6'6.5 daniel cudmore in this site he look more like 5'10 but i still think he is 5'10.5 and 5'11 just a morning height
Click Here
uncle ernie look 5'10 here. but look like he drop about 0.5' posture.
Click Here
daniel cudmore face down a couple cm but if standing straight will look a good 8inches taller.
Josh Jeffords
said on 5/Dec/16
Needs a peak upgrade he could pass for 6 1 on into 90s had nearly 4 on Dylan walsh.
A s bad as new ghost buster was his cameo was funny still closer to 6 onscreen.
S.J.H
said on 27/Sep/16
I recently saw a full frame photo of ernie hudson with my 5'8 friend in facebook and he doesn't over 5'11 with 1.2-1.3" shoe and my friend had ultra thin 0.3 sandals , he might have loose posture there but then doesn't look over 5'10.5
Rampage(-_-_-)Clover
said on 10/Aug/16
Murray looked 186/187cm range peak and now looks 185/186cm.
berta
said on 27/May/16
I Think it looked to be more than 2 cm betwweeen him and murray. Maybe 3,5 cm between them. If murray is 185 then he was probably not over 182. But i Think murray was 186,5 so this is about right
Rampage(-_-_-)Clover
said on 4/Apr/16
He might already lost a centimetre when he was on Oz
Rampage(-_-_-)Clover
said on 24/Mar/16
Rob, could you add Terry Kinney from Oz?
Click Here
He's been listed 6ft but looks more 5ft11 range to me, maybe 181/182cm at a push. He was also in The Firm w/h Tom Cruise, Last of The Mohicans, Sleepers and a recurring part in Thirtysomething. He's a very underrated actor
Editor Rob: yes I've seen him over the years, I think he is worthy of a page.
Paleman
said on 4/Feb/16
Looked 6 feet in Oz.
Big C
said on 27/Oct/15
182cm peak and 5ft 11 flat now for Ernie I'd say.
james
said on 28/Sep/15
He hasn't lost much height for his age just an inch
A6'2Guy
said on 13/Jul/15
His hair gave the illusion of a 6'1 guy in Ghostbusters.
Andrea
said on 9/Dec/14
Rob, you think he was still at his peak in Oz?
[Editor Rob: around mid 90's he might still have been, I think his posture has got worse with age aswell.]
the shredder
said on 3/Dec/14
He looks 5 '9.5 slouching , 5'11 is right , 6'0 peak as he claim 6 1.
Andrea
said on 1/Dec/14
Yeah, but my question is: when you met him, he was at his peak or no more than 5'11?
[Editor Rob: maybe not quite six foot]
Andrea
said on 1/Dec/14
Rob, did he look 6' when you met him? He struggles to look 5'10 here but he's clearly slouching...
[Editor Rob: in his peak 6ft seems fine, today anywhere in 5ft 11 range is more likelier.]
Pallo
said on 7/Aug/14
Perhaps he lost an inch from carrying that Proton Pack around for so long.
Ds
said on 3/Aug/14
Hasn't aged a day since 89
the shredder
said on 10/Dec/13
rob , he claimed 6'1 in that video berta posted.
berta
said on 20/Dec/12
Click Here
he says that he is 6`1 in this interview
Rampage(-_-_-)Clover
said on 31/Jul/12
Rob maybe he's 5ft11.25(181cm)?
5'8.56784
said on 15/Jul/11
He was 6' peak alright, 6'2 Aykroyd and 6'1.5 Murray never looked more than 4cm taller than him. Strong 6' at peak.
dmeyer
said on 10/May/11
the guy was bornin 1945 he is 66 years old 1 in loss is very normal i met im he was 58 probably 181 to 181.5cm 0.5 0.6 in loss is normal at 58
dmeyer
said on 10/May/11
i dont agree with mr r , walked with the guy he was similar height to mine that was 8 years ago could he have been 5 ft 11.5 8 years ago 6 ft peak 5 ft 11 now and 5 ft 11.5 8 years ago 1 cm loss in 7 to 8 years is possible rob , how tall do you think he was 8 years ago ? please answer
[Editor Rob: I do agree with R in that he can walk like a 5ft 10-10.5 guy but I believe can still reach near 5ft 11-11.5 range]
dmeyer
said on 26/Mar/11
met him 7 years ago he was about 5 ft 11 to 5 ft 11.5 is 5 ft1.5 possible for him 7 years ago we walked togheterandwe were very similar height so anything 5 ft 11 to 5 ft 11.75 was right
Rampage(-_-_-)Clover
said on 8/Jan/11
Rob why 5"11?
[Editor Rob: last time I saw him in Coventry he looked that]
Daii
said on 30/Jun/09
Are you people who say hes 5'9 serious? Look at his shoulder level next to Robs, theres a good 3 inch difference, just they arent level with each other. This guy is at least 5'11 when standing straight easy!
J.J.
said on 30/Jun/09
Looks 5'10.25" with slouch so I think he is more 5'11.75"
i-Clarke-93
said on 23/Jun/09
He definetely looked this height in The Crow and in The Hand That Rocks The Cradle , it really is just his posture that makes him appear 5'10.
el toppo
said on 13/Jun/09
I LOVE THIS GUY!!! He was great in the The Crow, Escape From Absolom and Ghostbusters!!! He does look like a tall guy in his films, but his posture in this picture is rather horrific.
Anonymous
said on 5/Jun/09
Hugh, I am a huge fan of the movie the Crow
I've seen it quite a few times. I know what I saw
Hugh 190cm
said on 24/May/09
He was taller than Brandon Lee. Ernie is close to 6ft1.
T.J.
said on 2/May/09
In The Crow, barefoot he looked 2 inches shorter than Brandon Lee who was 5'11" but probablly 6'1" in the boots.
Maybe 5'11", but I find it hard to see him at 6'
Jedigoddess
said on 18/Apr/09
Ernie is 6 foot. When he poses with fans he has a tendency to lean down towards them, which he did with me. I'm 5'5 and Ernie is the same height standing straight as my Boyfriend (6 foot). By the way, Ernie is probably one of the only actors that I met that really loves being stereotyped for roles, and he loves giving hugs to his fans. Great guy!
kaz
said on 19/Mar/09
he is six foot bad posture
Anonymous
said on 18/Mar/09
what rob?
he dosent pull of 6'0" in any of those pics.
5'10!!
marioo
said on 14/Mar/09
are you kidding is he 6ft?no way .5'9
Ian
said on 5/Mar/09
Rob89 he looks 5ft10 here even with the bad posture caused by the backpack. If he stretch out I can see the 6ft Rob has for him is correct. I know from my hill walking days that wearing heavy rucksack can cause a signicant height reduction as you are trying to balance the heavy weight on your back. I remember talking it off after a hard day of walking to feel like I was walking on the moon and 10ft tall.
rob89
said on 1/Mar/09
I can't see how he can be 6' in this photo, even if he straightened up. He looks 5'9 and change to me here with a slouch, and i really don't think he would gain almost 3 inches by sorting his posture out. To be honest, i think he would only be about 5'10.5 if he stood straight.
He's probably taller of course, as pictures are, as glenn says, not always good for comparing heights. There are many things that can distort how tall someone looks in photos.
themaster
said on 28/Feb/09
At 5'8" I can also palm a pro size basketball.
ed
said on 27/Feb/09
in the crow... he barefoot he looked as tall as brandon lee... and brandon was wearing boots.. maybe ernie needs an upgrade.. o brandon a downgrade..
T.J.
said on 25/Feb/09
Even if he straightened out he'd still only look 5'11"
Anonymous
said on 22/Feb/09
very simmilar height to mine in person possibly 5 ft 11.5
Anonymous
said on 21/Jan/09
it's the cranium...in basketball diaries he plams a nba pro sized basketball and is taller than thin body dicaprio...end of that...
Hugh
said on 10/Jan/09
6ft0.5 peak. Looked about half an inch shorter than Murray.
Evan Faine
said on 9/Oct/08
Looked 6'1" on Oz, but I can buy 6'0" as well, also.
Anonymous -15
said on 20/Sep/08
Definetely a solid 6 ft with good posture , possibly more.
Big King
said on 8/Sep/08
Ernie looks only two inches taller than you, Rob. I would say, Ernie is at 5'11".
Mattiew_-
said on 24/Apr/08
Looked pretty tall in Ghostbusters , my money would on the guy who said 6'0"3/4
No pity for the majority
said on 6/Apr/08
I cant believe i always got him confused with sgt apone from aliens.It's because bill paxton is called "hudson" probably ha ha
Hugh
said on 28/Mar/08
Well, 6ft2ish.
Sid
said on 11/Mar/08
What, my man is 6-2. Peak anyways.
[Editor Rob: he walks about like a 5ft 10-11 guy nowadays]
Hugh
said on 29/Feb/08
I agree with Sam 6ft2 on the money.
dmeyer
said on 25/Nov/07
in the ron clark story perry had a full in taller than enrie, anyway i met enrie he was very similar height with me, i think he is 5'11.5, but he looked 5'10ish by perry , but he had bad posture he looks exactly 5'10 with bad posture and sterches to 5'11.5 with good posture,anyway we were very equal in height we walked together for a minute and it was hard to tell who was taller me or him
The Horse of FUNK
said on 1/Aug/07
Yeah he's definitely 6'. It's so weird because I swear Bill Murray looked 6'1.5" compared to Ernie in his heyday.
Franco
said on 30/Jul/07
anybody noticed Rob's t-shirt? looks like a heineken can LOOOOOL!! :D gimme beer dear. :D
jokes apart, nobody in his rightful mind would doubt his height, this guy is no less than 182cm imho.
Height Tracker
said on 28/Jul/07
KingNick I agree with you
KingNick
said on 28/Jul/07
I think he's more like 5'11" based on this picture
Click Here
my reason being that I think Dan Akryod is 6', Bill Murray 6'1", and Harold Ramis 6'2". I know a lot of people think Bill Murray is as tall as 6'3", I think tho that he's just built kind of big and has REAL GOOD posture (look at that pic!). If Bill Murray is 6'3", then it would have to make Harold Ramos 6'4", Dan Akroyd 6'2" and Ernie Hudson 6'1"
Franco
said on 26/Jul/07
hehe he looks Ghostbusted there :D
i believe you when you say he is 182-183cm, he is a huncher.
Anthony
said on 23/Jul/07
He;s aged really well. Compare him to the other three, I have to agree with Viper that he looks younger than in his "Ghostbusters" days.
glenn
said on 23/Jul/07
bill murray has looked 6-3 in front of me.
D. Ray Morton
said on 23/Jul/07
Now THAT is a cool pic. Ernie looks huge there - 6' if standing straight would be my guess (which is surprising, as I always thought 5'10"). Is his head really that big?
the shredder
said on 23/Jul/07
I still think Bill Murray can look 6'3 !
Viper
said on 22/Jul/07
He looks younger now than he did in 1984.
OutBenchThis
said on 21/Jul/07
Is this his everyday get-up? :P
Chris
said on 21/Jul/07
In this photo he is 2 inches shorter than Bill Murray, who I belive was 6'2'' during Ghostbusters.
Click Here
Mr. R
said on 17/Jul/07
I met him last year, and I stand by my 5-10 sighting.
Sam
said on 17/Jul/07
Taller 6'1 at least possibly 6'2. In Ghostbusters was eye level with Murray and Aykroyd
6´
said on 7/Jun/07
Guys check out this ---->
Click Here
Mike
said on 30/May/07
Damn he's Hudson's only 6 feetish??? Just saw the substitute thought he was like 6'2ish compard to everyone else in that film...lol maybe b/c he looks like a big guy i think he's also like 60ish now doesnt really look hia age though
dmeyer
said on 16/May/07
we walked together he seemed about the same to 1 in taller than me 5'11.5 to 6 ft dosnt have the greatest posture
sam
said on 9/Oct/06
In the movie Miss Congentially, they had a computer write-up on his character and it said 6'0 3/4".
DMEYER
said on 4/Oct/06
i walked with him he looked about 6 foot
[Editor Rob: a shame he never stood tall for a pic...but he had just put on the ghostbuster backpack and so would look shorter with that big thing on his back]
Glenn
said on 2/Oct/06
Lots of celebs with spines like that.I came to the conclusion that there is certain celebs that no matter how many times I meet them I cant pinpoint a height.
Mr. R
said on 25/Jun/06
I just saw Ernie last week, and he is only about 5'10". He was a little shorter than Mathew St. Patrick who was 5'10.5"
dmeyer
said on 28/Nov/05
i met him on 10.8 is around 6 feet