William Atherton's Height
5ft 11 ½ (181.6 cm)
Peak height was 6ft 0 (182.9 cm)
American actor best known for roles in films such as Ghostbusters, Die Hard, The Sugarland Express, Real Genius, Biodome and The Hindenburg. This photo is from a Collectormania event in 2014.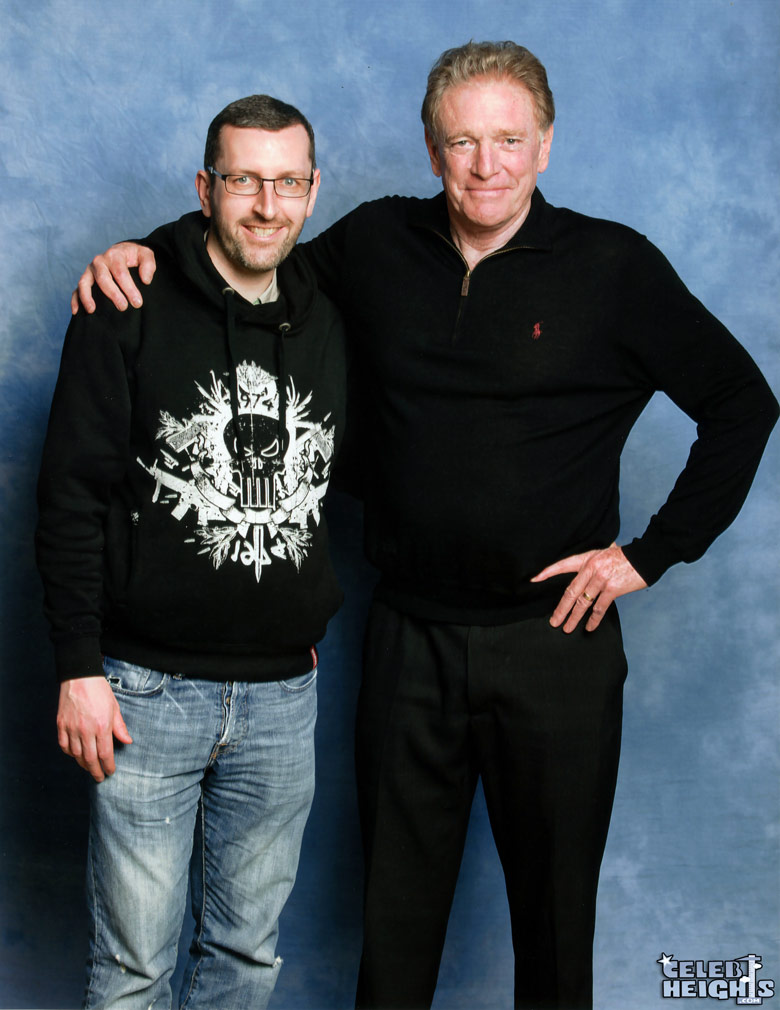 5ft 8 Rob and William
Add a Comment
36 comments
Average Guess (10 Votes)
Peak: 6ft 0.13in (183.2cm)
Current: 5ft 11.28in (181cm)
Rampage(-_-_-)Clover
said on 21/Mar/20
Rob, is 5ft11 flat possible these days or were you convinced he was still over it when you met him?

Editor Rob
Well he didn't seem over 5ft 11.5, but a flat 5ft 11 I wasn't as sure he looked.
Greg
said on 18/Jun/19
Must be standing loose because he looks under 5'11 here with you.
179cm guy
said on 12/May/19
He looks like a strong 5'11 in this pic with Rob, so I'm gonna say 183cm peak and 181cm now.
Miss Sandy Cowell
said on 8/Apr/19
I know this big guy from various films!
6ft0.5 peak and 5ft11.5 now.
Pierre
said on 13/Nov/18
Nice pic.I guess him a strong 5"11' by this pic
Rampage(-_-_-)Clover
said on 25/Nov/17
Could have been slightly over 6ft in his prime. Wasn't much shorter than Bill Murray
Anonymous
said on 29/Aug/17
In Ghostbusters looked 185 cm very close than Bill Murray.
Pierre
said on 29/Jul/17
He look around 5"11' in the picture
Richardspain
said on 30/Apr/17
Now he looks 180cm.
Good roles in ghostbusters and die hard.
Maybe was a solid 183cm a bit shorter than Rickman.
Rampage(-_-_-)Clover
said on 26/Mar/17
Murray: 186-187cm
Atherton: 183-184cm
berta
said on 24/Mar/17
i think the listed height is right but he is one eveidence that bill murray is taller than the listed height. it was over 1 icnh difference
Rampage(-_-_-)Clover
said on 2/Mar/17
Rob, is a fraction over 6ft peak possible?
Definitely think he could pull it off in the 80's.
Editor Rob: Rampage, from watching Ghostbusters last year, I still feel an honest six footer...
Victor Surratt
said on 10/Feb/17
Around 5'10.75 in the picture in mi opinion. At his peak in Ghostbusters he maybe was a solid 6'05"
Peter 179cm
said on 17/Jul/16
Max 5'11 so a decent enough 180er.
Rampage(-_-_-)Clover
said on 14/Jun/16
...and Biodome
Gary
said on 27/Mar/16
Strange i always thought he was 6ft2 in his prime. He had this figure about him that made him look taller.
Matt
said on 6/Feb/16
He looked slightly taller than Val Kilmer in 'Real Genius' 1985.
Rampage(-_-_-)Clover
said on 6/Feb/16
He was definitely taller than Bruce Willis in Die Hard...at least 6ft peak
Johno
said on 3/Feb/16
Around 5'10.5 there, maybe 5'10.75.
Rampage(-_-_-)Clover
said on 23/Jun/15
Not much shorter than Bill Murray in Ghostbusters.
Rampage(-_-_-)Clover
said on 11/Dec/14
Really did look 184-185cm range in Ghostbusters, Die Hard and Bio-Dome
Judd
said on 8/Oct/14
yeah in ghostbusters he was like 1" below a honest 6'1" Bill Murray.
6'0" peak is a certainty...
Sam
said on 15/Sep/14
Agreed, he was in a bunch of quality movies in the 70s and 80s, they might be worth another look to re-examine & uplist his peak height. I wouldn't go below 6'0.5" for peak listing personally.
Arch Stanton
said on 14/Sep/14
@Sam for sure, he looked near 6'2" in The Sugerland Express!! Reminded me of Kris Marshall in that film. Looked taller than 6 ft.
the shredder
said on 4/Jul/14
He looked between 6'0 and 6'1 going by The Ghost Busters.
Alex 6'0
said on 1/Jul/14
Rob, longer forehead he has. Eye level looks a good 5 inches from top of his head Id say
Sam
said on 1/Jul/14
No good height shots online with Atherton and the Ghostbusters, but I thought he was the same range as Akyroyd and Murray in that.
[Editor Rob: I think he was shorter than Murray, he certainly looked a few inches smaller than harold ramis.]
Rhonda
said on 30/Jun/14
Looks a flat 5ft11, big hair.
richkid123
said on 27/Jun/14
The guy used to be my neighbor. I never thought he a very tall guy, but he was bigger than the average man.
Sam
said on 26/Jun/14
I thought this guy was 6'1" to 6'2" from his 70s and 80s films, are you sure he wasn't at less a little over the six foot mark at one point? He's obviously slouching and looks even under 5'11.5", Rob's dropping a little too.
iyolo
said on 26/Jun/14
I wonder if he was closer to 6.1 ft
french guy
said on 26/Jun/14
i look taller than than when i stand next to a tape measure, he looks more 5'11
Hypado
said on 25/Jun/14
Yes, 5ft 11.5in (182 cm) NOW
Splashman
said on 25/Jun/14
Seems more 5'11 to me.
the shredder
said on 25/Jun/14
I have to say it , Peck does not seem like a " Dick " ;) . This height seems right on.
Splinter Cell
said on 25/Jun/14
Rob is there a way to prevent height loss? my friend has stopped growing at 183cm and he doesn't ever want to dip below 183 , unless hes like 80 or something, he loves being 6 and doesnt ever want to lose it lol