American actor best known for roles in films such as Die Hard 2, Bill & Ted's Excellent Adventure, Trespass, Iron Man 3, The Shawshank Redemption, Project X, Tales from the Crypt: Demon Knight, The Green Mile and Kinsey. On TV he has appeared in Roswell and The Pacific. When asked how tall he was on
Twitter
, he replied:
"5'8"
.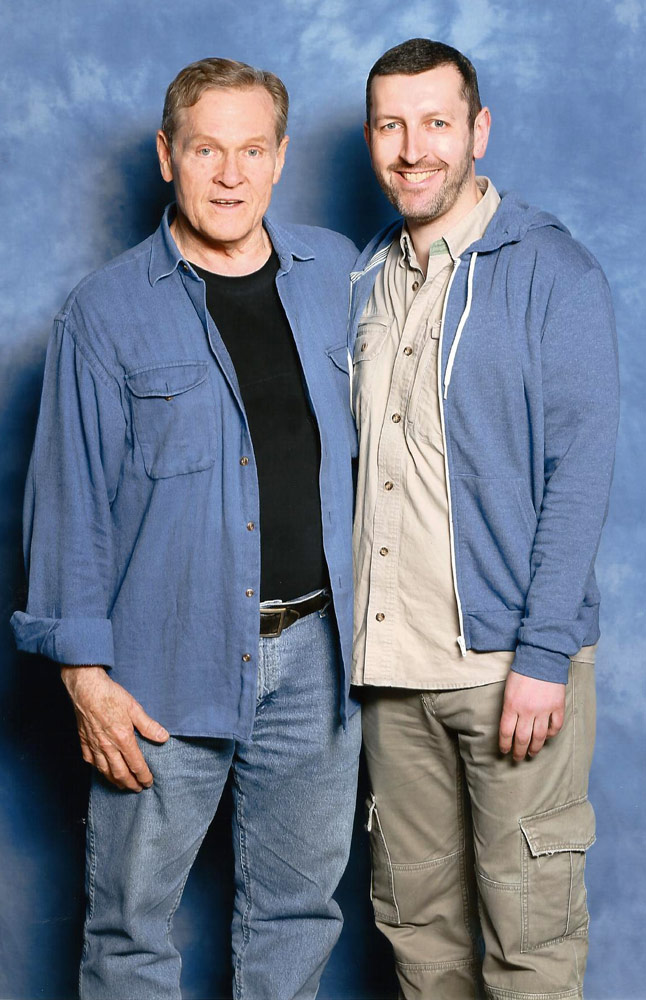 5ft 8 Rob and William (age 65) @ Collectormania, 2014
Tall Sam
said on 2/Oct/21
Yeah his face doesn't necessarily look like that of a shorter man but his compact build reminds of Willem Dafoe and both are on the shorter side to be sure.
Philip Z
said on 1/Oct/21
Held his own against 6ft 1 Avery Brooks and 5ft 11.5 Alexander Siddig on DS9. Most likely wearing big boots to achieve that, as his frame looked much smaller than Brooks' and Siddig's.
Miss Sandy Cowell
said on 6/Jul/21
I saw William in an episode of 'Medium' yesterday - an episode from Season 4. I recognized him immediately from his photo on Celebheights, not forgetting to mention his appearances in Stephen King's 'The Green Mile' (Klaus Detterick) and 'The Shawshank Redemption' in which he played Heywood.
I always see these Stephen King films as his more emotional ones. 💕😢
5ft7. 😁👌
Pierre
said on 27/Jan/21
In Die Hard there is a scene in which he's almost naked ,his body looks very conditioned, by watching only this scene I could believe he was nearly 5"11' ! This movies(Die hard series) were shown two or three time on TV in France recently,each time I watched them.I find this series very good(also Beverly Hills Cop,Lethal Weapon,that are shown regularly on TV in France)
Jtm
said on 24/Nov/20
Wasn't much shorter than Bruce Willis in die hard. He was probably vearing lifts.
Almost 180cm guy
said on 22/Nov/20
Sadler has probably lost some height already, I think peak height 5ft 7.25 and the current height 5ft 6.75 would be a good list for him at the moment. Here are some photos of Sadler alongside Morgan Freeman from 1994:
Click Here
Click Here
Click Here
Click Here
Click Here
I guess 5ft 7.25 for the peak height of Sadler and 6ft 2.5 for Morgan's peak height would be good lists. Rob, what do you think?

Editor Rob
it isn't impossible just over 7 and now under it
Nik
said on 29/Apr/20
@ Rob - Does he have worse posture than you?

Editor Rob
In person he is getting into 60's there, but I think he looks almost 5ft 7 in person that day.
Jkiller
said on 5/Mar/20
5'7 is correct, any lower than that is not likely
Peter 180cm
said on 30/Dec/18
Barely 169cm.
Bwk
said on 14/Nov/18
Possibly 5'6 7/8s''

Editor Rob
Sadler could have been a solid 5ft 7 and now a weak 5ft 7 range.
Pierre
said on 12/Nov/18
I remember him in "Die Hard",he's a very good actor.Around 5"7' seems to me good by this pic
Zampo
said on 19/Oct/18
Somewhere between 169-170 cm.
Nik
said on 24/Jun/18
I am happy with this listing!
World Citizen
said on 27/May/17
169 cm tall
andy
said on 11/Oct/16
173cm peak, 169.5cm today
Rampage(-_-_-)Clover
said on 4/Jun/16
I never knew he was this short
Johan
said on 11/Apr/16
Solid 5'7" in his prime. He was 9 in shorter than Seagal in "Hard to Kill" maybe more. He was wearing a bathrobe though and slippers. Seagal had a regular shoe.
mrtguy
said on 10/Apr/16
He could have been around 5'8'' perhaps in his prime??
S.J.H
said on 2/Apr/16
Could be like BIg G at 169cm claim 5'8 :p
177-178 cm guy
said on 19/Feb/16
Doesn't look quite 5'7" here
julian
said on 19/Feb/16
173 when young
Dicky curtis
said on 19/Feb/16
there seems to be more than an inch difference between u 2
mrtguy
said on 11/Feb/16
looks nearer 5'7''
172.4cm guy
said on 10/Feb/16
I'm surprised by this height. He always looked like a solid 5'8"; maybe in his youth. Was footwear similar Rob?

Editor Rob
funnily the one photo I took for my own reference of my sneakers was me holding
His photo ticket
...my sneakers that weekend are 0.7 range, his in that link didn't look much different.
Dmeyer
said on 6/Feb/16
5 ft 6.5-6.75 today peak solid 5'7
Byron T.
said on 5/Feb/16
He definitely has lost some height with age. I'd say his peak height was 5'8'' and today he looks a little under 5'7.''
Len
said on 5/Feb/16
Wow, would've guessed a bit taller for him, like 5-8 or 5-9.
He projects a certain sense of authentic menace in his roles, it's even more impressive that he's able to do it as a little guy.
Might still guess 5-8 for him when he was younger.
CD
said on 4/Feb/16
5ft 7.5 peak Rob? Or could he look 169cm today?
Andrea
said on 4/Feb/16
This is certainly more than just an inch...

Editor Rob
I think it is possible he has lost a small fraction, today a bit shy of 5ft 7
Johno
said on 3/Feb/16
I always thought he was taller though judging by Shawshank.
Johno
said on 3/Feb/16
As listed.
Rampage(-_-_-)Clover
said on 3/Feb/16
Awesome...I haven't seen him in years
Sam
said on 22/Jun/15
Rob, could you his credits? "American actor best known for roles in Die Hard 2, Bill & Ted's Excellent Adventure, Trespass, The Shawshank Redemption, Tales from the Crypt: Demon Knight, The Green Mile, Kinsey and on TV in Roswell and The Pacific."
His recent Random Roles reminded me he is one of the top modern character actors, really diverse roles.

Editor Rob
one other role I actually like is Project X, one of my top 5 Chimpanzee movies.
broly
said on 22/Jan/15
5'8 seems spot on for peak height but he's getting on a bit now.
jake, 1.82 m- 1.83 m- 1.84 m
said on 12/Feb/12
He looks short rather than just weak average. He'd be 1.70 m today.
MHouillon
said on 26/Mar/11
5'7 - 5'7.5. 172cm max.
Jack
said on 13/Nov/10
@GUK
In Trespass, if you look at sadler's footwear, he's wearing 2-inch cowboy boots that give his height a boost by 2 inches making him 5'10" next to Paxton who is 5'11 - 6ft. This guy is totally 5'7" to 5'8"
guyfrommars
said on 16/May/09
He was quite short next to 5ft11.5 Alexander Siddig whenever he appeared on Star Trek: Deep Space Nine. 5ft7 maybe? Or a slight 5ft8?
GUK
said on 13/Dec/08
Not 3 1/2 inches shorter than Bill Paxton in Tresspass, more like 2 inches
RB
said on 16/Feb/08
Just saw Demon Knight today. 5'7-5'8 for Sadler. He was dwarfed by Billy Zane and Haden Church.