Jo Hartley's Height
5ft 3 (160 cm)
English actress known for roles in movies like Dead Man's Shoes, Ill Manors and Inbred. Her agency describes her 5ft 4 and 9 stones (126 pounds) and on twitter she said her height
"I'm 5 foot 4 inches the inches count mate!!"
.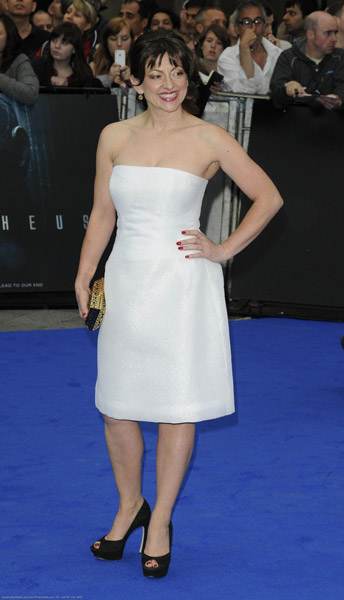 Photo by PR Photos
Add a Comment
11 comments
Average Guess (8 Votes)
5ft 3.19in (160.5cm)
Nik Ashton
said on 5/Sep/19
I like it that she said, "I'm 5 foot 4 inches the inches count mate!!".
Sandy Cowell
said on 5/Aug/18
I saw Jo playing the mother of Thomas Turgoose's character, Shaun, in the film 'This is England' the other night. Her hair looked really pretty in this, and I think she should grow it back! With that mop, she probably hits 5ft5 or 6...
Tonight I shall opt for a slightly higher 5ft3.5, and it has nothing to do with the hair - honest!
Sandy Cowell
said on 19/Jun/18
⭐️ The 'scratchings' come in two varieties: 'hairy' and 'smelly'! They both sound pretty vile to me! Eating a pack of those would indeed be a hairy experience and your breath wouldn't half be smelly afterwards!
Jo gets 5ft3 this time round!
Sandy Cowell
said on 15/Nov/17
@ Nik - Hi! Jim absolutely loved sharing his name with the pub landlord of 'The Dirty Hole' pub, he really did! Also, he sang along to the song, as did I, and I even received a rendition of it over the telephone!
You were interested to know what is served to drink down 'The Dirty Hole'! Well, they serve their visitors urine and call it lemonade - yes, that overused joke, but this is for real in 'The Dirty Hole'! The visitors screw up their faces and wash some 'pork scratchings' down with their warm, familiar-smelling lemonade! I assume the scratchings are made out of previous guests! It is all deliciously disgusting but not to be seen by those easily upset. As you know, my favourite scene is when Jo boards the abandoned coach and looks at scrapbooks which have animals in funny costumes! The torture scenes are horribly over-the-top. I prefer the funny bits by far!
Dominic Brunt is also very entertaining, and I myself have heard about his and his actor friend's liking for zombie films! In fact I met a guy in Bromley HMV who told me he had met Dominic while he was making a particular film. He sold me a copy and it was brilliant, and well worth the money! Full details (I think!!!) can be found on Dominic's page, including the title of the film.
OK, I'm going to read through this for mistakes and then post it! I didn't answer the phone just now for fear of losing the entire comment. It happens! 😬
Have a great evening - the week is already half way through now!
Cheers Nik! ⛄🍇🍛🍵🐩😁 😊
Regards too to Gladstone Screwer! 🌽🙋
Nik
said on 13/Nov/17
@ Sandy Cowell - Hi!
Yeah, I came along to this page to see what fun there was after I had seen you make a reference to Jo Hartley's page in a comment to Gladstone Screwer! I decided to read the comments and then comment on her height hoping that it would get a conversation going, which it did!
It's good to know that she starred with Dominic Brunt in the horror/comedy called "Inbred", interestingly Dominic and his fellow "Emmerdale" star Mark Charnock are both Zombie fanatics!
I have never heard the song, but it would take a few drinks at "The Dirty Hole", or any other pub, for me to start singing it, singing is not my strong point! Talking about "The Dirty Hole", what a name for a pub, and what the inbreds must drink in there, goodness only knows! You and Jim must find it funny that the landlord of this pub is also called Jim, and you bought Jim this horror/comedy for Christmas 2015 too! It doesn't help Jim that his namesake is a real rotter, that is from the banter that he will have faced!
It is true that Jo must have a crackin' sense of humour and I suspect that Dominic Brunt is of the same ilk too!
It sounds like the "inbreds" have a wiierd sense of enjoyment if they liked to torture each other, they must be hardened up people and prepared to suffer a bit of pain to get a strange sort of pleasure!
Jo is certainly in the 5'3" range and I doubt that she is lower than this or as high as 5'4"! I could see anywhere from 5'3" to 5'3.5" myself!
Cheers!
Sandy Cowell
said on 10/Nov/17
@ Nik - Hi! This is the second attempt to reply! To first one vanished, as did another one I was writing to you yesterday!
I'll do my best to remember:-
So I see you've come along to this page to join in the fun! Yes, Jo Hartley stars in a horror/comedy called 'Inbred', which also stars, interestingly enough, Dominic Brunt from 'Emmerdale'! He is hilarious - If you like that sort of thing - and he 'clicks' from his jaw as he walks along, carrying a chainsaw, of all things! He is by far the tallest of the inbreds at 5ft11.5, all of whom are incredibly nasty and hold 'shows' of imaginative ways of torture to entertain each other! They drink in a pub called 'The Dirty Hole'!
I bought this OTT film for Jim for Christmas 2015, and he thought it was great and even joined in with the song! It's particularly funny because the pub landlord is also called Jim! He's a real rotter!
The 'enhanced' animal pictures on the abandoned coach include a cat in stockings and suspenders who looks like my Cordercelia - facially, anyway! They share the same startled look in their little furry faces!
Yes, as I expected, this new comment is absolutely nothing like my first submission, so before this one goes the same way, I will press the 'send' button! Have a lovely weekend, and your Mum as well!
It's time for me to give Jo another estimate so I will go for 5ft3 again! One last thought - this lady must have a crackin' sense of humour!
Nik
said on 9/Nov/17
5'3.25" - 5'3.5"!
Sandy Cowell
said on 18/Aug/17
@ Gladstone Screwer - Hi Gladstone! That's a rather lovely thing of you to say! I can think of worse things to be accused of being, and anything, when in the cause of a ridiculously good laugh, curries favour with me!
Enjoy your weekend! 👍
Made Hartley is due for a new vote, so 5ft3 goes in the box this evening!
Sandy Cowell
said on 14/Mar/17
In actual fact, the tabby cat in the stockings and suspenders looks exactly like one of mine!
😻
Sandy Cowell
said on 14/Mar/17
I've just been watching the opening few scenes in the Jo Hartley film 'Inbred'!
I was in need of a thoroughly good laugh, so I watched up until Jo finds the nuddy, animal-enhanced pictures on the abandoned coach! Anything beyond that isn't quite so amusing, but the pictures cheer me up every time!
Jo could pass for 5ft2.5 I think!
Sandy Cowell
said on 10/Nov/16
Jo could probably pass for an inch shorter to my eyes, but then the film on which I am basing my assumption is 'Inbred' and there is only one other girl in it apart from a cameo appearance from 'Horror' channel's very own Emily Booth!
All the others are built like, well - you know, not exactly small by any stretch of the imagination!
Jo plays an incredibly brave care worker who, with a male accompaniment, sets off with a bunch of youngsters who have led slightly wayward lives and need guidance, on a coach trip!
There are some ridiculously funny moments in the film, like the pictures found on an abandoned coach, which have been brightened up with animal images! I laughed so much, I thought my head was going to explode!
However, there are also some scenes only for the strong-stomached so be warned!
I liked Jo's part in it because she soldiers on regardless right until the very end!