Joe Frazier's Height
5ft 10 ½ (179.1 cm)
Smokin' Joe was an American professional boxer, who in the early 70's was the Undisputed Heavyweight champion of the World.
With me at five foot eleven and Clay at six foot three, my plan was to whack at his body to make him come down to my height when he covered up.
At five foot eleven and one half inches, two hundred pounds, I was small for a heavyweight.
You May Be Interested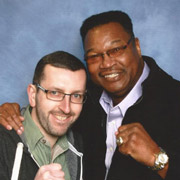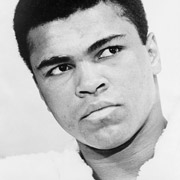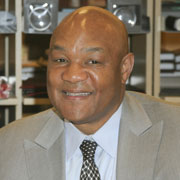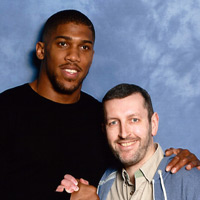 Add a Comment
15 comments
Average Guess (12 Votes)
5ft 10.23in (178.4cm)
Canson
said on 9/Apr/21
@Tall In the Saddle: interesting. Lol I would've given him 5'11 before but now I see more pics and that is a good estimate (5'10.5).
Tall In The Saddle
said on 1/Apr/21

Nice addition to the site.
Personally, I think 5'10.5" is a good estimate. Joe wore decent heels a lot. Next to Ali, Joe always appeared that bit taller outside the ring than in. I don't think Joe was insecure or trying to give a false impression. It simply would've been preferable, at least outside the ring, to be able to better "face up" to opponents that were almost always notably taller.
There's a clip on You tube of Joe back in 1973 on Johnny Carson. Carson used to box in the Navy with a none too shabby 10-0 amateur record. They put on a boxing demo with both in flat boxing shoes. Carson gave good account of himself. Though mainly executing boxing moves with decreased posture, I think Joe held a slight edge in height. Johnny is listed 5'10.5" on this site.
As at the time of the clip, Carson was in his late 40s so some height loss possible but not so likely. Carson was fit for his age and his posture was good. It's also possible that Carson might've been a flat 5'10" peak, a height I would've casually guessed him to be. Like Tyson, Joe should garner even more credit given the limited dimensions (height and reach) he had to work with. Great fighter. Great man.
ArjunaKorale
said on 1/Apr/21
@MikeSui: I think Joe was a fraction taller but yes, I agree that they were v similar in height. I'd give Frazier a peak, fighting height of 5 ft 10.5 to 5 ft 11 (179 - 180 cm) and Tyson a peak fighting height of 5 ft 10 to 5 ft 10-and-one-quarter (around 178 cm).
Mike Sui
said on 31/Mar/21
Same as Mike Tyson 178cms.
heyyyyyyyy
said on 30/Mar/21
5'10.5 is more likely
Mickie
said on 26/Mar/21
Maybe his 5'11.5" claim was an in shoes height.
Rising174cm
said on 25/Mar/21
I can easily believe Frazier wasn't much taller than Rob by his late 60s, but I always thought he was more 5'9" range peak than a full 5'10". If you look at this scene from Rocky, he only looks about an inch or so taller than 5'8.75" or 5'9" max Stallone:
Click Here
yet you can see Frazier also has a noticeable enough advantage with a decent-sized heel typical of the 70s compared to boxing shoes.

Editor Rob
He did sometimes wear decent heels...there was a show with
Cavett and Michael parkinson
and Joe seemed taller than Michael I thought, but those heels are quite big.
ArjunaKorale
said on 25/Mar/21
I thought that Frazier was 5 ft 11 (180 cm) tall during his peak fighting yrs, so I can accept your 5 ft 10.5 (179 cm) height estimate for him. I still think Fraz could have been a max of 5 ft 11 tall as he didn't seem 4 inches shorter than 6 ft 2.5 inch tall Ali. I always saw a 3 to 3-and-a-half inch gap between Ali & Fraz. However, I did feel that Fraz was towered by the 6 ft 3-and-a-quarter inch tall Foreman. So your 5 ft 10.5 inch estimate for Joe might just be perfect!
Tall Sam
said on 24/Mar/21
He was a badass Philly icon, I'd say he can look in the 5'10.5"-5'11" range.
Big T
said on 24/Mar/21
There are plenty of photos out there of Frazier, in his 60s, with Mike Tyson. Frazier looks to be 5'8 to 5' 8 1/2" range. Did he really lose 2 inches + by his 60s?
Miss Sandy Cowell
said on 24/Mar/21
@ Rob - It's amazing how many stars you've seen in your lifetime! Christophers Lee and Walken are more my cup of tea, but I feel it's a major privilege to see and meet the stars who entertain us!

Editor Rob
Sometimes they are fleeting moments, but are lasting memories, especially if you get photos with celebrities.
Rampage(-_-_-)Clover
said on 23/Mar/21
Rob, could you add Joe Louis?
Click Here
Click Here
Click Here
w/h Ali
Mainly given 6ft2 but Boxrec.com (the official website for boxing records) has him at 6ft1½
Click Here
. I'd go with that for his prime. Like Henry Cooper I think he was a guy that held up well as he aged and didn't lose much. He only a little shorter than peak Ali
Miss Sandy Cowell
said on 23/Mar/21
Great addition, Rob! I remember him well, and he can have 5ft10.75. 💪

Editor Rob
I did once see Joe up close a decade or so ago, it was at one of the NEC birmingham events, he really wasn't that much taller than myself, I was surprised. But he did look like he'd lost over an inch in height as in the 70's seemed over 5ft 10 I thought.
Soetan
said on 23/Mar/21
Looks a perfect 5'10¼ to me
Mickie
said on 23/Mar/21
I always thought 5'11", but I can believe this listing.