Joel Gretsch's Height
5ft 10 (177.8 cm)
American actor best known for playing Tom Baldwin on The 4400, Father Landry on V and Owen Crawford in mini-series Taken. In film he has appeared in The Legend of Baggar Vance and Push.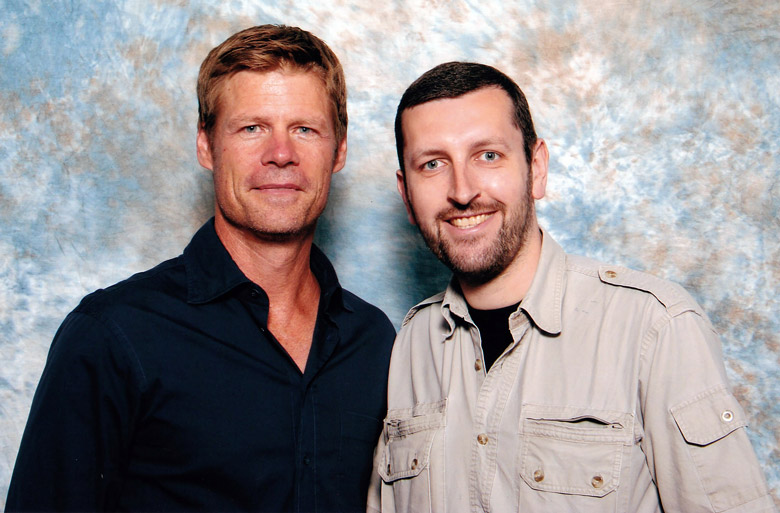 5ft 8 Rob and Joel @ LFCC 2011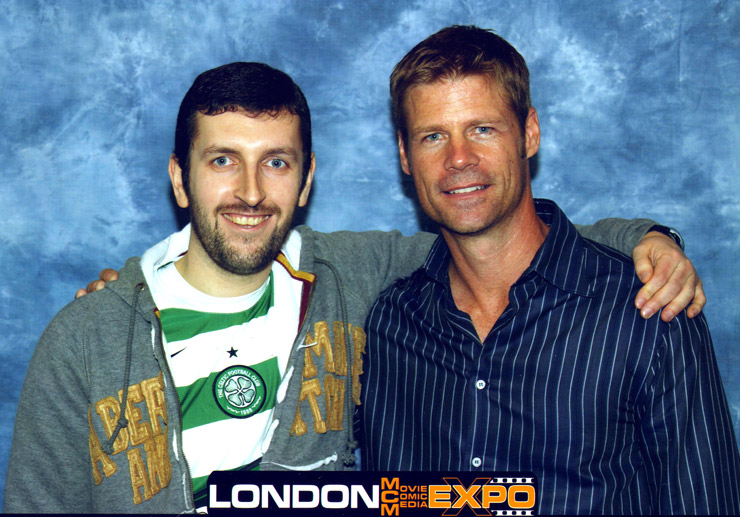 5ft 8 Rob and Joel MCM London Expo 2006
You May Be Interested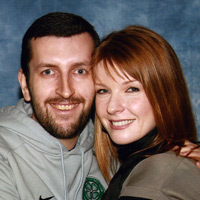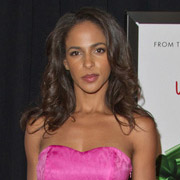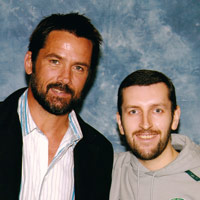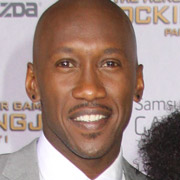 Add a Comment
64 comments
Average Guess (25 Votes)
5ft 10in (177.8cm)
Nik Ashton
said on 20/Feb/20
It looks like Rob is slouching in the top pic!
Kenneth
said on 26/Dec/19
If it weren't for his long neck, he would be around 5'9.5" in the second picture. But since he does, 5'10" is a good height.
Christian 6'5 3/8"
said on 12/Sep/19
5'9 5/8" in the first pic, can look near 5'10" in the second one though.
Chris Junior Hernandez 1990
said on 6/Aug/19
Maybe measuring tape in scotland cut off 2cm and Rob is atually closer to 5'9 :p
Paul Wood
said on 24/Jan/19
These photos bear out what I've noticed before - the closer the camera, the smaller a height difference appears.
Colberto
said on 15/Nov/18
Looks about 5'9 3/4". Not a strong 5'10" at all.
Zampo
said on 22/Sep/18
5'9.75, can't see him measuring a mm above 5'10.
Nik
said on 18/Jul/18
He can pull off the stated height!
Bobby
said on 26/Jun/18
177/178cm would be my guess, he can look both.
CDS
said on 6/Feb/18
In case it hasn't been pointed out, on the 2000's TV series, "The 4400", was listed as 6'. I'd say 5'10" is closer.
World Citizen
said on 28/May/17
176/177 cm
Bobby
said on 23/Mar/17
He seems to look 5'10.5 at least, in the top picture while the bottom one he appears to be at most 1.8 inches taller. It's close to say that he's a decent 5'10.
Victor Surratt
said on 12/Mar/17
Legit 5'10.
S.J.H
said on 9/Nov/16
Rob, if you were few mm over 173cm on the 2 photo above then he is close to 5'10 but i hardly see him over 4cm taller than you
S.J.H
said on 6/Nov/16
Honestly he look 5'9 with rob on top picture and bottom one look 5'9.25 let alone his hair volume advantage than big rob. I'll say 176cm at most
Editor Rob:
SJH, I wouldn't have guessed 179 or 176, but close to 178 in person.
mrtguy
said on 17/Jul/16
5'10'' seems a stretch
NBAer
said on 21/Mar/16
177cm or 5'9.75,just almost 5'10.
CD
said on 21/Dec/15
Rob, with the return of comments from 2005-2007 days it seems your estimates were generally about 0.5 inch more than they are listed today. Any idea on why this is? For example, you thought this guy could be 5ft 10.5 from seeing him in person.
Editor Rob: I think he can still pull off looking over 5ft 10 at times, but the more people I measured and spend time with, the better feeling I've gotten how various heights feel or look.
184.3cm (Night)
said on 13/Nov/15
Been watching the 4400 lately and i knew he wasn't over 5'11. He has great posture and a really long neck though, gives a taller impression at times.
When he isn't standing next to tall people he can look around 5'11.
Arch Stanton
said on 7/Aug/15
This guy looks like he was made in a Nazi laboratory, kind of like one of those East German athletes of the 80s haha. Appropriate name Gretsch too! Although I guess Hitler would prefer him to be taller!
Jared
said on 27/Oct/14
@Balrog 176? So he would be just 3cm taller than Rob? Take a tape and see how little 3cm is. 1 inch is almost invisible in real life and you can see there's a way bigger height difference between them in the picture above.
TJE
said on 17/Aug/14
@taha
Nope, 5'9-5'10 is still average, but people are getting taller.
Joel looks 5'9.5 in both pics. 5'10 is possible.
taha
said on 31/May/14
Hey is 6'1 average these days so many guys on the web say they're 6'3 plus and that 6'2 isn't tall could it he they're exaggerating or has height really increased among men these days
Balrog
said on 13/Mar/14
In those two pictures above it doesn't look more than 176 cm. Surely under 178.
Hypado
said on 26/Nov/13
legit 178cm
Rampage(-_-_-)Clover
said on 17/Sep/13
Looks barely 5ft9 in the more recent pic but potentially looks a strong 5ft10 in the 2006 pic.
TheVerve181cm
said on 17/Feb/13
5ft10 and change, like 5ft10.25 or 5ft10.5 at night.
Stephen
said on 8/Jan/13
177.7 at night guy with perfect posture.
Johnnyfive
said on 11/Dec/12
I see 5'9.5
Aragorn 5'11
said on 23/Oct/12
Strong 5'10. I highly doubt he's more than that though. But, he can definitely look 5'11 in shoes.
someone
said on 29/Aug/12
definitely 5 ft 10+
LG69
said on 12/Aug/12
If the footwear is equal, than he's 5'10" solid.
dmeyer
said on 23/Nov/11
not over 177.5-178cm with rob
ChiasmataX
said on 21/Nov/11
177cm in the pics. 178-179cm out of bed.
MrX
said on 20/Nov/11
Solid 178cm barefoot...179cm in the morning; he can be 178,5-179 cm until 4 o'clock after good sleeping!
Alex
said on 11/Aug/11
Looks like a weak 5'10. He looks 5'9 1/2 with Rob.
Josh B
said on 3/Aug/11
Can't believe some people estimate 5"11-6" for this guy.
In the pics he stands at 5"9.75.
[Editor Rob:
on 4400 he could look 5ft 11 range for sure, but anytime I seen him I thought he appeared nearer 5ft 10 than 11.
]
Chris175
said on 18/Jul/11
from photos i reckon closer to 5-11 rob? but you met the guy so i trust your judgement
Weissheumier
said on 29/Jun/11
5'11 - 6' for sure like 1,81cm, I am 6' and he looks to have my height , maybe he can look 6,1 in shoes
stoodnext2
said on 22/Jun/11
I can see 5'11 and change out of bed, Strong 5'10 in the day. In shoes close enough to claim 6' (On camera a 5'10 guy "a legit barefoot at night 5'10 guy" can look 6' easily and play a leading man)
Rampage(-_-_-)Clover
said on 26/May/11
5ft10.25-5ft10.5 range...
linke
said on 27/Apr/11
rob wasnt he listed as 5'10.5 before?I think he's bit over 5'10
dmeyer
said on 21/Apr/11
rob he must wear lifts on the show
[Editor Rob: he can look 5ft 11 on some shows.]
Rampage(-_-_-)Clover
said on 14/Apr/11
179cm looks closer
Avi
said on 3/Apr/11
Strong 5'10. Maybe half inch more
horacle
said on 1/Apr/11
he looks 5'10.5 on V
James
said on 22/Feb/11
He looks 177cm titlting his head down a bit. i think 5'10 is probably for this guy but no more.
Dean
said on 2/Feb/11
His neck isnt totally straight...could be 179 straighter but then he has got thicker hair..no lower than 178 but could be more
jtm
said on 3/Jan/11
kevin damon is actually 5'8.
MrX
said on 1/Jan/11
Solid 178cm
Ali
said on 1/Jul/09
5'10 is spot on
James
said on 31/May/09
Maybe 179cm
Mad Dog
said on 6/Apr/09
I've always wondered how tall he was. I've read certain articles about him saying he was 6' but I was never quite convinced. I'd say 5'9"ish sounds about right. He does have tall hair...LOL
rob89
said on 7/Feb/09
He only looks 5'9ish here, 5'10 absolute max, that's the tallest he could be i think. No way is he 5'11, never looked it in The 4400 to me. He was only 3-4 inches taller than 5'6 Jacqueline McKenzie.
Davey
said on 27/Jun/08
looks like a weak 5'10
Lego
said on 27/Jun/08
i agree with TNTinCA, 5'9.5 to 5'10 tops.
Brah
said on 26/Jun/08
Actually I always thought he looked average to slightly above height on The 4400.
"Richard Tyler" and "Jordan Collier" always towered over him.
TNTinCA
said on 26/Jun/08
Not sure about the extra inch. Looks around 5'9.5" to 5'10" to me.
MD
said on 26/Jun/08
That does not look like two-and-a-half inches in difference.
Knight
said on 26/Jun/08
It's odd. If you compare their eye levels in Rob's posting, Joel seems about an inch taller. If you compare their heads, Joel seems 2 inches taller. Am I missing something??
[Editor Rob: Sometimes people might have head down slightly or up slightly more or someone is slightly closer to camera. His hairline is probably between 1/3-1/2 inch more than eyeline but his hairstyle isn't as flat.

I thought the last time you were here you would have learned that it's easier just to stick to one name...it's easily done, please do it.]
Teh Pwn
said on 26/Jun/08
did he have a bad posture? Cos he looks less than 179cm in this picture.
err..btw Rob, am I seeing a sheet of paper stapled to your face?!
[Editor Rob: I do think he's in and around 179cm and has a bit looser stance than me.

I'm changing the block, instead of all white you now get 2 wee dots where my eyes are...at this rate I might be better just unblocking myself!]
Chris
said on 26/Jun/08
Looks 5'9.5" here.
maximus
said on 26/Jun/08
He looks 5'10" at best in this photo....he may wear lifts at times
Anonymous
said on 7/Aug/07
if you thaught he looked 5'10.5 whi do you give him 5'10.75
[Editor Rob: basically 5ft 10.5 is the best estimate, I just didn't change it.]