Billy Campbell's Height
6ft 3 ¼ (191.1 cm)
American actor best known for film roles in The Rocketeer, Enough and Ghost Town. On tv, he played Jordan Collier in sci-fi drama The 4400, Dr. Alan Farragut in Helixa and Darren Richmond in the American remake of The Killing. I met him at London Expo in 2007 and thought he was in 6ft 3 range.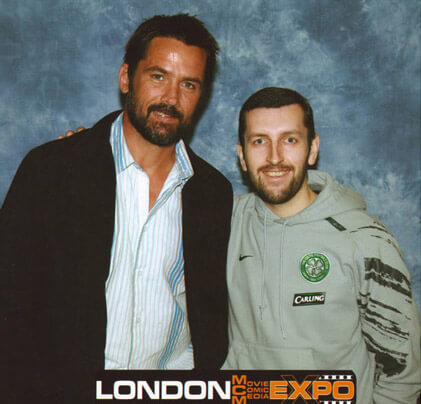 5ft 8 Rob with Bill
You May Be Interested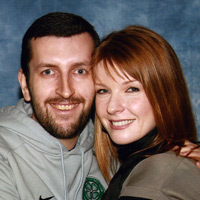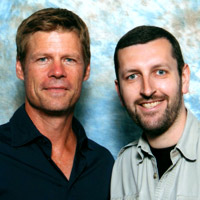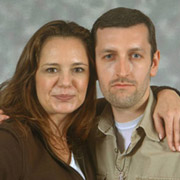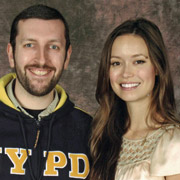 Add a Comment
105 comments
Average Guess (23 Votes)
6ft 3.24in (191.1cm)
Srk182cms
said on 5/Jan/21
He looks 6'2.5 max judging by this photo
Rampage(-_-_-)Clover
said on 26/Dec/20
Late 40's you generally lose nothing...unless injuries. Rob met him at his peak. Strong 6ft3 is what he's always looked up to 6ft3½, never really got a 6ft4 impression from him except occasionally
stiggles
said on 10/Dec/20
6ft 2 max.
Canson
said on 25/Jun/20
@Editor Rob: you're saying he didn't look as low as 6'3" flat? What time of the day did you meet him
@Nik: Wikipedia also lists him as 6'4". This is common though. I tend to see some guys who claim 6'4" and look like that next to someone who is 5'8" and then I stand next to them and they're around an inch shorter than me. I guess by that logic I would be guessed as 6'5" when I'm really just a 6'4.25 to 6'4 3/8" range guy lunchtime onward
Jkiller
said on 24/Jun/20
Honestly looks a decent 6'3.5 (192cm).
Chris Junior Hernandez 1990
said on 25/May/20
Rob, maybe he was closer to 6'3 1/2 peak before you met him?

Editor Rob
Would he have lost height by late 40's? I am not sure.
Nik Ashton
said on 3/May/20
@ Rob - What does he claim?

Editor Rob
His manager described him as 6ft 4, but I am not sure I saw a direct quote.

Nik Ashton
said on 3/May/20
He's in the 6'3" range, without a shadow of a doubt!
OriginalAnon
said on 21/Mar/20
One of these sort of guys that can look completely different in any given month. He is a tall guy and I won't disagree with Rob's assessment. I think in his younger years could have been very close to 6'4''.
Miss Sandy Cowell
said on 3/Dec/19
How ridiculous! Billy, tall and good looking, is playing notorious serial killer Ted Bundy in the film, 'Ted Bundy: Stranger Beside Me'. Billy's 13cm taller than the real Bundy and a whole less sick-looking! In fact, I am pondering as to why they wish to glamorise a killer in this fashion.
6ft3.25.
Junior Hernandez 1990
said on 3/Jun/19
@'Annonymous' Those picture you post all benefits the camera angle from Billy or Joel having slouches. Billy is over 50 there and most probably lost height not over what Rob listed him, Joel is a solid 6'2 1/4 guy and Billy might be 6'3 1/2 peak and 6'3 1/4 met by Rob and going down 6'3 flat.
'Annonymous'
said on 22/Mar/19
Hi Rob! Please take a look at these Campbell photos next to Joel Kinnaman from 2012:
Click Here
Click Here
Click Here
Click Here
Click Here
Click Here
It's true that Kinnaman has a slightly worse posture than Campbell, but I believe that Billy is taller than Joel by at least 3 cm. Rob, please answer my question. Do you see the chance for Campbell on a range of 6'3.5"?

Editor Rob
In person, I feel 6ft 3 - 3.5 is a range he can look. I mean 6ft 3.5 might be the most, a strong 6ft 3 and change the worst.
Junior Hernandez 1990
said on 9/Jan/19
@Gracian I bet he did not lose any height yet.
Gracian
said on 12/Dec/18
Billy will be 60 years old in two months. I think it's time for peak height and current height for him. Rob, peak height 6'3.5" and current height flat 6'3" are possible figures for him?
berta
said on 23/Nov/18
i think he is a very legit 191 guy. Good listing and i could see him measureing 6 foot 3 3/8 also
Dream(5'9.5")
said on 26/Jul/18
He does remind me of a taller Hugh Jackman!
Jarek
said on 12/Feb/18
he looks like a strong 6ft3 inches a little less than my cousin who is 6 ft 4 he docent look 6ft 4 inches but he looks close enough to 6 ft 4 inches any way around 191 cm for billy
Psychedelic Earth 187
said on 18/Dec/17
he looks like hugh jackman.
Junior
said on 17/Aug/17
In Helix he look 6'3.5" if not 6'4 in some appearance hardly see him under 6'3.5". I believe Rob miss out a 0.25 for Billy.
Rampage(-_-_-)Clover
said on 2/Mar/17
192cm peak, Rob?
berta
said on 19/Feb/17
the generall belief seems to be he is about 6 foot 3 ore could be shorter. i really think that could be to short. to me he looks like he could actually be litte over 191 and pushing 192. 188-189 joel kinna man looked a fair bit shorter than him. i mean by knowing this huy is 191 i would not have thought joel was more than 187 maybe
berta
said on 10/May/16
Beside Joel Kinnaman who i Think is weak 189 he looks really tall. 191 ore even 192
Gandermail
said on 6/May/16
I met him once, I'm a little over six four and he didn't seem much shorter. Wonderful guy, told jokes and really didn't act like a celebrity at all.
Rampage(-_-_-)Clover
said on 19/Apr/16
Looks no less than this really...
Gary
said on 25/Mar/16
@rob is it possible to tell someone's exact height without using measurements?
Editor Rob: you can get a sense of their range, but to really be sure, a measurement is always ideal.
AlexMahone
said on 11/Mar/16
Agreed with Sam. 191cm. Genuine.
Sam
said on 7/Mar/16
Nope, a genuine and strong 6'3". A lot of co-stars over the years would require downgrades if Campbell was a flat 6'2".
kurtz
said on 4/Mar/16
a genuine and strong 6'2" -188 cm.
184.3cm (Night)
said on 13/Nov/15
I thought he was 6'4 from watching the 4400 but then Joel being a flat 5'10 puts him at 6'3.
Looks really towering at times in the show.
S.J.H
said on 15/Oct/15
Billy himself still claiming 6'4 but look a solid 190cm else where
Rampage(-_-_-)Clover
said on 30/Oct/14
Nice pics! Campbell does look a solid 6ft3½ in those at least, if not 6ft4. I personally think Dalton was a 6ft2 guy (around 6ft1¼-6ft1½ today).
AlexMahone
said on 29/Oct/14
Seems to me that the links are missing from my previous posts. :))
OK, here Campbell with Dalton.
Click Here
I think here he's a little bit slouching but anyway he's a solid 6'3.25 (191cm).
And here
Click Here
6'3.5-6'3.75 (about 192cm).
AlexMahone
said on 26/Oct/14
Well, I thought that he's a way taller then I saw the picture with Rob. I always thought he has a taller impression for me. In the Rocketeer he wears boots and was definetely taller than Timothy Dalton. Here is a promo picture from 1990. If dalton was peak 6'2 (188cm) than here Campbell is 6'3.5 (192) minimum. (He's slouching a little bit...so the photo isn't ideal...)
Andrew M
said on 4/Oct/14
He also starred with the beautiful Allie Walker in the almost unknown and underrated series "Moon Over Miami" - a one series show in the style of "Moonlighting". It was very entertaining, and very funny, and deserved primetime viewing and attention! I'm glad my late Mum spotted it and told me about it.
He was also great as the super-handsome, great-at-everything, yet unknowingly humble Dr. Clint Webber in "Frasier".
Frasier "Ok he's handsome but it's not like he can stop traffic"
[BEEP BEEP! HONK! CRASH!]
Frasier "We don't know that was for him!"
Realist
said on 3/Aug/14
What ? What ? Rob how much footwear have you got he does not look more than 6'2.5 in this pic. I do know he is bending but 189 tops for this guy.
[Editor Rob: very close to my footwear, but definitely not more, within a few mm I believe.]
Sam
said on 17/Mar/14
I don't see Campbell as above 6'3" flat, for sure he's dropping some height in the photo.
Marl
said on 9/Mar/14
He's handsome at any height! I'm going to see him live in The Winter's Tale. Very exciting.
sigge
said on 2/Feb/14
Rob, how much height does he lose in this pic? I dont see a 191 even if he stood straight.
[Editor Rob: he was a bit shorter than ed quinn that day, not much, but I think a good 6ft 3 range]
Rampage(-_-_-)Clover
said on 9/Dec/13
Probably taller than at least 50% of the guys listed here at 6ft3.
Rob, who do you think is taller, this guy or Kevin Sorbo?
[Editor Rob: well he was shorter than ed quinn at this event...so a strong 6ft 3 range like Sorbo I think is reasonable.]
Mathew
said on 15/Oct/13
He doesn't look 6'4" here, no. Maybe 6'3" if he stood straight.
sandy
said on 5/Sep/13
I thought for sure he looked @ least 6'4"!
Ali
said on 13/Aug/13
Blaze maybe its time to reconsider your height not his. LOL
Blaze
said on 11/Aug/13
this guy is 6'3 at the most. Im 195cm and 5'8 ppl reach a little above my chin and I got a 9.5 inch head so I don't get it
PepsiCola
said on 27/Jul/13
Franky He does not look 6'4 even if he stand straight, he is clearly 6'3 if he is standing straight
Rampage(-_-_-)Clover
said on 24/Dec/12
lol I meant Jason Bateman
Rampage(-_-_-)Clover
said on 18/Dec/12
Cross between Liam Neeson and Chris Bateman
Arch Stanton
said on 17/Nov/12
Enough is a funny film. Jennifer Lopez beating and killing this guy in a fight, sure!!
Arch Stanton
said on 16/Nov/12
Like a cross between Neeson and Lowe I think.
Arch Stanton
said on 16/Nov/12
Watching Enough at the moment and he looks an easy 6'3". Legit 6'3"-6'4" guy, actually looks a bit like Rob Lowe but doesn't in this photo.
Shaun
said on 27/Sep/12
He looks similar range to Ed Quinn here if stood straight. He looks near 6'4" I think.
Maximus
said on 26/Sep/12
6'3" sounds fair....very tall by holly wood standards and to be honest he is tall period....average height of a male in usa is 5'9.5" so he is well above average....it is possible that Tom Cruise could be his height with super sized shoe lifts.
imeniaan
said on 1/Dec/11
looks like 194 cm if he is standing straight. here he looks 189/190, beause he leans forward. the guy is massive.
talker
said on 25/Nov/11
i think he is easily 6'4",the guy is very tall.Might even be taller than that.He towered over everybody in the Rocketeer,including 6'2"Tomothy Dalton.
I ve seen him in his own series a while back,he is a tall dude.
goal height 183cm
said on 23/Oct/11
your eyes is exactly the same lvl as bottom of his chin and he's leaning,if he stand up straight his chin would be same lvl as your eyebrows...
he's huuuuuuuugggggggggggeeeeeeeeeee, 6'4" wouldn't surprise... i think he's a solid 6'3"
goal height 183cm
said on 23/Oct/11
@patb that is nonesense, i know a guy who got an almost full beard and he continued to grow taller till 20-21 he's a solid 6'1" now
LAN Jiao
said on 14/Oct/11
I notice in picture he look like josh duhamel. Lol.. he always looking 6'2.5 legit in tv. Heard he claim 6'4. Doubted his not so tall since he had tendency wore bigger shoe on film.
Lenad
said on 11/Jun/11
Solid 190cm i think. Looks 186-187cm with bad posture.
James
said on 27/May/11
Nah i think he does look as tall as listed here
Rampage(-_-_-)Clover
said on 25/May/11
In that case he's probably 6"2.5(189cm) max with good posture?
James
said on 17/May/11
186cm hunching down actually
Rampage(-_-_-)Clover
said on 15/May/11
He looks 188cm in the photo
James
said on 27/Apr/11
He's 185cm inthe pic hunching down. mind you rob is not standing straight in the pic either. He does not look though as tall as 191cm but probably 189cm in the photo?
Rampage(-_-_-)Clover
said on 23/Apr/11
He actually looks 6"2(188cm) at best with Rob and no taller
Aaron
said on 3/Apr/11
You guys are making Campbell sound like a giant. He has a good jaw and he's a handsome man, and he has some muscle and mass to him, but he doesn't have a "big frame" or an especially large head. Hollywood is a dwarftown; everyone knows that. He just looks big with other actors.
Flat 6'3.5" and change in the morning.
Peter Cohen
said on 17/Mar/11
Intresting i can't really say how tall he is because has a terrible a posture here I rememmber him only from The OC in season 2 he was like a building next to peter galagher who's 5'9 i though that this guy looked ****in huge maybe 6'4 6'5 he apears really big but i think it also because of his big frame I'm a 6'1 guy with a small frame and i know what i'm talking about
Rampage(-_-_-)Clover
said on 23/Feb/11
Short looking 6"3 guy....not sure if he's 192cm though
James
said on 14/Feb/11
Its really hard to judge in this photo cause he is bending down so much. In the pic he looks 186cm slouching down. i wonder how much height he is losing with his posture?
Ed
said on 2/Feb/11
6'4" claims a bit laughable though
Ed
said on 2/Feb/11
maybe a hair under 6'3" but no less
MaxB
said on 29/Jan/11
@Anonymous - only 6ft2? To me he looks at least 6ft3.
PatB
said on 31/Dec/10
JesseDaniel wants to know how tall he will be when he grows up. He's 6'0" now at 15. Impossible to be accurate of course but you could look at your chin. If you haven't started to shave yet your teen age growth spurt may still be before you. But if your growth spurt is behind you you probably won't be gatting any taller. I was a late developer so I continued to grow until I was 24. Most don't.
Matt
said on 30/Nov/10
he appears nearer to the camera thus giving a slight illusuion of being taller, but he also has terrible posture making him appear shorter, nonetheless he is nothing under 6ft 2.5 and nothing over 6ft 3.5
chin
said on 24/Nov/10
Bill Campbell has appalling posture. Get him to stand up straight and it is very obvious how tall he is. In any room, he tends to stand head and shoulders above everyone else
Legend
said on 6/Nov/10
He looks like ryan reynolds
Ali
said on 1/Jul/09
He is definitely around the listed height. Genuine
tall guy.
Anonymous
said on 14/Jun/09
he looks 6'2.75 to 6'3 maximum.
James
said on 29/May/09
6'2 with bad posture in the pic. 6'3-6'4 stood straight
Martin
said on 27/May/09
Here he is with Michael Eckford and Fiona Forbes.
Click Here
Anyone know how tall they are? He looks like a giant beside Michael for instance.
JesseDaniel
said on 10/Apr/09
Phil... as a reply, I eat a lot, and I eat only good food. But I enjoy my caffinated beverages every now and then.
JesseDaniel
said on 10/Apr/09
Thanks, Rob, much appreciated.
Phil
said on 9/Apr/09
I was 6'2 when I was 13, and now, I only 6'4 and I'm 25 so... It really depends on a lot of things. And not only genetics, but nutrition. Don't drink cafeine!
Marty
said on 7/Jan/09
Easily 6 ft 4 in if he stands fully erect...
OSWALD
said on 6/Jan/09
You look like a dwarf next to him Rob.
Ras
said on 5/Jan/09
I'd say 6'2.75. BTW Rob that's not Colin Ferguson next to Ed Quinn.
[Editor Rob: I know, it's an actor who claims 6ft 5 on his myspace, getty photographer wrote wrong name.]
Lego
said on 3/Jan/09
yes that's why i said "easy 6'4" which means 6'4 and 6'4+, i did take into account the hair and the fact he's leaning, straightend up would be 6'4-6'4+ but not quite 6'5.
this means he's a true 6'3.
we have to take also into consideration a few things when looking at pix, just because the pic is taken say in the evening don't really mean he didn't have a short nap before the event which would decompress his spine and make him taller (kinda like getting out of bed).
but generally from the few movies i've seen he looks nothing below 6'3 and this pic does reinforce this.
[Editor Rob: that pic was taken near lunchtime.

in any case Billy Campbell and Ed Quinn stood together talking in front of me...Campbell was the shorter of the two.]
Lego
said on 2/Jan/09
looks quite tall, easy 6'4 (don't be tricked by the haircut!) which adds a tiny bit to his height.
6'3 sounds proper.
Hugh
said on 2/Jan/09
I think he may be pushing 6ft4.
Derek
said on 2/Jan/09
He's leaning considerably, but looks closer to 6'3" then 6'4".
anonymoose
said on 2/Jan/09
man I billed him at 6"3.5 missed him by .25 inch :p
leonari
said on 1/Jan/09
Big guy...6'3-6'4". He was recently in a supporting role in"Ghost town" along Tea L
Lionel
said on 1/Jan/09
He looks 6'2.5 beside Rob.
Anonymous
said on 1/Jan/09
looks 6'2 and a half, but maybe 6'3 since he's slouching
miko
said on 1/Jan/09
Seems spot on Rob. Definately in the 6"3 range.
thekiddd
said on 1/Apr/08
This man is usually known as Bill Campbell Not Billy Campbell.
venus
said on 16/Jan/08
Glenn got it right, but he looks 6'3 on his bad days.
Darkman
said on 26/Nov/07
Why did you downgrade him? He should be upgraded not downgraded.
[Editor Rob: I downgraded him because

I met him and also saw him standing right beside Ed Quinn looking to me 1 inch shorter, confirming what I thought when seeing him earlier that day...nearer to 6ft 3, not 6ft 4.

but remember that is just my estimates, nothing is fact.]
Anonymous
said on 26/Jul/07
I saw Campbell on an episode of Law & Order: Special Victims Unit in which he towered over six foot Chris Meloni. It seems that Campbell is at least a full 6'4".
D. Ray Morton
said on 10/Jun/07
Nice guy. 6'4" for sure.
Ed Kline
said on 31/Dec/06
I am thinking 6'4....he is distinctly taller than Noah Wylie in 'Enough'
thelasttiger
said on 18/Sep/06
He's a pretty tall dude, He's almost a foot taller than J-lo in Enough. He's really tall. Rob I think we should go with 6'3 3/4" for now but I do think he is 6'4"
Bikagyura
said on 7/Jan/06
probably 6'4...
Viper652
said on 10/Nov/05
He looks a solid 6-4 to me as well
Anonymous
said on 10/Nov/05
Billy Campbell is a definite 6'4, he is the same height as my buddy who is also 6'4 and they are best friends. They grew up together.
anonymous
said on 15/Oct/05
I saw him on an episode of Once and Again. He certainly looked 6'4 in that episode. He didn't look less than 6'3.
anonymous
said on 28/Aug/05
He looks taller than 6'2 to me.