John Amos Height
5ft 10 ¾ (179.7 cm)
Peak height was 5ft 11 ½ (181.6 cm)
American actor best known for roles in films such as Die Hard 2, Coming to America, Lock Up, The Beastmaster and TV shows Roots and Good Times. This photo (by Giles) was from a Collectormania 2013 event.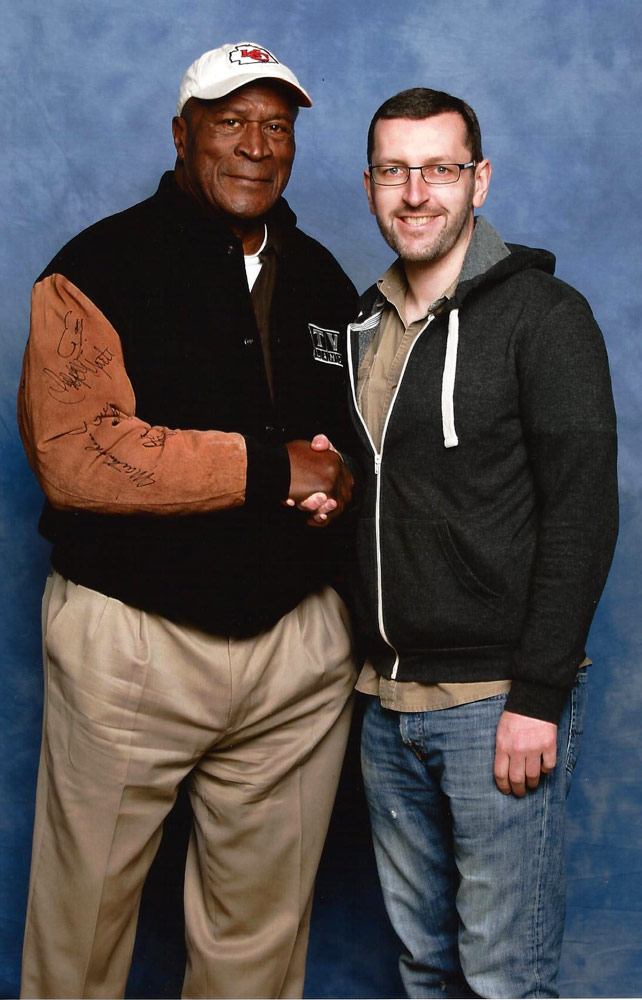 5ft 8 Rob and John
You May Be Interested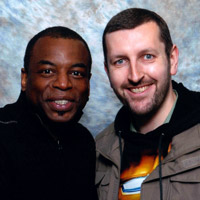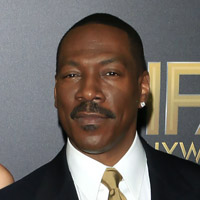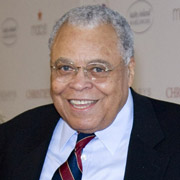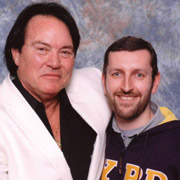 Add a Comment
55 comments
Average Guess (3 Votes)
Peak: 5ft 11.58in (181.8cm)
Current: 5ft 10.83in (179.9cm)
Nik
said on 11/Jun/19
He looks at least 5'10.75"!
Canson
said on 9/May/19
He still looks good for his age too
c-mo
said on 9/May/19
this man always looked like the perfect height to me on screen
Zampo
said on 7/Nov/18
No less than 5'10.5. I can see this 5'10.75 listing. I wouldn't be surprised with 179.4 cm measurement for Mr Amos.
On a side note, I watch "Coming to America" nearly every year around Christmas time. Funny film.
Canson
said on 30/Sep/18
@Christian: agreed
Christian 6'5 3/8"
said on 29/Sep/18
Looks the same height as Michael Rosenbaum did next to Rob. Both look around 179-180.
Canson
said on 26/Sep/18
@Rob: never knew you met him. I'd say 5'10.5. Peak maybe 5'11 or a hair over. He didn't look 6' in Good Times
Rising - 174 cm
said on 10/Oct/17
He looks great for mid 70's here and really hasn't changed much. Hasn't lost much height either as Rampage is right that Sly pulled off almost as tall in Lock Up:
Click Here
Watch the wide shot of the two around 40 seconds or standing together around 1:15.
Mike
said on 21/Feb/17
Jimmy Walker is 6'1.
Eric
said on 7/May/16
if he is standing straight then he is almost 5'11 or 180
rut
said on 4/May/16
Are you guys blind? Some people just like downgrading for the heck of it. This is a 2.5 inch difference. 5'10.75 or even 5'10.62 is correct for this guy if Rob is near 173 cm at his low. Rob's eyes are near John's upper lip, below the end of his nose, hence 2.5.
Dom
said on 21/Apr/16
He's 180 peak. In coming to america, he's at max 4 cm taller than Eddie Murphy and even that could be generous.
Rampage(-_-_-)Clover
said on 10/Apr/16
He looked barely taller than Stallone in Lock Up...boots, hat, the works.
Gonzalo
said on 30/Mar/16
Never thought he was that tall. I always thought he was an average/short man, around 1`73. I was clearly wrong
Dmax
said on 27/Mar/16
Always thought he was 5'9 cause he looks that height next to JJ on Good Times
Andrea
said on 26/Mar/16
I'm talking about the pictures...
Ben looks around 5'11 in the last picture and he has got about a cm more shoe than you! I haven't seen enough of Ben to say whether he is this or that tall (just The Imitation Game), so i'm gonna trust your estimate!
The thing is that many celebrities look under their listing next to you, sometimes even more than one inch, so i can see why some people have some doubts, even after you meet them!
This guy looks roughly around 179!
Editor Rob: yes Ben can look around that 5ft 11 range in the photo, but I'm not sure he is that low.
Andrea
said on 26/Mar/16
No, he does look nearly 5'11 with the cap on, as shown by the "new picture"... :)
He actually doesn't look that much shorter than a guy like Ben Cumberbatch in the last picture and Ben has shoe advantage!!! If this guy looks only 5'10, as you say, Ben doesn't even look a full 5'11 with Rob!
Editor Rob: Amos was in that almost 5ft 11 range up close, Cumberbatch I do think is still over 5ft 11, but how much is debatable.
Rampage(-_-_-)Clover
said on 24/Mar/16
I see max 5ft10-5ft10½ beside Rob and that's with the cap on...
120
said on 22/Mar/16
Holy, loved his work in Roots. When i looked at his appearance, i thought he could be a lot taller. Then, i saw this. Guess, i was wrong lol.
Daniel
said on 22/Mar/16
I always thought he was 6'1''
Johno
said on 21/Mar/16
5'10.5
Didn't realise he was this tall. I would have guessed him at 5'7 at first.
Rampage(-_-_-)Clover
said on 21/Mar/16
Like Willis...much shorter than I would have thought.
Andrea
said on 21/Mar/16
Hard to say where his head "ends", but he looks roughly 179-180 with you, Rob! Of course, if the cap doesn't give him too much height...
The Exorcist
said on 20/Mar/16
Looks like a flat 5'10" with Rob.
Aaron Zamora
said on 20/Mar/16
He does not look 5'10.75
James B
said on 20/Mar/16
His height obviously is not his redeeming quality
Sam
said on 4/Nov/15
Commanding guy, can give a bigger impression on screen. From vague recollection could be similar height to Bruce Willis in Die Hard 2.
Marcus
said on 16/Feb/15
Amos was listed at 5'11" and 205, when he tried out for the Kansas City Chiefs in the 1960's.
Brad
said on 17/Dec/14
How tall is Jimmie Walker?
Been there
said on 22/Oct/13
If you watch the movie Coming to America you'll see he and Eddie Murphy (5' 9") are the same height.
Been there
said on 22/Oct/13
I stood no more than a foot away from John Amos, if he's 5' 9" I'd be surprised. I thought he'd be at least my height (6' .25") but not even close.
Dmeyer
said on 31/Aug/13
Sly was 6 ft shoes on in lock up as hé was as tall as John amos and was a bit taller than 5'10.25 sizemore defenetly pooled off 5 ft 11 in That movie
Dmeyer
said on 31/Aug/13
Sly equals him in a walking scene in full body shot were shoes CAN be seen even if sly was 5 ft 11.75 shoes on amos is Closer to 6 ft shoes on
5ft10guy(Not Growing)
said on 22/Jan/13
yeah just seen him in martin and thought to myself he's got to be 5'11.Then I thought maybe Rob has him and you do and at 5'11.5 nice!
Jr
said on 27/Jul/12
I ran into him at a giants game few years ago and I am 6,1 and we were eye to eye for the most part , he certainly could have been an inch shorter but nothing more than that
Eric
said on 19/Jun/11
John Amos is 5'9 now and 5'10 peak.
LG69
said on 19/May/11
On "Good Times" he looked about 5'9" to 5'10", and he was solidly built--maybe 200lbs.
What
said on 7/May/11
Might be thinking of someone else. He was less than 2 feet from me and at least 4 inches shorter and I'm just over 6 feet.
glenn
said on 30/Apr/09
rob has a recent pic of amos and i coming.
Keepitrealdude
said on 29/Apr/09
John Amos was here at a service station. The time belt on his car went out. I am 5'10" so he's about 6ft.
JokeMaster
said on 6/Apr/08
Q: How many sorority girls does it take to screw in a lightbulb?
A: 31, 1 to screw it in and 30 to clap and cheer
BeingTall
said on 25/Mar/08
In Coming to America he was shorter than Eddie Murphy throughout the whole film! How could this be!
dmeyer
said on 26/Feb/08
sly did a goodjob to apear 1 cm taller than amos in lock up,even in fullbody shots
dmeyer
said on 26/Sep/07
after looking at some pics he could be 6
dmeyer
said on 26/Sep/07
sly managed to look aleast 5'11.5 in lock up since he is as tall as sizemore and a hair taller than amos but he was towered by donald who prbably was 6'3.5 18 years ago
dmeyer
said on 26/Sep/07
we have a new 181 guy
dmeyer
said on 26/Sep/07
sly looks 0.5 in taller trough out the all movie and the feet can be seen if amos is 182 then sly 183 he did have heigh cut 1.5 in heels boots so even with 1.5 in lifts inside that is steel 5'10 easy
[Editor Rob: 182 might be a little much for mamos then.]
dmeyer
said on 23/Sep/07
sly looked taller than him in some scene so glenn is right sly can apear 6 ft in late 80s sly has got to be 5'10 maybe 5'10.5 barefeet
MJ DACE
said on 20/Sep/06
ACTOR JOHN AMOS IS OVER 6 FOOT ,I AM 5'11.5 I SAW HIM IN PERSON HE IS A LITTLE TALLER THAN ME. HE LOOKS SHORTER BECAUSE HE HAS A VERY HUSKY BUILD. BUT HE HAS TO BE AT LEASE 6'0 TO 6'2
Regus
said on 7/Sep/06
I agree with J there, Amos has an imposing look to him. Shorter than I thought, but not by much, mind.
Derek
said on 6/Sep/06
IMDB has jimmie at 6'1". his slim frame makes him look 6'3"-6'4" but hes really 6'1", maybe 6'2".
Glenn
said on 6/Sep/06
Jimmy Walker might be 6-2.I have photo with.
Nolifts81
said on 5/Sep/06
He starred in a movie with italian actor Franco Nero who is 179/180cm and he was exactly his same height. So I think that John Amos is about 5'11", no more than that.
C
said on 5/Sep/06
Watch Good Times and you will see that a 6'1'' Jimmie "JJ" Walker has a solid two inches on Amos.
J.
said on 5/Sep/06
Strangely enough, I actually had the opposite impression of Amos. I always assumed he was this large, tall man.