John Ashton's Height
5ft 9 (175.3 cm)
Peak height was 5ft 10 ½ (179.1 cm)
American actor best known for roles in films such as Beverly Hills Cop, Midnight Run, King Kong Lives, Fast Money and Gone Baby Gone. This photo was from the Olympia Film & Comic Con in 2016.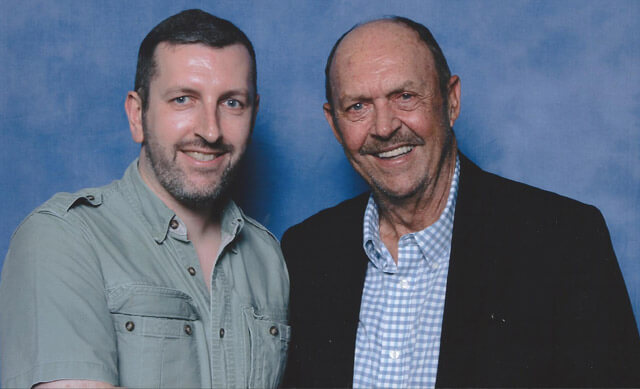 5ft 8 Rob and John
Add a Comment
46 comments
Average Guess (17 Votes)
Peak: 5ft 10.25in (178.4cm)
Current: 5ft 8.84in (174.8cm)
Miss Sandy Cowell
said on 16/Sep/20
John stands at an unflattering angle, but perhaps Rob has only recently got out of bed.... (As if! 😯😂)
John can have 5ft9 for today's height and 5ft10.5 for his peak. 😁👍
⭐ Nice, friendly picture of both guys!
Rampage(-_-_-)Clover
said on 21/Mar/20
I thought he was big 6ft+ guy originally
Sean73
said on 17/Jun/19
He looked a strong 5'10" in Midnight Run. Now, barely 5'9".
Junior Hernandez 1990
said on 7/May/19
Peak 179cm is legit. But 5'9 now is a surprise huge lost of height.
Rampage(-_-_-)Clover
said on 29/Apr/19
Rob, how likely is 5ft11 peak?
Could see it in Beverly Hills Cop w/h Judge Reinhold

Editor Rob
Maybe he lost more height than imagined...I can see how he looked at least 5ft 10.5 in 1980's, pushing 5ft 11? I wouldn't discount it.
Greg99
said on 13/Feb/19
Ok - what am I missing Rob - were you wearing cuban heels when this pic was taken, because John is clearly not 5'9" or even close, you're edging him out.

Editor Rob
John has shrunk in height a bit, but I feel he was still a bit taller than myself...him in normal near 1 inch shoe, myself near 1 inch sneaker.
Peter 180cm
said on 12/Jan/19
Looks 173cm here but he's leaning so 174 is a possibility.
Peter 180cm
said on 12/Jan/19
Looks 173cm here but he's leaning so 174 is a possibility.
Sandy Cowell
said on 12/Nov/18
@ Nik Ashton - So far I'm flummoxed! I need another clue as to the identity of this elusive actress! 😆❓🤷
John Ashton, obtained via the Random Celeb route, gets 5ft9 for his today's height and 5ft10.5 for his peak height.
CDS
said on 8/Oct/18
Rob, this is one I must admit to be quite the shocker! On "Beverly hills cop", I actually thought he was like 6'1", 6' minimum. But seeing that pic of the 2 of you, no denying this site has it nailed!??

Editor Rob
I do think he shrunk a bit in height, he did look taller than Murphy back in the 80's.
Nik
said on 26/Jul/17
@ Sandy Cowell
Hi mate! Please go to page of one of your most current favourite actresses, clue: she has starred with a gentleman that you got a page for a few months ago!
I would say John is 5'8" range!
Jug
said on 5/Jul/17
He was in an episode of Columbo in which he looked pretty big, close to 6 feet. He could have been the full 5'11 in his youth. Was he significantly shorter than 6'1.5 / 6'2 Judge Reinhold in Beverly Hills Cop? I don't recall.
Editor Rob: he looked taller than Murphy, now a bit shorter than Murphy.
Pierre
said on 16/Jun/17
Imo John look around 5"8.75'next to Rob here.He has very probably lost height a little.I ask me if Richard Tyson in Hardball was really 6"0'.Their height were looking very similar no?(It seems to me Richard had lots of time cowboys boots )
Nice picture
Christian-196.5cm (6ft5 3/8)
said on 5/Jun/17
I could see 5'8.5" or 5'8.75" if he straightened up, but not a full 5'9".
Nik
said on 2/Jun/17
i struggle to see 5'9" based on the photo above!
Nik
said on 2/Jun/17
@ Charlie
i see what you mean though!
Nik
said on 2/Jun/17
@ Charlie
No that's Nik Ashton!
World Citizen
said on 1/Jun/17
He looks 5 ft 8.25 or 5 ft 8.5 but no more than that.
Charlie
said on 29/May/17
ha John Ashton is listed as 183cm. He looks 5'7 1/2 here.
Nik
said on 29/May/17
@ Sandy Cowell - Hi!
As long as you don't call him Adolf then you should get along with him OK. I wonder if he would ever pay a visit to the "Historical Heights" section of this website and have his say on there! I would imagine he would laugh off claims of Adolph being 5'9" in socks! Even Adolph being 5'9" in Air max trainers would be a push, I would imagine, in the opinion of this little fella! It sounds like height is a big subject for him!
@ MSJC - Hi! If I am labelled "Just below average" then I would not complain about that!
Sandy Cowell
said on 27/May/17
@ Nik - Hi! The bumble bee is having his hat and coat dry cleaned at the moment, so when they are ready to be picked up, he will order a limousine to take him in style to his favourite page for the purpose of casting his next vote.
During the daytime, he is to be found in his local library, reading up on 20th Century War History. It holds a great fascination for him and he likes his height guesstimates to be as accurate as possible because he vehemently argues that it's a very interesting part of it all!
As you may have noticed, he always likes to look his best! Here's a sneak preview:
🎩👚 🐝🎈🌁 👏😚 👏😗 👏😙
(His name is Jaffa, but he prefers to be called 'the bumble bee'!)
@ MSJC - Hi! Yes, I am from England in the UK. 'Just below average' sounds a good deal nicer than some of the things I've been called on the height front! 👍
Nik
said on 27/May/17
Sandy Cowell. @ MSJC
Hi!
It's absolutely fascinating what you have said Sandy, about starting to question at 3 years of age, how you had developed into a fully functioning human being. I would imagine that our early childhood is a time when we start to become curious about ourselves and the world around us, and as a result a number of questions have cropped up that many of us have wanted to know the answers to. This curiosity often continues throughout our lives and I would like to think that it would never cease for any of us! It's a great for us humans to always have a thirst for finding out about the unknown!
Like you said Sandy, as a child you wondered how you managed to materialise into a human being, and you can wonder that about anything! Take for example a tennis ball, you can be curious about how the tennis ball materialised originally, yes it is easy to see that it can come from raw materials in a factory but where did those raw materials come from originally? Tracking the change in state of a particular item (tennis ball in this example) all the way back in time would sure be interesting if it could be done, but surely you can go back for ever and ever as a substance cannot just come into existence out of nothing, or can it?
You can also think about time in the same way, and in my younger years I used to do. I always thought that if you were talking about any moment in time, however far back, you could always refer to a moment prior to that! Similarly with numbers, I was always fascinated as a kid with the fact that you could add one to absolutely any number, however large that number was!
The odds of each one of us ever existing is too remote for me to believe it is merely a coincidence. I generally don't rate anything as likely to happen if it has less than a one in 5 chance of occurrence, although as we know 1000-1 shots do occur in the world for instance and things that are even more unlikely still also happen, but the odds of us being here would probably take a few lines of this page (at least) to write out and is not a coincidence for me!
Like at the physiotherapists it will have to be session over for now, I could carry on for a lot longer than I have but instead I will hold some of the things that I want to say back for some of my future comments!
Cheers!
MSJC
said on 26/May/17
@Sandy so that's just below average height for a UK woman, I'm assuming you're British? ;)
I had a medical recently and was measured at 1.77cm which is just shy of 5'10 but have been as low as 1.74cm. And a good weekend to you also.
Nik
said on 26/May/17
@ Sandy Cowell. @ MSJC
Sandy - when's the bumble bee going back?
MSJC - I am glad this page has captivated you too!
See yer both tomorrow!
Nik
said on 26/May/17
@ Sandy Cowell. @. MSJC
Sandy - Wanna know another coincidence? Several months ago on 15 to 1 Mr Himmler got s mention in one of the questions, and this was around about the same time that I was discussing him on the "Hitler page". Also this has reminded me, you go on Hitlers page today and you will see a certain comment at the top or very near the top of his page, you won't be disappointed! See yer tomorrow on this page when I provide a reply to your interesting comment!
MSJC - I am 5 ft 7 3/8!
Sandy Cowell
said on 26/May/17
@ Nik - I'm as ready as I'll ever be!
I have often thought about the tiny details that led to nature turning into intelligent life! I also believe in devine intervention, but in a way that we will never understand while on this mortal coil!
The things that used to pass through my head about what on Earth I was doing here and how I got here were live and well when I was of preschool age - as young as 3! I remember vividly sitting out on the doorstep and wrecking my brains as to what caused me into suddenly materializing and then going into the dining room at lunchtime to witness the little cat we had (and who was run over), climb onto the table and eat my Mum's liver!
I thought it was a mighty strange coincidence that items of meat shared their names with a variety of animals and organs! I was sickened when I found out the truth, and then, of course, came the tears! My Mum kept it from me for as long as was feasibly possible because she knew how I'd react!
Thinking about the coincidences that led to life and everything else is something I used to talk about with my physiotherapist! We'd also talk about history, natural phenomena and the supernatural! I hope she didn't ever get told off for spending too much time on my sessions! They did tend to last rather longer than average!
@ MSJC - Hi! I am officially 5ft2, but more realistically 5ft1! The lousiest I was ever measured at was 153cm, at 11 at night, on the scales in Tesco's! I could just about cope with my morning height being 155cms, at a hospital appointment, so the night one was crap to me!
Have a good weekend!
MSJC
said on 25/May/17
@ Sandy & Nik - Well it's nice to see folk having good convos here :) BTW how tall are you both?
Nik
said on 25/May/17
@ Sandy Cowell. @ MSJC
Sandy - My comment is taking some digesting!
MSJC - Yes thanks for that. You have your say too!
Sandy Cowell
said on 25/May/17
@ Nik - Almost digested, but I have a hint of heartburn developing now! 💚😵
@ MSJC - Yes thank you! Feel free to join in! 👍
MSJC
said on 24/May/17
Sandy & Nik - You guys having a nice convo there? ;)
Sandy Cowell
said on 24/May/17
@ Nik - Haven't finished digesting yet! I have a touch of gas!
🐩💨!
Nik
said on 24/May/17
@ Sandy Cowell
OK cheers mate!
Sandy Cowell
said on 23/May/17
@ Nik - I'll come back to this when I have digested what you've said!
🐩!
Nik
said on 19/May/17
@ Sandy Cowell
The coincidences that you told me about were fascinating, who would have thought that Ian Brady would have died so soon after you said that "he won't be around for much longer!"? Also like you said he didn't even have the decency to do the one thing that could have shown that he had some guilt and shame in what he did.
The incident with your cat Felinia was a double coincidence! The first was that she disappeared from your sight straight after you had talked to her about her once going missing, and the second was that she turned up again immediately after you had said a prayer for her to return!
I will tell you about another coincidence, not a staggering one, but nonetheless it's still coincidence, which was that the band "Paice, Ashton and Lord" was set up in the year that I was born!
Now onto John Ashton, as well as starring in some of the films listed on this page he appeared in 2 classic 80's television programs in Dallas and The A-Team, as well as appearing in an episode of the Police Squad!! - starring Leslie Nielsen!
Now back onto coincidences, if I ever left them that is, and the next coincidence I am going to mention is the biggest coincidence of the lot and that is the whole human race and each individual one of us ever existing, the ridiculously long odds of the universe ever being formed AND then this life inhabiting world ever being formed AND then all the necessary ancestors meeting to enable each one of us to have ever lived, makes our existence one hell of a coincidence, or is it!
Cheers Sandy!
🐩!
Sandy Cowell
said on 16/May/17
⭐Correction Time!⭐
Bah! 🐑 There ought to have been a big shiny 's' on the 'know' in the final paragraph of my comment!
Rats! 🐀🐀🐀
Sandy Cowell
said on 16/May/17
@ Nik - Yes, Nik! I experience strange coincidences all the time! On Sunday night just gone, I was watching 'See No Evil' with my brother about the Moors Murders, the feature which did rather put me off Sean Harris for a bit! I said to brother afterwards, "That horrid piece of work (Brady), had better surrender the information as to where the remaining boy is buried because he won't be around for much longer!"
Then yesterday, we hear that he's on his way out and today, he has died. He didn't do the one thing that could have given him some redemption. Shame on him!
On a less drastic note, my cat Felinia followed me into the toilet yesterday and I remembered when she went missing and was found safe and well again! I talked to her about it - you can picture the scene! Then I looked round and she had gone! She didn't come back for what seemed like ages! She returned after I'd said a silent prayer that she'd be alright...within seconds!
So who know? If there are forces at work, I'd like to think they're good ones!
Cheers Nik!
Nik
said on 14/May/17
@ Sandy Cowell
Yes perhaps this page was set up on my birthday in 2015, because if that wasn't the case then it would be strange for 3 comments to be written on this page on the same day when there were no further ones for nearly 2 years! New pages attract interest and are usually commented on straight away, some continue to be commented on but others don't. It was still a coincidence if it was set up on my birthday though, if that was the case!
Well even the explainable coincidences are interesting, if you think about it they are still coincidences and they are still events that are happening against all the odds! Sometimes you may think they are explainable but they may not be in reality! Take the example of the person on TV repeating a small sentence that my Mum had just said, this is fascinating even if was just a coincidence, but was it? Who's to say that there aren't strange powers about that just happened to make that occurrence, and some of the other "explainable" coincidental occurrences happen?
I am going to go on the web shortly to find out more about this band!
Cheers mate!
MSJC
said on 12/May/17
Taller than Eddie Murphy in BHC?
Editor Rob: he looked taller, now, well he's nearer 5ft 9 in person.
Sandy Cowell
said on 12/May/17
@ Nik - Oh yes! The coincidences for you were to find that the comments were all written on your birthday! That is probably because John Ashton's page was set up on your birthday!
I too am interested in freaky coincidences, even though they do usually have perfectly good explanations! I prefer the 'unexplainable' ones and that is why I am fond of that genre of film, of course!
The group 'Paice, Ashton and Lord' had some weird songs funnily enough! One was called 'Ghost Story', but it was humorous rather than scary, but atmospheric at the same time! They were a great band and yes, Ian Paice did have a serious drink problem which I hope he conquered! That's another one to add to my list of 'must google!' Cheers mate!
Nik
said on 11/May/17
@ Sandy Cowell
I decided to visit John Ashton's page after he popped up as a random celebrity, seeing his name made me curious to find out about him and once I was on this page I found a few coincidences!
Life's full of coincidences, it's just a shame they never occur in the lottery! I don't even do it anymore! I remember being on holiday once with my Mum and Dad, and I think it was my Mum, who said a small sentence which incredibly was then immediately repeated by someone on the television. I can't remember what was said but I remember thinking it was a freakish occurrence akin to a lottery win! I have said words a few times which have then immediately been said on TV!
i have never heard of "Paice, Ashton and Lord", so this is something interesting that I have learnt today!
It is interesting to hear that your friend Garry used to drink in the same pub as Lemmy and it is incredible that Ian Paice didn't feel any immediate pain after he fell off the stage and broke his leg, he really must have been drunk! I have never broken any bones so I cannot imagine the pain that anyone would feel as a result of an occurrence like this.
Cheers!
Editor Rob:
I'm surprised and impressed John turned up this day, because he had a
detached retina
in his eye that day!
Sandy Cowell
said on 10/May/17
@ Nik - There was also an Ashton, possibly another John Ashton, in an offshoot band of 'Deep Purple'. They were called 'Paice, Ashton and Lord' and I had an album of theirs called 'Malice in Wonderland'.
My friend Garry, who used to drink in the same pub as Motörhead's Lemmy, saw them play live! Ian Paice, the singer, fell off the stage and broke one of his legs, but he was so drunk that he didn't feel the pain until the alcohol wore off! Now that must have been some concert!
💫
🚹 🍺🎧🎸🎼🎶🎵🎤🍺🍻🍷🍸 😂😂
Now over to this John Ashton! I'm going to go along with what is written for him here because I am not familiar with the above films!
Nik
said on 9/May/17
Nice to know of a celebrity who shares my surname, the strange thing is that the previous 4 comments on this page were posted on my birthday in 2015!
Rampage(-_-_-)Clover
said on 15/Jul/15
I knew he wasn't 6ft...Barely taller than Casey Affleck and Ed Harris in Gone Baby Gone
Arch Stanton
said on 15/Jul/15
@Sam I dug the DVD out from the other day, I'd not seen it in a good ten years!
Arch Stanton
said on 15/Jul/15
Yup seems good, thanks.
Sam
said on 15/Jul/15
Interesting character actor with a instantly identifiable voice. Haven't seen Beverly Hills Cop films in years but I feel like he was smack dab in between Eddie Murphy and Judge Reinhold in height.