Johnny Weissmuller's Height
6ft 3 (190.5 cm)
Hungarian American actor best remembered for playing Tarzan in the 1930's and 40's. In a 1926 Popular Science article he was described as
"standing six-feet-three with his 180 pounds of bulk."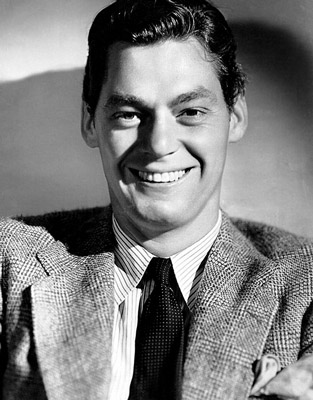 MGM Publicity Photo, via Wikimedia Commons
Add a Comment
11 comments
Average Guess (4 Votes)
6ft 3.19in (191cm)
Tall In The Saddle
said on 17/Apr/20
Like everyone else, I watched re-runs of the old Tarzan movies/Jungle Jim movies when I was a kid. Probably first saw them late 60s/70s. Impossible to go past Weissmuller. For that role, he was the whole deal.
The chemistry between he, Maureen O'Sullivan and Boy as a family was great. In the books, Tarzan and Jane had a biological son. However, in the movies Tarzan and Jane weren't married so by 1939, due to censorship, Hollyweird was required to portray an adopted son saved by Cheetah from a plane crash, simply named Boy by Tarzan. Pre-code however, back in the very early 30s, they were able to slip in an artfully filmed skinny dip scene by Jane (O'Sullivan) whose jungle attire "accidentally" tears off completely when Tarzan pushes her into the drink.
Weissmuller was def. a non nonsense 6'3". He had incredibly broad shoulders that were on par with contemporary HW Champ Max Baer - both guys looking like T-Squares. Found a few pics of Weissmuller with John Wayne this first isn't perfect but gives you an idea that Weissmuller was right up there with Wayne - also note that the actor Preston Foster left of picture (on Wayne's right) was listed as 6'2".
Click Here
This second photo is a bit better - Wayne appears to be standing at his absolute best while Weissmuller, more relaxed, has a bit of lean but they're still very close in height.
Click Here
greg lehmann
said on 24/Oct/18
Another unexpected classic movie shoved onto DVD recently and slipped onto my Christmas list:Voodoo Tiger. I remember growing up watching Jungle Jim action adventures on Tuesday nights right after Yogi Bear. Voodoo Tiger is me favorite of Columbia's 16 Jungle Jim action adventures,but it made the Christmas cut for the WRONG reason:it was the first movie Patty Duke Show mommy Jean Byron made. Still even though I haven't seen a Jungle Jim movie completely since 1974,Voodoo Tiger is not a bad Jungle Jim adventure. And Wall Of Noise also with Byron now has a "doubles" partner,much like adding The Boatniks now gives Onionhead a doubles partner since they both have Coast Guard themes.
James A. Howerton
said on 14/Mar/18
This is a great site. I'm always interested in celebrities heights, especially famous actors because you can't tell how tall actors are on TV or in the movies. When I was a kid and watched Tarzan movies on TV on Saturdays, I could tell he was much taller than the other actors in the Tarzan series of movies. In the movie "Tarzan's New York Adventure" you can see his enormous wingspan and huge hands which are essential for great swimmers. I know those movies probably seem corny to people today but they are still much better than the later Tarzan movies, at least in my opinion. I was a short, scrawny kid and I dreamed of being tall like Johnny or my favorite actor, John Wayne. My mom was 5' tall and my dad was 5'11" so it was a long shot. Unknown to me (because he died before I ever met him) was the fact that my dad's Grandfather was 6'4". At 16, I grew 6" in one summer which was painful. To make matters worse by the time I reached 17 I weighed about 130 lbs. I ended up at 6'2" by the time I reached Marine Corps boot camp and weighed 135. But it took until I was about 22 before my body finished developing at 185 lbs. I'm the tallest in my family due to that recessed gene from my Great Grandfather. I always hoped to be 6'4" like the Duke but I was just happy that I was over 6'. I also grew up swimming all the time from surfing in Florida before they had surfboard retention cords. It made me a very good swimmer and I attained the highest swimming qualification in the Marines. Of course I was no Johnny Weissmuller, but my swimming ability saved me from drowning twice.
RichardSpain
said on 26/May/17
He looked a classic man 190cm barefoot. 6,3 feet is possible.
Arch Stanton
said on 27/Jul/16
Certainly did look it. Yes, unlike today's roid munching gym rats, he looked naturally athletic and healthy, when the emphasis was on aesthetics and not bulk. Did he bulk up a bit for Tarzan though, I wouldn't have guessed him under 200 pounds in the 30s Tarzan films.
Jakob
said on 23/Apr/16
Looked every bit of six foot three, and a really natural athlete. Nowadays guys are ripped and bulky, whereas a guy like this was lean with a flat chest and wide shoulders; a more 'natural' kind of fitness that looked more healthy and graceful, hardly surprising with his physique that he excelled at swimming.
Rampage(-_-_-)Clover
said on 21/Feb/16
Legit 6ft3, no less.
Daniel
said on 11/Apr/08
I agree with that, Cmore. And about Mark Spitz, I thought he was closer to 6ft, judging from his body type.
Cmore
said on 26/Feb/07
I loved watching his movies on saturday morning TV whe I was a kid and I remember seeing pictures of Weismuller with Mark Spitz in 1972 at the Muncih Olympics where Weismuller was in his 60's and he ABSOLUTELY TOWERED over Spitz who was 5ft 10inches. Tarzan was 6ft 3, and built like he grew up in the jungle. All other Tarzans pale into insignificance. I dont see anyone around today who could play that part 1/10th as well as Weismuller
larry
said on 24/Mar/06
He always looked more like 6'4" to me and a hugely built guy.
Mr. R
said on 19/Jun/05
Rob, didn't you have him at 5-10, even though his brother called him a shrimp at 5-9?