Joseph Morgan's Height
5ft 10 ½ (179.1 cm)
Welsh actor known for roles in tv shows like The Vampire Diaries (as Klaus) and movies like Immortals. His acting agency list his height and weight as 5ft 11 and 11 stone 5 lbs (159 pounds).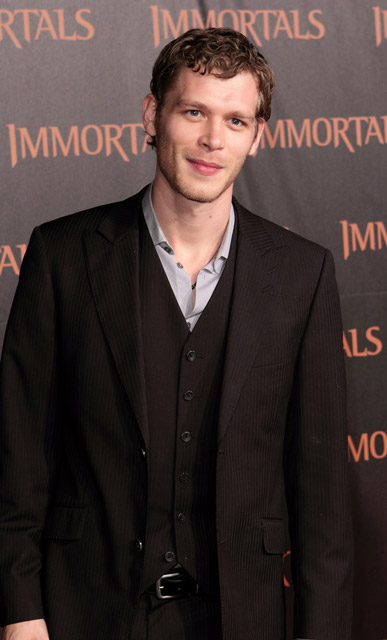 Photo by PR Photos
Add a Comment
36 comments
Average Guess (36 Votes)
5ft 10.47in (179cm)
Joseph Charles
said on 13/Feb/21
He's shorter than Paul Wesley by the looks of photos and in the vampire diaries. I know you have Paul at 5'10 but I'd say he could be a solid 5'10 1/2 while Joseph is 5'10.
Chaitanya Sinha
said on 13/Sep/20
he is 177.2cms or 5foot 9 3/4 inches ...he is little shorter than paul wesley who is 177.8cms or 5'10 inches. What is your take on this Big Rob?

Editor Rob
I never thought he looked shorter than Paul on the show, in some photos he can sometimes seem barely 5ft 10 though.
Chaitanya Sinha
said on 16/Aug/20
Joseph Morgan A.K.A klaus as played in tvd may be around 177cms coz he looks shorter than paul wesley who is 5 foot 10 inches tall i.e 177.8 cms as listed by celebsheight...Joseph appears shorter than paul in most of the scenes...U should have a look out in this ROB..May be he appears shorter due to his posture.
Anthony B
said on 29/Jul/20
I still believe he's 5'11
Chaitanya Sinha
said on 26/Jun/20
He is 5 foot 11 inches tall
Cathy Wu
said on 11/Jun/20
Rob, you gotta check this scene out with him and 5'11" Nathaniel Buzolic at 1:52. He legit looks 1 to 1.5 inches shorter, considering they're both wearing equal footwear. Even the thumbnail for that video shows the large height difference between the two
Here is the link:
Click Here

Editor Rob
The 5ft 10.5 figure for Morgan is a real possibility.
Philip S
said on 19/Apr/20
NO way is he 5'11"
But 5'10.5"? Oh fo sho. He barely edges Daniel Gillies in many scenes.
Melkor 198cm
said on 14/Feb/20
I would guess him at a solid 6ft tall. I have seen him once by chance in a grocery store, talked to him for 5 mins, gauge his height to be 6ft no more no less, he was wearing sneakers so it wouldnt have confused me for his height bare foot much.
Jacky Huynh
said on 2/Sep/19
This listing is spot on!
FE
said on 12/Jan/18
@Editor Rob,
Im surprised he's still listed 5'11"!
Click Here
Click Here
Click Here
Click Here
Click Here
Click Here
Click Here
Click Here
Click Here
Click Here
Click Here
Click Here
Click Here
Click Here
He's only looks 2cm max on Gillies, so that would make him no more than 5'10.5".
Rob, 179cm is closer?

Editor Rob
Joseph is another guy on Vampire Diaries who looks mostly over 5ft 10, taller than Paul Wesley...but is it only half inch or a full inch. At times it looks anywhere between both figures, so the lowest I'd say I could argue is 179, the highest around 180cm.
travis
said on 23/Dec/17
he look like jesse eisenberg
Editor Rob: one thing is sure, he's at least a good 3-3.5 inches taller than jesse.
Kailynn
said on 11/Nov/17
Joseph Morgan is 5'11
Wolf
said on 10/Nov/17
What about Charles Michael Davis (Marcel from The Originals)?
Click Here
him next to 5'11 guys like Ryan Guzman and RJ Mitte. (He's wearing trainers in the picture)
Click Here
With Leah Pipes
Click Here
I'm gonna assume Paul is wearing his thicker boots here
Click Here
he looks quite a bit taller than Gillies here
And then here's him next to Joseph
Click Here
Click Here
Click Here
What do you think Rob? Google has him at 6ft by the way...
Editor Rob: wouldn't go over 5ft 11 for him, can see at times he seems a bit shy of it too.
Azuya
said on 4/Apr/17
-- Joseph Morgan's Height is 5ft 10.5in (179cm) --
Not quite 5'11", always looks shorter than this.
Tiago
said on 23/Oct/16
He is 5'10 guy equal Paul Wesley...
Flyin
said on 19/Sep/16
Maybe the 5'10.75, but over 5'10.5 due to him never looking a full inch shorter than Micheal Davis. Some of the stills below might not consider footwear. Whereas, you can view over time with TV. Also, Joseph Morgan doesn't seem like he would be height conscious.
Ferris
said on 22/Dec/15
@Editor Rob,
he looks an inch shorter than 5'11.5" listed Grant Gustin
Click Here
1.5 inch shorter than 5'11.5" Ioan Gruffudd
Click Here
and shorter than 5'11" guys like Robbie Amell and Justin Chatwin
Click Here
Click Here
Click Here
the ioan pic might b in morgan's disadvantage, but he's constantly shorter than legit 5'11" guys.
he could b a weak 5'11" Rob?
Editor Rob: he could fall into the 179-80 zone, I do think he can beat out a guy like wesley though on that show.
Matthew
said on 24/Sep/15
Click Here
Click Here
Rob, what do you think of these interviews? Morgan and Gillies seem really identical in height here and Daniel is listed as 5'9.5 on the site. Time for a downgrade?
[Editor Rob: I'd say he could look 5ft 10.5 there, I don't think Morgan looked less than wesley on the show, and that's with paul in slightly more footwear.]
Jane
said on 21/Jun/15
No way he's 5'11. Looks even to or shorter w/ paul wesley even though he's always wearing those really high boots
Bleak
said on 11/Jun/15
Really hard to pin down his height as it varies widely from shot-to-shot in both TVD and TO. I've seen every episode of both and my honest opinion is that he's AT MOST, somewhere between 5'10 and 5'11. There's just too many instances where he doesn't look like a 5'11 guy though. And he's usually wearing boots with a pretty decent-sized heel as well.
Ricardo
said on 9/Nov/14
I agree. He looks like a good 5'11 !
Matt
said on 3/Jun/14
More like 5'10, he even looks shorter than Wesley sometimes who is a legit 5'10 and seems to be around the same height as Somerhalder.
Dan
said on 24/May/14
there are also scenes in The originals where he looks taller, and scenes where they look the same height, I think him and Joseph are similar height, which if he is 177/178 that is only a 2-3 cm difference,or about an inch difference, therefore I would still consider that a similar height, I am not saying an unnoticeable height difference, I am saying they are a similar height, which a lot of people on here can't seem to distinguish the difference between
Dan
said on 22/May/14
@fa 1 - what are you basing this off? from the originals and vampire diaries? Daniel is always wearing dress shoes while Joseph has boots on the majority of the time,2 - one inch difference is not that much
Dan
said on 14/May/14
Could you add Daniel Gillies? he appears a similar height to Joseph in The Originals
rick
said on 19/Apr/14
He is definitely 5'11! A lot of the people on the show wear lifts like ian somerhalder so that's why Joseph is slightly taller
Freddy
said on 26/Feb/14
he's 5'9 maybe 176cm on a good day....even in boots he doesnt look like a full 5'11
Yitzhak 179cm evening
said on 5/Dec/13
In that pic with Trevino he doesn't even look 178, maybe 177, to be honest. If he were really 3 inches taller than Trevino there is no way short of lifts he could look so close in height.
betty
said on 30/Nov/13
when Michael trevino is 173...
Click Here
i guess 178 cm
James
said on 26/Nov/13
@Olivia
While looking normal I can near enough guarantee you that Wesley's shoe's are custom lifts, both him and Somerholder always wear big shoes hence why they always look the same heignt, if not slightly taller than Steven R McQueen who plays Jeremy.
Few hints of lifts in the photo, Wesley's knee's are higher, plus while stood up straight Wesley has a leaning forward posture which you get with considerably sized lifts.
There's only 2cm between them naturally, so with Wesley's hair and extra heels the difference can be quite exaggerated.
Nope, no way
said on 20/Nov/13
There is just no way he is 180 cm, as Jared is 194 cm.
Click Here
Bran
said on 21/Aug/13
Looks shorter, then again he's probably the only male on the cast who doesn't wear lifts !!
Dirty Pitts
said on 20/May/13
5'11" is a joke for Morgan, he looks like he's 5'9.5" tops.
Slightly taller than Ian Somerhalder.
Olivia
said on 28/Mar/13
There's no way he can be 180cm, he's shorter than Wesley here:
Click Here
Lolo
said on 20/Feb/13
Does it matter? He's still sexy as all hell. Though he always seemed shorter to me