Josh McDermitt's Height
5ft 11 ¾ (182.2 cm)
American actor, best known for playing Dr. Eugene Porter on TV series The Walking Dead. This photo was at a Walker Stalker Convention.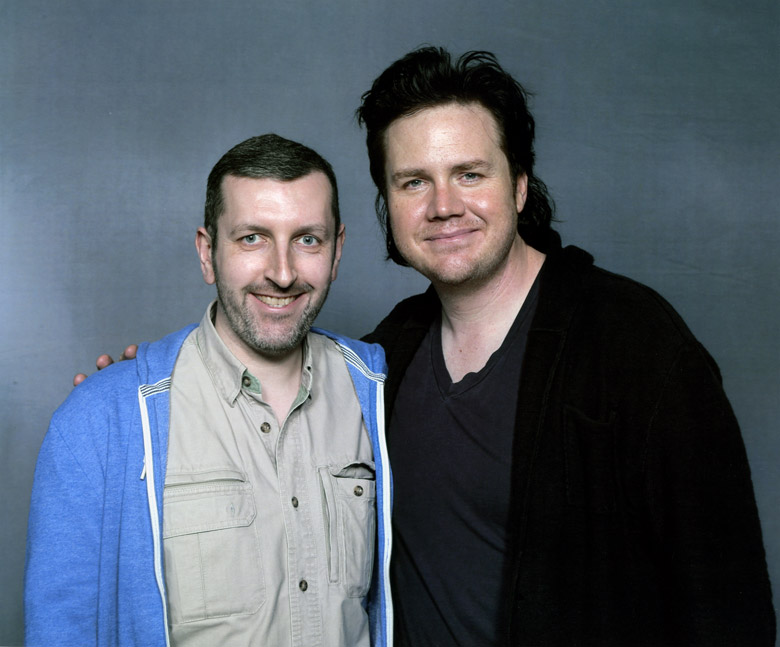 5ft 8 Rob and Josh
You May Be Interested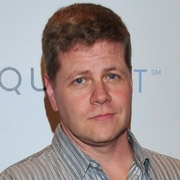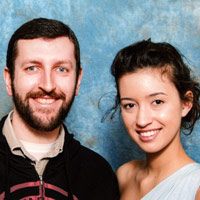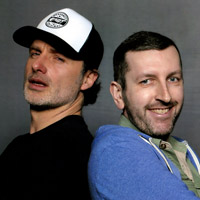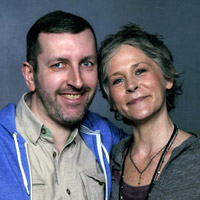 Add a Comment
25 comments
Average Guess (34 Votes)
5ft 11.86in (182.5cm)
Slim 6'1"
said on 7/Aug/20
182 not quite 10cm with u bro
VitoCheng
said on 23/Mar/20
I can see a range of 6 feet
Jkiller
said on 26/Feb/20
I can see 182.5cm
Nik
said on 24/Jul/18
The average vote is liable!
Rourke
said on 14/Jul/18
Yeah I'd give bang on 6'0 to him, can often look around the same height as supposed 6'2 Michael Cudlitz (although he clearly is shorter than that claim)
Zampo
said on 3/May/18
Rob, what's your definition of "nearly a mark", e.g. in this case 6ft. Adjusting for footwear/posture etc, I see anywhere between 5'11.5-5'11.75 (A solid 182 cm). Similar to Jensen Ackles. Is roughly 1cm off a mark what you refer to as nearly?

Editor Rob
Nearly can be a 1/4 inch or thereabouts.
Psychedelic Earth 187
said on 18/Dec/17
Around 6' is fine.
Rampage(-_-_-)Clover
said on 2/Nov/17
Looks 182-183cm
Shredder
said on 12/Jul/17
Height Chart.
Balrog
said on 5/Apr/17
I trust you, Rob. On TWD he does looks tall although he wears boots most of the time. Between him and Ross Marquand who you think has the slight edge?
Editor Rob: both are close to six foot really, but in person someone like Big Alex and Big Xander whom both measured at 6ft 1/8th (well Xander grew another inch), they seemed more solid six footers up close, though I wouldn't of course rule out the chance of josh/ross measuring very near six foot flat either!
Balrog
said on 2/Apr/17
He is looking similar to Benedict Cumbertach on this pic (height wise of course). If he had footwear advatange then I'm with Andrea on this one. 181-182cm. 5'11.5" would be spot on.
Editor Rob: big Josh has more chance of being near 6ft than benedict I would have said.
KYO
said on 28/Mar/17
6 footer for sure.
Shredder
said on 27/Mar/17
Andrea , That is what I see too , just over 5'11 here and his hair making him look 6'0.5 . I do think he is losing a good 1/2 inch there and would be as listed if he would stand fully. 5'11.5 is the shortest I see.
Andrea
said on 26/Mar/17
Shredder, I don't think he looks under 5'11 here but at the same time not that much over it... With Rob, I would have said somewhere in 180-1 range was possible, not as tall as 182!!! WITH hair, he looks 184 range but Rob just said it adds as much as 3-4 cms...
He must be dropping half an inch in posture, then! I don't know him, though! I've stopped watching TWD a few years ago..
Csimpson 6ft
said on 26/Mar/17
He probably looked around 6ft-6ft 0.5 in shoes when you met him then if his shoes were 1-1.25 inch and you was a good 5ft 9-9.25 range in your footwear, i cant see him being no more than 5ft 11.25 really.
Editor Rob: to be fair, if you include hair he looked quite tall! I think between 3-4cm worth he has.
Csimpson 6ft
said on 26/Mar/17
What was his footwear Rob? and what exactly was your height in this photo the time it was taken?
Editor Rob: well it is after being on feet 7 hours.

I'm in exactly inch sneaker that day, he is anywhere from 1-1.25 boot, impossible to tell insole if I don't know the model, so I always go with lowest unless I know what model...
Csimpson 6ft
said on 26/Mar/17
Peter where do you see 180cm? He looks more like over 5ft 11 with Rob.
Shredder
said on 25/Mar/17
What are you guys seeing? He is clearly over 5'11. If he stands better with Rob he'd be bare minimum 5'11.5
Editor Rob: although he has a big hairstyle, he still looked nearly 6ft I think standing there, taller than bernthal that day for sure.
Peter 179cm
said on 24/Mar/17
Looks a weak 5'11 here,at most 180cm.
Csimpson 6ft
said on 24/Mar/17
I definitely agree with you CD he looks much closer to 5ft 11.25 here than 11.75.
Shredder
said on 24/Mar/17
You can tell he isn't standing at his best and he still looks to clear 5 '11.
Shredder
said on 23/Mar/17
Rob , did he look taller than Biehn?
CD
said on 23/Mar/17
Rob is there a chance he is more 181cm range than 182cm? He looks it with you.
Andrea
said on 23/Mar/17
Looks nearer 5'11 than 6', HERE...
Editor Rob: in person, he did seem close to six foot.
Shredder
said on 22/Mar/17
Steven Yeun looks taller than You do with him.