Joyce DeWitt's Height
5ft 3 (160 cm)
American actress, best known for playing Janet Wood on TV series Three's Company.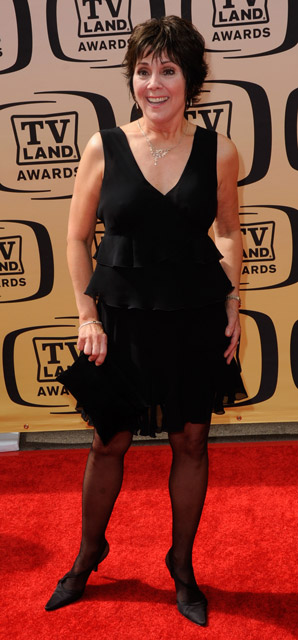 Photos by PR Photos
Add a Comment
13 comments
Average Guess (3 Votes)
5ft 3.17in (160.4cm)
wishbone
said on 9/Oct/18
Joyce De Witt is so pretty on her 5'3" body frame! And she sure made cute L'eggs knee highs and pantyhose commercials for years! Whether Joyce wore pretty dresses or slacks in her L'eggs knee highs and pantyhose commercials,she was beautiful! And my favorite L'eggs pantyhose or L'eggs knee highs commercials Joyce made was around Christmastime in 1976,when L'eggs brought out reinforced toe knee highs like my 5' friend Annette loves wearing under her pants to be sweeter! Joyce took off one of her tie shoes she wore with the suntan L'eggs reinforced toe knee highs and a bright orange pantsuit. Like Joyce stated in that commercial,"Now I can wear sheer sandalfoot toe L'eggs knee highs to show off my pretty petite toes or the new reinforced toe L'eggs knee highs! They're the most comfortable knee highs I've ever worn!" Love you Joyce!
wishbone
said on 20/Oct/14
I guess Joyce's 5'3" height is correct.Loved petite Joyce in a cute Leggs Sheer From Tummy To Toes Pantyhose ad in which she wore jeans with the pantyhose! Nice and comfortable and she was cute in the ad!
David
said on 10/Oct/13
I think Joyce was at least five three and no more than five three and a half comparing her height to Suzanne Somers on Three's Company who was 5'5".
edward c. stengel
said on 17/Nov/11
I don't believe she's 5'3.5" tall. I'm a short guy, 5'5", and I'll bet I'm at least 3 inches taller than her. I'd say she's more like 5'2".
gregory lehmann
said on 16/May/11
Unlike a lot of performers,when 5'3" Joyce wore slacks with her L'eggs pantyhose in the commercials,she just felt more comfortable wearing pants to show that wearing pantyhose with pants is comfortable,because Joyce only weighs 104 pounds,but 104 pounds on a 5'3" woman's okay. Also,Joyce got a nice "tummy/toes" tickle mixing pantyhose and pants together. (in fact,5'3" Dana Erickson weighs 104 pounds,too.)
gregory lehmann
said on 11/May/11
5'3" is okay with me for Joyce's height. While watching "Stoney Burke" last fall, I saw Joyce in a cute L'eggs pantyhose commercial in which she wore jeans with the pantyhose and found it cute,but I wasn't aware Joyce had a deal to do that.
Legend
said on 6/May/11
She doesn't look more than 5'2.5
glenn
said on 14/Apr/08
thanks alna170.i also bumped into her in 1990.
Charliemoto
said on 12/Apr/08
160cm at most
ALNA70
said on 12/Apr/08
Nice pic Glenn, she still looks amazing!!
glenn
said on 11/Apr/08
supes is right.i met her 18 years ago and i too thought she was 5-2 then and now.
supes78
said on 10/Apr/08
I'm really surprised that she is this tall. I would have guessed 5'2" max. She was often in normal shoes on Three's Company and looked very short next to John Ritter.
Anonymous
said on 25/Apr/06
Also, tony showed a scan of an old book where the 5ft 3.5 and 112lbs was given.