Judy Greer's Height
5ft 8 (172.7 cm)
American actress best known for roles in movies like The Village, 13 going on 30 and The Wedding Planner. In an Elle interview in 2012 she said
"I'm 5'8""
.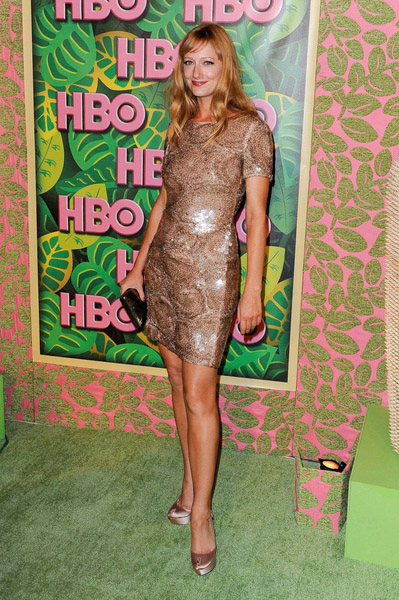 Photos by PR Photos
Add a Comment
41 comments
Average Guess (23 Votes)
5ft 8.57in (174.2cm)
Nik
said on 7/Oct/20
She is described as 5'10" by some on liners!
Tall Sam
said on 5/Oct/20
She could seem a little taller, maybe even pushing the 5'9" zone at times but could be in well heeled footwear quite a lot.

Editor Rob
She'd certainly be a candidate for a strong 5ft 8, rather than a weak one...I could see how she passes for 174 range often.
Nik
said on 12/Apr/20
It would be great to see a photograph of Judy and Rob Paul!
Chris Junior Hernandez 1990
said on 9/Apr/20
@Sandy Cowell
Indeed true of it. 😂😂
Miss Sandy Cowell
said on 9/Nov/19
@ Chris - Isn't it funny how, when you go through the Latest Comments, if someone has written your name down, it just SCREAMS out at you? 😂😂😂
5ft8.25 once more!
Chris Junior Hernandez 1990
said on 6/Nov/19
I'm going 5'9 out of bed for Judy and settled at 5'8.25" same estimate as Sandy. 174cm a low is a 50/50 which she can often look that but also 173.5cm to be rule out.
Miss Sandy Cowell
said on 31/Aug/19
Oh, how I love this woman! I know her from '13 Going On 30' and 'The Village' and now I have just turned over to Paramount Network TV and find that she's in an episode of 'House' - Series 5, Episode 18 to be exact. 😁💐
She has the sort of demeanor that cheers one up instantly! Now I know how tall Judy is. Thanks Rob! 👍
I will go between the average vote and Rob's figure.
5ft8.25.
Junior Hernandez 1990
said on 21/May/19
Rob, do you think Judy is 5'8.5"?

Editor Rob
She has appeared that tall at times, though maybe is modest and is a fraction over 5ft 8 and doesn't claim it.
Nik
said on 31/Mar/19
It's amazing that the average vote is 5'8.81" after as many as 17 votes, also the average vote is higher than what she claims! Judy (autocorrect tried to change Judy to just!) does look to be a very convincing member of the 5'8" club!
Luan
said on 5/Feb/19
she is maximum 5'8, we can see it easily if we watch that Big Bang Theory episode when she sleeps with Leonard (Johny Galecky), who is 5'5 and both weren't using any shoes
Nik
said on 17/Jul/18
She looks very convincing for this listing, if anything she may be slightly taller!
Monkey knees
said on 15/Jul/18
A tad over 5'8. Slender figure makes her look almost 6ft in heels etc. Absolutely stunning in the flesh.
Monkey knees
said on 3/Dec/17
5'9 flat. No question. Utterly gorgeous in person, too.
Just
said on 1/Nov/17
It's weird. She looks taller than Katherine Heigl in 27 Dresses. Even Krysten Ritter looks shorter.
S.J.H
said on 6/Mar/17
5'7-5'8 for sure
Click Here
I love that smile of her from her side view. shes always took my heart beat away by a few seconds lol
Click Here
i guess shes more 5'7
Fernando
said on 6/Nov/16
I just flyed with her this morning from Vegas to LAX. She was standing next to me in the boarding line wearing only running shoes. I am 5'8, and I was wearing also running shoes, and she was by far taller than me. I'd say she is easily 5'10 as she is listed. By no means she is 173cms. Not in this Universe. By the way she is a very down to earth person and very pretty even without make up .
J
said on 5/Apr/16
She's close to 5'8" but not any taller than that. She was in the movie Carrie, where she played a gym teacher. Here's a clip:
Click Here
Judy Greer is at least an inch shorter than 5'9.5" listed Gabriella Wilde, who plays Sue in the movie.
Len
said on 14/Jan/16
Strangely, she's listed at 5'10" officially elsewhere, yet says she's 5'8" in interviews.
Guess that really does confirm the Actor/Actress Rule: Always be listed 2" taller than you really are.
Jay
said on 7/Oct/15
Looks taller so over 5'8
Jones
said on 19/Aug/15
Thought she was 5'10, she must carry herself really well.
Height183
said on 14/Jul/15
5'6.5'' - 5'7'' at best.
Sam
said on 30/Jun/15
Yeah, I'd say just over 5'8" is accurate, a bit of an edge on Jennifer Garner. Recently in Jurassic World, Andy Buckley who is listed online as 6'2" and plays her estranged husband looks about 5-5.5 inches taller.
M.P.
said on 15/Jun/14
She wears heels often, so 5'8" without 'em seems accurate. She's probably 5'10" *in heels*. She recently did a Sprint commercial and TOWERS over the guy! But that's in 2 and a half inch heels, apparently. But the guy was probably 5'7"-ish, anyway. The weird thing is, she doesn't look tall, at all. She reminds me a little of Kathy Griffin, who is short. Only when you see a full body shot of her do you see how vertical she is, especially in heels.
Joeb
said on 16/Jan/14
Internet says 5'10", and I', inclined to believe it because she's been recently featured in an orange juice advert w/Jane Krakowsky(who's 5'5") and she TOWERS over her.
Jz
said on 17/Nov/13
ELLE: What do you remember most from that first date?
JG: He's tall, by the way. I'm 5'8" and he's 6'2" and I thought, I can wear heels with this one! I was so happy about that. My overall impression was that I really wanted to go on a second date. I wouldn't say that it was love at first sight but it is now. It was so easy; he was so easy to hang out with.
Joey
said on 14/Dec/12
her 5'8 claim seems true..one of the very few celebs that do not lie about their height
®
said on 25/Oct/12
Easy 5'9 taller than Jen garner.
mina
said on 10/Aug/12
I thought she was at least 5'10 in Jawbreaker.
Chester
said on 5/Mar/11
She's 5"8 max. She looks so short next to 5"10.5 Orlando Bloom.
jessica
said on 28/Jun/09
She's really tall. I'd say about 5' 9-5' 10" as well. 5'9 1/4 sounds very accurate.
kate
said on 6/Apr/09
I'd say she looks more 5'10"
In 13 going on 30 she looked a good 2-3 inches taller than 5'8" jennifer garner.
MH6811
said on 25/Jan/09
She is at least 5'9" if not 5'10" I stood next to her and flat footed im 5'8" she was no doubt taller.
Joe
said on 15/Apr/08
If Brooke Burns is 5'9" then Judy must be less than 5'9". Much less. On Miss Guided she is at least one inch shorter than Burns.
I'd say Greer is no more than 5'8" maybe 5'7".
El Diablo
said on 23/Mar/08
It's hard with tall women, because a lot of them have complexes with their height, so they slouch a little bit, when they stand next to guys.
MJ
said on 7/Aug/07
Actually in Cursed she was described as "... like 5' 7" by whoever that kid was - she was the best part of that movie except for Scott Baio parodying himself which is a parody to begin with - and in The Wedding Planner she doesn't seem that much shorter than Mathew Mc-whats-his-name...
aLLEntown
said on 26/Jul/07
Here's a pic of her with Orlando Bloom
Click Here
According to this site, she should only be an inch shorter, but it looks more like 3-4 inches. If anything, the shoe advantage would go to her.
tamron
said on 18/Apr/06
i saw her on the train this morning. she seemed very tall and thin.
nicole
said on 17/Apr/06
she's thesame height as Jennifer Garner, who is 5'7 / 5'8...
Amanda
said on 23/Jan/06
I thought she was 5' 9".
Krista
said on 7/Jan/06
She really doesn't seem that tall because when she was with Jennifer Garner, who is 5' 8", there wasn't much of a height difference and in some shots Judy even looked shorter than Jennifer.
CelebHeights Editor
said on 28/Oct/05
In Cursed, the Jesse Eisenberg guy describes her as '5ft 10', at least I think it was him...I was half-asleep...