Julian Casablancas Height
6ft 2 (188 cm)
American singer and musician from The Strokes.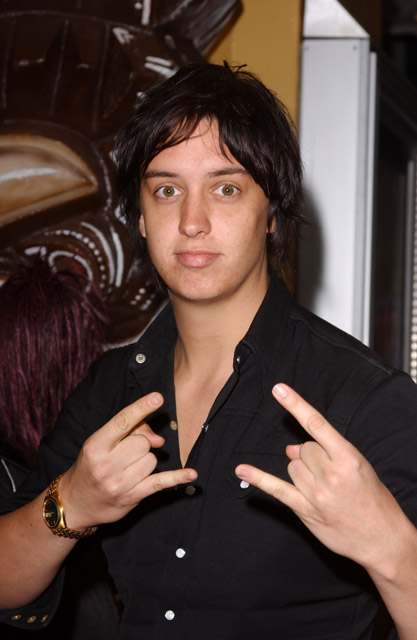 Photos by PR Photos
Add a Comment
58 comments
Average Guess (19 Votes)
6ft 1.71in (187.2cm)
Vsquad
said on 21/Dec/20
Julian looks bang on 6'2 with John Mulaney, especially considering Mulaney is about as solid of a 6'0 guy there is. No qualms with this listing at all - I'm just surprised Julian's height has held up after all these years considering his posture.
simon L
said on 25/Nov/20
big strokes fan so inquiring once again
how tall do you reckon he looks with john mulaney here? we don't know the footwear here but maybe he looks a weak 6'2 here.
Click Here

Editor Rob
6ft 1.5-2 range in that clip.
simon L
said on 15/Oct/20
how tall do you think he looks here with david letterman 10 years ago?
Click Here

Editor Rob
Seemed like he might edge out Letterman there, though he moved behind and then closer to the camera so his height looked variable there...
DeepSpace9
said on 30/Apr/20
Met him at an airport in phoenix and im 6'1" on the dot and he edged me out by about an inch or so. Super nice guy and we both had similar footwear. Very accurate listing
mike6'1
said on 1/Nov/19
In 'Instant Crush' he looked a solid 6'2
RobertBobo
said on 7/Oct/19
I don't know why the average guess is 1.87 he's clearly a legit 1.88 (strong 6'2) dude, he most of the times looks 6'2-6'3 range
Micky
said on 20/Mar/18
6'2" on the dot is fair!
Teddy
said on 25/Feb/18
If he corrected his posture, he'd be a strong 6'2".
So 6'2".
EKJ
said on 12/Feb/18
Met all at the airport. Im 186.9 first thing and 185.3 at night, the guy was a bit taller than me 6'2 about right. Nick around 6'4, Albert around 5'11 and Nikolai around just under 6'1, Fab around 5'9.
Foreveraverage
said on 5/Nov/17
Downgrade please
Dolcevita
said on 20/Jun/17
Rob, do you think 6'3 would be too much for him?
DG
said on 18/Jun/17
I meet them in a concert and all of them are very tall. Fabrizio (1.80cms) Albert (1.82cms) Nikolai (1.84cms) Julian (1.87cms) Nick (1.92cms).
Matthew Robinson
said on 29/May/17
I think just shy of 6'2" would be about perfect for him.
Rampage(-_-_-)Clover
said on 1/Jun/16
Looks a lot like Pete Doherty (fellow musician and legitimate 6ft2er)
Eric
said on 26/Nov/15
I've met him several times and he towers over everyone in the room. I would say 6'2 at the very least, probably more like 6'3 or 4. Keep in mind he has terribly slouchy posture so that will always affect how he photographs. But he is a BIG guy
lelman
said on 26/Sep/15
Just look at some of these group photos:
Click Here
Click Here
Click Here
Click Here
Click Here
Click Here
It's near impossible to try and gauge their heights as they seem to fluctuate like crazy. Albert and Nikolai in particular can go from looking 5ft 10 to 6ft 2 often, and Nick can look 6ft 4-5 in certain photos, while barely 6ft 2 in others. They must all have terrible posture.
lelman
said on 26/Sep/15
For me, it's:
Julian - 188cm (6ft 2)
Nick - 190cm (6ft 3)
Niolai - 184cm (6ft 0.5)
Albert - 180cm (5ft 11)
Fabrizio - 175cm (5ft 9)
They're a fairly tall band, but looking at pictures of them their height is all over the place. For example sometimes Albert can look practically as tall as Julian, other times he can look similar to Fabrizio, meanwhile Nikolai ocassionally looks much shorter than Julian and Nick while other times he is pretty much eye to eye with them.
Hypado
said on 24/Feb/15
Jules Casablancas with Conan looks 187 cm, 6ft 1.75in
but
with Fallon he looks 6ft 0.75in , 184,8cm
6ft 1in is the best listing for him.
Jake
said on 5/Feb/15
He could be a strong 6'2.5 - 6'3 you never know he sure can look it at times.
Wad
said on 24/Nov/14
lol Albert claims he is 6ft1/185cm but next to Jules he looks 5ft10
Ciaran
said on 22/Jan/12
Casablancas 6ft2
Fraiture 6ft2
Valensi 6ft4
Hammond 5ft11
Moretti 5ft9
???
klem
said on 7/Nov/11
Average height of the strokes is supposedly 6-1 or 185 cm.
two 6-2 members, one 6-4, 5-11 and 5-9.
short man syndrome
said on 29/Aug/11
he's a tall, lanky guy. 6'2 is probably right.
Kaneda
said on 17/May/11
Weird, he looks like a strong 6'1 to me because in the picture he only has an inch on albert.
I don't know what kind of footwear he's using but it looks like he would wear sneakers that barely give any extra height.
Anonymous
said on 2/Feb/11
Adam, do you seriously think Julian Casablancas himself will respond to your comment? Or are you just trolling? Anyway serious lol!
Adam
said on 22/Dec/10
Your music inpires me to to practice music everyday lol! just out of curiosity do you know what you were trying to say in your song reptilia backwards? Help me out here will ya friend. And Im 5,11
ChrisandFrank
said on 3/Dec/10
I am 6'3 and we were close to the same height
Anonymous
said on 5/Jan/09
I doubt Julian is really 6
mir
said on 24/Nov/08
ray where do you see julian a lot?
Alladinsane
said on 22/Sep/08
1" = 2.54 cm
1' = 30.48 cm
6' = 182.88 cm ~ 183 cm
6'2" = 187.96 cm ~188 cmm
...foe those interested
me
said on 16/Jul/08
ron G the true
you're obviously lying because julian dropped out of school. he didn't do senior year.
nice try
Anonymous
said on 4/Jun/08
That is amazing that he is 6'3".
Anonymous
said on 30/Apr/08
6'2'' EASILY. he wanders aimlessly around the lower east side, alone... really weird. also, i disagree with the posters below who claim he is fat. he either lost weight, or you guys are delusional, because the other day i spotted him near webster hall and he looked very skinny.
by the way, he is 6'3'' not 6'2'', and was listed at 6'4'' in high school for basketball, which he DID play.
nate
said on 24/Feb/08
the more i see of this guy he looks at least 6-2, maybe 6-3. how tall is albert hammond jr?
glenn
said on 29/Nov/07
yes,188cm is 6-2.i dont understand cm either.
nate
said on 29/Nov/07
im obviously wrong about albert's height, sorry glenn, 6'2 is 188 cm right? can someone help me with those conversions?
nate
said on 12/Nov/07
my guess is Jules is 6'2 with shoes, and fraiture's 6'2, valensi's 6'4, fab's 5'10 albert's 5'8? but they all slouch thats for sure.
dreamette
said on 4/Aug/07
can you please put in the height of the arctic monkeys frontman Alex Turner?
Dee
said on 4/Jun/07
Julian is a bit shorter than Jack White, here they are together:
Click Here
Jack tends to slouch a lot in pictures, so he does not look near his actual height. Apparently Julian also slouches a lot.
Anyway, your website has Jack listed at 6'1" and a half, and Julian at 6'2" - and that seems backwards. Maybe those numbers should be reversed.
Anonymous
said on 3/Jun/07
Valensi is probably around 6'3...6'4. In this vid by the end you can see that Fraiture is slightly smaller than Conan O'Brien, maybe about 6'1 and then you when Valensi shows up on camera you can see that the difference between him and Fraiture is about the same between Conan and Fraiture.
Click Here
Karina
said on 30/May/07
haha I have to say, I have no clue how tall he is (he does seem tall though), but reading some of these posts was quite entertaining..
Anonymous
said on 22/May/07
he is obviously slouching. since around 99 i have seen him around nyc and can vouch that he is 6'3'' and walks with very bad posture. on top of this he wears those chuck shoes which i believe have no soles.
OutBenchThis
said on 28/Apr/07
he must have a terrible posture cos he looks 6'0" in the photo. At 6'2" you'd expect Glenn's head to be somewhere between the lips and nose of Julian
Ray
said on 17/Apr/07
I have recently been seeing julian on the street a lot and once in the post office with a woman. I can describe him as about john mayer's height with much worse posture. I'd say he's ballpark 6''3, but with his slouch, he appears to be 6''2, or even under that. BTW I compare him to Mayer because I used to see him a lot in my neighborhood as well.
Paulo
said on 2/Apr/07
I met Jules in a bar in the village,he was exactly the same height as me, 6.1....Valensi was also there and is considerably taller, 6.4 i would think
Anonymous
said on 1/Apr/07
saw him. very bad posture. about 6 foot 3 and looks bloated. i dunno, he just looked like a mess. but his size really surprised me and my friends who all thought he was a short and skinny guy. not at all. he is very tall.
ekj
said on 31/Mar/07
he is hard to pin down. met him in an airport with a friend. friend is 181-182 and im 186. seemed slighty taller then my friend but shorter then me but he doesn't appear to have great posture so who knows? could be anywhere from 184 to 188. I would say though 185
ron G the true
said on 17/Feb/07
you have this very wrong rob! julian, who i went to lab school in manhattan with in high school, is about 6 foot 4. believe me. i don't know how to prove this, but he was 6 foot 4 and very skinny. he wore the same shoes the entirety of senior year, a pair of green converse all stars.
boo
said on 16/Jan/07
No - stood next to Valensi in a supermarket last week. He's around 6'4". He's huge, and skinny as rake.
Chris
said on 2/Oct/06
yep. the guy is huge...something like 6'1-6'2. if he lost some weight, he can be a model. too bad he's sort of a chub chub. but he's very very handsome.
Nick ellis
said on 20/Sep/06
I have met Julian casablancas and i am 6ft- he is definately 6'3! Hes is suprisingly very tall!
Liz
said on 29/Aug/06
Jules looks 6'2" to 6'3"
Anonymous
said on 7/Jun/06
In this picture they are all about the same height, except Hammond and Moretti.
Click Here
I read somewhere that Valensi was 6'1, Fraiture 6'0 and Julian 6'2
Anonymous
said on 11/May/06
i went to high school @ dwight with him. even back then, when i was 5'11, he was two or three inches taller than me. he has to be 6'2
vedderhead
said on 28/Mar/06
i saw julian and the strokes live and being closest to the stage i'd say 185-188 cm. he is def. 6'1, but being a bit chobby he appears sometimes short. Nick Valensi is the tallest one. 192 cm. I'd guess Fraiture is 183/184 cm, Albert Hammond around 180cm and Moretti 177/178 cm. He is as someone mentioned the shortest. 192-186-184-180-177 would make the average height 184 or 6'1.
Caro
said on 27/Feb/06
Hi, i don't have a photo, but i saw him in Buenos Aires (Argentina), i was with my boyfriend (1.94 cm), and Jules is almost like him, 1.92 at least
Glenn
said on 22/Jan/06
they are all tall except fabio.
J.
said on 21/Jan/06
I've read somewhere that the average height of the members of the Strokes is 6'1".