Justin Moore's Height
5ft 5 (165.1 cm)
American Country Music Singer, known for songs like "Bait a Hook" and "Til My Last Day". He said in Record Searchlight
"I was obsessed with sports until I realized I wasn't going to be a pro baseball player. When you stop growing at 5-foot-6 kinda had something to do with it"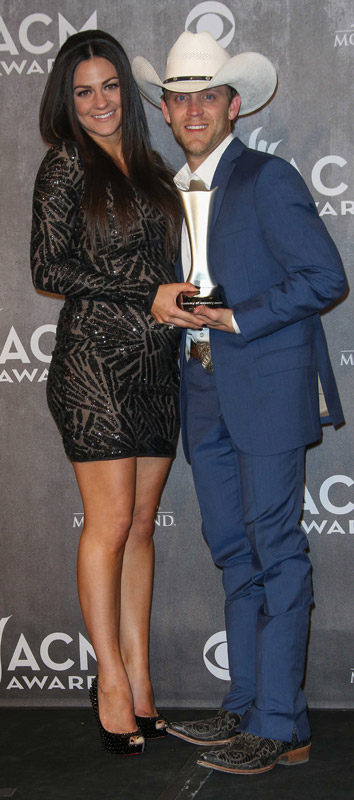 Justin with wife Kate Moore
Photos by PR Photos
Add a Comment
19 comments
Average Guess (11 Votes)
5ft 5.41in (166.1cm)
Nik
said on 27/Apr/20
It would be interesting to know how tall his wife is!
GJRNYNY
said on 31/Jul/19
I just watched his performance on The Today Show. Jenna Bush Hager who is 5'8 (5'11 in heels) towered over him and he was wearing cowboy boots with a 2 inch heel. There's no way he is 5'6. He looks more like 5'4 to me. Which is def on the smaller side. I'm 5'6 and a half, my husband is maybe 5'8 but says he's 5'9 or 5'10. As soon as I put heels on, I'm solidly taller than he is.
TG
said on 9/Feb/19
Iam a man standing at 5'5.5" ,I weigh 195 lbs with almost 17"bicepts,and wear a exlarge shirt.Some have called me a bit on the shorter side.But no one I have ever known has called me "tiny" or small.At least to my face,lol height,really,isnt a issue to me because of my "presence".A "verticaly challenged" person can still be "big"or even "large"height is only 1 statistic,not the story.Just my thoughts as a slightly shorter then "average" guy.
Peter175
said on 22/Oct/17
I am 5'9 1/8th and don't feel tiny at all. In some crowds I feel a bit above average.
But yeah I'd say I am a tad below average for my area and age range. again, 5'6 isn't tiny, neither is 5'5" really. I think 5'4-3 is where you become actually tiny for a man
Nik
said on 28/Sep/17
@ Bill45
Women think 5'9" is small because they are often lied to about height as some people claim extra inches which makes society think 5'9" is smaller than what it is. People involved with sports come into contact with the taller and younger members of society, the sporting world does boast heights that are on average taller than what they are in the general population. Even so I would doubt that a 5'9" sportsman is small even in the sporting world. There is no way that being 3 inches under average makes someone tiny.
Lee168cm
said on 23/Sep/17
Bill im guessing your over 6 foot you'd have to be to call a man of 5'6" tiny though I know plenty of men of about 6 feet and never felt tiny next to them
Bill45
said on 20/Sep/17
Well ask women or people involved in sports it is 5'9 is small so I'm pretty sure 3inches under is tiny. But to each his own I'm just saying most of the population that is very small.
Anonymous
said on 20/Sep/17
If he does have children will his children also be 5.6 adult height? I suppose there isn't much difference between a 5.5 adult man and a 5.7 adult man.
ArjunaKorale
said on 20/Sep/17
How tall do u estimate thus guy's wife to be, Rob? She looks really cute in this pic.
Nik
said on 20/Sep/17
@ bill 45
The average is 5'9". No way is 5'6" tiny, it is a very common under average height.
Nik
said on 20/Sep/17
I think he is pushing 5'6" myself!
Lee168cm
said on 19/Sep/17
No bill 5'6" isn't tiny only 4 inches below average never have I felt tiny under 5'3 is when you head into tiny territory for a man
MD
said on 19/Sep/17
@Rob,
Between the 5'6" coming from him, and already photo evidence pointing to something different, do you think you might want to take an early look at this?
Editor Rob: he could be a 5ft 6 in shoes guy.
bill45
said on 17/Sep/17
If 5'10 is average 5'6 is tiny.
Peter175
said on 16/Sep/17
Yeah, it's short, not tiny. It's a very common and standard height and will blend into all crowds. It's when you get in 5'3 range you become tiny(at least height wise, you can still be physically large and wide horizontally)
But I don't think Justin is 5'6. Looks 5'5"
Lee168cm
said on 16/Sep/17
Hmm wouldn't call 5'6" tiny 5' for a man is tiny 5'6" is short yes not tiny
davec
said on 15/Sep/17
He might be 5'6" with 2" heels. They guy looks tiny in his videos
Shorty
said on 15/Sep/17
I think his more 5'5 maybe 5'6 with shoes on tiny guy
Anonymous
said on 14/Sep/17
Rob are you sure he is 5'6?
Next to thomas rhett
Click Here
and dustin lynch
Click Here