Kaitlin Olson's Height
5ft 7 ½ (171.5 cm)
American Actress from tv show It's Always Sunny in Philadelphia. On website HoboTrashcan she
"I don't know if you know this, but men in Hollywood are short and I'm 5'8""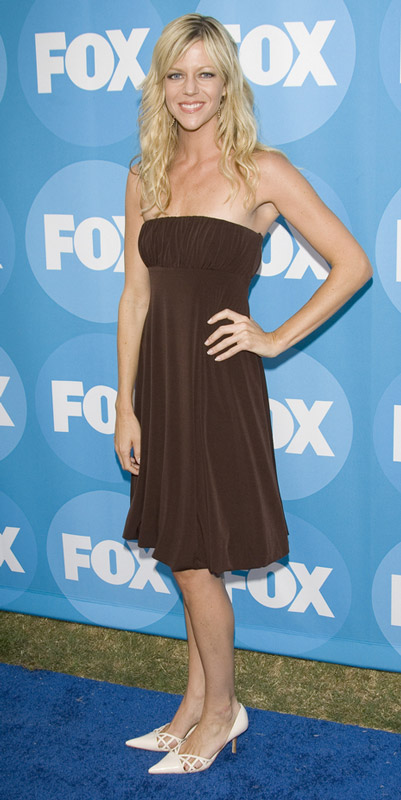 Photos by PR Photos
Add a Comment
22 comments
Average Guess (12 Votes)
5ft 7.71in (172cm)
Nik
said on 6/Jun/19
Small actors are so cool! All small men are cool, I know that Kaitlin will echo everything I have said!
Tall Sam
said on 4/Sep/18
Why the half inch downgrade? I think she can look close to 5'8" when standing well but in flats her husband and co-star Rob (Mac) is definitely a good inch or so taller.
Monkey knees
said on 14/Jul/18
Just a smidge under 5'8.
Tall, beautiful woman.
Eric Rowal
said on 6/Jun/18
I have met her in real life, I am 5'8, she is no taller than 5'7.
Sandy Cowell
said on 11/Nov/17
@ tony t - Thanks, Tony, for clearing that one up for me! There are so many references to shoe size in American films, and now I can make sense of them at last! 👠👠 👟👟 👞👞
Cheers for that! 👍
Have a superb weekend, Tony!
tony t.
said on 11/Nov/17
@Sandy Cowell Yes size 6 UK women's shoe would be a size 8 American women's shoe and a size 8 UK women's shoe would be a size 10 American women shoe, that is correct. As far as the height to shoe size thing goes yeah I mean like I said I mentioned there was a chick I dated who was probably 5'5-5'5.25 and she wore solid size 10.5 shoe. Few more examples; one who was about 5'4.5, about a size 9.5 shoe. In my late teens I dated one who was 5'7.5 and she wore a size 8 shoe. I believe there are a few supermodels who are taller - 5'9 or more - who have smaller feet. Gisele Bundchen comes to mind; I believe Gisele Bundchen only wears about a size 7.5 in US size and she is 5'10 range. There's a few others who I can't think of off the top of my head as I'm writing this. As I said the shoe size and height proportion varies. I think it works this way for men too. There's probably a lot of 5'10 guys who have bigger feet than 6'1 guys etc..etc..etc...
Sandy Cowell
said on 5/Nov/17
@ tony t: Hi Tony! I assume you're American! Well, I'm English! Do you, or does anyone, know what a size 8 or size 10 shoe would be in the UK? I think it might be 6 or a 10 would be an 8!
Also, I find it interesting that you have met tall women with small feet! I have met small women with very large feet and small girls as well! I am not one myself. I take an English size 3 1/2 - 4, but I'm a wide fitting! I knew 2 tiny 11 year old girls when I was 13, who were the smallest in the school, who took size 5 English size, which I think is size 7 American. Their feet looked really awkward on them and there was only one unseemly style of school shoes available in their size! The design made their feet look like waddling ducks' feet! The taller women I know at the moment tend to take the same sort of size as the broad medium height women! I don't know any tall girls with really big feet, but medium ones, yes - quite a few!
Cheers Tony!
*****************************
I give the tall, slim Kaitlin
5ft8, but I am think there's a possibility that she is 5ft8.5!
I don't think she's overly keen on her height somehow! She reckons men in Hollywood are short, but they can't ALL be!!!
She just hasn't found one for herself yet, but she should be able to snap one up! She should be proud of her height!
tony t.
said on 4/Nov/17
@Rain It's not unheard of or impossible for a 5'8 woman to wear a size 8 shoe. Just like it's not impossible for say a 5'3 or 5'4 woman to wear a size 9 shoe. I once dated a woman that was 5'5 that wore a size 10.5. Height has nothing to do with shoe size to a large extent.
Rain
said on 29/Jul/17
Her feet are at least size 10. You can't be 5feet eight and have a size 8 shoe size..... she would tip over
Chris
said on 24/Feb/17
Not sure what shoes she wears on the show but she can look very tall at times. Then I saw an episode where she is barefoot next to Glenn wearing shoes and there seems like a 4 inch difference it close . So no more Than this listing.
Rod D
said on 13/Jan/17
She looks like she was born in 1970 instead of 1975
Nick
said on 17/Jul/16
Seems to me like a very strong 5'7, nearly 5'8 type girl to me. Barefoot, just an inch under Rob. With heels, can edge him out by 2-3 inches. I am 5'9 myself so I have had this happen with plenty of 5'7.5 type girls like Kaitlin. As far as Charlie goes: same build as my brother in-law, typical 5'6 which makes sense with the rest of the crew's heights.
AXE
said on 23/Mar/16
shes probably 5'8.5 unless she wears lifts she looks really tall in its always sunny
Drew
said on 21/Jun/14
I saw Kaitlin at the airport - she was a lot shorter than I expected. She looks like she would be very tall, but she isn't.
Lorne!
said on 7/Apr/13
I thought you had the whole cast listed! Where I'd how etymon and rob? A comment said you listed rob as 5ft9, but he is not on here!
MaskDeMasque
said on 1/Sep/12
@Ace
i think Glenn usually has poor posture. He is def taller than Rob.
Ace
said on 25/Aug/12
I was surprised in a recent episode of It's always Sunny where Glenn Howerton and Rob McElhenny are at a doctors check-up barefoot. Usually Glenn beats Rob by a half inch to an inch, but in this scene, they looked the exact same height. It was surprising to say the least.
as
said on 24/Jul/11
I used to think that Glenn Howerton (Dennis) is about 5'11, but after seeing him standing next to the strong 6'1 Chase Utley I wouldn't give him more than 5'9.5, 5'10 out of bed maybe.
dayman
said on 2/Feb/11
i think 5'8 is pretty accurate for her.
and charlie: i am almost sure that he is 5'6. i have the same body proportions with him, and i'm 5'6.
JellO
said on 1/Jan/11
No way in hell is Charlie 5'4-5'5. He doesn't really look that short, just below average. I'd buy 5'6 at the lowest.
Mac is significantly taller than Charlie so I can't accept anything below 5'9.5. I really think he's 5'10 on the dot. You can talk about footwear but he has never once looked anything more than marginally shorter than Dennis, who looks about 5'11. Olson, 5'8. DeVito, who the hell knows.
JMS
said on 22/Dec/10
If Kaitlin is 5'8", and she does look tall, then Rob must be 5'10, Glenn is prob 5'11 and Charlie 5'6.5