Kane Kosugi's Height
5ft 11 ¼ (181 cm)
American actor, best known for films like Ninja II, DOA, Revenge of the Ninja, Muscle Heat and TV shows Ninja Sentai Kakurange and Ultraman: The Ultimate Hero. His official japanese profile has him
181cm
, although his resume on the same site lists him 6ft/175lbs, a height which he claimed in a KungFuKingdom interview:
"I am 6ft (1.82m) tall and weigh 12.5st (79kg)"
.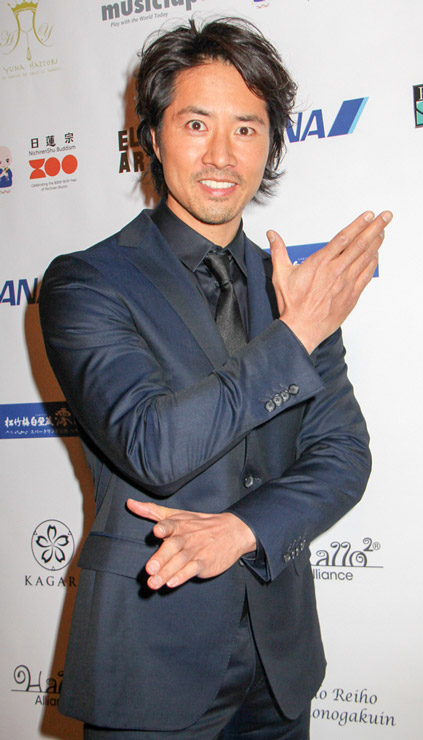 Photos by PR Photos
Add a Comment
10 comments
Average Guess (18 Votes)
5ft 11.49in (181.6cm)
FE
said on 23/Nov/19
@Editor Rob,
How much difference between Scott and Kane?
Click Here
Click Here
Click Here
Click Here
Click Here
Look at least 4cm apart, but in some shots (in the film), He makes Scott look 177cm @Most!
Do u agree Rob?

Editor Rob
I could see them around 3cm range, maybe at times I can understand a 4cm difference.
FE
said on 13/Aug/19
@Editor Rob,
Could u add Kane to the Martial Artists Category?
bobbyh33432
said on 22/Feb/18
rob how can you have a page for him and not a page for sho? kane got famous on his dads name,, you should be old enough to remember how big sho was in the 80s? maybe ninja movies werent as big in the uk as the were in the us,,

Editor Rob
There's tens of thousands of potential names you could add. Only so much time I can spend adding people each day.
Kevin78
said on 28/Jan/16
is his father Sho really 6,1"?
Bo
said on 10/Nov/12
@Dmeyer: You should be often right about that as anyone know.
Standing almost 5ft11 (180cm) I've seen actors my height or even shorter than me claiming to be 6ft.
But in Kane's case, he was clearly always over one inch taller than me, including time barefoot at the hotel room or by the swimming pool during the few weeks I worked with him (back in 1997).
So I'm pretty sure he was clearly around the 6ft mark: I've seen him measured a bit over at clothe fitting, back then.
He was also quite a strong dude in the gym under barbell, despite a moderate muscular build, he had good muscular density and quickness and still is one of the strongest and fastest kicker I've seen and in asia we kick barefoot.
In fact we take off or shoes quite often:
For this reason people might not be so keen (there) to add phony height by any mean since you'll take your shoes off every home you enter anyway.
Dmeyer
said on 6/Sep/12
If an actor is slightly over 5'11 hé will defenetly claim 6 ft are you sure hé looks 183cm
Bo
said on 3/Jan/12
In his official Japanese web site Kane is listed as 6 ft Rob.
Just click on his English profile and you will see by yourself.
Where's these two different height comes from:
- Kane has been raised in the US and gave them his height in imperial system: 6 ft.
- 6ft doesn't mean a thing to most Japaneses folk because they switched from their own system to metric system a while ago.
- Not knowing about imperial system they probably tried to convert it using their own ancient knowledge: 1 ken comes to approximately 1.8m. One shaku is one sixth of 1 ken or about 30.3cm
By assuming one shaku is about one foot, they did get 181.8 cm and round it down to 181 cm.
- Then everyone discovering Kane's height on his official website converted successfully those 181 cm to 5ft11 1/4 in Imperial system.
That how his height of 6 ft/183.5 cm became an official height of 181 cm/ 5ft11.25 all over the web.
[Editor Rob: I can see how the conversion could have been screwed up, I will put him at his own 6ft/175lbs claim on his resume.]
Bo
said on 2/Jan/12
Kane is listed as 5ft10 also on some Japanese websites...
Even the Official website is doing a wrong conversion cause on the very same link you gave Rob, his "English Profile" list him at 6Ft. Check-it out.
And as I told you I saw him measured in real life at a bit over 183 cm.
The Funny thing is the "5ft11.25" probably comes from other sites doing a right conversion of these 181 cm.
Originally a simple conversion mistake probably generate this wrong "official height" everywhere.
Since your website seeks accuracy, He should be listed at 6ft.
JD89
said on 8/Oct/11
in japanese sites Kane is listed 181cm/75kg his brother Shane 173cm/72kg and their father Sho Kosugi 183cm/90kg.
dmeyer
said on 24/Feb/11
sho kosugi is supose to be 6 ft 1 while he is raughly as tall as vandamme 5 ft 9 they have the same 1 in shoes on if anithing vandamme is taller by a bit he rounding up 4 in