Karen Allen's Height
5ft 5 (165.1 cm)
American actress best known for playing Marion in Raiders of the Lost Ark. She also had memorable roles in the films Starman, Scrooged and National Lampoon's Animal House. In this photo (from 2008's London Film Con) she had about 1.75-2 inches more footwear than me.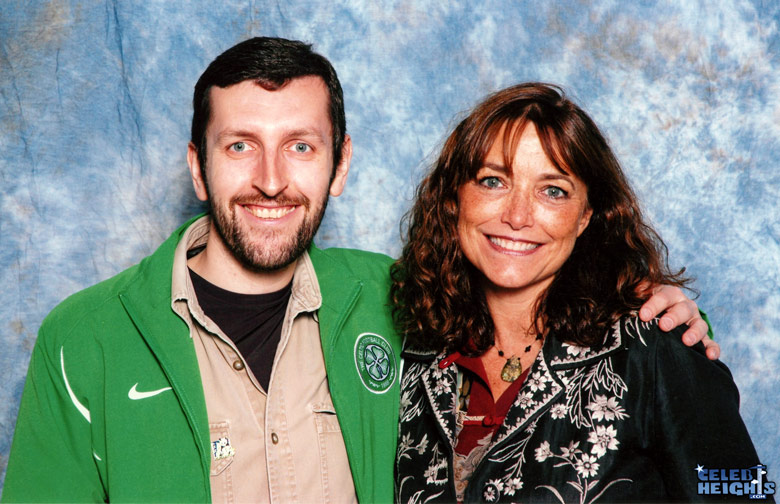 5ft 8 Rob and Karen
You May Be Interested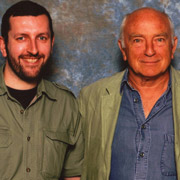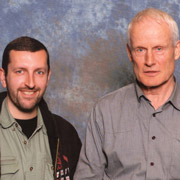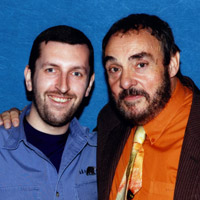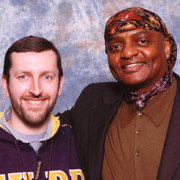 Add a Comment
32 comments
Average Guess (6 Votes)
5ft 4.71in (164.4cm)
Nik Ashton
said on 4/Jan/20
@ Rob - What about a height comparison chart of video?

Editor Rob
If I can get round to it, one day I will.
Nik Ashton
said on 26/Oct/19
High average!
Tunman
said on 18/Apr/19
Would have said she looks 3.75-4" smaller than Rob here considering footwear so she was still around a strong 163 or 163,5 at 56 years old.Probably near 165 at peak.Btw I wouldn't have thought she was 56 on that pic,rather in her late 40's tbh.

Editor Rob
By now she probably is 5ft 4, in her 50's she might not have lost much.
Sandy Cowell
said on 30/Jan/19
Karen makes completely different films to her sister, but is of similar height!
5ft5 goes her way from me!
Nik
said on 29/Jun/18
I am happy with this listing.
Dreampuffe(5'9.5")
said on 25/Oct/17
Rob, this is not height related, but I would classify her as the 'most beautiful ladies' in her young days! Even today, she's gorgeous!
Richardspain
said on 29/Apr/17
Good rol in Raiders, maybe her rol more famouse. Good partner to Harrison a perfect match in Raiders.
I think in Raiders she looks 168cm.
Redwing
said on 23/Dec/16
She played a supporting role in The wanderers.
Mark
said on 15/Sep/16
Rob, is it me or is she one of those celebrities who actually did aged really well?
Editor Rob: she was 56 here and did still look a few years younger
George Sears
said on 12/May/16
What a cutie.
J.Lee
said on 21/May/14
Rob if she has 2 more inches of footwear, do you think she is only 1 inch shorter in this pic?
[Editor Rob: actually I saw her again and she could be near 5ft 4 today]
Sam
said on 19/Mar/14
One of my first movie crushes when I was kid from Raiders and Animal House...I think she generally does look 5'5".
jess
said on 18/Nov/13
She looks more 5' 4" if she had 2" footwear, not 5' 5".
Lorne?
said on 13/May/13
Actually, there is less than 2 inches between them. Knock off off 1.75-2, and she is close to 5'5. Considering her age and that women lose mOre height on average than men, 5ft peak is probably spot on. So I say 5ft5 peak, round 5ft4.5 today.
J.Lee
said on 19/Nov/12
if she has 2 inch more shoes, i would say 5 ft 4
thorterr
said on 19/Aug/12
she hasnt changed much in 30 years ,im sure shes 5ft 4 if you take away 2 inches because of her footwear
Mathew
said on 25/Nov/11
If she's 5'5" with the stated footware advantage she should appear about 1.5" shorter than Rob. 5'5" is reasonable but 5'4.5" - 5'4.75" would fit well based on the photo alone.
Kareem Allen Jabbar
said on 13/Aug/11
She does look a strong 5'5 in here
jtm
said on 28/Apr/11
mcfan when did she claim 5'4?
Daii
said on 7/Jul/09
She looks 5'6.5 in this pic - heels i imagine!
littlesue
said on 4/Jul/09
In the Raiders of the Lost Ark era she was always listed as 5ft 4
Haze
said on 5/Jun/09
its called heels tom
tom
said on 8/Nov/08
i thought she was 5'7. how the heck did she get to be 5'5 all of a sudden.
thekiddd
said on 7/Nov/08
The Mom From Sandlot! She's probably wearing heels is why she appears taller James.
RisingForce
said on 7/Nov/08
James says on 7/Nov/08
she looks a bit older since Raiders of the Lost Ark
James, that film was made 27 years ago. Everyone ages in 27 years.
Brad
said on 7/Nov/08
I read they had her on a box with Ford in the close-ups because he was so much taller than her.
Markus
said on 7/Nov/08
Yes James, Raiders of the Lost Ark was filmed in 1981. It's 2008 now....
steph
said on 14/May/08
for some reason i thought she was petite!
JokeMaster
said on 6/Apr/08
Two blonds are walkng down the street when they find a small mirror on the sidewalk. One of them grabs it and looks into the mirror. She says, "Gee, this girl looks familiar."
The other blond grabs the mirror to look and says, "You idiot! That's me!"
JOSH
said on 4/May/07
She looked 5ft 7 in raiders of the lost ark. Harrison ford only looked a few inches taller than her in some scenes.
CelebHeights Editor
said on 23/Aug/05
From Cheesdip.com,
"I saw Allen when I brought my mom and Auntie D to brunch at Sarabeth's West the other day. Karen Allen looks about the same now as she did on screen in the early 80s, except she's much taller than I expected"
CelebHeights Editor
said on 23/Aug/05
In Starlog magazine she said,
"People think I'm taller"