Keegan Michael Key's Height
6ft ¼ in (183.5 cm)
American actor and comedian, known for his TV series Key & Peele, for his role as Mark Rodriguez in Playing House and for appearances in films such as Keanu, Don't Think Twice, The Predator, Storks, Tomorrowland and Teacher of the Year. He once claimed to be
"Six Feet and Three Quarters of an inch"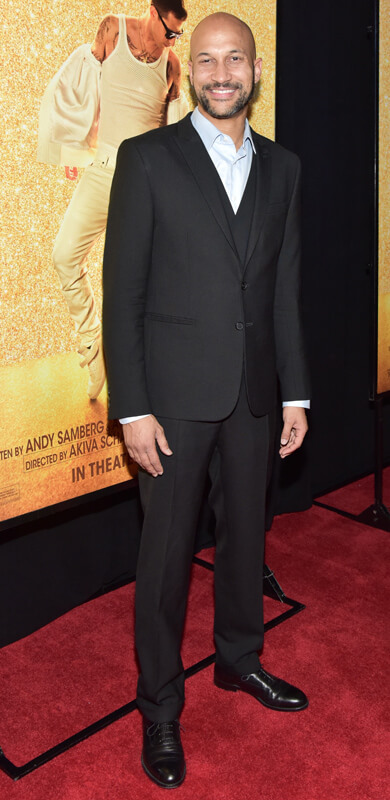 Photos by PR Photos
Add a Comment
61 comments
Average Guess (71 Votes)
6ft 0.4in (183.9cm)
Vsquad
said on 8/Dec/19
I legitimately used to think Keegan was 6'2 or 6'3 back when I hadn't discovered looking up celebrities (true) heights on this website lol. It wasn't until I saw his video with Liam Neeson that I was at a major disbelief.
Chris Junior Hernandez 1990
said on 9/Jul/19
@Dream Shorter? No. Even eye level tilt down is taller.
Click Here
Top of head without Miles hair and cap Miles is not under 1/4 shorter than Keegan. Henry Cavill may not be edging out Keegan with a hair.
Dream
said on 3/Jul/19
He looks a little shorter than Miles Teller, and Henry Cavill edges out Miles Teller.
cmillz
said on 29/Jun/19
I can buy this listing.
Dream
said on 12/Jun/19
Actually, Bo Burnham still towered this guy, even with less footwear and hunchback posture.
Junior Hernandez 1990
said on 9/Jun/19
Look at Keegan a dozen times and 6'0.75" from his claim can be trusted from certain time of the day and the lowest is 6'0.5", he can't be under 6'0.5" too low for 6'0.25".
Dream
said on 15/Jan/19
He definitely looks this listing with Bo Burnham.
Junior Hernandez 1990
said on 2/Jan/19
He look fraction taller than Obama in a few picture of comedic Obama Speech. 6'0 3/4 could be a true height he claims it.
Dream
said on 30/Dec/18
Strange, he looks taller than Obama in some of their photos. Though Obama barely looks taller.
This is a great listing.
184guy2
said on 27/Dec/18
I can buy 184 for him , certain a solid 6'er guy
berta
said on 26/Nov/18
Nice to see he claim that height. he has been measured that sometime, the question is what time. He doest sound like a person that lies. If he would have cliamed 6 foot 1 then i would think its a little high. I can believe 185 early in the day and falls down to 184. 6 foot 1/2 inch is my guess Late in the afternoon.
Junior Hernandez 1990
said on 22/Oct/18
Look solid 6'0 1/2 not sure that Six Feet and Three Quarters of an inch true or not.
Rampage(-_-_-)Clover
said on 2/Oct/18
Yeah this mark is better for him and he may very well have gotten measured at 6ft0¾ earlier in the day
Paul NS (6ft 0.5)
said on 23/Sep/18
Good upgrade
Paul NS (6ft 0.5)
said on 14/Sep/18
Those Wired autocomplete videos are a godsend for getting height claims LOL. I wouldn't think he's as tall as the 6'0 3/4 he claims, but I still think there's a good chance he's over 6' by a fraction or so. He and Cena looked almost identical at times during the Teen Choice Awards (although I think Cena would probably edge him by a hair if measured).
SD172
said on 14/Sep/18
In this video,
Click Here
from 7:22-7:40 he says "I'm 6'0 and three quarters of an inch..."
I think he's being honest because Olivia Munn points out 'He's very tall'which a lot of actresses in Hollywood wouldn't say about their male co-stars...
6'0 and 3/4 to 6'1 and 1/4 seems pretty legit.
grizz
said on 14/Sep/18
Next to Jimmy Kimmel and Dave Salmoni he looked like a strong 6 footer.
I'd upgrade him to 6'0.25˝.
berta
said on 9/Sep/18
in photosof the new predator movie with boyd Hoolbrook, he looks about the same height.Boyd is listed 187 here. In reality i believe this guy is 184 cm legit and Boyd not over 186
Junior Hernandez 1990
said on 30/Aug/18
6'0.25" might be his lowest measurement.
Sandy Cowell
said on 11/Aug/18
This morning we had Keegan showing us unusual diets as demonstrated by animals! There was a dog catching and eating bubbles, a cat eating a cardboard box, and pumpkin eating pets! He referred to the cardboard as being 'full of fibre'! Unusual cat nibbling is called 'pica' and for someone who lives in a multicat household, take it from me, it is rather common!
I reckon Keegan looks a strong 6ft and is very likely nearer 6ft and half-an-inch - on a good day!
Sandy Cowell
said on 23/Jul/18
🎼🎶 Animail! Animail! Hot dickerty dog - it's Animail! 🎶🎵
📬✉️📧📩
Sandy Cowell
said on 21/Jul/18
I am watching 'The Planet's Funniest Animals' and you do see Keegan stand up when he introduces it. He could easily pass for a guy of 6ft1; I know there is nobody to compare him to but I say this just from looking at his bodily proportions.
I think I will go for 6ft0.25.
MAD SAM
said on 5/Jul/18
6 foot at 183 cm
Junior Hernandez 1990
said on 13/Jun/18
Sometimes he can look close to 6'1. Legit 6'0.5" but get listed at 6'0.
berta
said on 16/May/18
yeah this listing is a little of i think. i believe there is almost no chanse of this guy to be 5`11 3/4 but something like 6 1/2 is easy to believe. that makes me think that this guy could be in somewhere beetween 183,5-184. tallish looking guy
Tall Sam
said on 6/Mar/18
Looks as listed here with John Lithgow, Stephen Colbert and Allison Janey, although Colbert kind of pulls off a 5'11" look in the pic.
Click Here
Christian-6'5 3/8"
said on 5/Feb/18
Legit 6 footer
Chase
said on 5/Feb/18
He probably edges someone like Channing Tatum but gets listed a half inch under him? I don't understand.
Junior Hernandez
said on 5/Feb/18
6'0 1/4 would be a shout for Keegan.
Paul NS (6ft0.5)
said on 22/Dec/17
And yeah, I do think Key should get 6ft0.25. He was on Conan recently and didn't look any shorter than Andy Richter who's listed 6ft0.5 here
Paul NS (6ft0.5)
said on 22/Dec/17
Cena is closer to the camera there. Other times they can look pretty much identical. Go to 1:18 here:
Click Here
Christian-6'5 3/8"
said on 5/Dec/17
I'd say 183cm is the best listing for Keegan like how he's listed here. He looks a cm shorter than 184cm John Cena.
Click Here
berta
said on 13/Sep/17
really think this guy is no shorter than 184. he looks tallish always. i think he could have edged out harrison ford with a 1/8 of an inch when ford was at his peak maybe even 1/4.
berta
said on 26/May/17
he always looks tall i woulb bet on more 184 late aftersoon atleast 1/4 upgrade
travis
said on 19/Apr/17
i thought he was 6'3 i seeing things
Michael R
said on 14/Mar/17
Next to Obama he looks same height
Rampage(-_-_-)Clover
said on 28/Feb/17
This guy is a similar to Duchovny or Denton, possibly 184cm
berta
said on 13/Feb/17
dont think he is under 184 looks to tall for that
Sam
said on 18/Jan/17
Yeah, I must say he looks six foot max next to Billy Eichner. Eichner can look at least 4 inches taller in some parts of the clip but Key isn't always standing his best.
Click Here
Joe
said on 15/Jan/17
I'm thinking a strong 6 ft for Keegan
Rampage(-_-_-)Clover
said on 15/Jan/17
Looks 183-184cm at least
Bard
said on 14/Jan/17
Gotta be at least this.
Rampage(-_-_-)Clover
said on 13/Jan/17
Rob, how likely is 184cm for this guy?
Editor Rob: there is a chance, he may well fall into strong 6ft range.
sfd
said on 11/Jan/17
i meant translator
Colberto
said on 9/Jan/17
IMO he is 183.5-184. 6'0.25-6'0.5". No point in giving an exact fraction because when you're measured there is around a half an inch margin of error. I am a solid 6'1" and with my own personal measurements I have measured a little bit over it while measuring myself. At doctors 6'1" exactly. He can pass for 6'1" in some occasions but he's a solid 6'.
Chris
said on 9/Jan/17
Looks more 182 in why him? But I think he may have been barefoot a lot in that movie. otherwise 6".05 is what I would listed him at just a fraction shorter than solid 6"1 Damon wayans Jr. in let's be cops.
Realist
said on 9/Jan/17
He said he was like 6'2 before wtf?
Rampage(-_-_-)Clover
said on 8/Jan/17
184cm zone could be closer.
Sandy Cowell
said on 8/Jan/17
I'm glad to see he now his own page!
I never knew Keegan was an actor; the only thing I knew him for was his narrative contribution in 'Animals Do the Funniest Things'! That is a smashing little programme and a good way to kick-start the day as it's often on at 6 in the morning!
He does look rather tall, judging purely from his standing position!
Arch Stanton
said on 8/Jan/17
Funny but he sort has the look that a lot of the 6'10-7'1 basketball players have. Put his head on a 6'11 basketball player and it will fit perfectly!
Christian-196.2cm (6ft5.25)
said on 8/Jan/17
"Keegan Michael Key's Height is 6ft 0.25in (183.5 cm)"
A strong 6ft suits him better than just 6ft. At times he can look 6ft0.5
anon
said on 8/Jan/17
Looks a lanky looking legit 6'0 type can see strong 183 range
G 5'11
said on 8/Jan/17
Honestly I think he's pretty honest with the 6'1" claim he always looks it with Peele, who's around 5'10 and when they stand next to each other their claims make sense.
Moody
said on 8/Jan/17
Looked exactly the same height as Chris Pine on Live! With Kelly.
TJE
said on 7/Jan/17
Overall he looks 183-184
Victor Surratt
said on 7/Jan/17
Looks like a 1.83-1.84.
Sam
said on 7/Jan/17
I've posted pics before where he could look pretty similar in height to President Obama but can look at times near an inch under Damon Wayans Jr. Maybe deserves a 6'0.25" listing?
MrTBlack
said on 7/Jan/17
Seen 6'0" and 6'1" and even 6'2" for him but this again is the most I can see for him. 6'1" and 6'2" is just lol.
Slothee
said on 7/Jan/17
6' seems likelier than 6'2.5" as he's been listed before, but looks near 6'1" at times, which he's also been listed as. I always thought he was 6'0.5-.75" range. Thanks for adding him tho!
sfd
said on 7/Jan/17
jordan peele? 5'8?
sfd
said on 7/Jan/17
Mr. President aLternative