Keith Richards Height
5ft 8 (172.7 cm)
Peak height was 5ft 9 (175.3 cm)
UK Musician from The Rolling Stones. In book 'Life' he mentioned his height, claiming that
"I'm only five foot ten"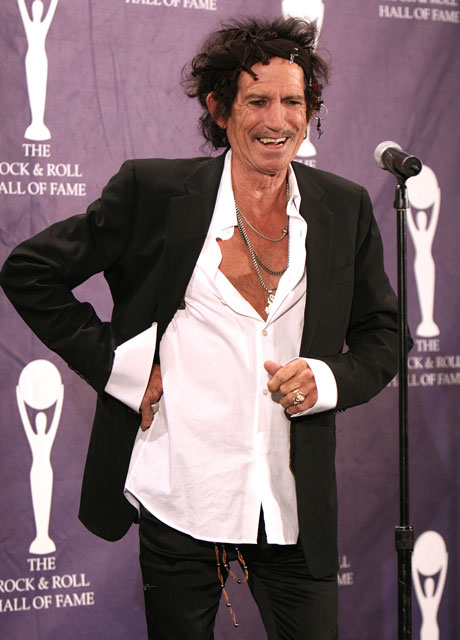 Photos by PR Photos
Add a Comment
67 comments
Average Guess (16 Votes)
Peak: 5ft 9.22in (175.8cm)
Current: 5ft 8.14in (173.1cm)
Damon Albarn
said on 28/Oct/20
He could have easily looked 5'10 in his youth, bad posture and bad lifestyle made him shrink to 5'8 which is still a very decent height for a man his age
Nik Ashton
said on 20/Apr/20
@ MaryAnne - Good points, it does look possible that she is shorter than Keith but I dunno! I think that she could be under 5'9" but you think otherwise so it would be interesting to know what Rob thinks, interestingly she is listed as 5'9" like you said!
@ Rob - Please give Patti a page!
Greg Clayton
said on 18/Mar/20
5'7" tops me and my wife got to meet him in 2017 and my wife is 5'4" and he was not much taller than her. Couldn't see his shoes but if he was in boots maybe less. In his prime maybe 5'9". I heard Nikki Sixx talk about how short the Stones and AC/DC were on his radio talk show and I don't think Nikki is a big man.
Anna Smith
said on 20/Dec/19
Rob, how tall do you think his longterm partner Anita Pallenberg was in her youth? In her Catherine Harle angency card she was given 5'7.

Editor Rob
That would have been the most I'd estimate her at
Miss Sandy Cowell
said on 18/Dec/19
🎂🎶🎁🎈 Happy Birthday Keith! 🎈🎁🎶🎂
Wishing Rolling Stone turned actor Keith Richards a very enjoyable 76th Birthday.😁 I'm sure my Jim, a BIG Stones fan, would also like to do so!
Peak height: 5ft9.5
Today: 5ft8.25
🎂🎶🎁🎈🎂🎶🎁🎈🎂🎶🎁🎈🎂🎶🎁🎈
Bradley
said on 19/Nov/19
Get him away from Jack Daniels' cinnamon whiskey mate.
Benny
said on 12/Sep/18
Shorter than Depp (5'10)
Dries
said on 3/Aug/18
A "tad" shorter than colleague Jagger, a tad taller than Watts...
Ian C.
said on 29/Nov/17
Keith is starting to make me nervous, because he still isn't dead. When you've been a chain-smoking heroin addict for much of your life, you're supposed to die young. So what's the hold-up with this guy? Jimi, Jim, Janis and Cass got it done right on time. Elvis was a little late, but he never was all that bright. James Dean was impatient and went ahead of schedule, and used a car. (Which was cheating). But frankly, Keith is being just plain rude, and seems to have no regard for established protocol.
Yeah, and Mick just had a kid. He's got no manners either.
MaryAnne
said on 4/Apr/17
Rob, How tall is his ex-wife model Patti Hansen? She is listed 5'9 but she looks shorter than Keith and I would be surprised if she was under 5'9
Dingus
said on 20/Feb/17
Arch Stanton
As a rule of thumb, most celebrities (athletes, musicians, actors) give off a "larger than life" impression that they want to maintain. Obviously, in terms of stature they are just like the rest of us. Some short, some tall, most are kind of average.
Arch Stanton
said on 14/Nov/16
JB said on 19/Aug/13
I'm always surprised to find out how small rock stars are. Not that 5'8" is that small or anything, it's average. But rock stars often give off this impression of being much larger than they are.
Actually 5 ft 8-9 seems extremely common for the big rock star, they tend not to be tall on average. If they are tall they tend to be very tall. I agree though that we tend to think of them as much taller, perhaps it's because a lot of them have that long, angular, willowy look from drug use so look taller because they're skinny.
Simon.
said on 2/Aug/16
Keith is 5ft 8. Mick is the tallest Stone at 5ft 10. All of them wore Cuban heels in the 60's. All of you average height guys out there relax. You're tall enough to be in a band!!
Az
said on 24/Feb/16
I saw Theodora Richards and Patti and the other daughter in LA recently. I actually went through a revolving door with Theodora and Patti. Theodora 5'3" and Patti 5'5-5'6". I'm 5'7.5" for reference. The other daughter was about 5'6. I'd actually put Patti at 5'5" since she was significantly shorter than me. Theo is real tiny.
John
said on 1/Dec/15
Hey. I ran into Keith Richards in 1984 in Montego Bay, Jamaica, in a little back-of-convenience-store bar called Wiggy's, and I was immediately struck by how small and short he was (his boot heels were at least 1-2 inches tall). I'm 6'1". I would seriously put his height at 5'7"--the same as my wife. He's a little man. I'm sure what with age and spinal disc compression, he's even shorter now. Great guitarist and riff-writer...... but not in any way, shape, or form physically imposing or tall in person.
JB
said on 13/Sep/15
5'9" peak for sure. But I think he's lost more height than this. Recently he seems to be struggling with 5'7" If you've seen with with Mick lately he appears to be as much as 3 inches shorter.
Sam
said on 2/Jun/15
They're a photo in his autobiography Life where an older Keith barefoot with a couple of friends, don't know tall those guys were but Keith looked quite diminutive in comparison...all the pictures he put with Mick though, they are sitting down or appear the same height!
Chali Q
said on 22/Jul/14
I'm 5'11" Bobby Keyes knocked Keith down on ice outside the Tower Theatre My Friend Eddie & myself picked him up all 3 of us in flat sneaker type footwear Ed is 5'9 1/2" Keith didn't reach my chin & was shorter than Ed. That makes him 5'7 1/2" to 5'8". He may have seemed taller in the old days due to always wearing High Heeled Boots. I was shocked at how short he really was.
JB
said on 19/Aug/13
I'm always surprised to find out how small rock stars are. Not that 5'8" is that small or anything, it's average. But rock stars often give off this impression of being much larger than they are.
depth tested
said on 17/Jun/13
Apparently, heroin makes you shrink.
midnight rambler
said on 6/Aug/12
Keith's peak height was 5 ft 10 in, clearly. No doubt he has grown much shorter, but in 1965 or 1970 he was definitely as tall as Sir Mick, or even slightly taller. Keith's height since 1970: 5 ft 10 (or 5 ft 10 1/2); 5 ft 9 1/2 in 1980; 5 ft 9 in 1988; 5 ft 8 1/2 in 2004; 5 ft 8 now.
midnight rambler
said on 30/Oct/11
He was exactly the same height as Mick Jagger, 5' 10'' now, 5'8'' or 5'9''
Koalized
said on 13/Sep/11
I think than in his youth keith was taller than 5'9'', but he has skrinked a lot during the years, maybe for his rock'n roll lifestyle.
Today he should be somewhere between 5'7'' and 5'8''.
Sam
said on 12/Sep/11
I think there's enough pictures where Richards and Jagger look close enough in height, often looking to be less than an inch of difference. I think Rob's listing is accurate. Richards did try to claim 5'10" for himself in his book "Life", but there's a picture where Richards is barefoot next to a few guys and he looks pretty shrimpy.
Koalized
said on 10/Sep/11
So Rob, what do you think about those pics?
[Editor Rob: he can look 5ft 7-8 range in some photos, today maybe he is at most 5ft 8.]
Koalized
said on 9/Sep/11
Misclick.
I've add the previous post before posting the pic of De Niro with Penn
Click Here
Koalized
said on 9/Sep/11
Keith Richards is clearly shorter than Robert De Niro
Click Here
Click Here
And De niro seems a little bit shorter, than Sean Penn, but I've no idea about Penn footwear.
De Niro's shoes look like standard italian shoes.
Click Here
On a video on youtube you can see that keith richards was wearing similar footwear.
Koalized
said on 9/Sep/11
Rob, are you sure that there is just an inch of difference in height between Keith Ricard and Mick Jagger?
[Editor Rob: maybe his claim is from the youth and he's lost height by now, it looks like it.]
guyfrommars
said on 6/Aug/11
Somewhere (I guess in a book about the band) I've read Richards is 5'8".
Voiceless dental fricative
said on 28/Jun/11
170 might be his current height. Rob probably is just listing this as his peak.
Sam
said on 24/Jun/11
Actually, he describes himself as 5'10" at one point in Life (not 170 cm). What is the listed height based on, Rob? He might have scraped a full 5'9" at his peak, if not anymore.
Amber
said on 24/Jun/11
Jagger was never more than 5'8, he looks optically shorter than Keith because Keith has better proportions, longer legs, Mick has a long body and short legs.
Rob
said on 14/Dec/10
In his autobiography he claims to be 170 cm. And I think he's being honest.
Anonymous
said on 26/Nov/10
All these Rock stars heights were exaggerated by the teen mags.
Jagger 5'9 1/2", Richards 5'9", Jones, 5'5", Wyman 5'61/2", Watts 5"7"All these Rock stars heights were exaggerated by the teen mags.
Jagger 5'9 1/2", Richards 5'9", Jones, 5'5", Wyman 5'61/2", Watts 5"7"
Maurine
said on 27/Oct/10
If anyone saw the CBS Sunday Morning piece on last week (10/24/10), in an Interview with Anthony Mason, who I never considered a tall individual, Keith barely came to his shoulder, hat and all, and looked like a very small, very old child...which, come to think of it, is sort of what he is.
Dries
said on 28/Mar/09
5'8.5" seems correct. He's certainly shorter than Mick.
Brad
said on 7/Jan/09
He's 5' 8". Has the Gibson guitar & Jack Daniels slouch. Ask Slash, he has it worse.
Anonymous
said on 6/Jan/09
but glenn you are 1,73cm , you say that you are 1,73cm , glenn is to hard to believe in you , is the third time that you wrong about it
glenn
said on 6/Jan/09
full body? what about the feet? rob-how difficult is it for you to take that group photo below with bruce willis and show it on the willis page? if you cant cause of lack of time,no worries.you can post something like glenn liked this pic and wanted it shown here.thanks.
ralf2
said on 5/Jan/09
look at this: richards taller than jagger in the 60's. the entire body of both musicians is seen.
Click Here
anonymous
said on 31/Aug/08
this is quite a good pic. richards with depp, woods and willis
Click Here
anonymous
said on 31/Aug/08
you could put 5'10" peak height but you would be wrong. 5'8" peak.
ralf
said on 30/Aug/08
you could put that his peak height was 5'10"
Dries
said on 13/Jun/08
In 'Rock n Roll Circus' (1968), Richards and Eric Clapton seem about a 1/2 inch taller than John Lennon, who's listed as 5'10" here.
Aratirion
said on 6/Mar/08
5'9 Johnny Depp with Richards ...
Click Here
... unfortunately we can't see footwear;
mcfan
said on 22/Jan/08
I don't even think Brian Jones was as tall as Ringo. He was really short. I've seen claims of his 5'8 height, but there's no way he was near that...more like 5'5- 5'5 1/2.
guy
said on 1/Jan/08
He looks big in the Rock n Roll Circus. He was looking clearly taller than John Lennon and Eric Clapton for some reason. Lennon was probably min 5'10". I think Keith was too in his prime or close. I suspect he wore large heels on that day which made him look 6'ish vs Lennons sneakers. He could easily have lost height due to his lifestyle choices. He is well into his 60s now so it would be more than likely.
glenn
said on 17/Dec/07
in pics he and wyman were in the 5-6 range if you compare to 5-8 watts.
Anonymous
said on 16/Dec/07
Brian Jones claimed 5'8" in a biography card I saw once. But yeah I see now that he was probably shorter than that.
glenn
said on 16/Dec/07
brian jones was 5-6 tops.
Anonymous
said on 15/Dec/07
His lifestyle must have made him shrink (he can barely talk for goodness sake!). He looks 5'8" in that picture above, but he must have been at least 5'9" in the early days. He looked only about an inch shorter than 5'10" Mick Jagger and noticeably taller than 5'8" Brian Jones.
Anonymous
said on 25/Sep/07
I met Keith on a ferry dock in Tortola, BVI and had a drink with him - I am 6'00 and I towered over him - He's 5'6 at best
Amelia
said on 21/Sep/07
It's amaxing the guy's still around after his lifestyle =)
but he says he'll keep rocking till he dies - we salute you keith richards, rock god!
Dries
said on 17/Sep/07
Often wore high heels ...
glenn
said on 13/Sep/07
great find lisa.
Anthony
said on 6/May/07
5'8.5 looks right. The man's a walking corpse. But he can still rock.
Garry
said on 12/Feb/07
Yeah, Wyman was quite short, as was Brian Jones (maybe a spot taller than Bill, have to check some old picks to tell though). Bill maybe 5'6" tops?
Robert.R
said on 14/Jan/07
If Keith is 5'8.5" then Brian Jones and Bill Whyman must have been really short.
[Editor Rob: what is he, 95? maybe he's lost some height, I might have look at some old stuff]
Chris
said on 20/Nov/06
Glenn-Do you estimate Keith as 5'8½'' and Jagger 5'10''?
ForensicNYC
said on 2/Jun/06
Keith Richards may have LOST A FEW INCHES when he fell from a COCONUT TREE in the Islands of FIJI... What he was doing up there in the coconut tree is anybody's guess... What we know is HE FELL DOWN...
Click Here
The Horse of FUNK
said on 6/May/06
Yeah, I'd say he's lost a little height. He looks dead, like a zombie in Glenn's pic. In fact this guy started decomposing long ago.
Anonymous
said on 7/Mar/06
I saw Theodora Richards and Patti Hansen, his daughter and ex-wife, this past weekend at Kitson on Robertson. Theodora was about 5'3" and 85 lbs and Patti was about 5'5"-5'6" in uggs. I think that it is then very acurate that he is 5'8".
mcfan
said on 22/Jan/06
here's a photo from "Rock and Roll Circus" where Richards is just taller than Lennon. Him and Jagger were almost identical in height. Richards is wearing either boots or cuban heels and Lennon wears sneakers. I'm thinking he was actually close to 5'10.5 back then.
http://photos.absoluteelsewhere.net/HippieJohn/PhotoAlbums/RocknRollCircus/Performance/Perform%20Graphics/performing_w_keith_red.jpg
mcfan
said on 13/Jan/06
Used to be 5'10-5'10.25. Jagger was barely taller.
Viper652
said on 12/Jan/06
Its hard to tell from that pic.
[Editor Rob: yeah, in some pics it's hard to tell, but pics like those are useful just so those who 'know the face' but can't remember the name can put a name to the face if you understand...]